Baseball Picks Daily Fantasy
Expert Advice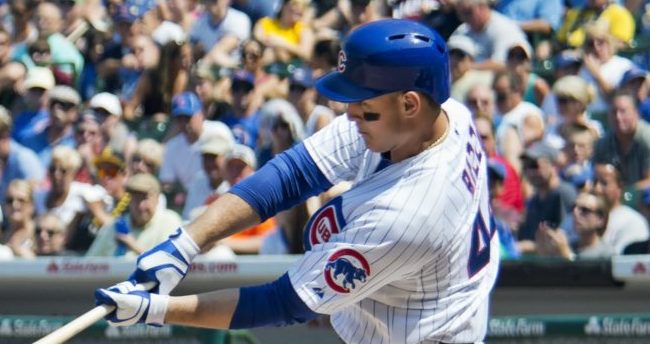 Daily Fantasy MLB Baseball Picks for FanDuel, DraftKings, Victiv, and Yahoo 8/1/15
Happy Saturday!
Welcome to the DFSR. Today's article will feature late slate picks, since that's where the vast majority of you will be playing. We do offer daily projections for every single player every single day. If you want the rest? Go ahead and get access to the exclusive projection system that produces these picks. Sign up now and get a free 3 day trial to our lineup construction tool for FanDuel, DraftKings, Victiv, and Yahoo.

Pitchers
The Elephant in the Room
Clayton Kershaw. What do we do with a guy who's priced higher than any pitcher in the brief history of daily fantasy sports? I know I said I'd focus on the late slate, but I wanted to get this out there. On one hand, he's earned it. He's averaged almost 26 FanDuel fantasy points in his last 3 games, which is just ridiculous. Just. Ridiculous. Blessedly he's only available in the early slate (which you'll probably skip since most people do), and you probably just need to grab him early in double-ups. But man, it's going to be tough to build a lineup around him, and I'd be a little bit gun shy.
On to the picks
So, I'm going to give you my favorite guy across three distinct tiers of pitcher tonight.
Expensive
Jacob deGrom - FD 11300 DK 11800 Victiv Yahoo
Opponent- Was (Ross) R Park- @Nym
With a lot of great pitching going today, it might strike you as odd to grab a guy who'll face the greatest hitter of right handed pitching on the planet. And that's true. But after Bryce Harper, the Nats have been a downright sorry lot against right handed pitching this season. Even including his efforts, the Nats are in the middle of the league when it comes to wOBA and have struck out at the 7th highest rate against northpaws this season, making them a good (if not great) daily fantasy baseball match-up. And hey, I'll tip my cap to Joe Ross based on his first 30 innings in the majors, but his good but not great minor league track record looms a little bit larger for me. Give me DeGrom among the big money guys for my double-ups and 50/50s today.
Mid-range
Lance Lynn - FD 9600 DK 10200 Victiv Yahoo
Opponent- Col (de la Rosa) L Park- @Stl
Picking against the Rockies, baby! Feels like living dangerously, until you take a peak behind the curtain. The Rockies have struck out with the greatest frequency of any team on the road (24.1%!), and are in the bottom third of the league in wOBA as well. They're also without one of their very best hitters, who moved to Canada. Meanwhile, Lance Lynn has been pretty ace-ish this season. He's striking out better than a guy an inning, and has maintained his usual miniscule home-run rate. Meanwhile, Jorge de la Rosa hasn't been as bad as his peripherals suggest, but the Cards have a lot of right handed hitters that should be able to put a bruising on him. I think Lynn's a great play for double-ups or big tournaments.
The off-beat guy
Anibal Sanchez - FD 8500 DK 8300 Victiv Yahoo
Opponent- Bal (Gausman) R Park- @Bal
Okay, technically, he's not really a deep punt or anything. But he's not a guy a lot of people will play due to the Orioles' potent offense. It's true, the O's are 9th in the league when it comes to wOBA against right handed pitching this season, but they've also struck out a ton. Their 22.5% K rate lands them in the third position in the entire major leagues, and they've allowed some huge upside games this season. Sanchez doesn't cut the same high-profile upside profile that he used to, but he's still striking out 8 guys per 9 innings, and can definitely put away some free swingers. I would not consider touching him in a double-up, but in a big tournament? Why the hell not?
The craziest punt of your life: Jorge De La Rosa. The Cardinals have struck out 24.7% of the time against left handed pitching, and they're horrendous in the wOBA department as well. And De La Rosa has been .100 wOBA points better on the road this season. .100. That's basically a million. He can rack up the Ks, the Cardinals are without their toughest hitter of lefties (Matt Holliday), and this is baseball, where anything can happen. I'll throw in a few bucks on him just to say that I did!
Just killing time until fantasy football season? Fantasy Pros has a pretty cool mock drafting software you can check out!

Catchers
Kyle Schwarber - FD 3100 DK 3500 Victiv 4400 Yahoo 18
Opponent- Mil (Garza) R Park- @Mil
Schwarber has been batting 2nd against right handed pitching, and for good reason - the man's put up a 1.153 OPS against right handed pitching in 53 PAs against it this season, and was doing similar damage in the minors before getting called up. Meanwhile, Matt Garza has simply fallen apart. The Ks are down, the walks are up, and he's allowing more homeruns. F- grades across the board. If you're looking for upside from the position today, he's quite simply your guy.
Yadier Molina - FD 2200 DK 2900 Victiv 4200 Yahoo 12
Opponent- Col (de la Rosa) L Park- @Stl
I'm back to the Molina well yet again. I gave him as the high-floor play at the position last night, and he went ahead and rapped a single in his first at bat, doing things that high floor catchers do. While De La Rosa is a much better pitcher than Kyle Kendrick (even if the ERA doesn't support the claim), he's hardly an ace, and I think the contact-hitting Molina is still a fine option if you don't want to spend much on the position in a double-up format.
Derek Norris - FD 2200 DK 3200 Victiv 4100 Yahoo 12
Opponent- Mia (Urena) R Park- @Mia
My high upside punt play of the position tonight. I don't think I've ever recommended Norris against a right handed pitcher before, which should tell you all you need to know about Urena. If it doesn't, or you just like reading, I'll explain. He strikes out 4.04 batters per 9 innings while walking 3.62. I'm not sure I've seen numbers that bad, and my eyes are bleeding rereading what I just wrote. Norris' big weakness against right handed pitching is striking out, and against a guy who never strikes anyone out, I think he could do some damage here.
First base
Anthony Rizzo - FD 3100 DK 4900 Victiv 5500 Yahoo 17
Opponent- Mil (Garza) R Park- @Mil
Welp, three nights in a row with Rizzo on top of our projection system numbers, and he's paid these ridiculously low prices going away in each of those. While it's probably not likely to hit a home run every single day, the fact remains - Rizzo is a .900 OPS guy with 13 steals for $3,100, and he's facing a below league average pitcher in Garza. What else am I supposed to say, here? Just play the guy, and riches will follow.
Freddie Freeman - FD 3400 DK 4600 Victiv 5400 Yahoo 19
Opponent- Phi (Nola) R Park- @Phi
Freeman is like Rizzo's low-upside, high floor little brother. He's got an .890 OPS against right handed pitching this season, he'll hit in a nice park for left handed bats, and against Aaron Nola. If you're not familiar with Nola, he's a new arrival to the majors who moved quickly through the minors due to his relatively polished stuff. He's not a high upside guy - he projects as a back of the rotation innings eater type - so a hitter of Freeman's caliber should be able to barrel up a few balls.
Mark Teixeira - FD 3700 DK 5100 Victiv 5200 Yahoo 18
Opponent- CWS (Danks) L Park- @cws
If you feel like paying a little bit more because you're straight balling out of control, Teix seems like he has arguably the greatest upside of any guy at the position tonight. He'll take his .908 career OPS against left handed pitching up against John Danks. The man hasn't had a sub 4 xFIP since 2011, and things are all trending in the wrong direction. In a nice hitter's park, this could be a monster game.
If you're seriously flush, our projection system would have you pay up for Paul Goldschmidt, if you're going to pay up big anywhere. Even against Dallas Keuchel, Goldschmidt's lefty dominating ways seem to be worth paying for.

Second base
Brian Dozier - FD 3600 DK 4900 Victiv 5600 Yahoo 21
Opponent- Sea (Montgomery) L Park- @Min
We gave you Dozier the last time he faced a lefty in Seattle, and he went out and homered. Here's what we wrote, and it applies doubly for Montgomery, who's not yet the pitcher that JA Happ is.
If you play daily fantasy baseball, you're well acquainted with what the Doze-man can do for you from the second base position against left handed pitching. If you're not, let me share with you now. Seated? Great. Dozier has an excellent .891 OPS against southpaws this season. But I'm burying the lead. His 21 homers are ten more than the next highest guy at the position. He's also tied for 8th in steals. Just ridiculous. Against the league-average (to below) JA Happ, Dozier sure looks like a must play in all formats, especially since he'll be getting Happ away from Safeco.
Neil Walker - FD 3100 DK 4000 Victiv 5000 Yahoo 17
Opponent- Cin (Iglesias) R Park- @Cin
If you want an interesting mid-tier upside play today, consider Neil Walker. While I'll frankly just play Dozier (and I'll be willing to spend up to do so), Walker brings a fair amount of upside to the table both with his abilities and how unlikely he is to be played. Walker, while he's aging, still has a .785 OPS against right handed pitching this season, including all 9 of his homers. Raisel Iglesias has been eminently hittable in his brief big-league career so far, and it wouldn't shock me to see Walker do some damage on a very low ownership percentage.
Frankly, no one else. Our projection system kinda likes Cano, but Dozier is cheaper and is projected for more points, so I don't really see the point (though Cano can be argued to have a higher floor). I'll just stick with Dozier, and sprinkle in some Walker in big tournaments.
Shortstop
Jhonny Peralta - FD 2600 DK 3600 Victiv 4600 Yahoo 14
Opponent- Col (de la Rosa) L Park- @Stl
I continue to be perplexed as to why Peralta is priced in the same ball-park with the other slap-hitters at his position, but I'll continue to ride the wave. I'll take even money that he'll be priced at $3,000 or more again this season, meaning he's a steep discount as to what he can provide you at these prices. He's got the second most homers in the majors at his position, and the third highest wOBA. He's been .050 OPS points better against left handed pitching in his career. He's facing Jorge de la Rosa. Please don't overthink this - just play him in all formats.
Brad Miller - FD 2300 DK 3000 Victiv 4100 Yahoo 8
Opponent- Min (Gibson) R Park- @Min
Because I know some portion of you are just going to insist on playing someone else, and there's some chance Jhonny takes a night off or something, I'll give you one more guy at shortstop. You're sharp with context clues, so by now you know that's Brad Miller. Miller's been one of our projection system's favorite plays at these minimum prices all season. At least when he's faced right handed pitching. You see, Miller's triple-slash line for the season looks pretty unimpressive, but it's being anchored by the lead weight that is his .452 OPS against lefties. Against righties, he's got a .784 figure, which is excellent for the position. He's also got 10 homers and 8 steals - damned fine upside potential for a shortstop - and you don't even have to pay for him. I like him basically any time he faces a below league average righty, and this is one of those times.
Third base
Miguel Sano - FD 2800 DK 4600 Victiv 4000 Yahoo 18
Opponent- Sea (Montgomery) L Park- @Min
Sometimes, prospects of incredible pedigree actually get to the majors and pan out! It's a nice thing about daily fantasy baseball - you don't have to be saddled with the myriad of can't miss guys that wind up missing. While Sano is still swinging and missing a ton, when he's making contact, he's making it clear that his 80 power will play at the major league level. Enter Mike Montgomery, who was a fine prospect in his own right, but who is the exact type of guy Sano spent his time in the minors butchering. You can never call Sano a safe play at this point in his career, but for upside? Basically unmatched at the position tonight.
Kyle Seager - FD 2800 DK 3600 Victiv 5300 Yahoo 15
Opponent- Min (Gibson) R Park- @Min
It's tough to get too excited about Seager right now, but if you want a solid plug and play for your double-ups, I'd consider him. Kyle Gibson is a pitch-to-contact below league average guy, and Seager is one of the tougher guys to strike out in the majors. In particular, righties have K'd him just 11% of the time this season. Now, his season line is depressed by his uncharacteristic .263 BABIP against right handed pitching, but he's still a 28 year old with an .800 OPS against right handed pitching for his career. I think it'll turn around for him, and that it could start against Gibson tonight.
Yangervis Solarte - FD 2500 DK 2800 Victiv 3800 Yahoo 13
Opponent- Mia (Urena) R Park- @Mia
Speaking of unexciting, oy. Solarte profiles a lot like some other low upside guys who make a lot of contact at the front of a lineup - picture Alcides Escobar, or Johnny Giavotella. His game log is exactly what you'd expect - a lot of solid if unspectacular games, but only 1 negative performance in his last 10. If ever there were a time to project a not so negative performance, it'd be against Jose Urena. If you are spooked by Sano and Seager makes you bored to tears, I love Solarte as the cheap alternative.
Consider: Trevor Plouffe, if he plays. Man can crush a left handed pitcher, and Montgomery is left handed!
Outfield
Josh Reddick - FD 3000 DK 4300 Victiv 4500 Yahoo 11
Opponent- Cle (Anderson) R Park- @Oak
Cody Anderson's 3.26 K/9 is the very lowest I've ever seen when looking these things up, and while that's only through 38 innings, it might as well be a neon sign that says "THIS STUFF DOESN'T TRANSLATE TO THE MAJORS." And then you've got Josh Reddick. He's befuddled right handed pitching all season, posting a .901 OPS on the back of a 8.5% K rate that makes Terry Pendleton nod knowingly from wherever he's at these days. I love this play for both safety and upside at a very reasonable price.
Justin Upton - FD 2800 DK 4200 Victiv 5200 Yahoo 15
Opponent- Mia (Urena) R Park- @Mia
If you missed this awesome story about Justin Upton faking good-bye hugs with his teammates to fool fans, you should probably read it. Upton's expert trolling notwithstanding, the trade candidate has been blasting the ball recently, including sinking my beloved Mets in one of the weirdest games I've seen in a while. I've given you Urena's stats already, and because Doug's friend Bake reminded me that all major league pitchers are actually quite good at pitching, I won't go any further. But I love Upton here as an upside play.
Curtis Granderson - FD 3400 DK 4100 Victiv 4600 Yahoo 17
Opponent- Was (Ross) R Park- @Nym
The Grandy-Man is like a more comical version of Brad Miller, described above. He has a stunning .341 OPS against lefties, sure, but he's still crushed all 16 of his homers against right handed pitching, and thrown in 9 steals for good measure. While Joe Ross is a cool story this season, I still remain skeptical that he'll keep it up in the long term, and he's exactly the type of pitcher that feast-or-famine Granderson can take advantage of. Can he ever be called safe? No. But I do like the upside here.
Preston Tucker - FD 3300 DK 3700 Victiv 4500 Yahoo 15
Opponent- Ari (Hellickson) R Park- @Hou
Carlos Gomez - FD 3700 DK 4100 Victiv 5300 Yahoo
Opponent- Ari (Hellickson) R Park- @Hou
I kind of like a Houston stack against the league-average Jeremy Hellickson. I Wrote this about Tucker last night, and it holds just as true tonight:
The young man has just tortured right handed pitching in AAA and the majors this year (.944 OPS in the majors!), and dusted them in AA in 2014. It still remains to be seen if he can pull it off against pitchers of every handedness, but stranger things have happened than him beating up on righties like de la Rosa at home. This is definitely a boom or bust play, but I love him for big tournaments.
As for Gomez, he's now batting 2nd among a bunch of guys that can really hit, and given the lack of some of the classic power he had in Milwaukee, I think he'll get a little bit more room to run. He's basically a platoon neutral guy for his career, so don't let Hellickson's handedness freak you out.
Be sure to try out a free 3-day trial to the projection system that helps produce these picks for the MLB! And check out our free MLB ebook below.
FREE EBOOK
SECRETS TO CRUSHING DAILY FANTASY FOOTBALL!
DON'T SET ANOTHER LINEUP BEFORE YOU READ THIS BOOK.