Baseball Picks Daily Fantasy
Expert Advice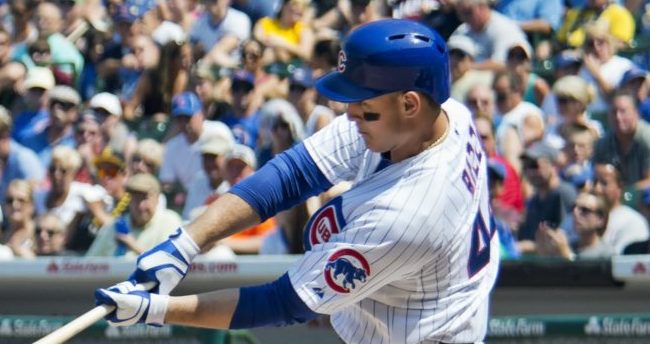 Daily Fantasy MLB Baseball Picks for FanDuel, DraftKings and Victiv 9/1/15
Tonight features a massive slate of games, so I'll try to provide multiple picks at different price levels that have different levels of upside. This is another night with a lot of strong arms pitching, so finding value throughout the lineup will be especially crucial.
If you want the rest? Go ahead and get access to the exclusive projection system that produces these picks. Sign up now and get a free 3 day trial to our lineup construction tool for FanDuel, DraftKings and Victiv.
Pitchers
Chris Sale - FD 12800 DK 13900 Victiv
Opponent- Min (Duffey) R Park- @Min
The most expensive pitcher of the evening, and the guy who I believe has the best matchup of the elite arms is Chris Sale. I don't like Bumgarner or Greinke because they're facing each other, and Cueto is facing an elite offense in Detroit. The Twins are only slightly above league average when it comes to OPS and wOBA against southpaws, and Sale is far from league average (hot take). Unless you're new to this DFS thing, you know Sale has some of the best numbers in the business, and can toss a gem on any given night. I'm not crazy about the price, but if you're looking for the most safety for your 50/50's and multipliers, give Sale strong consideration.
Gerrit Cole - FD 10000 DK 10800 Victiv
Opponent- Mil (Nelson) R Park- @Mil
Coming down in price a bit from the elite arms, Gerrit Cole is a very interesting play for cash games and maybe even for tournaments. Cole is facing a Brewers squad slightly below league average against righties in terms of OPS and wOBA, and have the 10th highest K % in the league. As good as Cole has been on the year, he's actually been better pitching on the road, which works well against a Brewers squad that struggles at home. I (and Vegas) like the Pirates to win this game, so the win bonus could vault Cole up in value while giving you more flexibility to include some big bats in your lineup.
Matt Shoemaker - FD 8000 DK 6700 Victiv
Opponent- Oak (Bassitt) R Park- @Oak
My personal favorite for tournaments comes in the form of Matt Shoemaker for a couple of reasons. For one, his price isn't going to kill you and will allow you to roster more than a few solid bats. Secondly, while the Athletics don't strike out a ton, they are in the bottom third in OPS and wOBA against righties this season. Lastly and most importantly, Shoemaker has a dream matchup against a guy who has gotten absolutely shredded at the big league level in Cody Martin, owner of a less than stellar 5.40 ERA and 4.41 FIP on the season. I really like the Angels to get the win here, and I'm expecting Shoemaker to post an above average score while providing more than enough lineup flexibility.
Catchers
Evan Gattis - FD 3000 DK 3700 Victiv 4900
Opponent- Sea (Elias) L Park- @Hou
Catcher is a bit of a mess today, and Gattis is far and away my favorite paly of the evening. He's never been a high average guy because he strikes out so much, but he makes up for that with his incredible power potential. Roenis Elias has a below average xFIP of 4.2, and his K/9 rate is nothing to be scared of. Gattis gets to hit in the heart of a lineup that performs well against left-handed pitching, in a park that was made for right-handed power hitters. Not guaranteeing a home run or anything like that, but it certainly wouldn't surprise me if Gattis put one in the seats tonight.
Miguel Montero - FD 2500 DK 3400 Victiv 4200
Opponent- Cin (Desclafani) R Park- @Chc
There's no guarantee that he'll play, but if he does Montero could be one of the best value plays at any position. The matchup is about as good as it gets in Anthony Desclafani, who sports an xFIP of 4.72 and a wOBA of .342 against left-handed hitters. Montero has been a significantly better hitter at home this year, has an OPS of 0.865 in the second half of the season. For near minimum price this is a great safety play that has some serious upside potential if the Cubs bats stay hot.
DraftPot has a $100K Guaranteed contest for NFL's Week 1. Sign up and deposit with the promo code "DFSR" to get 100% matching bonus up to $1000. Click the banner below.

First base
Anthony Rizzo - FD 4200 DK 5000 Victiv 5500
Opponent- Cin (Desclafani) R Park- @Chc
Another Cub left-hander who I expect to have a pretty solid game is Anthony Rizzo. The man has a .900+ OPS, 0.263 ISO and walks nearly as much as he K's against righties. All of these numbers are truly elite, and make Rizzo my favorite play at 1B today. I've already made my case against Desclafani, so I won't harp on that anymore. I like Rizzo in all formats today, although it could be tough to fit him in a lineup with an elite arm.
Greg Bird - FD 3000 DK 3800 Victiv 4200
Opponent- Bos (Porcello) R Park- @Bos
Again, this play is contingent on Bird starting, but if he does he's got an excellent matchup against Rick Porcello. If you're not familiar with his work, he has been getting absolutely hammered by lefties this year to the tune of an xFIP of 4.20 and an OPS approaching .900. In a limited amount of playing time this year, Bird has proven that he's got plenty of power against right-handed pitching. If the Yankee bats get going again tonight (and it's a strong possibility), Bird should have plenty of opportunities to more than pay off his below average salary.
Second base
Jose Altuve - FD 3900 DK 4500 Victiv 5200
Opponent- Sea (Elias) L Park- @Hou
We gave you Altuve last night, and he did not disappoint. We're going to keep on rolling with him while he's hot and facing his favorable platoon split. The guy has a ridiculous 0.373 BA and an OPS of over .900 against lefties on the year, and as I mentioned earlier, Elias doesn't scare me at all. The only thing I'm not thrilled about is the high price tag, but I expect Altuve to have one of those monster nights that win people a lot of money. I definitely recommend rostering him if you can afford it.
Kelly Johnson - FD 2300 DK 2900 Victiv 3200
Opponent- Phi (Harang) R Park- @Nym
Your value play of the day for 2B comes in the form of Kelly Johnson. He's not going to blow anyone away with his numbers, but he's solid enough against righties and hits in the middle of a pretty darn good lineup. The value here comes form facing Aaron Harang, who has been embarrassingly horrific against lefties this year with an xFIP of 6.09 (I didn't even know it went that high). If you need a relatively safe floor play to mix in with your high priced pitcher(s), Johnson is your guy.
Shortstop
Jhonny Peralta - FD 2200 DK 3600 Victiv 4300
Opponent- Was (Ross) R Park- @Stl
If you're a fan of the site, there's really no need to elaborate here because we've been on Peralta for about a week strong now, and the reasons have not changed. For those who may be new to the site, I'll give you a quick rundown. He hits 3rd for a very good offense, he's got 16 HR's and 24 2B's on the season, and he's priced at the minimum on FD. If you're saving up for a big arm (and even if you're not), Peralta is far and away your best PPD option at SS.
Didi Gregorius - FD 3200 DK 3300 Victiv 4200
Opponent- Bos (Porcello) R Park- @Bos
If you want to spend up a little at SS today, Gregorius provides an interesting upside play tonight. On the seaon he's been sporadic at best, but he's recently been on a hot streak over his past five games or so. He's been significantly better this year against right-handed pitchers, and he's got one of the best matchups of the evening against Rick Porcello. This is definitely a bit of a risk, but very few people win high dollar tournaments by playing it safe.
Third base
Todd Frazier - FD 2600 DK 4600 Victiv 5200
Opponent- Chc (Haren) R Park- @ChC
The boring, safe, high PPD play of the evening at 3B is Todd Frazier. He's shown signs the past week of breaking out of his slump, and it looks like he's starting to turn the corner. I know this is against his favorable platoon split, but Frazier is still an above average hitter against righties. Dan Haren has been getting hurt by the long ball quite a bit this year, giving up 29 HR's on the year (which is a lot). Not saying Frazier is guaranteed a home run or anything, but facing Haren certainly doesn't hurt his chances. I like Frazier in all formats tonight.
Kyle Seager - FD 3700 DK 3500 Victiv 5200
Opponent- Hou (Feldman) R Park- @Hou
If you have some money to spend at 3B and you want a little more upside, Seager is probably your best bet. I don't like him nearly as much as Frazier, but he's facing a guy in Scott Feldman that has an abysmal K/9 rate and a slightly above average xFIP. Left-handed hitters only hit the ball softly off Feldman 18.7% of the time, meaning Seager should get plenty of good looks to drive the ball. Not by any means a safe play, but the upside is here if you can afford it.
Outfield
Jay Bruce - FD 2500 DK 4000 Victiv 4600
Opponent- Chc (Haren) R Park- @ChC
Another guy we've been on quite a bit over the past week or so is Jay Bruce. The guy has one of the better power upsides in the game against right-handed pitching, and he's coming at a price that is far below his potential. As I mentioned earlier, Dan Haren has given up an absurd number of home runs this year, which plays right into Bruce's strength. Haren's below average K/9 rate helps reduce Bruce's higher strikeout rate, making this one of the more appealing upside plays of the entire slate.
Yoenis Cespedes - FD 4300 DK 4800 Victiv 5300
Opponent- Phi (Harang) R Park- @Nym
This guy has been on fire since the All-Star break, and he hasn't shown any signs of slowing down. He's already hit the same number of HR's (13) as he did in the first half, in only half the plate appearances. Combine that with his .906 OPS and .385 wOBA against righties this year and that alone makes Cespedes an elite play in any format. But it only gets better, because he's facing Aaron Harang, who is almost as bad against righties as he is against lefties. Harang pitches to contact and gives up a lot of hard hit balls, and few have been driving the ball like Cespedes lately. Don't love the ballpark factor, but I still think Cespedes puts up one of the highest scores for position players.
Mike Trout - FD 4400 DK 4900 Victiv 5300
Opponent- Oak (Bassitt) R Park- @Oak
Kole Calhoun - FD 2900 DK 3800 Victiv 5000
Opponent- Oak (Bassitt) R Park- @Oak
David Murphy - FD 2200 DK 2500 Victiv 3300
Opponent- Oak (Bassitt) R Park- @Oak
Trout is still a major bargain on both FanDuel and DraftKings. The price hasn't fully corrected. And if you need to save some money in the outfield to roster a big arm, give Kole Calhoun and David Murphy some serious consideration. Calhoun hits at the top of the order, and provides a lot of pop at the leadoff position (20 HR's). Murphy hits in the heart of the order around Trout and Pujols so you know he'll get opportunities to hit and drive guys in. Both are up against Cody Martin who has not exactly set the world on fire in his limited exposure to the big leagues. I'm especially big on Calhoun tonight, but I could see either of these guys putting up solid numbers while providing some price relief as well.
Dexter Fowler - FD 3100 DK 4200 Victiv 4900
Opponent- Cin (Desclafani) R Park- @Chc
If it's not broke, don't fix it. That's the unofficial philosophy we've been following over the season and it has been paying quite well. Fowler has been on fire since the All-Star break, and had another stellar game last night. Desclafani, as I mentioned earlier has been pretty bad against lefty hitting this year, and I fully expect Fowler to take advantage of that. There's nothing more dangerous in DFS than a leadoff hitter who's on a hot streak, and I'm looking for Fowler to continue that streak tonight.
And infinity cheap guys - for those, grab a free three day trial of our projection system. Good luck out there!
And check out our free MLB ebook below.
FREE EBOOK
SECRETS TO CRUSHING DAILY FANTASY FOOTBALL!
DON'T SET ANOTHER LINEUP BEFORE YOU READ THIS BOOK.