Hockey Picks Daily Fantasy
Expert Advice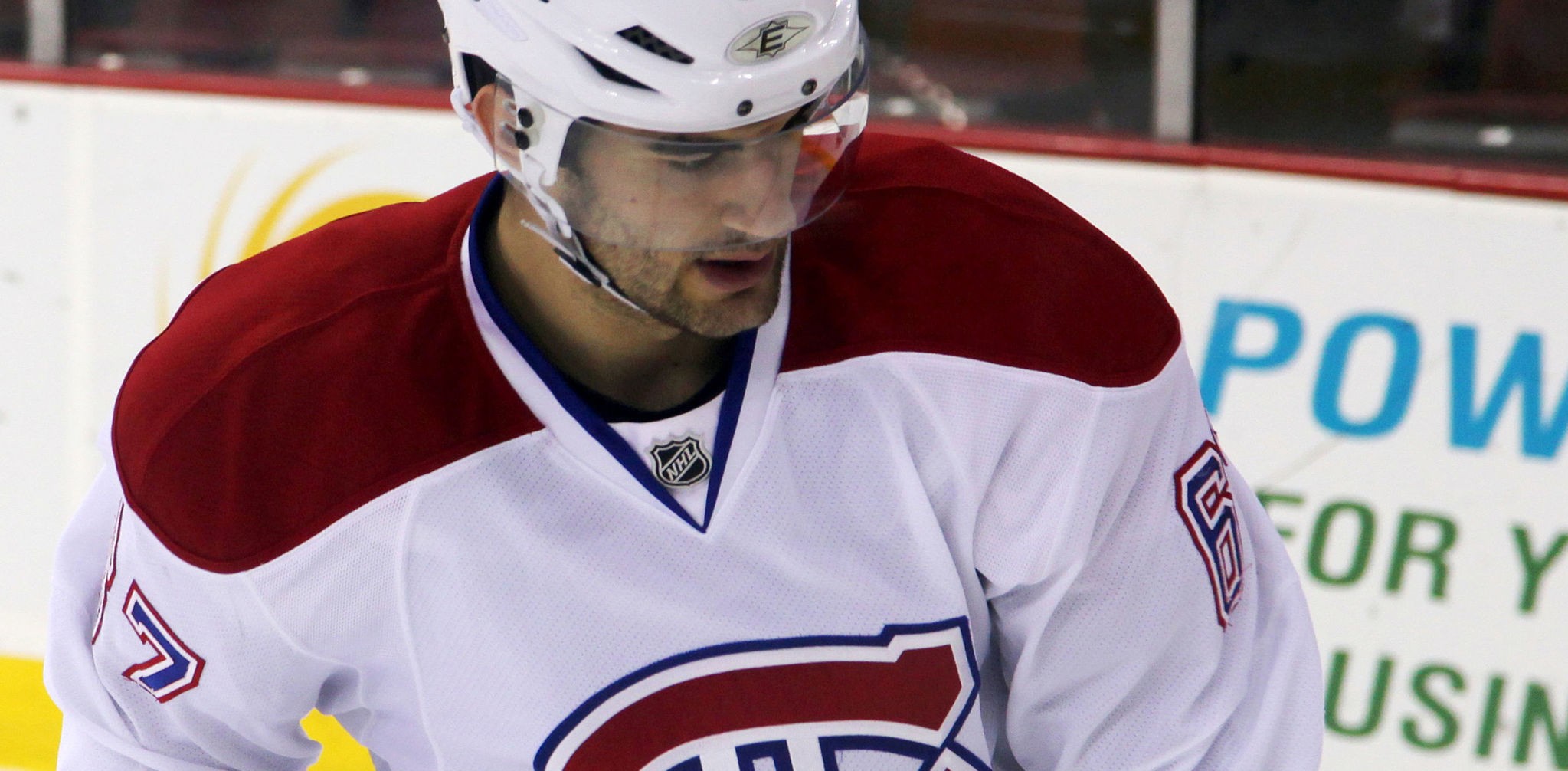 Daily Fantasy Hockey Picks for DraftKings and FanDuel - 10/24/15
The NHL season is here and we'll be bringing you picks 3-4 days a week for the bigger slates to start. We are also beta-testing a new NHL projection system.
Playing other daily fantasy sports like NFL, MLB or NBA. Go ahead and get access to the exclusive projection system that produces all of our picks. Sign up now and get a free 3 day trial to our lineup construction tool for FanDuel, DraftKings, Starsdraft and Draftpot.
Saturday night brings us 11 games on Draftkings and 12 games on FanDuel for the main slate. The Ducks/Wild game is only available on FanDuel. There are 6 teams(BUF, CAR, DET, MTL, NYI, & TB) playing in back to back nights. Three teams(BUF, CAR, DET) are playing their third game in four nights leaving us some situations we might be able to exploit. There are plenty of goalie options from top salary to low salary leaving plenty of options when making multiple lineups. The large slate of games should also help create lower ownership percentages and help us find some differentiation plays. Lets dig in.
The first thing to know when playing DFS hockey is that choosing your goalie is very important. In most cases, especially cash games, it is smart to pay up for the best goalie who is the biggest favorite to win on any given night. If you are going to play multi lineups in GPP formats you can start to stray away from the top guys and pick some lower end goalies and stack your forwards and defense. Another thing I watch closely when looking for value picks in DFS hockey is to watch the line combinations as new guys jump up the depth chart and start playing with superstars. The pricing on these players doesn't catch up fast enough and close to minimum priced players can be found nightly with plenty of upside.
The two sites I will be making picks for will be DraftKings and FanDuel. Here is the breakdown of the points for each site:
DraftKings:
Goal(3 Pts)                                                   Goalie Win(3 Pts)
Assist(2 Pts)                                                 Goalie Save(.2 Pts)
Shot(.5 Pts)                                                  Goal Against(-1 Pt)
Short Handed Point Bonus(1 Pt)             Shutout Bonus(2 Pts)
Shootout Goal(.2 Pts)
Hat Trick Bonus(1.5 Pts)
Blocked Shot(.5 Pt)
Fanduel:
Goal(3 Pts)                                                    Goalie Win (3 Pts)
Assist(2 Pts)                                                 Goalie Saves(.2 Pts)
+/-(1 Pt)                                                        Goal Against(-1 Pt)
PIM(.25 Pts)                                                Shutout Bonus(2 Pts)
Power Play Point Bonus(.5 Pts)
Shot(.4 Pts)
There is no difference in goalie scoring between the two sites but there is a significant difference in forward/defense points. On DraftKings you get awarded points for short hand points, blocks, shootout goals, and can receive a hat trick bonus. FanDuel has none of these categories but awards powerplay points, +/-, and penalty minutes. More than anything this affects how I choose my defense. On DraftKings I look for defense who block a lot of shots while on FanDuel I really concentrate on +/- more than anything as it is worth 1 point either way.
GOALIES
Cory Schneider - New Jersey Devils @ BUF **CONFIRMED*
DraftKings - $6,800 FanDuel - $8,500
Great price on both sites still and come into a matchup vs. the Sabres who are scoring less than 2 goals per game. Buffalo is also playing in back to back games and their 3rd game in 4 nights and could be getting a little fatigued. Look for a low scoring game and great chance for the Devils and Schneider to pick up a win.
Martin Jones - San Jose Sharks vs. CAR *PROBABLE*
DraftKings - $7,000 FanDuel - $7,600
Got torched last time out but was due after a great start with the Sharks. The entire time had a let down and the Kings are in the middle of trending in a positive direction. Look for the Sharks to get back on track Saturday night in a great matchup vs. a Hurricanes team on back to back and playing their 3rd game in 4 nights on the road. Be sure to check after morning skates to confirm Jones will be back in the net Saturday.
Also Consider - Kari Lehtonen - Dallas Stars
CENTER
Tyler Seguin - Dallas Stars vs. FLA
DraftKings - $8,400 FanDuel - $8,600
The Dallas Stars have started the year off strong as the leagues 3rd highest scoring team and also 2nd ranked on the powerplay. Seguin has been on fire alongside Benn this year scoring 10 points in the first 7 games. He sits in a nice matchup at home Saturday vs. the Panthers. Look for another strong game for the Stars and their first line.
Martin Hanzal - Arizona Coyotes @ OTT
DraftKings - $4,300 FanDuel - $4,800
He has 9 assist on the year and is still looking for his first goal on the year. He is attempting over 14 shots a game so we could see that first goal soon. He is getting nearly 20 min of ice time per game and over 4 min of that on the powerplay. He makes a nice cash game play on both sites.
Also Consider Max Domi - Arizona Coyotes
Special Offer
DraftPot has a $100K Guaranteed contest for NFL's Week 6. Sign up and deposit with the promo code "DFSR" to get 100% matching bonus up to $1000. Plus, first time depositors get a free entry to their $10K contest. Oh, and if you sign up through our link we'll throw in a free month of our NFL projections which now include a Draftpot Lineup Builder. That's value baby! Click the banner below.

WINGERS
Max Pacioretty - Montreal Canadiens vs. TOR
DraftKings - $7,600 FanDuel(LW) - $8,200
Has been one of the main scoring options on the leagues best team. He has started the year with 7 points in as many games and more impressively is a +9 on the year. He enters a matchup at home vs. Leafs who he has scored 22 points against in his career. The Canadiens hold the leagues best goal differential at +21 and we should expect the same on Saturday.
Vladimir Tarasenko - St. Louis Blues vs. NYI
DraftKings - $7,600 FanDuel(RW) - $8,200
A very consistent option for the Blues with 9 points in 7 games to start the year. He is also 4th in the league with 26 shot attempts per 60 minutes of play. The Blues are at home Saturday vs. an Islanders team playing on back to back nights. We should see another strong outing form the Blues and Tarasenko.
Evander Kane - Buffalo Sabres vs. NJ
DraftKings - $5,400 FanDuel(LW) - $5,900
He makes a nice cash game play Saturday as he has a nice floor as he is attempting over 18 shots a game. Those attempts will soon start converting into points and he is in a great situation Saturday vs. the Devils.
Also Consider - Mats Zuccarello - New York Rangers
DEFENSE
Oliver Ekman-Larsson - Arizona Coyotes @ OTT
DraftKings - $4,900 FanDuel - $5,900
A nice value on both sites for a player with multi point upside. He has been averaging over 21 shot attempts per 60 minutes which is top 20 in the league. Pretty good sign for the Coyotes top D man getting who gets the majority of the powerplay time on the point. Look for the Coyotes to put up a solid game in Ottawa Saturday.
Brent Seabrook - Chicago Blackhawks vs. TB
DraftKings - $4,300 FanDuel - $5,100
With Keith out for 4-6 weeks, Seabrook will take a bit bigger role on the powerplay and offensively all around. He is coming off a game on Thursday where he got a goal and 2 assists. He is sitting at a great salary on both sites and needs to be in your cash game lineups.
Also Consider - P.K. Subban - Montreal Canadiens
Love what you read, and hungry to learn more about putting together winning daily fantasy football lineups? Check out our FREE eBook by getting a copy below. Want to cut out the research, and just get the best plays? Grab a free 3 day trial of our projection system, on us!
FREE EBOOK
SECRETS TO CRUSHING DAILY FANTASY FOOTBALL!
DON'T SET ANOTHER LINEUP BEFORE YOU READ THIS BOOK.