Hockey Picks Daily Fantasy
Expert Advice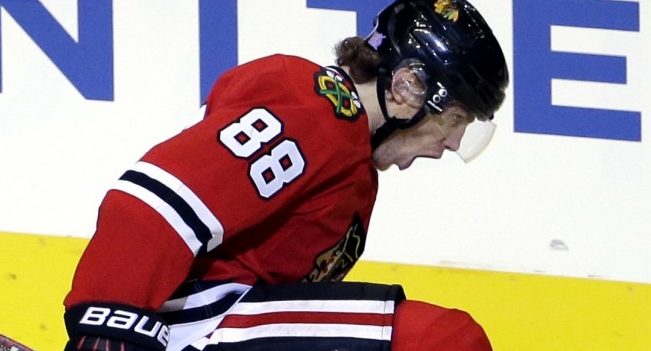 Daily Fantasy Hockey Picks for DraftKings, FanDuel, & DraftPot - 11/25/15
The NHL season is here and we'll be bringing you picks 3-4 days a week for the bigger slates to start. We are also beta-testing a new NHL projection system.
Playing other daily fantasy sports like NFL, MLB or NBA. Go ahead and get access to the exclusive projection system that produces all of our picks. Sign up now for our lineup construction tool for FanDuel, DraftKings, Starsdraft and Draftpot.
Welcome to the daily fantasy hockey picks article for DraftKings, FanDuel, and DraftPot for Wednesday, November 25, 2015. After a slow, two game slate last night we are back with a full 13 game schedule tonight. The Ottawa Senators will be playing in back to back nights and coming off a 7-4 route of the Stars on Tuesday. The Ducks are the only other team playing in a back to back and as of writing this are tied at 2 mid way through the game. With such a big slate of games it presents us plenty of value options to help us roster the top goaltender and forward options.
Lets now dig in to the matchups and find some core plays for Wednesday night.
GOALIES
Braden Holtby - Washignton Capitals vs. WPG *PROBABLE*
DraftKings - $8,100 FanDuel - $10,000 DraftPot - 5.10 DPPG
He is coming off his first shutout of the season and is on a four game win streak and has six wins in his last eight starts. The Capitals are -210 favorites at home vs the Jets who are struggling with a -11 goal differential on the year. Holtby provides a cost savings from Lundqvist, especially on FanDuel and is a great play in any format.
Jaraslav Halak - New York Islanders vs. PHI *PROBABLE*
DraftKings - $7,400 FanDuel - $8,500 DraftPot - 4.88 DPPG
He makes a great projected low owned goalie for larger field tournaments on Tuesday. I wouldn't use for cash as the wins have not come easy but he holds .919 save % and has 2 shutouts on the year. Not to mention his matchup with Flyers who are ranked dead last in offense, scoring under 2 goals per game. Halak and the Isles(-210 Favs) are in a great spot to pick up a home win.
Also Consider - Frederik Anderson Anaheim Ducks
CENTER
John Tavares - New York Islanders vs. PHI
DraftKings - $8,100 FanDuel - $9,800 DraftPot - 4.18 DPPG
Points in five of his last six games and his price on DraftKings is actually $100 less than before the streak began. He is ranked 25th averaging 18.6 CF/60 providing a nice floor and carries multi point upside in to almost every game he plays. He is a great value on DraftPot where he is ranked as the 6th most expensive Center option.
Patrice Bergeron - Boston Bruins @ DET
DraftKings - $6,300 FanDuel - $7,300 DraftPot - 4.50 DPPG
About as Consistent a fantasy option around and as long as his price hovers around the mid tier he is an elite option every night. He has points in eight straight games and averages 14.4 CF/60. Boston holds the leagues 3rd ranked offense and the #1 powerplay.
Also Consider Dylan Larkin - Detroit Red Wings
WINGERS
Patrick Kane - Chicago Blackhawks @ SJ
DraftKings - $8,500 FanDuel(RW) - $8,400 DraftPot - 6.58 DPPG
If you are looking to pivot off of Ovechkin you definitely can't go wrong with Kane. He goes into this game with a 16 game point streak and lead the league with 32 points on the season. He comes in at a great value on FanDuel and DraftKings where he is still under $9,000. It is a tougher matchup on the road vs. the Sharks but an elite talent like Kane is matchup proof.
Taylor Hall - Edmonton Oilers @ CAR
DraftKings - $6,900 FanDuel(LW) - $9,400 DraftPot - 5.53 DPPG
He has been one of the few bright spots for the Oilers since McDavid got injured. He now has 24 points in 21 games with a +11 rating and 91 shots on goal. He has shown great chemistry with Leon Draisaitl and the Oilers are in a good spot to put up some offense on Wednesday as they face the Hurricanes ranked 23rd in goals allowed per game.
Tyler Toffoli - LA Kings @ TB
DraftKings - $6,100 FanDuel(RW) - $6,000 DraftPot - 4.30 DPPG
Great option for a balanced lineup around that $6K range. He doesn't get many multi point games but has been very consistent with points in seven of his last eight games and has 19 points on the season. He has added +12 rating and is averaging 15.7 CF/60 providing a nice floor and safe pick for cash games.
Also Consider - Justin Abdelkader - Detroit Red Wings
DEFENSE
Brent Burns - San Jose Sharks vs. CHI
DraftKings - $7,300 FanDuel - $7,800 DraftPot - 5.45 DPPG
Top pick for defense tonight as he has 17 points and provides a high floor with shots, blocks(DK) and PIM(FD). He can also fill the score sheet and pick up multiple points making him a great option in GPP tournaments and is usually lower owned due to the high salary.
Shayne Gostisbehere - Philadelphia Flyers @ NYI
DraftKings - $2,800 FanDuel - $3,000 DraftPot - 2.31 DPPG
If you are looking for a punt option to fit some of the top players in your lineups look no further. He stepped in when Streit went down with injury and has stepped into the role of QB on the powerplay. He is averaging 15.9 CF/60 in his first 5 NHL games and is a safe as long as his salary remains near minimum.
Also Consider - Kevin Shattenkirk - St. Louis Blues
Love what you read, and hungry to learn more about putting together winning daily fantasy football lineups? Check out our FREE eBook by getting a copy below. Want to cut out the research, and just get the best plays? Check out our projection system!
image sources
Patrick Kane: (AP Photo/Nam Y. Huh)
FREE EBOOK
SECRETS TO CRUSHING DAILY FANTASY FOOTBALL!
DON'T SET ANOTHER LINEUP BEFORE YOU READ THIS BOOK.