Basketball Picks Daily Fantasy
Expert Advice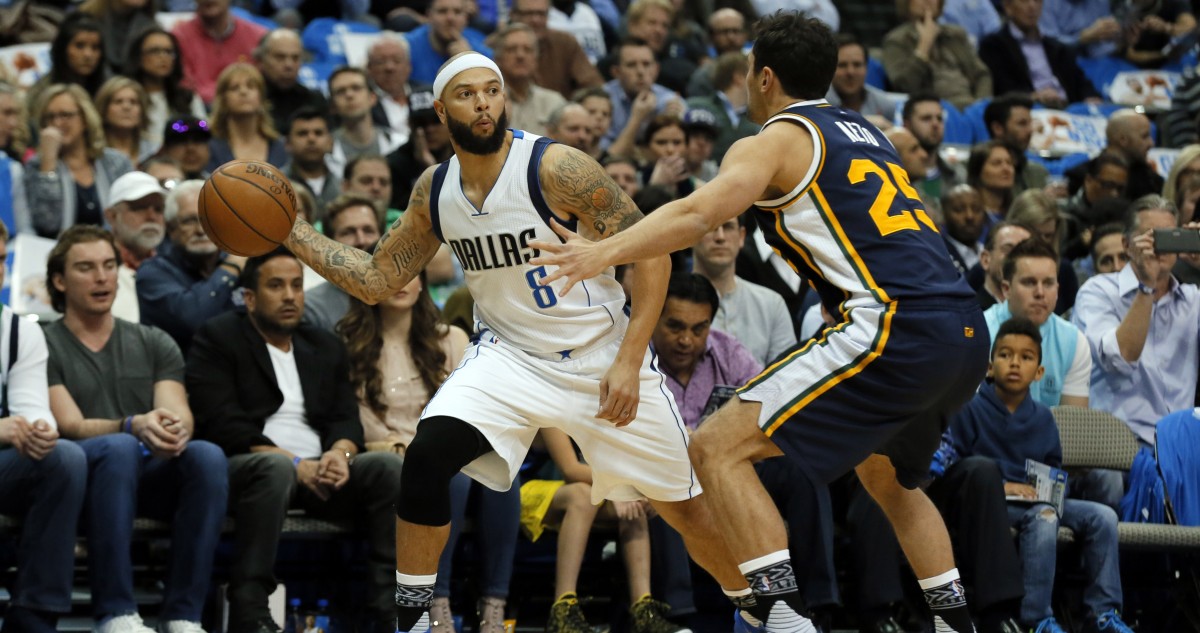 Daily Fantasy NBA Basketball Picks for FanDuel and DraftKings - 2/24/16
Busy Wednesday in the Association. I always find that to be good news, especially if I'm looking for some tournament action. Lots of options, which means lots of choices for diversification. I also noticed that our offshore friends have a lot of games projected to be not that close, and about half have a decent (210+) O/U. I think sometimes people read too much into these numbers, but tonight they speak to a couple of things. First, they suggest a good bit of blowout risk. Then again, with the Sixers and Lakers on the same slate, that's sort of a given. They also indicate there should be a fair amount of up-and-down the court action. Let's look for some value and upside.
If you want to grab a free trial of the winning projections that inform each and every one of these picks, check out our NBA Optimal Lineups, Projections, Player Cards and Google Chrome extension that auto-populates your lineups into FanDuel. While the seasons overlap, you'll get access to our tools for the NBA and NHL (and MLB when the time comes)! Get started for free by clicking the button below.
First time with NBA? Be sure to read our free NBA Ebook on building lineups, general strategy and more. We've got you completely covered.
A quick heads up - we post an updates article every day in the early afternoon, EST, to catch everyone up on how things are changing as a result of whatever news has come through. We also have great talks in the comments of that article. Hope to see you there!
We've also launched a Stats and Research Page, which includes a lot of the individual statistics that we use to make our projections. It's free! Enjoy,
POINT GUARD
Warning: There are a LOT of PG options tonight, mostly clustered in the same price range. The following particularly stick out.
Mike Conley - FD 6700 DK 6900
Opponent - LAL
FD Proj. Pts - 36 DK Proj. Pts - 38.19
With Marc Gasol done for the year, the burden on the next-best Grizzly is only increasing. We aren't fully aware what the impact on their pace may be, but it's likely to tick up as well (hard not to). Notwithstanding the dud the last time out where he ran awful from the field, he has a high projected floor relative to price.  Playing against the Lakers will do that for a guy as their defense is essentially a bunch of parking cones and folding chairs.
Deron Williams - FD 6000 DK 6100
Opponent - OKC
FD Proj. Pts - 31.56 DK Proj. Pts - 33.78
D-Will is almost a mirror image of Conley value-wise, just at a slightly lower price point. He's also been ridiculous the last several games, averaging roughly 6x per outing (some OTs thrown in there, but also a buzz off thanks to a blow out against Philly). Dallas is going up against OKC and 2 guys who could blow the game open at any time, which always makes me a little nervous. But the line's close, the O/U is pretty high, and I just don't see it getting ugly. Plus, the Mavs are no slouch themselves (see what I just did there?).
Reggie Jackson - FD 6800 DK 6700
Opponent - PHI
FD Proj. Pts - 32.66 DK Proj. Pts - 33.89
Going back up slightly in salary, our projections like Reggie almost as much as the guys above. He's coming off a couple of really good games post-ASB. There's the ever-present Philly Blowout Factor to consider. But that's offset by the ever-present Philly Sucks Factor, though this is less true against PGs in terms of DvP (7th in the league). Those combine for another really-high-ceiling possibility, though the floor's a little lower due to opponent. Strong play on a night of strong plays.
In terms of other options, Rickey Rubio could easily be fully written up, Kyrie Irving is a great value slightly below an elite price point (a touch moreso on FD), and Russ is playing (which has a roughly 1.0 correlation with being in my cash lineups).
SHOOTING GUARD
Jamal Crawford - FD 4900 DK 5700
Opponent - DEN
FD Proj. Pts - 26.4 DK Proj. Pts - 29.02
Yes, I'm going here. Games against the Suns simply don't count (right?). He has been producing so well, so consistently, yet remains criminally underpriced on FD, while still representing good value on DK. Both teams are just above average in terms of pace, and there's some blowout risk in the game (per offshore – double-digit spread). Still, Jamal runs with (and quite a bit against) the 2nd unit and usually gets his minutes regardless. So, again, yes, I'm going here.
Zach LaVine - FD 4900 DK 5300
Opponent - TOR
FD Proj. Pts - 25.19 DK Proj. Pts - 26.28
While the Timberwolves' brilliant double-starter rotation suggests Lavine's technically coming off the bench, he should be fine in terms of run. His minutes have fluctuated lately a little more than is comfortable (an eight minute range is sub-optimal), but that hasn't been related to his starting/non-starting role. The Raptors backcourt is really, really good in the real world, but statistically just below average in defending 2's. This is another mixed-news matchup – decent O/U, but larger spread than one would prefer. With plenty of options to spend dollars elsewhere the bottom line is that this is a strong lower-end investment.
E'Twaun Moore - FD 4500 DK 5400
Opponent - WAS
FD Proj. Pts - 22.71 DK Proj. Pts - 24.08
On FD this one's a straight value play with upside. On DK it's a little tougher to explain, but even at a slightly higher price point he's spent the better point of the month above 5x production (spiking well above that a few times). This game is expected to remain close and his starter minutes project as safe. He can contribute in several categories and typically doesn't turn the ball over. It all adds up, from a narrative standpoint, to what feels like a nice, safe play. The numbers agree.
Have to mention J.R. Smith in passing
SMALL FORWARD
Tobias Harris - FD 5700 DK 6000
Opponent - PHI
FD Proj. Pts - 30.03 DK Proj. Pts - 31.79
Tobias has a high floor, high ceiling, locked minutes, and a coach in young love (though not particularly young). That combination is hard to pass up. Then there's the Sixers. That's the extent of what I have to say against this pick. There are some options at SF tonight, but many more at every other position. I've got to call this a plug-and-play, cash and tourney. Move along.
Marcus Morris - FD 5200 DK 5400
Opponent - PHI
FD Proj. Pts - 26.33 DK Proj. Pts - 28.71
After a run of 5x+ pretty much all month long, I decided he was a must-play coming out of the ASB. Thanks Marcus. With Stanley Johnson now shelved for a couple of weeks the good Morris twin's minutes are even safer. I've already covered the matchup. The DFSR system really likes him on FD, and is infatuated on DK where he's the highest Pts/$ play of the night. He's got a slightly lower floor than Harris, but a slightly lower salary to match. This is another solid play in all formats.
LeBron James - FD 9900 DK 9600
Opponent - CHA
FD Proj. Pts - 45.02 DK Proj. Pts - 46.85
For those looking to spend up The King is always a sound option (the rule-proving exception occurring on Monday, when he turned the ball over a bunch and his running mates picked up the slack). Big dollars need big floors, and his is high. Frankly, he's been underpriced almost all season with a slight downtick on DK for Thursday. If you're saving elsewhere then this is a good place to go. Mind the light blowout risk, but LeBron is so efficient that I'm not thrown off by it.
On a big night, I have to note that the system loves Matt Barnes. I just have a hard time pressing the argument.

POWER FORWARD
Zach Randolph - FD 6400 DK 6900
Opponent - LAL
FD Proj. Pts - 32.77 DK Proj. Pts - 33.37
Z-Bo is the unquestioned top option at PF on FD and a strong value on DK (chalk that up to salary discrepancies). Getting further along in the picks, I've already covered the matchup (mixed messages). His range the last several weeks has been 4x to 7x. That's pretty strong. No reason to think he falls out of that here. Very solid cash option, and I can easily see him in a mid-tier (as opposed to pay-and-punt) tourney lineup as well. The Grizz have to be committed to his run simply because they are so short on big men.
Kevin Love - FD 7500 DK 7400
Opponent - CHA
FD Proj. Pts - 36.85 DK Proj. Pts - 39.55
Where Randolph is tops on FD and only almost so on DK, Love is the reverse. It's not just possible but likely he goes well above 5x on DK. I hesitate to endorse all of the Cavs' Big Three on the same night, but tonight's apparently an exception. This guy has been tremendous coming off the ASB. While Charlotte can no doubt play some defense, Love's position (Stretch 4? Elbow? Post-up?) will play some havoc with their matchups. Floor's solid and upside presents itself.
Patrick Patterson - FD 3700 DK 3900
Opponent - MIN
FD Proj. Pts - 17.95 DK Proj. Pts - 19.88
Punt of the night, pure and simple. Sub-$4k salary and good run sounds like a sale to me. Don't let his clunker against the Knicks scare you off – PatPat just didn't get his touches. There's no evidence of a trend developing. Minnesota is atrocious against PFs, and he should produce.
This is another stacked position. Any other night would demand full write-ups for Tristan Thompson, Serge Ibaka, and LaMarcus Aldridge, in case you're wondering why they're not here.
CENTER
Zaza Pachulia - FD 5800 DK 5900
Opponent - OKC
FD Proj. Pts - 31.73 DK Proj. Pts - 32.34
I'm almost all-in (that should be an oxymoron, but I don't think it technically is) on Radio ZaZa tonight. He managed a 4x in 19 minutes against the Sixers. He's hardly the only one to do that this year. As long as he gets his minutes he'll generate fantasy production. In OKC he's up against a solid interior D, but the game should be close, and accordingly the minutes should be there. In addition to being the biggest center value on the board, he's not terribly expensive (it feels wrong mentioning a certain PG with a mere single syllable, in passing, so I won't – but if you do happen to find savings somewhere…).
Andre Drummond - FD 8600 DK 8000
Opponent - PHI
FD Proj. Pts - 41.9 DK Proj. Pts - 42.66
Here's where the "almost all-in" comes from. An opportunity to spend $8k+ and maintain a high floor is not easy to come by. This walking double-double presents one. The Philly caveats are there, but he could get 10 and 10 by the end of the first. If you don't want to spend up elsewhere (again, I won't mention any names), this is a viable place to do so.
If you're looking for a tourney play, consider Timmy D. here.
So yeah, basketball season! And we've got some goodies you can take with you. At the end of the post, we have our NBA eBook that you really ought to check out before setting even a single daily fantasy NBA lineup. It's free, below.
GRAB A FREE TRIAL OF OUR PROJECTION SYSTEM!
GET OUR FREE EBOOK ON DAILY FANTASY NBA!
And Daily Fantasy NBA Picks for FanDuel and DraftKings every day!
image sources
Raul Neto, Deron Williams: (AP Photo/Tony Gutierrez)
FREE EBOOK
SECRETS TO CRUSHING DAILY FANTASY FOOTBALL!
DON'T SET ANOTHER LINEUP BEFORE YOU READ THIS BOOK.