Basketball Picks Daily Fantasy
Expert Advice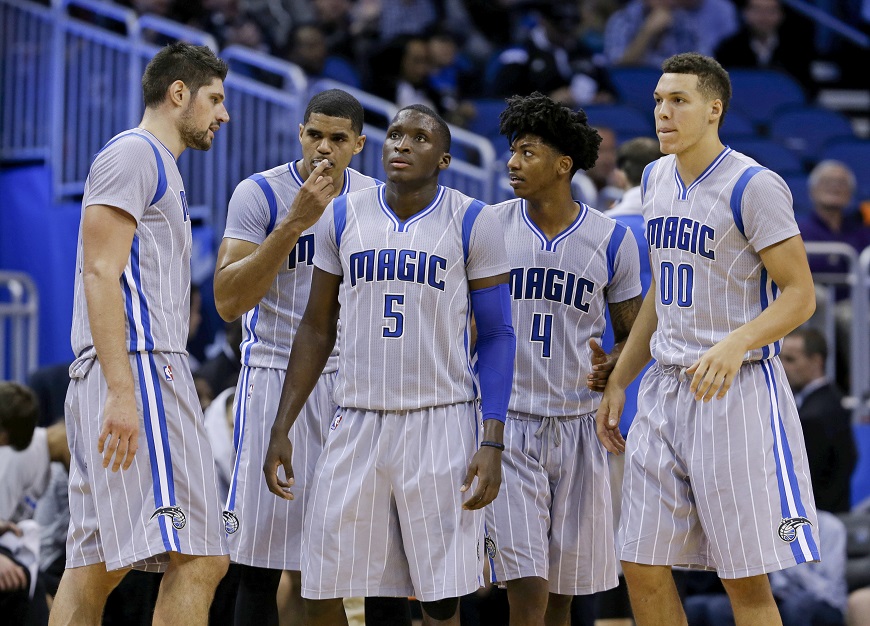 Daily Fantasy NBA Basketball Picks for FanDuel and DraftKings - 3/1/16
Welcome to March! I'm writing these picks as of 9 PM EST on the previous night, and I dare say everything is going terrific in the world of DFSR daily fantasy basketball! All of that could change on a dime, of course, but that's why we love DFS. Tonight's very interesting. We have 3 awful defenses (LAL, BKN, PHO), and a total lack of big money stars outside of Steph Curry. Given that it's been the year of stars and scrubs, I'm sort of curious as to how optimal lineups will shake out. Let's dive into the night and see what's coming together.
If you want to grab a free trial of the winning projections that inform each and every one of these picks, check out our NBA Optimal Lineups, Projections, Player Cards and Google Chrome extension that auto-populates your lineups into FanDuel. While the seasons overlap, you'll get access to our tools for the NBA and NHL (and MLB when the time comes)! Get started for free by clicking the button below.
First time with NBA? Be sure to read our free NBA Ebook on building lineups, general strategy and more. We've got you completely covered.
A quick heads up - we post an updates article every day in the early afternoon, EST, to catch everyone up on how things are changing as a result of whatever news has come through. We also have great talks in the comments of that article. Hope to see you there!
We've also launched a Stats and Research Page, which includes a lot of the individual statistics that we use to make our projections. It's free! Enjoy,
POINT GUARD
Goran Dragic - FD 6300 DK 6500
Opponent - CHI
FD Proj. Pts - 28.88 DK Proj. Pts - 30.41
The arrival of Joe Johnson in Miami has muddied the waters to some degree, but you have to realize - the Heat played a playoff-esque 8 man rotation in his debut. Dragic played 33 minutes in that game, in spite of it being a blowout. He sure looks safe from where I'm standing. Goran's been on a tear since the All-Star break, topping 40 fantasy points in 3 games while paying no less than 4x points per dollar in any of them. And this is a terrific match-up with the Bulls. They've allowed the 5th most fantasy points per game to opposing point guards this season, and they'll feature either an out of position E'Twaun Moore or a hobbled Derrick Rose. Dragic seems like the safest points per dollar guy on the board.
Donald Sloan - FD 4800 DK 5100
Opponent - LAL
FD Proj. Pts - 22.72 DK Proj. Pts - 24.21

D'Angelo Russell - FD 5300 DK 5600
Opponent - BKN
FD Proj. Pts - 24.48 DK Proj. Pts - 26.18
I put Sloan and Russell together here for a couple of reasons. They're similarly priced, for one. Next, they each have a top 7 match-up due to the fact that they are playing each other. They've both put up big fantasy totals recently thanks to a big absence (Kobe, Joe Johnson), and both stand to continue to see increased roles as long as they are given the same opportunity. If I had to choose a player right now I'd choose Sloan, just because I'm not sure that shot-gobbler Kobe will actually miss this one. If he does, though, Russell seems to have quite a bit more upside, as he's finally playing with the confidence and competence that his high draft pick pointed to. Still, I'd be happy with either, and it looks like a juicy stack spot if you can spend up elsewhere.
A good big money option: Kemba Walker. There aren't many big money plays at all today, and Kemba will play a ton of minutes against the fast and awful Suns. I wouldn't be surprised if he shows up in our projection system optimal lineups - the above guys are just better points per dollar value.

SHOOTING GUARD
Victor Oladipo - FD 7000 DK 7200
Opponent - DAL
FD Proj. Pts - 34.12 DK Proj. Pts - 35.61
Tobias Harris is gone, Evan Fournier is at least hobbled, if not absent. That leaves Oladipo to do pretty much everything and play every minute. He played an incredible 44 minutes in a game where the Magic dominated the Sixers, and after a day off, I wouldn't be shocked to see him repeat that performance if Fournier is out again. The Mavs have been a little worse than a league average match-up for opposing shooting guards, but this is one of those cases where price and opportunity don't match, even in the upper-middle tiers of pricing. I still like Oladipo even if Fournier comes back, by the by, but he's the mustiest (I love that spell-check doesn't pick up this version of mustiest as a typo) of must plays if Fournier is out again.
The uber cheap guys:

Wayne Ellington - FD 3800 DK 4100
Opponent - LAL
FD Proj. Pts - 20.61 DK Proj. Pts - 22.64

Kyle Korver - FD 3700 DK 4400
Opponent - GSW
FD Proj. Pts - 18.28 DK Proj. Pts - 20.99
Totally different situations, but the analysis is similar. Ellington played a ton of minutes in the last game Joe Johnson missed (without knowing what's happened in the Clippers game on Monday), and should be priced something like 25% higher at least in his new role assuming the Nets leave him with it. And the Laker, it goes without saying, are a great match-up. Korver, meanwhile, is a different case. He got absolutely blanketed by Thompson when these two teams met last time around, and was god awful. Now, that could have been a real thing, or a bad night. He's a big tournament play only, probably, but he was a chalk play in cash games at these prices last time. Could be a nice way to get separation in a very high value situation.
Dwyane Wade - FD 7600 DK 7100
Opponent - CHI
FD Proj. Pts - 35.49 DK Proj. Pts - 35.99
I wrestled with a few different guys for this last spot, but ultimately landed on Wade. First things first - Wade has had an unreal 37 usage rate with Bosh off the court this season, and any fears that the arrival of Joe Johnson would negatively impact him should have been quieted in Johnson's debut, where Wade launched 20 shots and handed out 6 assists to go with them. There's also a sneaky reason to like him here. A lot of projections will underrate Wade today on account of his playing against the Bulls, but that doesn't take into account that they went from Jimmy Butler (a plus defender) patrolling the 2 for 40 minutes a game to this current blend of E'Twaun Moore and Tony Snell. These guys aren't awful, but they aren't Butler, and Chicago rates more as a middle of the pack team against shooting guards by our new metrics. I think Wade is plenty safe here.
The "keep an eye out for their situation" guys: And there are a lot of them, for such a small slate. Oladipo goes from a great play to a perfect play if Fournier sits again. Galloway is a great start if he gets the start again. And you'll know more about Ellington's situation after another night of reps than I can know as of this writing, unfortunately. This is a day to keep an eye out for our updates article, which should post early to mid afternoon EST.
SMALL FORWARD
Carmelo Anthony - FD 8900 DK 8500
Opponent - POR
FD Proj. Pts - 41.01 DK Proj. Pts - 43.07
This position is all kinds of awful today, and it gets even worse if you can't play Mario Hezonja (thanks to a Fournier return). That leaves me looking square at Melo. Normally I don't like to spend up at bad positions, but I'll probably make an exception tonight. Melo has been playing high 30s/low 40s minutes under the tutelage of Kurt Rambis (such a it is), and there's no reason why that won't be the case against the Trail Blazers tonight. Aminu is a stout defender and sized to match up decently with Carmelo, but I'm not sure how well he'll handle iso after iso in this game. I'm expecting a good but not great game here - low 40s fantasy points - but plenty for cash game goodness.
Harrison Barnes - FD 4200 DK 4800
Opponent - ATL
FD Proj. Pts - 20.13 DK Proj. Pts - 21.58
It can be tough to project the Golden State guys from game to game. Not only is there permanent minutes risk (due to the inevitability of a large percentage of blowouts), but they adapt so well on a game by game basis that it can be tough to say who's going to be featured on a given night. Given how scoring-dependent Barnes is for his fantasy value, this can be problematic. I recommend him here because A) his average production is better than this price and B) we saw that the Warriors found him as a hole in the Hawks defense, as evidenced by his 6 3 point attempts in that game. Also, he's cheap, and this is a bad position. Still, it's sort of tough to call him safe given his dramatic ups and downs.
If Fournier is out again, just play Mario Hezonja. Too many minutes for an active guy at a basement salary. There are some other interesting cheap options, too - like Mike Dunleavy, and Bojan Bogdanovic. Weird night for the position.

POWER FORWARD
Aaron Gordon - FD 6500 DK 6800
Opponent - DAL
FD Proj. Pts - 29.03 DK Proj. Pts - 30.19
I guess I can't keep resisting. Thanks to one of our faithful commenters for pointing out that Gordon has not just been playing steady minutes, he's been more active in those minutes. In makes sense, Harris leaving left a number of shots to be handed around, but Gordon is both shooting and rebounding more effectively than he had been. If he's really going to go 20/8/3 with a smattering of blocks and steals, he's probably a $7k+ player. When we're wrong, we're wrong. I think he's a great 50/50 play.
Thaddeus Young - FD 7000 DK 6900
Opponent - LAL
FD Proj. Pts - 34.18 DK Proj. Pts - 35.47

Julius Randle - FD 6000 DK 6200
Opponent - BKN
FD Proj. Pts - 28.81 DK Proj. Pts - 29.44
Another Brooklyn/Lakers pairing that I can see mashing up tonight. Here's the thing about guys on awful teams - they tend to be great values when they are less likely to get blown out. And, well, that's the case when awful teams play against one another. Heck, the Lakers and Nets have allowed the 8th and 10th most fantasy points per games to opposing power forwards, respectively. If I had to pick one I'd go with Thad, just because he seems safer (and his coach is a little more sane, which is saying something). But I like both quite a bit.
David Lee - FD 4500 DK 4000
Opponent - ORL
FD Proj. Pts - 22.17 DK Proj. Pts - 22.48
Is David Lee ready for 50/50 and double-up lineups? It's the hundred dollar question. The former world champ is doing an impersonation of himself from 5 years ago, rebounding at an astounding rate (nearly 1 rebound every 2 minutes) and shooting with good frequency at a high %. Now, with back-ups, we always have to be careful about the floor going out from under them. Still, he could be the highest own power forward in big tournaments. You've been warned.
CENTER
Alex Len - FD 5200 DK 5200
Opponent - CHA
FD Proj. Pts - 28.83 DK Proj. Pts - 29.34
With Kris Humphries out of the picture, it looks like Len will be starting. If he does, you should be starting him as well. Len has been phenomenal in starting roles this season, and while he's an odd match alongside Tyson Chandler (in that they are both slower moving rim protector types), they did share the court for 16 minutes together in their last tilt. If he's out there, he's going to be a very tough match-up for whichever under-sized PF the Hornets attempt to throw at him. But really, this is a price/opportunity issue. If he's going to play 34 minutes a game, he's worth 20% more.
Pau Gasol - FD 9300 DK 8700
Opponent - MIA
FD Proj. Pts - 42.65 DK Proj. Pts - 43.33
Pau could wind up being the chalk play at the position (especially if Len doesn't start) after what he did against the Trail Blazers. It was pretty cool to watch, and vintage Pau. The Bulls ran the offense through him (fully) in Rose's absence, and he was up to the task and then some, putting up a crazy looking 22/16/14 that you just don't see very much these days. The Heat will be a much tougher match-up than Mason Plumlee and co., so I'm a little more gunshy than I would be otherwise, even if Rose does miss this one too. They've allowed the 5th fewest points per game to opposing centers this season, and Whiteside is just gobbling people up right now. Still, though, if Rose is out he'd be awfully tough to ignore.
Al Horford - FD 7900 DK 7300
Opponent - GSW
FD Proj. Pts - 37.71 DK Proj. Pts - 38.37
It's tough to imagine Horford sneaking up on anyone today after he put up a monster 23/16/6/5/3 against the Dubs just a week ago, but I'd like to pat DFSR writer Doug Norrie on the back for having the stones to be one of the few to play him in all formats against the Warriors before it was cool. If you watched the game, you saw it too - the small ball thing just didn't work against Horford, and he chewed up both Bogut and Draymond for the duration of the game. It'd be crazy if he killed them twice, but I'm not ruling it out for sure.
So yeah, basketball season! And we've got some goodies you can take with you. At the end of the post, we have our NBA eBook that you really ought to check out before setting even a single daily fantasy NBA lineup. It's free, below.
GRAB A FREE TRIAL OF OUR PROJECTION SYSTEM, AND CHECK OUT DFSR PRO!
GET OUR FREE EBOOK ON DAILY FANTASY NBA!
And Daily Fantasy NBA Picks for FanDuel and DraftKings every day!
image sources
Trail Blazers Magic Basketball: (AP Photo/John Raoux)
FREE EBOOK
SECRETS TO CRUSHING DAILY FANTASY FOOTBALL!
DON'T SET ANOTHER LINEUP BEFORE YOU READ THIS BOOK.