Basketball Picks Daily Fantasy
Expert Advice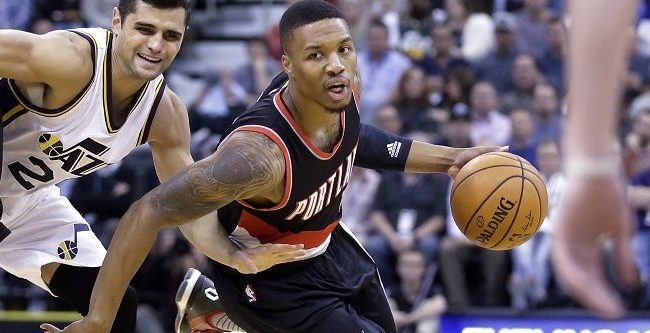 Daily Fantasy NBA Basketball Picks for FanDuel and DraftKings - 3/23/16
Coming off an excellent night for the system and our optimal lineups, there is an enormous 12-game slate on tap for Wednesday. The NBA is trying to capture the full attention of hoops fans before the Sweet 16 kicks in on Thursday. The good news for us DFS players is this presents all sorts of possibilities. It's a great night to run various lineup combinations. You can find all sorts of pivot plays, contrarian prospects, and fading opportunities. That screams Tournament to me. Below you'll find the best value plays to form your lineups around (and a few tourney ideas). From there, get creative. Check the DFSR Updates article and be available near lineup lock for late-breaking value opportunities. Some may be so strong that you can't pass them up, so it may affect your core lineup. Be ready to pounce on those, especially for cash lineups.
Now's your chance to get DFSR Pro with NBA Optimal Lineups, Projections, Player Cards and Google Chrome extension that auto-populates your lineups into FanDuel. Or try a free trial of our base package with projections for every player. While the seasons overlap, you'll get access to our tools for the NBA and NHL (and MLB when the time comes)! Get started for free by clicking the button below.
First time with NBA? Be sure to read our free NBA Ebook on building lineups, general strategy and more. We've got you completely covered.
A quick heads up - we post an updates article every day in the early afternoon, EST, to catch everyone up on how things are changing as a result of whatever news has come through. We also have great talks in the comments of that article. Hope to see you there!
We've also launched a Stats and Research Page, which includes a lot of the individual statistics that we use to make our projections. It's free! Enjoy,
POINT GUARD
Damian Lillard - FD 8900 DK 9100
Opponent - DAL
FD Proj. Pts - 45.91 DK Proj. Pts - 49.1
One of the more expensive point guard options on the slate, Lillard is also the top points-per-dollar (PP$) option on FanDuel (FD) and among the top options on DraftKings (DK). The matchup presents some pretty decent news. Although the two teams Pace is below average (the Blazers are 17th and the Mavs 23rd), our offshore friends expect some decent action, with an over/under (O/U) in the mid 210's. Additionally, the Mavs defense vs. position (DvP) on PGs is bottom-third in the league. Lillard has a ridiculously high floor and just as much upside. Against Dallas on Sunday, he put up nearly 5 times (5x) PP$, and his price on DK actually dropped. Lillard is a sound building block for all lineups.
Ish Smith - FD 6300 DK 5900
Opponent - DEN
FD Proj. Pts - 32.02 DK Proj. Pts - 32.91
On a night with a very strong set of options at this position, Smith is projected by the DFSR system as one of the top PP$ options on FD and DK. Denver is above average in PG DvP, but the O/U is solid and both teams play at an above-average Pace. He has shown a solid 4x floor and shot up to 6.5x a few outings ago. We like him to pop for at least a 5x on Wednesday. He has a decent floor and a lot of upside. Another strong option at a more affordable price point.
Ricky Rubio - FD 7000 DK 7100
Opponent - SAC
FD Proj. Pts - 34.92 DK Proj. Pts - 35.99
Rubio has been on a roll. All you have to do is look at his price on DK, which has increased 15% in a little over a week. Before asking "they why are you recommending him?" take a look at the matchup. It's the Kings Their DvP against the point is 28th and they play at the highest Pace in the league (even faster than the Dubs). Even at his current price, he has shown as nice 4x floor and been over 7x 3 of his last five. This is another chalk play, priced between Lillard and Smith.
For tournaments, consider Kyrie Irving, who many people may be fading after his bomb last time out. For a real punt play look at Patrick Beverly on DK (the discount is remarkable).

SHOOTING GUARD
Wesley Matthews - FD 3800 DK 4200
Opponent - POR
FD Proj. Pts - 20.02 DK Proj. Pts - 23.05
Okay, I can't believe I'm going here either (again). Burn me once, shame on you, burn me… well, lots of times, shame on me. The thing is, the dynamic has changed in Dallas with Chandler Parsons out. Coach Carlisle has specifically called on Matthews to step up, and his court time and usage rate are likely to shoot up significantly. With his recent string of less-than-stellar performances, he's dirt cheap. There is simply too much value here to leave on the board. I'm going to swallow hard, avoid viewing his recent game log, and take the high floor and ridiculous ceiling. Perhaps this seems counter-intuitive, but I particularly like him in cash lineups, where pure value reigns.
Klay Thompson - FD 6900 DK 6700
Opponent - LAC
FD Proj. Pts - 34.13 DK Proj. Pts - 37.35
In stark contrast to Matthews, I always like being able to recommend a Splash Brother. He has been rather average the last couple of times out, but popped above 8x a few games ago. He's prone to do that from time to time, and the DFSR system thinks this is likely to be one of those. Many people are looking forward to the game, as the Clips are one of the few teams that have a chance on paper. They could have won the all three of the previous meetings. More importantly for DFS purposes, the  average O/U has been around 230. That's a lot of fantasy production opportunity. His price has also come down over 15% on DK since these teams' last tilt. A nice mid-price option, he's second on FD in PP$ terms and essentially first on DK with his slightly lower price. He's hard not to like.
Zach LaVine - FD 6100 DK 6000
Opponent - SAC
FD Proj. Pts - 29.94 DK Proj. Pts - 31.38
The Zack Attack is on track (sorry). As mentioned above, the T-Wolves get the benefit of running against the Kings. The O/U and Pace indicate plenty of chances to rack up points. The Kings somehow manage to be worse (like, league-worst 30th) defending shooting guards than point guards. LaVine has been the model of consistency of late. He'd have hit 5x in eight of his last ten at current prices. We like him to (at least) do so again on Wednesday. This is another reasonably priced value play, well suited to a cash game lineup with a rounded salary structure. If you can't stand rostering Matthews, pair him with Klay and rest easy.
Baseball season is almost here. Check back soon for our MLB ebook on setting daily fantasy baseball lineups as well as our MLB DFS strategy articles coming in the next couple weeks.

SMALL FORWARD
Rudy Gay - FD 6100 DK 6100
Opponent - MIN
FD Proj. Pts - 30.62 DK Proj. Pts - 32.02
Gay represents a top mid-price option on a night with quite a few at the position. He has been getting fairly consistent minutes and putting them to decent use. Just as playing the Kings present a nice opportunity, the T-Wolves are not overly concerned with defense. There's a reason the O/U in this game is approaching 225. There will be plenty of shots to go around, and Rudy should get his normal share. He doesn't have tremendous upside, but the DFSR system likes him very strongly to reach his 5x projection. With good value here, he slides into a rounded cash lineup nicely.
LeBron James - FD 9900 DK 9400
Opponent - MIL
FD Proj. Pts - 46.71 DK Proj. Pts - 48.69
If you take advantage of the obvious bargains, you should have some salary to spend. LeBron is one of the best places to do so. Among elite options, he projects right there with Steph and Boogie on a PP$ basis. He's particularly enticing with his significant discount on DK. His cost ticked up just a little after his triple-double last time out, but he's still priced 5% lower than a couple of weeks ago. He has been a lock to stay above 4.5x (a must for high-value targets), and as he just showed could go nuclear on a given night. The only problem here is blowout risk, but the aforementioned floor should give you peace of mind. It's very reasonable to spend some money here, cash or tourney.
Michael Beasley - FD 4800 DK 4900
Opponent - UTA
FD Proj. Pts - 27.8 DK Proj. Pts - 29.13
Since returning from China, Beasley has been scoring and rebounding at a ridiculous rate. He has gone from unlisted, to minimum salary, to nearly $5k on both sites. That works out to a salary increase of roughly 50% on FD and over 60% on DK (you literally can't calculate it if you start at 0). The key for him is minutes. If he plays in the 20-minute range, he'll probably still hit minimum acceptable value. If he gets the full high-20's we expect, you're looking at the top option at the position by an enormous margin. That didn't happen last night against OKC and he burned a lot of the chalk (our system included). I think there's some opportunity to get contrarian value out of him tonight because so many folks will have last night's performance fresh in their minds.
Keep your eye on Otto Porter and Gordon Hayward, who both are risky but have a good deal of upside (read: tourney).
POWER FORWARD
Julius Randle - FD 5900 DK 6000
Opponent - PHX
FD Proj. Pts - 30.73 DK Proj. Pts - 31.41
Randle is coming off a lousy performance against these same Suns but an excellent game last night with Larry Nance Jr. on the shelf. Five days will have elapsed, however, between that game and this one. Having already mentioned the opponent, I won't bore you with the full matchup analysis, but do note that this is a game in which the Suns are actually favored. Know that his price has ticked down, and he's young enough that the second game of a back-to-back shouldn't be overly concerning. The DFSR system really likes Julius tonight as the top non-punt on FD and nearly so on DK.
Draymond Green - FD 8300 DK 7900
Opponent - LAC
FD Proj. Pts - 41.77 DK Proj. Pts - 44.16
Draymond is no slouch on FD, where he's projected as the second-best PP$ option. On DK, with his slightly lower price and the slightly favorable scoring system, he represents the top PP$ alternative by a wide margin. That's fairly unusual for someone in this price tier. As always, there is some blowout risk any time you run a Dub. Even against the Clips in a relatively tough matchup, they are favored by double digits While worth notiing, it definitely shouldn't scare you off given Green's high floor and ever-present triple-double potential. For a balanced cash lineup, this may be your best opportunity to spend the money left from the couple of low risk cheaper options.
Paul Millsap - FD 7700 DK 7600
Opponent - WAS
FD Proj. Pts - 38.09 DK Proj. Pts - 39.62
Millsap is the most unexciting DFS pick I ever write up. I love his game and would love him on my team. Somehow, though, whenever I watch the Hawks (which used to be a lot, during 15 years living in Atlanta) I forget he's on the court. He's on the court for low-30s minutes almost every night. That's great for DFS consistency though, and we like that, especially for cash lineups. The DvP matchup sucks, but that should be offset by the Pace, generating plenty of chances for fantasy production. After stinking up the joint last time out, his price plummeted over 5%, helping create this buying opportunity. If you're looking for the right option for your salary constraints, or just another solid cash play, Millsap should be under strong consideration.
Take a hard look at Derrick Favors tonight, with a projection near Millsap's, his output varies more, but the system likes him to spike Wednesday, which screams tourney to me.
CENTER
Marcin Gortat - FD 6100 DK 6500
Opponent - ATL
FD Proj. Pts - 30.95 DK Proj. Pts - 31.47
On FanDuel, you get to play one but only one center. Gortat looks to be that one on Wednesday, with the highest PP$ projection. It may not be optimal to have to play against Washington's frontcourt, but not so much against the Hawks'. The opposite side of this matchup is a great place to be, and Marcin looks to put up a solid 5x with a high floor and plenty of upside. For cash games, I am going to be compelled to slide him into all of my lineups, especially on FD. He's a good option on DK as well.
Mason Plumlee - FD 5200 DK 4600
Opponent - DAL
FD Proj. Pts - 24.96 DK Proj. Pts - 25.33
Plumlee (the Mason variety) represents the disparity to be found between sites. He is virtually a must-play on DK, where his deep discount relative to FD (along with the slightly more favorable DK scoring system) make him the kind of no-brainer value option that simply isn't there tonight on FD. While I trust the DFSR projections as much as anyone not named Doug or James, I actually think he's quite a bit under-projected here. If he plays minutes in the low 30's like the last few outings, he could easily put up north of 30 (his price barely moved after a monster 10x in his previous effort). On DK, pencil him in and spend the savings elsewhere.
Bismack Biyombo - FD 5700 DK 5300
Opponent - BOS
FD Proj. Pts - 27.81 DK Proj. Pts - 28.4
We normally only write up two centers, but I had to make an exception this time. If Valanciunas sits again, Biyombo needs to be under serious consideration for your DK Utility spot on Wednesday. His price is rising precipitously, but the value is still here. Even at this salary, he would have put up a 5x on a bad night over the last several games. Just look at his 53 points on DK three games ago and you get the gist on upside. The C's are bottom-3rd defending the Center position and play at a lightning Pace. Value + Matchup = Lineup It wouldn't even be a question on DK if not for Plumlee.
So yeah, basketball season! And we've got some goodies you can take with you. At the end of the post, we have our NBA eBook that you really ought to check out before setting even a single daily fantasy NBA lineup. It's free, below.
GRAB A FREE TRIAL OF OUR PROJECTION SYSTEM, AND CHECK OUT DFSR PRO!
GET OUR FREE EBOOK ON DAILY FANTASY NBA!
And Daily Fantasy NBA Picks for FanDuel and DraftKings every day!
FREE EBOOK
SECRETS TO CRUSHING DAILY FANTASY FOOTBALL!
DON'T SET ANOTHER LINEUP BEFORE YOU READ THIS BOOK.