Basketball Picks Daily Fantasy
Expert Advice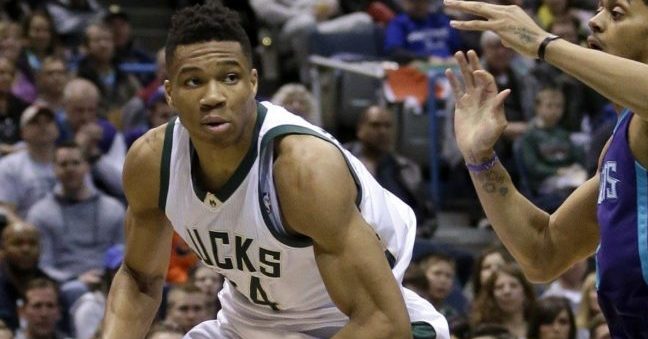 Daily Fantasy NBA Basketball Picks for FanDuel and DraftKings - 3/30/16
There's a solid nine-game slate in the Association on tap for Wednesday. Looking at offshore information, three games have no line (not a huge number this late in the season), but of those listed, none have high totals. It also looks to be a good night for road teams (with the majority likely to be favored). If I wasn't looking, I'd be very wary of blowout risk. The Pels, Suns, and Lakers all on the slate. Who know who Memphis will roll out. Then there's the always-rotating Spurs cast, and the underwhelming Knicks and Kings. I guess the theme of the night is risk. As always, check the Updates article and be close to a device near lineup lock. Below are the closest to "sure things" the night before…
Now's your chance to get DFSR Pro with NBA Optimal Lineups, Projections and Player Cards. Or try a free trial of our base package with projections for every player. While the seasons overlap, you'll get access to our tools for the NBA and NHL (and MLB when the time comes)! Get started for free by clicking the button below.
First time with NBA? Be sure to read our free NBA Ebook on building lineups, general strategy and more. We've got you completely covered.
A quick heads up - we post an updates article every day in the early afternoon, EST, to catch everyone up on how things are changing as a result of whatever news has come through. We also have great talks in the comments of that article. Hope to see you there!
We've also launched a Stats and Research Page, which includes a lot of the individual statistics that we use to make our projections. It's free! Enjoy,
***Please note that the Pelicans are virtually out of bodies. They may have eight guys suit up, and they'll all have to play. Minutes being minutes, they should all be good value options. I'll point out the Pels at each position, without a full write-up.***
POINT GUARD
Brandon Knight - FD 7200 DK 7300
Opponent - MIL
FD Proj. Pts - 36.52 DK Proj. Pts - 38.57
Knight is about as solid as it gets on Wednesday. He's one of the few Suns with more than two years' experience who also belongs on an NBA roster. He has been getting plenty of minutes, and there's a reasonable floor time expectation built into these projections. The Bucks' defense vs. position (DvP) on PGs actually is very good (4th), but Knight will have the ball a ton regardless of how tough he finds the sledding. He has displayed a solid floor of 4 times salary/1000 (4x) and a lot of upside. He isn't the most expensive play, but his salary is relatively high on a night with a ton of bargains.
Chris Paul - FD 9400 DK 9600
Opponent - MIN
FD Proj. Pts - 47.12 DK Proj. Pts - 48.98
Speaking of high salaries…CP3 has the best point-per-dollar (PP$) projection at the top end of the salary range on FanDuel (FD) and DraftKings (DK). The Clips are playing at Minnesota, keeping the line reasonable, and mitigating blowout risk. His recent performances (other than struggling against the Dubs – hardly a sin) show a solid floor, which is crucial for big-ticket players. On the upside, DFSR system sees potential north of 6x, which is also pretty strong at this price point. With all of the bargains (read: Pelicans actually able to take the court), you should be looking for some spending opportunities. I like Paul a lot as a safe place to park some dollars, all formats, all sites.
Tim Frazier - FD 4000 DK 3700
Opponent - SAS
FD Proj. Pts - 24.75 DK Proj. Pts - 25.9

Toney Douglas - FD 5700 DK 4900
Opponent - SAS
FD Proj. Pts - 31.93 DK Proj. Pts - 33.48
Your Pelican options at the point. Douglas will probably see more court time and is a better-known commodity, but there's a big price disparity. If you want a near-punt, Frazier may be your guy.

SHOOTING GUARD
Bradley Beal - FD 5700 DK 5400
Opponent - SAC
FD Proj. Pts - 23.91 DK Proj. Pts - 25.78
I think these projections are quite a bit low. Assuming Beal sees his minutes jump back in the 30's, you're probably looking at one of the better values on the board. He has thrown out a couple of lousy performances lately, but also threw out an 8x in between. With the Kings on the docket, we're looking for a Good Bradley appearance. There are some other SGs that look attractive at first glance, but they all have serious questions. This is the chalk play at SG on Wednesday.
Rodney Hood - FD 5200 DK 5200
Opponent - GSW
FD Proj. Pts - 25.5 DK Proj. Pts - 27.58
If he weren't playing the Warriors, I'd say Rodney Hood was the safest play at this position. He has shown a very solid floor in recent games, and put up an 8x last time out in essentially one half. I doubt he goes eight-for-eleven from deep in the first half again, but if he sees his full complement of minutes, he should easily produce enough to justify his price. While the Dubs are always a tricky opponent, their DvP on SGs is well below average. On a very difficult night at the position, rolling with Hood looks like a solid option.
Wesley Matthews - FD 4900 DK 4900
Opponent - NYK
FD Proj. Pts - 23.2 DK Proj. Pts - 26.47
After receiving ridicule for this pick last week, I'm feeling a little less defensive. With Parsons out, his minutes have gone up as expected, and with them his production. Even coming off two bad shooting nights (one due to inaccuracy, the other a lack of attempts), he managed to maintain a very good floor. The Knicks are not a great matchup as their Pace is glacial and they defend the 2 very well. Nevertheless, the upside is there because the touches will be.
Believe it or not, no Pelican eligible for Shooting Guard on DK or FD is likely to play on Wednesday. Says a lot all by itself. If you really want a flier here, look at Jamal Crawford, especially on DK (but be aware he has a very, very low floor).
Baseball season is almost here. Check back soon for our MLB ebook on setting daily fantasy baseball lineups as well as our MLB DFS strategy articles coming in the next couple weeks.
SMALL FORWARD
Giannis Antetokounmpo - FD 9200 DK 9300
Opponent - PHX
FD Proj. Pts - 43.94 DK Proj. Pts - 45.05
He's pricey, but he's good. The Greek Freak stank up the joint last time out, but his price slipped a little as a result. I always like to buy lower than higher, and this is a good spot to nab some triple-double potential. The Suns interior D is strong, but not so much on the wings. Giannis will be handling the ball a lot per his coach, so the matchup should be just fine. If the Bucks were better, I'd be more concerned about Suns-related blowout risk. Fortunately, they're not very good, so I'm comfortable spending here. I especially like the upside for tourneys.
Carmelo Anthony - FD 8600 DK 8500
Opponent - DAL
FD Proj. Pts - 40.39 DK Proj. Pts - 42.39
If there weren't bargain opportunities to be had here, I might suggest stacking the SF position with 'Melo and Giannis. As it stands, I think you have to nab a Pel, meaning you also need to pick between these two (especially on FD). Anthony is a little cheaper and a good deal more consistent. The true blow-the-top-off upside isn't here though. He plays for the creep-along Knicks and the Mavericks only play at a slightly higher Pace. If you are looking at cash games, I think you lean this way.
Jordan Hamilton - FD 3600 DK 3300
Opponent - SAS
FD Proj. Pts - 20.84 DK Proj. Pts - 21.68

Luke Babbitt - FD 4700 DK 3800
Opponent - SAS
FD Proj. Pts - 23.86 DK Proj. Pts - 26.15
Speaking of the New Orleans bargains … Hamilton is the punt/flier, Babbitt closer to a sure thing (I am having trouble believing I just wrote that about Luke Babbitt – but he's a go-to choice on DK). Much like PG, determine your risk tolerance and choose accordingly. **Note that Donte Cunningham is also a SF on DK. Fortunately, DK is more forgiving positionally.**
POWER FORWARD
Kristaps Porzingis - FD 6900 DK 6500
Opponent - DAL
FD Proj. Pts - 35.18 DK Proj. Pts - 36.33
The Zinger is back. He has been on a tear for several games, as displayed by his skyrocketing price (up 20% on DK in a week). There's still value here if he keeps up his production, as he's the top non-Pel play at this position on a PP$ basis. The post-Dirk Stretch 4 (even if Dirk isn't actually in the ground yet), I don't see KP being overly distracted by a Nowitzki closeout (a picture supported by the Mavs' terrible DvP on the position). Plus, he can post up when he wants. Love this guy when he brings it, and he has been bringing it. A nice mid-priced option, there's elite upside without the elite price tag. On FD, he's pretty much a must-play due to positional scarcity.
Luol Deng - FD 6000 DK 5800
Opponent - LAL
FD Proj. Pts - 29.58 DK Proj. Pts - 31.02
Luol Deng is another mid-tier price option at PF (on FD - note that he's listed at SF on DK). While his fantasy output has been a bit unpredictable lately (in real life, he's rock-solid), the DFSR system sees him with the highest floor of Wednesday's better PF options. There's plenty of upside to go along with it. The Lakers don't defend any position particularly well, and PF is no exception. If this were in Miami, I'd be scared off by blowout risk. In the Staples Center, I think it's tolerable.
Dante Cunningham - FD 3700 DK 3400
Opponent - SAS
FD Proj. Pts - 20.18 DK Proj. Pts - 20.43
The Pelican of the night on FD. Yet another SF option on DK (where his price dropped, despite the fact that he's topped 36 minutes the last three games).
On FD, a good second PF option is Paul Millsap. He's got a high floor and consistency to counter-balance the tough Raptors matchup.
CENTER
DeMarcus Cousins - FD 10600 DK 10200
Opponent - WAS
FD Proj. Pts - 50.56 DK Proj. Pts - 51.17
On a day with so many punt plays and cheaper options in general it's going to make sense getting Boogie in just about every lineup. This is of course assuming he's given a clean bill of health before the game. That's always a tricky thing with the Kings because they are about the worst in the league in disseminating information. And this is a late start game. They called his last game rest so I'm assuming he plays and if he does you can run him without fear in cash games.
Al Horford - FD 7100 DK 6400
Opponent - TOR
FD Proj. Pts - 35.1 DK Proj. Pts - 35.7
Like Millsap, Al Horford plays the Raptors on Wednesday. While the Raptors are an excellent team, they are not terribly effective defending Centers (bottom-third DvP). Horford has been consistent of late (the only blemish on his game log is a lone outing against the tough-as-nails Wizards interior D), and the DFSR system likes him in the 4x-6x range on FD. If you can live with that, roll with Horford there. On DK, he has the highest PP$ projection at Center (of anyone likely to suit up). His discount makes him very, very hard to pass up. So don't, unless you feel the need to guess which Pels big man is going to have a huge night.
Robin Lopez - FD 5800 DK 5300
Opponent - DAL
FD Proj. Pts - 28.77 DK Proj. Pts - 29.21
A viable Center alternative on Wednesday, RoLo is worthy of consideration, especially given his price on DK. He can be very inconsistent, so I'd think of him as a Tourney play. I expect almost everyone to be on Horford or a Pel, reinforcing his status as a pivot/contrarian option. You could do much worse for lineup diversification.
Alexis Ajinca - FD 3900 DK 3500
Opponent - SAS
FD Proj. Pts - 21.15 DK Proj. Pts - 21.5
Omer Asik - FD 3600 DK 3800
Opponent - SAS
FD Proj. Pts - 17.92 DK Proj. Pts - 18.37
If you're going to run a Pelican at Center, you pretty much have to go Ajinca on DK. Asik is a reasonable alternative on FD with their inverted prices. With so many Pel options at other positions (ironic, given that the variety of DFS options exist precisely because there are so few real-world options), you don't need one at Center, but it's certainly viable.
So yeah, basketball season! And we've got some goodies you can take with you. At the end of the post, we have our NBA eBook that you really ought to check out before setting even a single daily fantasy NBA lineup. It's free, below.
GRAB A FREE TRIAL OF OUR PROJECTION SYSTEM, AND CHECK OUT DFSR PRO!
GET OUR FREE EBOOK ON DAILY FANTASY NBA!
And Daily Fantasy NBA Picks for FanDuel and DraftKings every day!
FREE EBOOK
SECRETS TO CRUSHING DAILY FANTASY FOOTBALL!
DON'T SET ANOTHER LINEUP BEFORE YOU READ THIS BOOK.