Baseball Picks Daily Fantasy
Expert Advice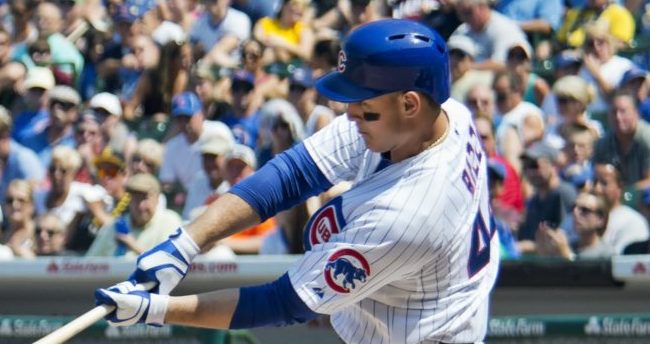 There are no day games on Friday and a healthy 15 games starting at 7:00 pm et. There is a nice selection of pitchers in the upper tier mixed with some terrific GPP value plays. Get ready for another series in Coors Field as the Dodgers comes to town with a Friday night game with an over/under of 11 as of Thursday night. Time to get your Coors stack on!
Now's your chance to get DFSR Pro with MLB Optimal Lineups, Projections and Player Cards. Or try a free trial of our base package with projections for every player. While the seasons overlap, you'll get access to our tools for the NBA and NHL as well! Get started for free by clicking the button below.
First time with MLB? Be sure to read our free MLB Ebook on building lineups, general strategy and more. We've got you completely covered.
A quick heads up - we post an updates article every day in the early afternoon, EST, to catch everyone up on how things are changing as a result of whatever news has come through. We also have great talks in the comments of that article. Hope to see you there!
We've also launched a Stats and Research Page, which includes a lot of the individual statistics that we use to make our projections. It's free! Enjoy.
PITCHER
Matt Harvey FD 9800 DK 10300
Opponent - ATL (Norris) Park - @ATL
FD - 40.43 DK - 22.34
It has been a rough start to the 2016 season for Harvey going 0-3 while giving up 11 earned runs in just 17.1 innings pitched. He has only struckout nine batters while walking seven but on a positive side has only given up one home run. He is running a BABIP around 50 points higher than his career average which is a good sign he will come around soon and be the Harvey we all know and love to roster. The slump to start the season has kept his price very affordable in a premier matchup vs. the Braves who have the leagues lowest team wOBA at .261 and come in with a wRC+ that is 40% lower than league average.
Aaron Nola FD 6900 DK 8300
Opponent - MIL (Davies) Park - @MIL
FD - 28.59 DK - 14.88
If you are looking to stack Coors Field or possibly the Cubs tonight you are going to need a value pitcher with upside for GPP's. While Nola is winless in his first three starts he has picked up 23 strikeouts in 19 innings pitched. There is your upside. At first glance it appears a very risky play on the road in a hitters park but the Brewers just don't have the same powerful lineup they used to. They sit right in the middle in team wOBA at .311 and come in with a wRC+ that is 12% below league average. Take the K upside and hope the Phillies can get to Zach Davies early giving Nola a chance at the win.
Jeff Samardzija FD 8400 DK 9300
Opponent - MIA (Cosart) Park - @SF
FD - 38.17 DK - 20.42
The projection system absolutely loves the Shark tonight in his first home game as a Giant. It has been shaky start to the year going 1-1 in three road starts but the good news is he hasn't given up more than three runs in start. The issue has been that he is giving up almost double the walks per 9 innings than he was last year which has gotten him into some long innings which have stretched out his pitch count early. If he can find his control Friday night he should have a terrific shot at a win and some added strikeouts in last season most pitcher friendly park.

CATCHER
Stephen Vogt FD 2800 DK 3500
Opponent - TOR (Sanchez) Park - @TOR
FD - 10.89 DK - 8.65
Sitting right at the top of the PTS/$ projections once again. He hits 5th in the A's lineup and has been hitting very well lately with hits in four of his last six games. Three of those games were multi hit games and he has also added two home runs and three RBI. He has been making good contact as well with only four strikeouts in his last 28 at bats. Sanchez is a flame thrower but can struggle with command at times and if he puts runners on early, hitters like Vogt in the middle to bottom of the lineup can crush him.
Jason Castro FD 2100 DK 3300
Opponent - BOS (Wright) Park - @HOU
FD - 6.52 DK - 5.12
If you want to completely punt the position tonight you can roll with Castro, especially on FanDuel at minimum price. He won't get a ton of at bats hitting ninth in the Astros lineup but does provide some extra base hit and power upside as he has hit double digit homers in three straight seasons.
FIRST BASE
Jose Abreu FD 3300 DK 4500
Opponent - TEX (Perez) Park - @CHW
FD - 12.45 DK - 9.81
The first of the right handed White Sox that are to come in this article.  The system is in love with picking on Martin Perez tonight who has only struck out nine batters in three starts while walking 11. He is prone to giving up home runs and has given up a .438 Slugging % to right handed hitters this season. Load up with a White Sox stack at home in a Top 10 hitters park early in 2016.
Anthony Rizzo FD 4200 DK 5200
Opponent - CIN (Moscot) Park - @CIN
FD - 15.1 DK - 11.72
The system is also heavy on the Cubs tonight and for good reason. After a 16 run outburst on Thursday the Cubs have now scored 97 runs while going 12-4 to start the season. Rizzo has been up and down to start the year with a sub .200 batting average but is riding a BABIP of .154 which is miles below his career number of .282. He hasn't been shy on the power early in the season with five dingers and 16 RBI already. The Cubs hitters get an elite matchup on Friday vs. Jon Moscot who gave up two home runs in his first start in St. Louis and isn't going to scare anyone with strikeouts.
SECOND BASE
Chase Utley FD 3600 DK 3900
Opponent - COL (Gray) Park - @COL
FD - 11.43 DK - 9.12
He has been an excellent cash game option this season for the Dodgers with only two games where he hasn't recorded a fantasy point. The power has faded late in his career but is still a good hitter and gets the leadoff role at the top of a powerful Dodgers lineup. You are going to want to get exposure to Coors Field tonight and the question becomes which team to stack. If you are wanting to pay up for a pitcher go with the Dodger side as they come in a bit a cheaper than the home team.
Ben Zobrist FD 2800 DK 4200
Opponent - CIN (Moscot) Park - @CIN
FD - 10.83 DK - 8.51
He is coming off a huge night at the dish on Thursday going 3-5 with a home run and three runs batted in vs. theReds. He is switch hitter that hits better from the right side but should get a great opportunity on Friday vs. a weaker right handed pitcher in a great hitters park. He dropped to the 6th in the order last night but after his explosion might get another shot near the top. Either way he makes a great addition to your Cubs stack, especially on FanDuel below the $3k mark.
Brett Lawrie FD 2600 DK 4000
Opponent - TEX (Perez) Park - @CHW
FD - 10.01 DK - 7.97
Another FanDuel friendly play in the mid $2K range in a great matchup vs. a weak left handed pitcher. Lawrie has always been a left masher in his career and hit them to the tune of a .293 average last season with seven home runs. So far in 2016 he has four hits in nine at bats with an extra base hit. One of my favorite stacks on Friday will be the White Sox 3 through 6 hitters who have huge power upside.
SHORTSTOP
Corey Seager FD 4000 DK 4100
Opponent - COL (Gray) Park - @COL
FD - 12.31 DK - 9.86
The system has him projected as the top scoring SS on Friday as the Dodgers travel to Coors Field. Again, it comes down to price for me in my Dodger picks. Seager is right around a $1,000 cheaper than Story(COL) on both sites and have very similar stats outside the first six games where Story exploded.  Jon Gray has strikeout upside but lacks control(3+ BB/9 at every level) and could get into trouble the lefty heavy top of the Dodgers order.
Addison Russell FD 2700 DK 3600
Opponent - CIN (Moscot) Park - @CIN
FD - 10.85 DK - 8.6
The system clearly has a love for the Cubs tonight and Russell makes more of a contrarian choice if you want to differentiate your stack. He has struggled to start the year hitting just .222 but has all the tools to be a big time fantasy producer in the bottom part of a powerful lineup. He is a cheap punt option on both sites.
THIRD BASE
Evan Longoria FD 2900 DK 4600
Opponent - NYY (Sabathia) Park - @NYY
FD - 12.61 DK - 9.95
If you're into BvP this pick is right up your alley. Personally, I like using BvP when the sample is big enough(over 15 at bats). Longoria has faced Sabathia 64 times in his career and picked up 24 hits(6 HR and 13 BB) for a .528 wOBA. That's enough where you have to start paying attention. I would say that Sabathia is also not the pitcher he used to be and is walking over four batters per nine innings. Longoria could get multiple opportunities to drive some runs in tonight.
Kris Bryant FD 4100 DK 4900
Opponent - CIN (Moscot) Park - @CIN
FD - 14.92 DK - 11.62
He is the top projected scoring third basemen on Friday night and comes at great value on FanDuel as the 5th in price. After a breakout rookie season that saw him club 26 HR and add 99 RBI, he has only hit two HR so far but has seen his K% drop over 10% from last year. One of the reasons for the lack in average and power early in the year is his BABIP being close to 110 points lower than last season. Look for him to revert back closer to last years numbers very soon.
Todd Frazier FD 3700 DK 4500
Opponent - TEX (Perez) Park - @CHW
FD - 12.05 DK - 9.46
Another White Sox power hitter at the top of the projections when looking at PTS/$ on Friday. Frazier is coming off a 2-4 game last night where he hit his fourth HR of the year and second in his last three games. Although he doesn't have a hit vs. a left in nine at bats this season he had positive splits last season and hit 14 of his 35 HR against lefties in half the at bats. He will get a great opportunity against Martin Perez on Friday.
OUTFIELD
Jorge Soler FD 2600 DK 4100
Opponent - CIN (Moscot) Park - @CIN
FD - 11.71 DK - 9.23

Jason Heyward FD 3300 DK 4300
Opponent - CIN (Moscot) Park - @CIN
FD - 14.25 DK - 11.26
By now you have a full lineup of Cubs and the sites are telling you to cancel and start over. Seriously though you can be very creative with your stacks to separate yourself. The Cubs can explode and have scored more runs(97) than any other team in the first three weeks of the season. Most people tend to stack 1-4 hitters but you can start to find some lower ownership by going 2-5 or 3-6 or even skipping over the projected highest owned hitter in the lineup. Both Soler and Heyward have power upside but have struggled with strikeouts early in the year. Don't worry about that tonight as Jon Moscot isn't going to scare major league hitters.
Joc Pederson FD 3800 DK 4000
Opponent - COL (Gray) Park - @COL
FD - 12.85 DK - 9.99
He is actually usable on FanDuel this season as they have eliminated strikeouts as a negative stat. He struck out at a 29% clip last season but also hit 26 home runs. He hit 20 of those home runs in the first half before fading away in the second half. He has opened the 2016 season hitting .262 with two home runs but is striking out at close to a 40% clip. If you are stacking Dodgers in Coors Field, he will have a great shot a double dong on Friday.
Josh Reddick FD 3300 DK 4000
Opponent - TOR (Sanchez) Park - @TOR
FD - 12.28 DK - 9.74
He has picked up right where he left off last season with the power stroke. He has already clubbed three homers early in the 2016 season with 10 RBI and six runs. There is a to of room for his low average of .220 to grow as he has been dealing with a BABIP of around .200 which is over 70 points lower than his career average. He gets a decent matchup on the road in Toronto vs. Sanchez who can strike guys out but struggles with control and can give up the long ball(14% career HR/FB rate).
So yeah, baseball season! And we've got some goodies you can take with you. At the end of the post, we have our MLB eBook that you really ought to check out before setting even a single daily fantasy MLB lineup. It's free, below.
GRAB A FREE TRIAL OF OUR PROJECTION SYSTEM, AND CHECK OUT DFSR PRO!
GET OUR FREE EBOOK ON DAILY FANTASY MLB!
And Daily Fantasy MLB Picks for FanDuel and DraftKings every day!
FREE EBOOK
SECRETS TO CRUSHING DAILY FANTASY FOOTBALL!
DON'T SET ANOTHER LINEUP BEFORE YOU READ THIS BOOK.