Baseball Picks Daily Fantasy
Expert Advice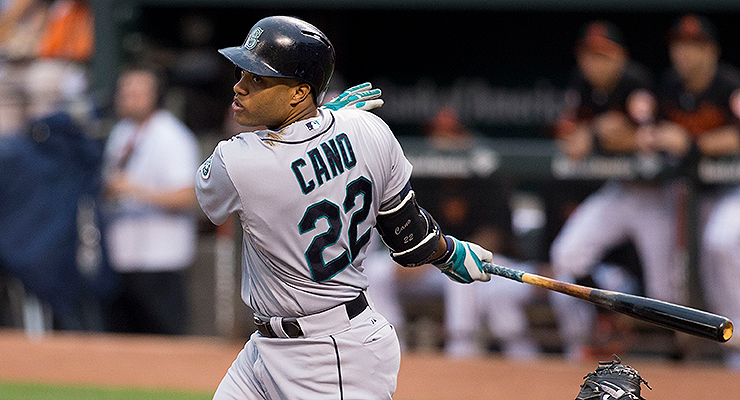 Daily Fantasy MLB Baseball Picks for FanDuel and DraftKings - 5/19/16
We've got a lopsided split slate ahead, with a pair of day games followed by a nine-game slate tonight. But what makes the day especially tricky is the number of juicy matchups in the early games (and the relative dearth of them later).

-Austyn Varney @VarneyDFS
Note - We have added an audio bit as well to this article, make sure to give it a listen and comment below any thoughts or suggestions!
Now's your chance to get DFSR Pro with MLB Optimal Lineups, Projections and Player Cards. Or try a free trial of our base package with projections for every player. While the seasons overlap, you'll get access to our tools for the NBA and NHL as well! Get started for free by clicking the button below.
First time with MLB? Be sure to read our free MLB Ebook on building lineups, general strategy and more. We've got you completely covered.
A quick heads up - we post an updates article every day in the early afternoon, EST, to catch everyone up on how things are changing as a result of whatever news has come through. We also have great talks in the comments of that article. Hope to see you there!
PITCHER
Chris Sale FD 12100 DK 13800
Opponent - HOU (McHugh) Park - @CHW
FD - 43.13 DK - 24.41
Despite the presence of Sale and Stephen Strasburg, it's not a super great slate for sure-fire starting pitching. Some explanation is required here. Sale has been awesome, no doubt. Eight starts, eight wins, a respectable K rate, and typically solid peripherals. What's not to like? Well, despite the fact that the Astros have been a big, fat disappointment through six weeks this season, they're still pretty salty against lefties, ranking third in the AL in wRC+ in the split. And the ballpark doesn't help Sale's case, either. U.S. Cellular Field isn't widely known as a hitter's haven, but it ranked eighth in the majors for home run factors last season. That said, Sale is still one of the top arms in the game and well worth your consideration in all formats. The Astros strike out a ton, but given the right-handed pop in their lineup and Sale's high prices, the White Sox southpaw is more tournament play for us.
Jeff Samardzija FD 9900 DK 11800
Opponent - SD (Shields) Park - @SD
FD - 41.56 DK - 23.22
After a rough year in 2015, Samardzija appears to be regaining the form he flashed two years ago when he put up a a 2.99 ERA and 3.07 xFIP across 219 innings. The ground ball rate is back up, and while he's not striking out a batter per inning like he once did, the peripherals say his strong start this season is mostly legit. His 2.88 ERA is back up by a 3.06 FIP and 3.45 xFIP, so he's getting the job done. Some negative regression in home runs allowed might be forthcoming, but we're not too concerned on that front in San Diego. For one thing, Petco is still a pretty solid pitcher's park. For another, the Padres are pretty crappy (technical baseball term). They're the worst offense in baseball against RHP in both wOBA and wRC+, and strike out more than 25 percent of the time in the split.
CATCHER
Yan Gomes FD 2700 DK 3800
Opponent - CIN (Adleman) Park - @CIN
FD - 9.92 DK - 7.6
After an ugly start, Gomes is finally showing signs of life, belting HRs in three of his last five games (as of midway through Wednesday night) and has extra base hits in four of six. That kind of power upside is what we're shopping for, and it gets a substantial boost from the Great American Ballpark. We also like the matchup against Tim Adleman, a 28-year-old rookie with a so-so minor league track record. He's not a big strikeout guy, so that mitigates Gomes' boom-or-bust downside to some degree, and while Gomes shows the expected preference for lefties, he sports a nearly identical .180 career ISO against RHP, as well.
Brian McCann FD 3000 DK 3700
Opponent - OAK (Graveman) Park - @OAK
FD - 9.73 DK - 7.42
We're not usually excited about paying for a catcher hitting in Oakland, what the park takes away, we think you can count on Kendall Graveman to give back—and then some. After a pretty brutal 2015, the 25-year-old righty is getting knocked around again this season, giving up 10 HRs in just 37 IP in 2016. That's real bad, folks. He hasn't quite thrown enough innings to qualify, but if he did, he'd be leading the league in HR/9. He also doesn't post a ton of whiffs and he's walking nearly 3.5 per 9, completing the triple whammy that leads to a FIP north of 6.00. Meanwhile, McCann remains a steady source of offense as far as catchers go. He has a .383 wOBA and a .880 OPS against righties this season, and hitting in the heart of the Yankees order, we think he's well worth what he'll cost.
Consider: Stephen Vogt if you're looking to go cheap early.
FIRST BASE
John Jaso FD 3100 DK 3500
Opponent - ATL (Foltynewicz) Park - @PIT
FD - 11.54 DK - 9.01
If you're playing the early and/or all-day slates, you've got some high-priced bats you might want to take a look at (hint: Chris Davis). But pickings are slimmer tonight, and we like Jaso's value. First and foremost, he's hitting leadoff. The extra opportunities that lineup slot provides is highly valuable in DFS, and even moreso this season now that FanDuel has eliminated negative points for outs. Jaso will be squaring off against 24-year-old Mike Foltynewicz, a former first-round pick who hasn't quite figured it out at the big-league level. He looked good last time out, throwing eight scoreless against the Royals. Maybe that's a sign he's starting to put it together, but until we see some consistency, the history of control and long ball problems loom larger. In 37 MLB appearances he's posted a 4.51 xFIP, and Jaso is the kind of low-K, high-walk guy who can frustrate the youngster. The lack of power makes him more of a cash game play, but we like his chances to return solid value tonight.
Matt Adams FD 2300 DK 2800
Opponent - COL (Gray) Park - @STL
FD - 2.57 DK - 2
If you're looking for a higher ceiling and don't mind a lower floor, give Adams a long look. He's coming super cheap and has been hitting cleanup against righties. That spot in the order is hard to find at these prices, and it's especially valuable for the Cardinals, who have one of the NL's most potent offenses. That said, a couple of tough April outings in Coors Field notwithstanding, Rockies rookie starter Jonathan Gray has been pretty impressive. We won't be stacking up against him in Busch Stadium, but we think you can take a flyer on Adams and his .281/.352/.489 triple slash against RHP this season.

SECOND BASE
Robinson Cano FD 4200 DK 5400
Opponent - BAL (Wilson) Park - @BAL
FD - 13.37 DK - 10.37
Remember when Cano's days as a power hitter were supposedly done? Yeah, about that. With 12 in 2016, he's already closing in his total number of HRs from the 2014 season, when he made the move from the Yankees to the Mariners. Now at 33 years old, he's showing virtually no signs of slowing down, following up a torrid spring with a .302/.347/.591 through 38 games this season. He's been especially filthy against RHP, with a .459 wOBA and .361 ISO. He'll be facing Tyler Wilson, whose solid results aren't supported by the underlying numbers. He doesn't strike guys out, (like, ever), and with a short porch calling Cano's name from right field, he's you're surest bet for big points on the all-day slate.
Jason Kipnis FD 3600 DK 4900
Opponent - CIN (Adleman) Park - @CIN
FD - 12.14 DK - 9.81
Speaking of tempting power parks, we're back in Cincinnati picking on Adleman. Kipnis doesn't have the upside Cano possesses, but he presents a respectable power/speed threat and he's about as steady as they come. Example: entering Wednesday, he'd posted at least 16 points on FanDuel in six of his last seven games, and he's sitting on 12.2 as I type this. All the caveats regarding small sample sizes and arbitrary end points of course apply, but the larger sample tells a similar story. He's got a career wOBA of .354 and an OPS of .814 against RHP, and he's outpacing both of those numbers so far in 2016. He's striking out more than usual this year, but we don't see that as an issue against Adleman, who fanned less than 7 guys per 9 last year as a 27-year-old in Double-A.
Brandon Phillips FD 2800 DK 3800
Opponent - CLE (Tomlin) Park - @CIN
FD - 9.65 DK - 7.84
He's basically a poor man's Kipnis, but if you need to save some salary, that's not a bad thing. He'll obviously get the same park benefits, and facing Josh Tomlin is always a nice perk. He doesn't miss bats and he gives up loads of fly balls, which has translated into a healthy number of homers even when he isn't twirling in one of the majors' best venues for long balls. Phillips isn't running like he did last year (and isn't having much success when he does), but the power numbers are nice, even against RHP (.490 slugging, .208 ISO). Given his low price and premium spot in the order, that's plenty.
SHORTSTOP
Manny Machado FD 3800 DK 5000
Opponent - SEA (Karns) Park - @BAL
FD - 12.69 DK - 10.11
Another early-bird special here, but we have a hard time resisting the urge to write up Machado when we get the chance. He's been one of the best hitters in baseball since the beginning of last season, and we're loving the fact that he's now at SS on FanDuel. Nate Karns is no pushover; he's making strides in his second full season and striking out better than a batter per inning. But he's also walking nearly 4 per 9 and still gets bit by his share of bombs, so he's not somebody we feel the need to duck. Especially not with talents such as Machado, who owns a .449 wOBA, and .362 ISO vs. RHP this season.
Francisco Lindor FD 3500 DK 4200
Opponent - CIN (Adleman) Park - @CIN
FD - 10.45 DK - 8.68
Unfortunately, Machado isn't gonna help you out tonight, where the shortstop menu is pretty ugly. That sends us back to the Indians, but in this case with less enthusiasm. Don't get us wrong, Lindor is a really good-looking young shortstop. Through 135 big-league games he's notched a .314/.358/.464 triple slash and has enough speed to boost his upside. Unfortunately, the unexpected power he flashed in half a season as a rookie in 2015 hasn't quite returned, so he's more of a cash gamer unless you're stacking Indians (which might not be a terrible idea). Still, we like the safety he provides hitting third in what's expected to be a fairly high-scoring game.
Didi Gregorius FD 2300 DK 3100
Opponent - OAK (Graveman) Park - @OAK
FD - 8.17 DK - 6.53
See what we mean about the ugliness at SS tonight? Yeah, Graveman is bad, and Gregorius' low BABIP probably means he's getting unlucky, but this one is all about saving some salary. If you're looking for positives, Gregorius' cost means he won't have to do much to return value, and his home in the bottom third of the order probably means he'll go low-owned, which makes him slightly more palatable in massive GPPs. But don't kid yourself. This pick is purely punt and pray.
THIRD BASE
Kyle Seager FD 4000 DK 5000
Opponent - BAL (Wilson) Park - @BAL
FD - 12.73 DK - 9.86
Seager's been on a decent run lately, which is great if you buy into hot streaks having predictive value, but less awesome when you look at his price tag. We usually like to snag Seager when he's coming a little cheaper, but say this for the 28-year-old: You know what you're getting from him, and it's usually pretty good. He's headed for his fifth straight year of 20-plus HRs and he's had an ISO north of .180 in back-to-back seasons. That power is what we're hunting in Camden Yard, and we're willing to pay for it with Seager, who has been crushing righties this year to the tune of a .300/.376/.578 triple slash.
Jose Ramirez FD 2900 DK 3400
Opponent - CIN (Adleman) Park - @CIN
FD - 10.04 DK - 8.64
This pick is basically a duplication of the Lindor choice, only a lesser version. The similarities come in the form of a sturdy contact hitter with little power and decent wheels hitting in the thick of the order. Also, like shortstop, third base is kind of a wasteland tonight with no obvious spot to turn to for clear value. The differences: Ramirez doesn't have Lindor's pedigree or his price tag. As with Lindor, we're looking for safety here and Ramirez has been providing it. Through 112 PAs in 2016 he's walked as many times as he's struck out (eight), and he's been excellent against RHP, putting up a .379 wOBA and .466 slugging percentage. Even in Cincinnati, he's a longshot for a home run, but at these prices, we don't need him to go deep.
Consider: Eugenio Suarez, who comes with more upside than Ramirez, but also more risk.
OUTFIELD
Early
Seth Smith FD 3100 DK 4000
Opponent - BAL (Wilson) Park - @BAL
FD - 12.92 DK - 9.81
In case you haven't yet noticed the trend, we're all over the Mariners lefties on the early slate. The projection system actually has Smith as its No. 2 OF for raw points on the day, and you won't have to pay anywhere near those prices to get him. Smith's power numbers are a little off his career pace in 2016, but that's mostly due to his struggles against lefties. He owns a .803 OPS vs. RHP, and will be hitting near the top of the order, where he remains a reliable on-base guy. And as a reminder, Camden Yard ranks at the top of MLB (along with Yankee Stadium and Coors Field) for HR factors for left-handed hitters.
Jason Heyward FD 3600 DK 4800
Opponent - MIL (Guerra) Park - @MIL
FD - 12.42 DK - 10.01
Heyward's sluggish start to 2016 is largely the product of an absence of power. We're counting on Miller Park to help there, because otherwise, the 26-year-old Gold Glove winner is doing what he does: getting on base, stealing a few bases and scoring a few runs. The trouble this year is a dramatic increase in pop-ups; it was the same thing that plagued Heyward during his sophomore slump of 2011, but seemed to have disappeared from his profile until now. He's shown some signs of snapping out of it lately, with hits in eight straight games entering Wednesday, and season-long projection systems see no major cause for concern quite yet. Neither do we. As for today's foe, we frankly don't know a ton about Junior Guerra. He fell off the map after pitching in the Mets farm system in 2008, resurfacing when the White Sox signed him out of an Italian league last year. He's posted some promising Triple-A numbers since then, but we think he'll have his hands full with the Cubs' loaded lineup, and Heyward stands to benefit, hitting out of the No. 2 hole.
Late
Josh Reddick FD 3100 DK 4000
Opponent - NYY (Nova) Park - @OAK
FD - 11.05 DK - 8.75
There was a time when Reddick was a pure power guy happy to crack a .300 OBP. Put simply, he's not that guy anymore. Over the course of the last three years, he's consistently lowered his K rate and increased his patience, making him a consistent source of output while still retaining just enough power/speed to make him an enticing option in all formats given the right matchup. While the park depresses some of that upside, we're bullish with Ivan Nova on the mound. The Yankees' swing man was awful in 2015, posting a 5.07 ERA/4.59 xFIP. And while he's been marginally better in limited work this season, he's still a guy we can target, even when he's buffered by a pitcher-friendly venue. Reddick is more of a cash game play for us at home, but with a .400 wOBA against RHP this year, we're happy to pay these prices.
Michael Saunders FD 3300 DK 3500
Opponent - MIN (Santana) Park - @MIN
FD - 10.78 DK - 8.57
Ok. He's probably not really this good. The BABIP is sky high and the high strikeout rate remains, so that batting average probably won't stay in the .311 range long. But he's working from ahead in the count in nearly half his at-bats, and though they haven't produced as such in 2016, he's hitting in front of one of the most powerful lineups in baseball. All of that has immense value. So does a .220 ISO, which tells us the BABIP isn't purely the product of luck. Meanwhile, Ervin Santana is still a decent pitcher, but his low strikeout rate and wobbly command over the last two seasons makes him a decent target, too. We'd like this matchup more in the Rogers Centre, but we've got no problem paying these prices in pretty much any park.
Consider: Carlos Beltran (See: Graveman, Kendall)
Note - We have added an audio bit as well to this article, make sure to give it a listen and comment below any thoughts or suggestions!
So yeah, baseball season! And we've got some goodies you can take with you. At the end of the post, we have our MLB eBook that you really ought to check out before setting even a single daily fantasy MLB lineup. It's free, below.
GRAB A FREE TRIAL OF OUR PROJECTION SYSTEM, AND CHECK OUT DFSR PRO!
GET OUR FREE EBOOK ON DAILY FANTASY MLB!
And Daily Fantasy MLB Picks for FanDuel and DraftKings every day!
FREE EBOOK
SECRETS TO CRUSHING DAILY FANTASY FOOTBALL!
DON'T SET ANOTHER LINEUP BEFORE YOU READ THIS BOOK.