Baseball Picks Daily Fantasy
Expert Advice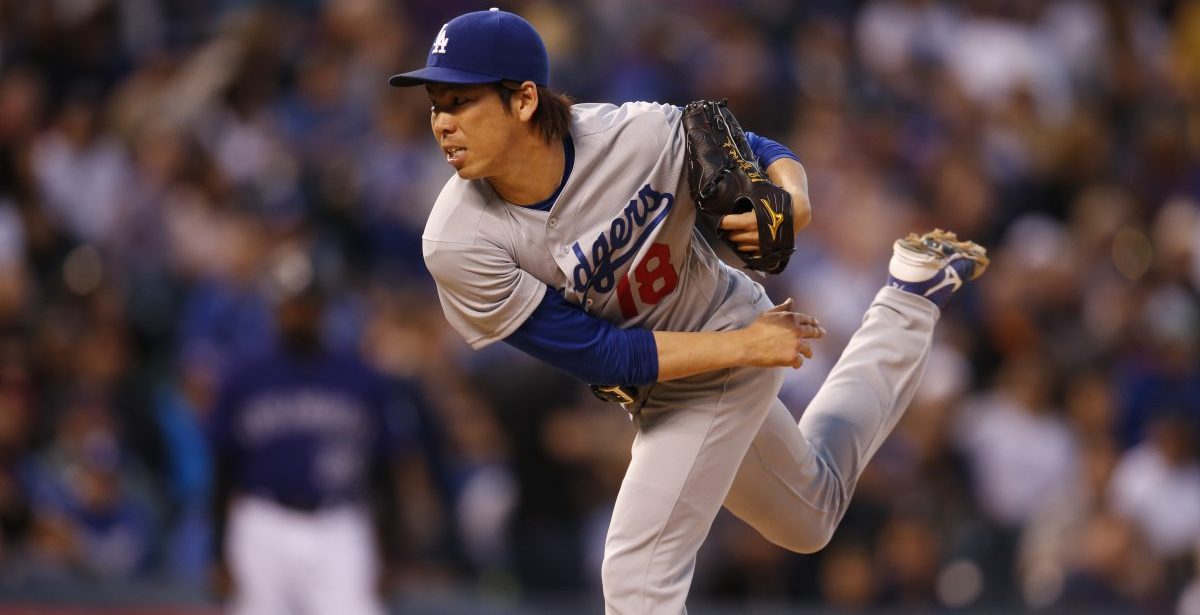 Daily Fantasy MLB Baseball Picks for FanDuel and DraftKings - 5/22/16

- Austyn Varney @VarneyDFS
It's just another Sunday as we have a fun 15 game slate with a ton of options at each position, including pitcher. Make sure you check out our other articles as they will touch on some more pitching options, tournament stacks and any news that is important to the slate. Let's get into the top options at each position.
Now's your chance to get DFSR Pro with MLB Optimal Lineups, Projections and Player Cards. Or try a free trial of our base package with projections for every player. While the seasons overlap, you'll get access to our tools for the NBA and NHL as well! Get started for free by clicking the button below.
First time with MLB? Be sure to read our free MLB Ebook on building lineups, general strategy and more. We've got you completely covered.
A quick heads up - we post an updates article every day in the early afternoon, EST, to catch everyone up on how things are changing as a result of whatever news has come through. We also have great talks in the comments of that article. Hope to see you there!
PITCHER
Kenta Maeda FD 9100 DK 10600
Opponent - SD (Rea) Park - @SD
FD - 44.05 DK - 24.74
The 28 year old Japanese phenom Kenta Maeda has acclimated very well to Major League Baseball with a .270 wOBA and 23.7% hard contact rate through 8 starts. Maeda's first start came against these Padres and that start was the beginning of dominance as he racked up 6 innings, 4 strikeouts and a win while on a limited pitch count of only 84. He has since been stretched well over 100 pitches which gives me plenty of confidence in his stamina and upside. While foreign stats are obviously not fully translatable, they surely tell us a ton. Over the last 8 years in Japan, Maeda has sported a 8.76 K/9 and a very low 0.97 WHIP. This start has certainly been no fluke and he will get a match up tonight against a team who has ranked dead last in the MLB against right handers with a .272 wOBA and putrid 60 wRC+. Maeda is in an ideal spot here and is a superb option in both tournaments and cash games, especially on FanDuel where he is the 8th most expensive pitcher.
Noah Syndergaard FD 11800 DK 13300
Opponent - MIL (Anderson) Park - @NYM
FD - 46.38 DK - 26.52
Pitcher is very deep today with 8 aces and another 2 guys that would be aces if Kershaw and Kluber didn't exist. However, a few of these guys are in really tough spots. For example, Bumgarner, Salazar and Archer are taking on some of the best offenses in baseball, Greinke is facing the most patient team out there and Zimmerman is just way too expensive for his upside. That leaves us with a few guys in great spots and those guys are Maeda, Syndergaard and Scherzer. Let's take a look at the situation Syndergaard is in. He is facing off with the Milwaukee Brewers, at home in pitcher friendly Citi Field. The Brewers have been hitting righties way above their head this far and will almost certainly take a 180 very soon. The Brewers best hitters in Braun, Lucroy and Carter are all righties and have struggled against righties over the course of their entire career. While this is a well know fact, Syndergaard is one of the best pitchers in baseball, especially against righties. In 2015, Syndergaard exhibited a .262 wOBA and an amazing 32.2% strikeout rate. Syndergaard is on the same level as Maeda for me if I am considering price, however, Syndergaard certainly has much more upside.
Cash + GPP Consideration - Max Scherzer, Jaime Garcia
Upside Consideration - Michael Pineda, Chris Archer
CATCHER
Make sure all of these guys are in the lineup. Sunday is the day most catchers rest, especially if the game is early in the day. You can check out our updates article for that type of info.
Salvador Perez FD 2900 DK 2800
Opponent - CHW (Rodon) Park - @CHW
FD - 10.53 DK - 8.19
Salvador Perez enters today with a putrid 74 wRC+ and .282 wOBA against lefties in 2016. However, we need to look at a sample size much larger than just 30 at-bats. Over the course of Perez's career, he has exhibited a .325 wOBA and an above average 10.6% HR/FB rate. 60 feet and 6 inches away, Carlos Rodon will do his best to send Perez back to the bench. However, he may have some trouble as Rodon has really struggled against righties over the last couple years. Dating back to 2015, Rodon has sported a .352 wOBA and 1.62 WHIP vs righties. Perez and the Royals are priced as if they are playing at home in Kauffman stadium when in reality, they are playing in an extreme hitters park known as U.S. Cellular Field.
Francisco Cervelli FD 2800 DK 2900
Opponent - COL (Bettis) Park - @PIT
FD - 8.59 DK - 6.84
Here we have another guy in Francisco Cervelli that has struggled mightily to begin the 2016 season. Against righties, Cervelli has exhibited a .300 wOBA and 87 wRC+. Once again however, we need to take a look at a larger sample size. Over the previous 3 seasons, Cervelli has hit righties well with a .332 wOBA and 34.7% hard contact rate. The Pirates are facing off with a below average righty in Chad Bettis who has exhibited a career .362 wOBA against righties. Yes, a good portion of those stats are inflated by Coors Field, however, he has still struggled out of Coors with a .318 wOBA against righties. Cervelli is a great low owned tournament play that could pay off big time against Bettis and the poor Rockies bullpen.
Consider - Yasmani Grandal, Caleb Joseph
FIRST BASE
Chris Davis FD 4000 DK 4900
Opponent - LAA (Weaver) Park - @LAA
FD - 11.95 DK - 9
Davis has always mashed righties as evidenced by his .410 wOBA and an outrageous 44.7% hard contact rate over the past 2 1/2 seasons. Jered Weaver on the other hand, has been the polar opposite and has struggled immensely vs left handers as evidenced by a .333 wOBA and 12 home runs given up in only 82 innings of work in 2015. This match up sets up extremely well for Chris Davis and some more Orioles bats that will be mentioned later on. Davis my favorite tournament 1st base option and is on the same level in cash as this next guy we will talk about.
Adam Lind FD 2400 DK 4000
Opponent - CIN (Simon) Park - @CIN
FD - 13.32 DK - 10.13
The Seattle Mariners are another team you will see a ton here as they will be facing off with gas can Alfredo Simon in the Great American Ballpark. Simon has been absolutely atrocious over the past 2 seasons, especially against lefties with a .389 wOBA, 4.98 xFIP and 36.1% hard contact rate. Now on to Adam Lind. Lind demolished righties in 2015 as evidenced by a .374 wOBA and 39.3% hard contact rate. Great American Ballpark is a top 3 park in the league for power as it ranked 2nd last year. Lind is my top overall cash game option due to his insanely low price on FanDuel, however, on DraftKings he is $4000 which is why I will be limiting him to just tournaments over there.
Consider - Lucas Duda, Freddie Freeman

SECOND BASE
Robinson Cano FD 4200 DK 5300
Opponent - CIN (Simon) Park - @CIN
FD - 13.68 DK - 10.59
Our second Seattle Mariner comes in the form of 33 year-old Robinson Cano. Cano is quite possibly my top play of the day with his extraordinary match up in Alfredo Simon and the Reds putrid bullpen. As mentioned, Simon has been pitiful against lefties and has shown no signs at all of improvement. Cano, however, has demolished righties over the course of his career with a .379 wOBA and 35.4% hard contact rate. This ballpark is a huge upgrade from Safeco Field as it ranked nearly 1.8x better for home runs. Cano is a top shelf option in both cash games and tournaments.
Neil Walker FD 2700 DK 3500
Opponent - MIL (Anderson) Park - @NYM
FD - 10.34 DK - 7.96
While it is going to be extremely difficult to not just play and play Cano, this is baseball and you never know what can happen. If I am going to pivot, it is going to be to Neil Walker. Walker has hit righties extremely well over the last couple years with a .340 wOBA and 34.8% hard contact rate. Chase Anderson on the other hand, has struggled over the past couple years against lefties with a .317 wOBA and 4.86 xFIP. While this ballpark isn't ideal, Walker has hit half of his home runs as a Met at home.
Consider - Brandon Phillips, Jonathan Schoop
SHORTSTOP
Manny Machado FD 3900 DK 5100
Opponent - LAA (Weaver) Park - @LAA
FD - 11.41 DK - 9.17
Machado has seem to come through nearly every slate I have rostered him this year, excluding last night. Machado comes into this game with 12 home runs and 28 total extra base hits. As mentioned, Jered Weaver has struggled against both righties and lefties over the past couple years due to his drop in velocity and movement. While this ballpark is a big downgrade from Camden Yards, Machado has hit 12 of his 28 extra base hits in pitcher ballparks. Machado is a great option in both tournaments and cash games.
Zack Cozart FD 3900 DK 3900
Opponent - SEA (Miley) Park - @CIN
FD - 10.23 DK - 8.13
There is one big factor that is pushing me onto Cozart here, however, let's touch on the basic advantages first. Cozart hit lefties to a .362 wOBA and 34.2% hard contact rate. Wade Miley on the other hand, has given up a .338 wOBA and 142 wRC+ to righties dating back to 2014. Now onto the big reason why Cozart is my top tournament shortstop today. Cozart as hit groundball pitchers to an astounding .404 wOBA and 39.6% hard contact rate over the course of his career. Yep, you guessed it. Wade Miley is a groundball pitcher. Since 2014, Miley has held a 52% groundball rate and a 17% HR/FB ratio on pitches in the lower third against righties. As a side note, do not categorize a groundball pitcher as someone who doesn't give up home runs. While that is certainly their goal, they tend to leave pitches up that are very easy to get under and hit out of the park. Cozart is a great tournament play and I expect him to go low owned with the shortstop position being very deep and plentiful on today's slate.
Consider - Ketel Marte, Corey Seager
THIRD BASE
Maikel Franco FD 2800 DK 3900
Opponent - ATL (Kelly) Park - @PHI
FD - 12.12 DK - 9.39
You may look at this and on first glance wonder why our top third baseman is in a righty vs righty match up. Just hold on for a quick second, let's take a look at the numbers. We will start off with Maikel Franco. In 2015, Franco exhibited reverse splits and hit righties very well as evidenced by a .360 wOBA and .213 ISO. Now onto the career minor league pitcher in Casey Kelly. However, he has been pitched 40 innings and while that isn't nearly an ideal sample size, it is all we have. Against righties, Kelly has given up an atrocious .422 wOBA and 1.35 HR/9. While this certainly isn't a great ballpark for home runs, it ranked slightly above average for right handed power over the last 5 seasons. Franco is a great option in both tournaments and cash games.
Kyle Seager FD 4200 DK 4800
Opponent - CIN (Simon) Park - @CIN
FD - 12.71 DK - 9.83
This one should come to no surprise as I have already made it clear how much I love the Mariners today. With an implied team total of 5.17, Vegas agrees with me which is always a terrific sign. I won't go over Simon again as I'm sure you have heard enough. On the other hand, we haven't touched on Kyle Seager yet and why he is on the same level as a Cano and Lind today. Over the last few seasons, Seager has sported a .342 wOBA and 36.2% hard contact rate against righties. As mentioned, this ballpark is one of the absolute best for hitters and I look for a few Mariners bats to take advantage of that. Seager is a terrific option in all formats, and should go low owned based solely on his inflated price tag.
OUTFIELD
Lorenzo Cain FD 3400 DK 4400
Opponent - CHW (Rodon) Park - @CHW
FD - 11.72 DK - 9.85
Lorenzo Cain has really turned it on recently with 12 hits and 4 home runs in his last 10 games after staring the season in a huge slump. While there aren't many predictable measures in that, it is always nice to see a guy swinging the bat well. Since 2014, Cain has demolished lefties to a .405 wOBA and 35% hard contact rate. He is taking on the White Sox and Carlos Rodon today, an average left hander that we touched on at the catcher position. Cain is moving from one of the worst ballparks in the league to one of the best for right handed power. Cain is going to be my top option in the outfield in all formats, especially on FanDuel where he is priced in the same realm as guys like Leonys Martin and Steven Souza Jr.
Seth Smith FD 3000 DK 3800
Opponent - CIN (Simon) Park - @CIN
FD - 13.26 DK - 10.06
What more is there to say about Alfredo Simon and just how bad he is. He has been one of the worst pitchers in the league, especially against lefties for about 2 years now. Seth Smith has been a platoon hitter throughout his career and has sported a .359 wOBA and 36.8% hard contact rate against righties. Smith is rated as the number 1 outfielder in the projection system and I certainly cant disagree. The only problem is whether or not he is a top 4 Mariner bat as it is very difficult to stack the Mariners without Nelson Cruz.
Carlos Gonzalez FD 2700 DK 3600
Opponent - PIT (Nicasio) Park - @PIT
FD - 10.89 DK - 8.42
Here we have a great tournament play in Carlos Gonzalez. People are going to see CarGo's recent box scores and the match up with a decent in Juan Nicasio and just look right past him. However, the reality of the situation is that Gonzalez is in a terrific spot to have a huge game. While Nicasio has certainly improved this season, he has still struggled mightily against lefties with a .404 wOBA and 2.39 HR/9. CarGo on the other hand, has destroyed righties over the last 5 years with a .387 wOBA and 36.1% hard contact rate. PNC Park is known to be a bad hitters park and while that is the case, it is much better geared towards left handed power.
Consider - Mike Trout, Mets outfield, Nori Aoki
Thank you so much for reading/listening! Make sure to comment down below if you have any questions, thoughts or comments. Good luck today!
So yeah, baseball season! And we've got some goodies you can take with you. At the end of the post, we have our MLB eBook that you really ought to check out before setting even a single daily fantasy MLB lineup. It's free, below.
GRAB A FREE TRIAL OF OUR PROJECTION SYSTEM, AND CHECK OUT DFSR PRO!
GET OUR FREE EBOOK ON DAILY FANTASY MLB!
And Daily Fantasy MLB Picks for FanDuel and DraftKings every day!
FREE EBOOK
SECRETS TO CRUSHING DAILY FANTASY FOOTBALL!
DON'T SET ANOTHER LINEUP BEFORE YOU READ THIS BOOK.