Baseball Picks Daily Fantasy
Expert Advice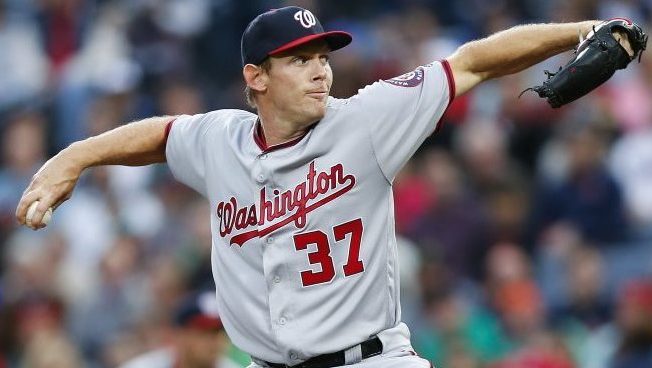 Daily Fantasy MLB Baseball Picks for FanDuel and DraftKings - 6/10/16
Welcome back to another TGIF edition of our daily fantasy picks. After a Thursday with little to no safe pitching options we are blessed with plenty of aces(Kershaw, Strasburg, Sale, Cueto, Kluber) on Friday night. There is also some great spots to target hitters with games in Coors Field, Yankee Stadium, Chase Field, and Miller Park. Let's get started!
Now's your chance to get DFSR Pro with MLB Optimal Lineups, Projections and Player Cards. Or try a free trial of our base package with projections for every player. While the seasons overlap, you'll get access to our tools for the NBA and NHL as well! Get started for free by clicking the button below.
First time with MLB? Be sure to read our free MLB Ebook on building lineups, general strategy and more. We've got you completely covered.
A quick heads up - we post an updates article every day in the early afternoon, EST, to catch everyone up on how things are changing as a result of whatever news has come through. We also have great talks in the comments of that article. Hope to see you there!
PITCHER
Stephen Strasburg FD 12000 DK 13500
Opponent - PHI (Hellickson) Park - @WSH
FD - 43.63 DK -
After a night where Gio was the top pitcher in a GPP slate we have a decision to make between two aces this evening. I really don't think you can go wrong with either Kershaw or Strasburg but I lean the latter who comes with more upside in a much better matchup. Strasburg has the higher K rate(11.39 K/9) and gets a much better matchup vs. the Phillies who rank 28th in wOBA(.288) and strikeout 21.7% of the time vs. right handed pitching. He apparently came away from his last start with a calf strain but it was not serious enough for management to keep him from making this start. He is in a great spot at home to pick up the win and record yet another double digit strikeout game(has done it in four of his last six starts).

Matt Harvey FD 8700 DK 8300
Opponent - MIL (Guerra) Park - @MIL
FD - 34.65 DK - 18.69
The Dark Knight is back after a rough stretch to start the season where he went 3-7 with a 6.08 ERA. He was tagged with the loss in his last start in a pitchers duel against Jose Fernandez but has only given up one earned run in his last two starts. His strikeout rate(7.08 K/9) is the lowest of his career which could be attributed to the 1 MPH drop in velocity on the fastball over his career average. He will get a great shot to improve on his win and K totals on Friday when he faces the Brewers who strike out(26.3%) more than any other team vs. right handed pitching. The price is slowly rising but he still presents tremendous value in the mid $8K range on both sites.

Jason Hammel FD 9600 DK 11100
Opponent - ATL (Norris) Park - @ATL
FD - 37.16 DK - 24.17
The Cubs pitching staff has been the best in baseball with a 2.56 ERA coming into tonight. You could literally feel safe rolling out a Cubs pitcher day in and day out. All five of them have a sub 3.00 ERA 7.5+ K/9 rates. Hammel is coming off a win vs. the D Backs where he pitched seven innings giving up just one hit(two run homer) while striking out six. He has now given up two earned runs or less in nine of his 11 starts this season. The Cubs and Hammel get one of the best matchups of the day vs. the last place Braves who rank dead last in wOBA(.275) vs. right handed pitching.
CATCHER
Welington Castillo FD 2900 DK 3700
Opponent - MIA (Nicolino) Park - @ARI
FD - 10.56 DK - 8.12
Get used to seeing us pick on the Justin Nicolino tonight. I am shocked he still has a starting job. His strikeout rate(3.57 K/9) is embarrassingly low for a major league pitcher and it is actually up from his 12 games started last year(2.80 K/9). Castillo comes at a discount from the top options with just as much or more upside as he mashes left handed pitching. In 56 at bats vs. southpaws he has .452 wOBA and 184 wRC+. Heis the highest projected catcher on the day on both sites and is safe in all formats.
Stephen Vogt FD 2900 DK 3400
Opponent - CIN (DeSclafani) Park - @CIN
FD - 10.07 DK - 7.78
Like Castillo, he hits in a prime spot of his team's lineup and makes a great play in any format in almost any matchup. Vogt has been hitting .342 over hte past two weeks with a 130 wRC+ and will get a decent matchup vs. Anthony DeSclafini who will be making his first start of the year after spending the last two months on the 60 day DL with an oblique strain. He is coming off a 2015 campaign where he made 31 starts and finished with a 9-13 record and less than impressive 4.05 ERA and 3.97 xFIP.
FIRST BASE
Paul Goldschmidt FD 4100 DK 5000
Opponent - MIA (Nicolino) Park - @ARI
FD - 13.51 DK - 10.5
You can't discuss stacking D Backs vs. left handed pitching without starting the conversation with Goldy. He has a career .429 wOBA and 172 wRC+ vs. southpaws and this could be one of the worst he will face all season. As I mentioned above, Nicolino is not going to scare anyone with his 88 MPH fast ball and it shows wit his mid three K/9 rate. Goldy has been on fire lately with a .503 wOBA and 219 wRC+ in the last two weeks and is the top play at 1B tonight.
David Ortiz FD 4000 DK 5500
Opponent - MIN (Gibson) Park - @MIN
FD - 13.97 DK - 10.49

Hanley Ramirez FD 2900 DK 3400
Opponent - MIN (Gibson) Park - @MIN
FD - 11.03 DK - 8.69
Both Red Sox first basemen make terrific plays tonight vs. the Twins. David Ortiz has been the first half American League MVP hitting .338 with an elite 200 wRC+. He is a patient hitter(12.8% BB rate) which could help get him on base even more as Kyle Gibson has a extremely high walk rate(5.23 BB/9) and awful strikeout rate(4.79 K/9). So far in 2016, Gibson has given up 14 earned runs in just 20.2 innings pitched. If you put a lineup together and can't afford Big Papi there is a big savings opportunity to drop down to Hanley. He has seen a dip in the power(4 HR in 2016) as the FB rate has dropped and the GB rate has elevated but he has also added 10 doubles after hitting just 12 all of last year and has already recorded 33 RBi and 29 runs scored.

SECOND BASE
DJ LeMahieu FD 3300 DK 4400
Opponent - SD (Cashner) Park - @COL
FD - 11.78 DK - 10.04
The Rockies returned home to Coors Field on Thursday afternoon to fcae the Pirates in a make up game and took care of business with a big 11-5 win. On Friday they will open a series vs. their division rivals the San Diego Padres who will throw out struggling Andrew Cashner to start game one. Cashner has pitched to a horrible 4.89 xFIP this season in large part to his 3.76 BB/9 and low 5.98 K/9 rate. He has given up three or more earned runs in six straight starts and has really struggled vs. right handed hitters this season with a .405 wOBA against. Lock and load on the Rockies.

Johnny Giavotella FD 2400 DK 2200
Opponent - CLE (Kluber) Park - @LAA
FD - 7.54 DK - 6.11
With all the great high priced pitching options you are going to need a punt play in there somewhere. Giavotella faces a perceived tough matchup in Corey Kluber but he has been prone to a big blow up as he has given up four or more earned runs in five or his 12 starts this season. In the low $2K price range you don't need much from Giavotella to pay off his salary.
SHORTSTOP
Trevor Story FD 3400 DK 5200
Opponent - SD (Cashner) Park - @COL
FD - 11.77 DK - 9.56
After being dropped to 7th in the order near the end of May he has crept back up to 5th where he has seems to have settled in. He is priced up as the most expensive shortstop tonight on DraftKings but presents a tremendous amount of value as the 10th most expensive on FanDuel. His average is never going to be elite like his power potential as he strikes out a ton(33.6%) but shouldn't have an issue vs. Cashner who is striking out less than six batters per nine innings.

Javier Baez FD 2800 DK 3100
Opponent - ATL (Norris) Park - @ATL
FD - 9.77 DK - 7.9
If you are looking for value at shortstop on DraftKings the projection system loves both Cubs options tonight. Baez has been the hotter hitter as of late and is coming off a monster four hit game on Wednesday and has pushed his average to .272 for the season. He doesn't get the value from a to six spot in the lineup but is an affordable option that can provide a nice floor for cash games.
THIRD BASE
Nolan Arenado FD 4300 DK 5600
Opponent - SD (Cashner) Park - @COL
FD - 14.48 DK - 11.22
You guessed it. Nolan Arenado tops the 3B rankings today playing at home in Coors Field. He is having another monster season with a .289/.364/.587 slash line with 18 home runs and an impressive 136 wRC+. It helps he gets half his games in the best hitters park in the league where he has a .447 wOBA and 151 wRC+. If you can find enough value at other positions paying up for Arenado is a no doubter.
Kris Bryant FD 4100 DK 4800
Opponent - ATL (Norris) Park - @ATL
FD - 13.52 DK - 10.46
Fading Coors Field could is always a risky proposition but when when it works you usually get a solid ownership level on whoever you choose. Having them perform is the next challenge. If you do decide to fade Coors I am leaning towards Kris Bryant as my next favorite third basemen tonight. His numbers are very similar to Arenado's as he is slashing .284/.362/.524 with 14 home runs and a 139 wRC+. He won't get to hit in an elite hitters park but gets a great matchup vs. Bud Norris who is making his second start since returning to the rotation.  In five starts earlier in the year he allowed 22 earned runs and six long balls.
OUTFIELD
Carlos Gonzalez FD 4300 DK 5400
Opponent - SD (Cashner) Park - @COL
FD - 15.16 DK - 11.69

Gerardo Parra FD 3400 DK 4400
Opponent - SD (Cashner) Park - @COL
FD - 11.83 DK - 9.83
Back to Coors Field for a minute. There are going to be a ton of different combinations of the Rockies stack tonight in a great matchup vs. Andrew Cashner. Cargo will be the chalk hitting cleanup and fits no matter if you go a top four stack, two through five stack or my favorite will be the three through six stack tonight which will include Parra. Cargo should be well rested after getting a day off on Thursday and will be looking to build on his impressive slash line(.296/.346.531). Like you would expect Cargo is much better at home with a .413 wOBA and 128 wRC+. Parra has also been much better at Coors Field with a .365 wOBA as compared to a .245 wOBA on the road.
Giancarlo Stanton FD 3100 DK 4800
Opponent - ARI (Corbin) Park - @ARI
FD - 12.33 DK - 9.29
Just to make it very clear before we go any further. This is a contrarian GPP play only. He is over priced on DraftKings but comes with tremendous upside for the price on FanDuel.  He is striking out at an alarming rate(34%) but is still hitting with power and is somewhat patient at the plate with a 13.4% walk rate. He will get a park boost on Friday as the Marlins travel to Chase Field and he gets a great matchup vs. Patrick Corbin who is dealing up a horrendous 19.4% HR/FB rate. He will be extremely low owned with all the great options tonight and could easily be on a winning GPP lineup.

Brandon Drury FD 2000 DK 3400
Opponent - MIA (Nicolino) Park - @ARI
FD - 8.78 DK - 6.96
When it comes to strong hitters parks and teams facing weak pitching it is usually impossible to find punt value. We have just that tonight with Drury over on FanDuel. If he is in the lineup he will get a great opportunity to crush his PTS/$ expectation as he will face Nicolino who we discussed earlier is an awful pitcher who shouldn't be in the majors. He is safe in all formats on FanDuel but should be reserved for a contrarian D Backs stack on DraftKings.
So yeah, baseball season! And we've got some goodies you can take with you. At the end of the post, we have our MLB eBook that you really ought to check out before setting even a single daily fantasy MLB lineup. It's free, below.
GRAB A FREE TRIAL OF OUR PROJECTION SYSTEM, AND CHECK OUT DFSR PRO!
GET OUR FREE EBOOK ON DAILY FANTASY MLB!
And Daily Fantasy MLB Picks for FanDuel and DraftKings every day!
FREE EBOOK
SECRETS TO CRUSHING DAILY FANTASY FOOTBALL!
DON'T SET ANOTHER LINEUP BEFORE YOU READ THIS BOOK.