Baseball Picks Daily Fantasy
Expert Advice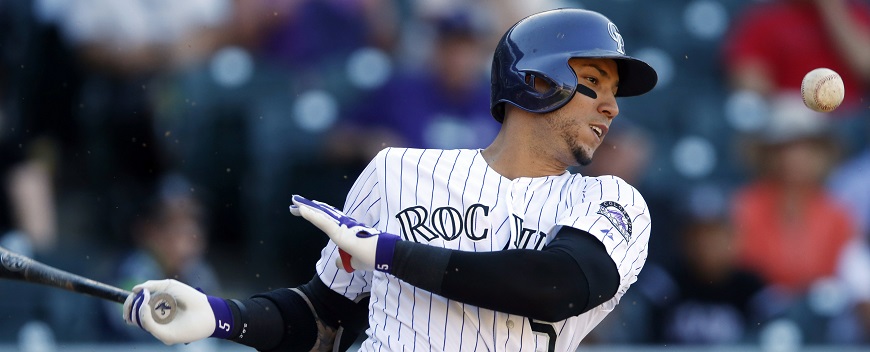 Daily Fantasy Baseball Picks for FanDuel and DraftKings - 9/3/16
Welcome to Saturday baseball! We have an 11 game full main slate on our hands with some aces and a few offenses in great spots to put up some runs. Make sure to check out our other articles as they will touch on more pitching options, tournament stacks and any weather concerns that may arise. Let's get into the top options at each position!
In case you didn't notice, we just released our brand new NFL DFS suite of tools including full projections, optimal NFL lineups and our Player Lab, which includes filters to help you create NFL lineups for FanDuel and DraftKings for any format. It's a set of tools well beyond anything we've ever had, and something we feel will help our users *ahem* tackle the NFL season.
You can grab a free 2 WEEK trial to test out yourself.
PITCHER
Vincent Velasquez FD 8400 DK 0
Opponent - ATL (Gant) Park - @PHI
FD - 33.07 DK - 21.67
First of all, I want to make it clear that the pitcher position is horrible tonight. That being said, there are definitely a few guys that you should be considering across the board. My favorite of them all is going to be Vincent Velasquez, who will be taking on the Atlanta Braves. The Braves are one of the worst teams in the league, and they are just as bad against right handers. In 3600 at-bats, the Braves have sported a pitiful .301 wOBA that is backed up by a .699 ISO. Velasquez started the year extremely hot, but has definitely dipped a bit in production in the later parts of the year. Velasquez has had 3 10+ strikeout games and I could see another one tonight. While there are a few expensive guys to consider, Velasquez is my favorite of the bunch.
Ivan Nova FD 7300 DK 8900
Opponent - MIL (Nelson) Park - @PIT
FD - 31.93 DK - 20.9
If you are looking to pay down a bit, let's take a look at Ivan Nova. Nova and the Pirates will be facing off with the Brewers, who are one of the worst teams in the league against right handers. In nearly 4,000 at-bats, the Brew Crew have sported a .309 wOBA and that is supported by a ridiculous 25.8% strikeout rate. While Nova isn't a great pitcher or a guy with 10 strikeout upside, he is pretty safe and is cheap enough where you don't need a huge game. PNC Park is one of the best ballparks in the league for right handed pitchers as the left field wall is very deep. While I definitely prefer Velasquez, Nova makes for a good consideration.
We're proud to introduce a brand new partner (and player in this space), Fantasy Factor! DFSR readers can get a bunch of sweet freebies (including a $5, no strings, no drip bonus) by signing up now!

CATCHER
Nick Hundley FD 3400 DK 4500
Opponent - ARI (Shipley) Park - @COL
FD - 10.81 DK - 8.46
The Rockies are going to be our favorite offense on the main late slate, and you are going to see plenty of names in this article. We are going to start it off with Nick Hundley, who has always hit righties well. While the sample size is small, Shipley has struggled in the majors and I don;t see him turning it around here. Against righties, Hundley has sported a +.330 wOBA since 2014 against right handers. The Rockies should be able to get to Shipley easily, and Hundley should benefit. Hundley makes for a great play in both cash games and tournaments.
Evan Gattis FD 3400 DK 5000
Opponent - TEX (Holland) Park - @TEX
FD - 10.54 DK - 7.97
On the early slate, the Astros is really the only team we are looking at. They are in a phenomenal spot here against Derek Holland, who is one of my favorite pitchers to target with right handers. Holland has given up 9 home runs and a .330 wOBA to righties, though his peripherals suggest some negative regression. With Gattis traveling to Globe Life Park, I could see him taking advantage of the park bump and hitting one out. With the options being slim on the early slate. I don't mind Gattis in both cash games and tournaments.
FIRST BASE
Brandon Moss FD 3700 DK 4900
Opponent - CIN (Straily) Park - @CIN
FD - 11.83 DK - 8.95
On the early slate, the Cardinals are really the only other team I like outside of the Astros. They will be taking on Dan Straily, who is the definition of an average right handed pitcher. The game will also be played in the Great American Ballpark, which is a top 5 ballpark for both right and left handed power. Moss has mashed righties since 2014 with a .346 wOBA that is backed up by some super nice peripherals. While Moss is going to cost you a hefty $4900 on DraftKings, he is fairly priced on FanDuel and I could see using him in both cash games and tournaments.
Mark Reynolds FD 3500 DK 5100
Opponent - ARI (Shipley) Park - @COL
FD - 12.61 DK - 9.59
This is a site-specific play, as Reynolds is an insane $5100 on DraftKings. On FanDuel, he is $3500 and is someone you can consider. While the power numbers have dropped, Reynolds still has the immense power that can break out at any time. We will touch more on Braden Shipley, but just know that he is a youngster that has not found his footing in the majors. While I don;t love this play as a 1 off, I love it if you already have exposure to some other Rockies bats. I will only have exposure to Reynolds in tournaments.
SECOND BASE
Jose Altuve FD 4200 DK 5300
Opponent - TEX (Holland) Park - @TEX
FD - 12.84 DK - 11.12
Jose Altuve is just pure insanity against left handed pitching. With a consistent +.400 wOBA, it is very hard not to consider him when the Astros face off with a guy like Derek Holland. So far in 2016, Altuve has exhibited a crazy .427 wOBA to go along with a .432 OBP, which is the second highest in the league. The big problem here is price, but I would recommend doing whatever it takes to get him in here, unless a punt sneaks into play for the early slate. That being said, Altuve makes for a tremendous play across the board in all formats.
Brian Dozier FD 3900 DK 5100
Opponent - CHW (Shields) Park - @MIN
FD - 11.21 DK - 8.82
The Minnesota Twins are our other favorite offense, and Brian Dozier is going to be the first of 3 guys mentioned. James Shields is absolutely horrible and we are going to do our best to pick on him as much as possible. Dozier has rocked right handed pitching this year with a .355 wOBA to go along with a 35% hard contact rate. We will touch on James Shields in a bit, but as you know, he is absolutely horrible and is someone we can target anyone against. I am confident in Dozier for both cash games and tournaments, though I do prefer him on FanDuel s he is much cheaper.
SHORTSTOP
Carlos Correa FD 4100 DK 4200
Opponent - TEX (Holland) Park - @TEX
FD - 12.02 DK - 9.65
Our 3rd and final Houston Astros bat, Carlos Correa. We are all over the Astros offense for the early slate and they are easily our favorite offense. Derek Holland has a ton of problems against good right handed hitting and the 'Stros have a ton of great right handed hitters. Since his major league debut, Correa has sported a .352 wOBA that is backed up by plenty of peripherals and batted ball rates. Vegas expects the Astros to put up big numbers here, and so do I. If you want a huge upside play at shortstop, you can look at Correa as an option in all formats.
Eduardo Escobar FD 2300 DK 3200
Opponent - CHW (Shields) Park - @MIN
FD - 7.46 DK - 5.97
No, Eduardo is not a very good hitter. He isn't gonna go out there and go crazy, but that's not what we need. We need a guy that is going to get on base and get driven in by the other guys in the lineup that we roster. Escobar is super cheap around the industry and he will help you pay up at other spots. Against righties, Escobar has sported a .311 wOBA, which is slightly better than average. While his upside is not crazy, he does have the ability to hit home runs as evident by his 5 on the season. While he isn't as safe as a guy like Correa, he is cheap and helps you pay up elsewhere, at a position that lacks much of anything.
THIRD BASE
Nolan Arenado FD 4500 DK 5600
Opponent - ARI (Shipley) Park - @COL
FD - 15.26 DK - 11.56
Arenado enters as one of the best plays on the slate, but is still the 2nd best play on his team. Arenado has demolished right handers at home on the season with a .427 wOBA and a 1.044 OPS. The Rockies opponent, Braden Shipley, is a guy that we are willing to target a ton. Since entering the majors, Shipley has sported a .397 wOBA against righties and no peripherals suggest any positive regression. While he is going to cost you a pretty penny, I am going to do my best to spend it on Arenado here. In both cash games and tournaments, he is my favorite play.
Maikel Franco FD 2500 DK 3400
Opponent - ATL (Gant) Park - @PHI
FD - 10.92 DK - 8.43
John Gant is not a very good pitcher, and I have absolutely no problem targeting him here with the Phillies. The Phillies best hitter, Maikel Franco, is going to be out main target. Gant has given up 2 homers and a .350 wOBA to righties, with peripherals to back up those numbers. Franco has hit righties better than he has lefties and has shown more power against right handed pitching. This game will take place in Citizens Bank Park, which is a spectacular park for right handed power bats. Franco is way too cheap on both sites, and I like him in both cash games and tournaments. On FanDuel especially, he is only $2500 and gives you a ton of upside with the added benefit of being nearly minimum priced.
OUTFIELD
Miguel Sano FD 3100 DK 3700
Opponent - CHW (Shields) Park - @MIN
FD - 12.83 DK - 9.64
Miguel Sano is going to start us off here at outfield, as he will be facing off with James Shields. Shields has been absolutely disastrous against right handers in 2016 with a .391 wOBA. Along with the atrocious wOBA, Shields has given up some insane peripherals and batted ball rates. Sano on the other hand, has hit righties extremely well over the course of his career. With a .361 career wOBA, I have no problem targeting him in both cash games and tournaments. He is under priced on both sites and I will look to take advantage of anyone that decides against owning him.
Carlos Gonzalez FD 4100 DK 5000
Opponent - ARI (Shipley) Park - @COL
FD - 15.49 DK - 11.9
When I mentioned that Arenado was the second best play on his team, I was referring to Gonzalez as the top play on the team. Gonzo is one of my favorite plays on this slate and I absolutely love him across the board. Cargo has destroyed righties for about 1- years now and this season has been no different with a .397 wOBA. When you factor in Coors Field and a rookie pitcher, I see very little chances of success for Shipley here. CarGo is fairly priced on both sites and I am going to do my best to fit him. If you pay down for Ivan Nova, you should be able to roster a few of these very expensive bats, as they bring a ton of upside tonight.
Mark Trumbo FD 3300 DK 4300
Opponent - NYY (Sabathia) Park - @BAL
FD - 12.1 DK - 9.25

Steve Pearce FD 3200 DK 4000
Opponent - NYY (Sabathia) Park - @BAL
FD - 10.44 DK - 8.08
While these are the first Orioles mentioned of the night, they are a team I absolutely love and they are arguably a top 3 stack for me tonight. Pearce and Trumbo in particular, are both southpaw mashers and will look to take advantage of Sabathia here. Sabathia started off the season strong, but has since turned into the last year Sabathia, where he is giving up a ton of home runs and runs against right handers. Both Trumbo and Pearce have wOBA +.370 against lefties, with great numbers to back that up. While Trumbo id obviously the preferred play, the price reflects that which makes me like them equally.
Be sure to get a copy of our free eBook on setting Weekly DFS NFL lineups for FanDuel and DraftKings!
And again, leading into the daily fantasy NFL season we're offering a free 2 week trial of our brand spanking new NFL DFS Player Lab! Click the button below to get started making lineups on FanDuel and DraftKings!
FREE EBOOK
SECRETS TO CRUSHING DAILY FANTASY FOOTBALL!
DON'T SET ANOTHER LINEUP BEFORE YOU READ THIS BOOK.