Baseball Picks Daily Fantasy
Expert Advice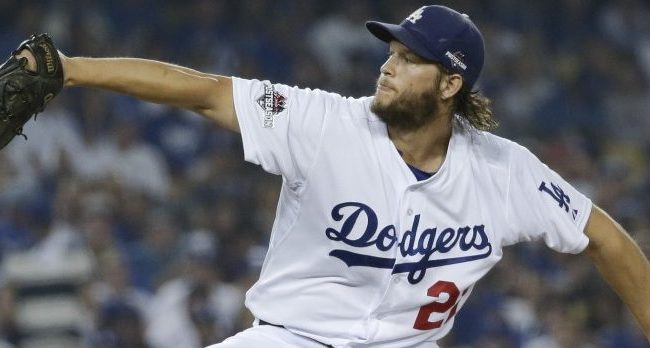 Daily Fantasy Baseball Picks for FanDuel and DraftKings - 9/9/16
Welcome back for another Friday edition of our daily fantasy baseball picks. With no afternoon games it leaves us with a full 15 game slate that starts at 7:00 pm et including the pitchers duel between Jose Fernandez and the returning Clayton Kershaw. Let's dig in and take a look at a few value's at each position.
In case you didn't notice, on Saturday we released our brand new NFL DFS suite of tools including full projections, optimal NFL lineups and Player Lab which includes filters to help you create NFL lineups for FanDuel and DraftKings. It's a robust set of tools; well beyond anything we've ever had and something we feel will help our users *ahem* tackle the NFL season.
Using tools like these for the NFL season is crucial and you can grab a free trial to test out yourself.
PITCHER
Clayton Kershaw FD 11000 DK 13500
Opponent - MIA (Fernandez) Park - @MIA
FD - 43.72 DK - 28.97
The long awaited return of the best pitcher in baseball has finally come. Kershaw will be making his first start since June 26th and while he shouldn't be trusted in cash games as the Dodgers "could" play it safe with his pitch count, he makes an excellent GPP play. With Jose Fernandez at home and priced the same on FanDuel and cheaper on DraftKings, Kershaw could be a bit over looked in his first start back. As you know he is an elite pitcher and comes into this game with a 1.79 ERA, 2.16 xFIP and elite 10.79 K/9 rate. I, for one, will not be waiting around to see a start before jumping back on board.
Carlos Martinez FD 10000 DK 10300
Opponent - MIL (Nelson) Park - @STL
FD - 38.38 DK - 25.03
Since he was beat up by the Braves at the beginning of August, Carlos Martinez has been cruising. In his last five starts he has gone 3-0 with a 2.18 ERA, 3.32 xFIP and excellent 9.55 K/9 rate. He should have no problem getting through the Brewers lineup as they rank 20th in wOBA(.305) with a league high 25.6% strikeout rate against right handed pitching. They have also struggled over the last two weeks ranking in the bottom 3rd of the league in hitting with an even higher 27% K rate. If you aren't comfortable paying up for one of the elite aces take  shot with Martinez who is safe in all formats.
Tanner Roark FD 8500 DK 9300
Opponent - PHI (Thompson) Park - @WSH
FD - 35.36 DK - 23.26
Looking to save even more? Take a close look at Roark tonight who is value priced on both sites and has the best win potential of any pitcher on the slate as the Nationals are heavy -260 home favorites. While the strikeout rate has dropped in the second half he has lowered his ERA by close to a half run by limiting his opponents to three earned runs or less in eight of those 10 starts. He gets an elite matchup vs. the Phillies who have struggled against right handed pitching this season and have been awful lately ranking 29th in wOBA(.240) with a crazy 27.3% K rate over the last 14 days. Roark makes an terrific option in any format tonight.


CATCHER
Buster Posey FD 3600 DK 4100
Opponent - ARI (De La Rosa) Park - @ARI
FD - 11.77 DK - 9.09
The lack of power in the second half(1 HR) has helped keep Posey's salary in a very affordable range on both sites. While the upside is limited for tournaments, he makes an excellent cash game option. Since mid August he has been hitting .296 with an above average .350 on base percentage with 12 runs scored.  He hits in a great spot in the order and gets an elite matchup vs. Rubby de la Rosa and his 4.15 ERA and very high 17.5% HR/FB rate.
Wilson Ramos FD 3600 DK 4100
Opponent - PHI (Thompson) Park - @WSH
FD - 11.91 DK - 9.18
Ramos comes with about the same floor as Posey with similar .350+ on base percentage's but adds a little more upside for tournaments. He ranks second to only Jonathan Lucroy at the position in wRC+(125) and home runs(20) and slugging %(.497). He gets an excellent matchup vs. Jake Thompson who isn't much of a threat in his rookie season with a 5.55 xFIP and K rate(5.94 K/9) that nearly matches his extremely high walk rate(4.86 BB/9). Ramos is safe in all formats.
FIRST BASE
Miguel Cabrera FD 3900 DK 4500
Opponent - BAL (Gausman) Park - @DET
FD - 12.74 DK - 9.69
While Miggy's numbers are not at the elite Triple Crown level they have been in the past, he still ranks among the best at the position in 2016. He has put together an impressive .315/.389/.553 slash line while recording 31 home runs(highest since 2013) and a 148 wRC+ for the Tigers. When looking at cash games he provides a high floor at a discount from the elite tier players and comes with upside that can help you leap frog opponents in tournaments as he is usually lowered owned than the Votto's, Ortiz's and Goldschmidt's of the world.
Matt Adams FD 2900 DK 3700
Opponent - MIL (Nelson) Park - @STL
FD - 12.13 DK - 9.4
Brandon Moss FD 3400 DK 3900
Opponent - MIL (Nelson) Park - @STL
FD - 11.97 DK - 9.05
The Cardinals first basemen present nice value tonight in tournaments in one of the best matchups on the slate. They get a shot at Jimmy Nelson who has struggled all year but has been even worse lately with a 5.41 xFIP in his last seven starts while walking over 5.5 batters per nine. Adams has been the better choice as of late with hits in three straight starts(2 HR & 4 RBI) since being moved up the lineup. Moss should be considered GPP only tonight as he is in a big slump going hitless in nine straight but has more upside than Adams with his 25 home runs on the season.
SECOND BASE
Robinson Cano FD 3900 DK 5200
Opponent - OAK (Mengden) Park - @OAK
FD - 12.06 DK - 9.38
Cano is enjoying his best season as a Mariner in year three with an impressive .304/.355/.532 slash line with 32 home runs, his highest total since 2012 with the Yankees. He has also added 86 RBI and 91 runs scored for an elite 138 wRC+ . He entered Thursday nights game with hits in 11 straight and 15 of his last 16 games and has the highest floor of any player at the position tonight at a discount.
Daniel Murphy FD 4300 DK 5500
Opponent - PHI (Thompson) Park - @WSH
FD - 13.61 DK - 10.72
The Nats are huge favorites today at home vs. the struggling Phillies and the bats are projected to crush their value from a PTS/$ perspective. Murphy has been crushign his value all season as he trails on Kris Bryant in the National League MVP race with an elite .345/.388/.595 slash line with a career high 25 home runs and 100 RBI. As I mentioned with Ramos the matchup is elite against Thompson and his 5.55 xFIP in his first six major league starts.

Starlin Castro FD 2500 DK 3500
Opponent - TB (Snell) Park - @NYY
FD - 8.86 DK - 7.03
If you are looking to save some salary and punt the position Castro shows up strong on the projections today on both sites. He has enjoyed success in his first season with the Yankees as his power took a big jump recording 20 home runs so far in 2016. He is currently on a nice hot streak as well hitting .308 with three home runs over his last two weeks with a high .519 slugging percentage.
SHORTSTOP
Brandon Crawford FD 3200 DK 4500
Opponent - ARI (De La Rosa) Park - @ARI
FD - 10.01 DK - 7.83
Value takes over at the shortstop position tonight as the optimizer has 13 of the top 14 PTS/$ plays coming in under $3K on FanDuel. Crawford has been up and down all season with a .271 average and .335 OBP but leads all shortstops in triples(9) and sits 5th in RBI(77). A large portion of value comes with the big park upgrade and matchup vs. De La Rosa who has been average at best this year with a 3.71 xFIP and 17.5% HR/FB rate and is due for more regression pitching with a .254 BABIP that is about 40 points lower than his career number.
Javier Baez FD 2800 DK 3300
Opponent - HOU (Musgrove) Park - @HOU
FD - 8.6 DK - 6.97
Both Baez and Russell provide tremendous value even though they hit in the bottom half of the lineup. I tend to lean Baez when the Cubs face left handed pitching as he is much stronger with a battign average(.298) that is 40 points higher with a .354 wOBA and 120 wRC+. He provides big upside for a cheap price while facing a struggling southpaw in Musgrove who struck out less than seven batters per nine and pitched to a 8.53 ERA and 4.71 xFIP over his last four starts whiel giving up six home runs. Baez is safe in all formats today.
THIRD BASE
Adrian Beltre FD 3600 DK 4800
Opponent - LAA (Skaggs) Park - @LAA
FD - 11.41 DK - 8.75
This pick comes with it all on Friday night. Beltre ranks high on a PTS/$ basis on both sites tonight as he's been hot lately slashing .333/.462/.667 with a 194 wRC+ over the last two weeks and he also crushes left handed pitching with a .280 ISO and 163 wRC+. Add to it that he gets a matchup vs. Tyler Skaggs who is walking over four batters per nine with a 4.80 xFIP over his last six starts and you have an elite play at the position. His best value comes on FanDuel where he sits outside the Top 10 in salary.
Jung-ho Kang FD 3300 DK 4900
Opponent - CIN (Adleman) Park - @PIT
FD - 11.29 DK - 8.85
DraftKings has definitely made adjustments on Kang's salary during this hot streak limiting him to tournaments only Friday night. He returned from the disabled list on Monday in a pinch hit appearance and has now started three straight games and recorded seven hits including a double and three home runs. He has strong reverse splits against righties this year with a batting average 84 points higher than against southpaws. On FanDuel, where the salaries adjust a little slower, he is a safe play in any format.
Jedd Gyorko FD 3000 DK 4500
Opponent - MIL (Nelson) Park - @STL
FD - 10.84 DK - 8.24
The Cardinals have been a tremendous source of value all season as they tend to mix up their lineup which keeps their secondary players salaries in the mid to low range. Gyorko has spent the last two weeks hitting out of the two hole where he has recorded six home runs with a .327 ISO. He and the Cardinals get a nice matchup vs. Jimmy Nelson who is really just a guy. He walks close to 4.5 batters per nine with an average K rate(6.94 K/9) and terrible 4.90 xFIP on the season. Gyorko is another reverse split hitter with a .363 wOBA, 128 wRC+ and 21 of his 26 homes against right handed pitching.
OUTFIELD
Bryce Harper FD 4000 DK 5300
Opponent - PHI (Thompson) Park - @WSH
FD - 17.13 DK - 13.21
We can't talk Nats bats in a great matchup without mentioning Harper. Most days I would never trust him in cash games but this may be one of the days I do. Why you say? The dip in the power numbers has limited his upside vs. other players in the upper tier but he provides a very high floor in this matchup as he is operating with an elite .382 OBP due to a high 17% walk rate and faces a pitcher who is walking nearly five batters per nine innings.

Andrew McCutchen FD 3200 DK 3900
Opponent - CIN (Adleman) Park - @PIT
FD - 11.87 DK - 9.37
While he is not completely back to form, McCutchen is having a much better second half as he has lowered his K rate by nearly 5% and raised his walk rate close to 2%. He is definitely trending in the right direction as the season comes to a close slashing .292/.344/.483 with four home runs since the middle of August. His salary comes in under $4k on both sites making him a top play on a PTS/$ basis. Roll him out in any format tonight.

Denard Span FD 3100 DK 4400
Opponent - ARI (De La Rosa) Park - @ARI
FD - 10.89 DK - 9.13
Span has been a very streak hitter for the Giants in 2016 and is currently in a cold streak(1 hit in last 6 games) which has helped bring his salary into buy low territory. His value rides on his ability to get on base and use his speed(12 stolen bases) from the leadoff position allowing the big bats behind him to bring him around to score. The system loves the Giants and their value pricing as they receive a very nice park upgrade going into Chase Field on Friday.
Be sure to get a copy of our free eBook on setting Weekly DFS NFL lineups for FanDuel and DraftKings!
And again, leading into the daily fantasy NFL season we're offering a free 2 week trial of our brand spanking new NFL DFS Player Lab! Click the button below to get started!
image sources
NLDS Mets Dodgers Baseball: (AP Photo/Gregory Bull)
FREE EBOOK
SECRETS TO CRUSHING DAILY FANTASY FOOTBALL!
DON'T SET ANOTHER LINEUP BEFORE YOU READ THIS BOOK.