Baseball Picks Daily Fantasy
Expert Advice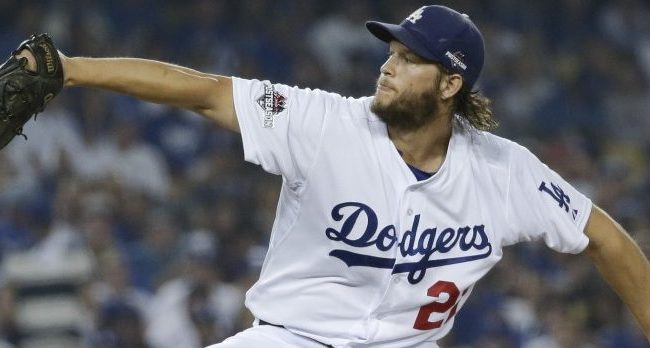 Daily Fantasy Baseball Picks for FanDuel and DraftKings - 9/24/16
Welcome to Saturday baseball! We have a nice 10 game slate on our hands with some aces and a few offenses in great spots to put up some runs. Make sure to check out our other articles as they will touch on more pitching options, tournament stacks and any weather concerns that may arise. Let's get into the top options at each position!
In case you didn't notice, we just released our brand new NFL DFS suite of tools including full projections, optimal NFL lineups and our Player Lab, which includes filters to help you create NFL lineups for FanDuel and DraftKings for any format. It's a set of tools well beyond anything we've ever had, and something we feel will help our users *ahem* tackle the NFL season.
PITCHER
Clayton Kershaw FD 10600 DK 12800
Opponent - COL (Bettis) Park - @LAD
FD - 45.65 DK - 29.76
Clayton Kershaw is going to start us off here at the pitcher position, as he usually does when he takes the mound. Kershaw started returning to his usual for mast start, going 6 scoreless innings and striking out 7. Vegas expects more of the same as the Rockies have a projected run total of 2.10, which is by far the lowest. Dodgers Stadium will not help matters and will probably hold a ball or two in the field of play. While it surely goes unsaid, Kershaw has sported a super elite wOBA and xFIP over the past dew seasons. He has the highest ceiling in the game and also has a very safe floor in cash games. While he is very expensive on DK, he is pretty affordable on FanDuel at $10600. The Rockies are a team that struggles on the road. They have sported the 3rd worst road wOBA in the league at .294, which looks to be correct. The one issue here is the fact that Kershaw is coming back from injury. For that reason, I will temper my expectations in tournaments quite a bit as there is no chance they push him over 100 pitches. All in all, you can play him in all formats, but temper your expectation a little bit.
Madison Bumgarner FD 11000 DK 13400
Opponent - SD (Cosart) Park - @SD
FD - 41.61 DK - 27.23
If you want a guy that is quite similar, but has more upside, take a look at Bumgarner. While Kershaw usually has more upside, Bumgarner has more tonight as he could easily be pushed if he is having a good game. Bumgarner has been extremely dominant against both lefties and righties on the season with a combined wOBA under .300 and a 9+ K per 9 rate. The Padres, as well all know, are a horrible team and while they are better against lefties, they are still bad. They strikeout at a 23% clip and have one of the worst ISO's I have ever seen. The game will be played in Petco Park, which is a top 5 ballpark in the league for pitchers. I see Bumgarner absolutely dominating tonight and this match up is one that gives Kershaw a fantastic ceiling and floor. You can deploy Bumgarner in all of your lineups, but I prefer him over on FD as the win is weighted more heavily.
Early Slate - Rick Porcello, Marcus Stroman for GPP's
We're proud to introduce a brand new partner (and player in this space), Fantasy Factor! DFSR readers can get a bunch of sweet freebies (including a $5, no strings, no drip bonus) by signing up now!

CATCHER
Welington Castillo FD 3000 DK 4200
Opponent - BAL (Miley) Park - @BAL
FD - 10.04 DK - 7.77
Welington "Beef" Castillo is going to start us off here at the catcher position. Beef and the Diamondbacks will fly to Baltimore and take on the Orioles. The Orioles will be trotting out Wade Miley tonight, the veteran southpaw. While he has been somewhat decent against lefties, he has still been horrible against righties. We will go into detail a bit later, but he is not good at all. Castillo on the other hand, hits lefties well and has  sported a .341 wOBA since 2014. While the ballpark isn't quite as good as Chase Field, it is still a top 5 ballpark for right handed power. Though he is very expensive on DK, he comes in on FanDuel at just $3K, which is very affordable. Castillo is someone who can be considered in both cash games and tournaments.
Evan Gattis FD 3000 DK 4200
Opponent - LAA (Chacin) Park - @HOU
FD - 10.37 DK - 7.84
The Astros are going to be our top offense on the slate, so get used to seeing the names. They are taking on the Angels at home, ad will have the honor of facing off with Jhoulys Chacin. We will go in depth on him later, but he is horrible against everyone. Gattis is  just about as good against righties as he is lefties, and arguably has more power against right handers. In this ballpark, you never know when he will go for a 2 homer game. The Crawford boxes give away a lot of homers and it is never a bad idea to get exposure to this explosive offense. While I definitely prefer him in tournaments, I see the merit in using him in cash games. The catcher position is pretty weak and he is pretty affordable, at least on FD.
Early Slate - Victor Martinez
FIRST BASE
Paul Goldschmidt FD 3400 DK 5700
Opponent - BAL (Miley) Park - @BAL
FD - 13.03 DK - 10.2'We are going to go right back to the Diamondbacks here with Paul Goldschmidt. Goldschmidt is a guy I love to roster against lefties, as he is one of the best hitters in the league. Since 2015, Goldy has sported a .397 wOBA that is backed up by stellar peripherals and batted ball rates. Miley on the other hand, as mentioned, struggles against righties. Over the course of 116 innings, Miley has sported a .364 wOBA alongside a 4.29 xFIP and a 37% hard contact rate. Like Castillo, Goldschmidt is very expensive on DraftKings and very affordable on FanDuel. That is because DK has adjusted pricing and they have adjusted these Diamondbacks because of the great match up. Goldschmidt is my top option in both cash games and tournaments, though there are a few other guys you can consider.
Kennys Vargas FD 2800 DK 3900
Opponent - SEA (Miranda) Park - @MIN
FD - 9.78 DK - 7.42
No, Vargas is not my 2nd favorite overall first baseman. I would obviously prefer the higher priced guys, but we have this thing called a salary cap, and it is pretty important. With all of that considered, he does come in as number 2 on my list right below Paul Goldschmidt. Vargas is a switch hitter, but has hit a lot better against southpaws. From the right side of the plate, Vargas has sported a .327 wOBA over the past 2 seasons. He will be facing off with Ariel Miranda, who is a guy that will not last very long in the majors. He has been horrible against righties and Vegas doesn't expect this to be the game where he turns it all around. The Twins are projected to score 5 runs and I will take a 1st baseman in the middle of a 5 run offense any time.
Early Slate - Edwin Encarnacion
SECOND BASE
Jose Altuve FD 3900 DK 5400
Opponent - LAA (Chacin) Park - @HOU
FD - 11.67 DK - 10.11
Like I said, we are all over these Astros. They are facing off with one of the worst pitchers on the slate, and are currently projected to score over 5 runs, which is higher than anyone else. I actually do not expect them to be too highly owned as there are a ton of offenses that are in good spots tonight. Altuve specifically, has bashed righties on the year with a .354 wOBA. He also has a lot more stolen base upside as it is much easier to steal on right handers. Once Chacin comes out of the game, the 'Stros will face a bullpen that has ranked 2nd last to only the pitiful Reds. Altuve gives you a ton of upside while being the obvious move for cash games. If you don't have enough salary, look at Scooter Gennett.
Scooter Gennett FD 3500 DK 4100
Opponent - CIN (Straily) Park - @MIL
FD - 10.49 DK - 8.52
Scooter Gennett is going to come in as our 2nd baseman of choice after Jose Altuve. Gennett is a guy that you play against bad righties, and never consider him outside of that exact situation. He is in that situation tonight with Dan Straily, who is definitely a below average righty. Straily has sported a .341 wOBA against lefties and his peripherals tell us that it is a true story. Gennett on the other hand, has been dominant against right handed pitching for a while now. Miller Park is a top 10 ballpark for power, and although Gennett is not power reliant, it always helps. While Gennett is not necessarily "cheap", he comes in below Altuve and has just as much upside in tournaments.
Early Slate - Devon Travis, Whit Merrifield
SHORTSTOP
Carlos Correa FD 3500 DK 4600
Opponent - LAA (Chacin) Park - @HOU
FD - 11.7 DK - 9.39
Correa is going to comes in as our favorite shortstop on the day, in both cash games and tournaments. The position is very weak and I had a tough time finding anyone outside of Correa that I loved. Chacin has given up  a.331 combined wOBA and while that isn't too bad, his peripherals suggest much worse. With a 37% hard contact rate and a 4.7% HR/FB rate, the regression monster is very close to attacking. I expect it to come tonight against these explosive Astros team. The ballpark will also hurt him as he will be moving from the spacious Angels Stadium to the batters park in Minute Maid Park. Correa has been fantastic against righties on the season with a .361 wOBA that is plenty backed up. Correa is a fantastic play in all formats, and is reasonably priced on both FanDuel  and DraftKings.
Tim Anderson FD 2900 DK 4100
Opponent - CLE (Anderson) Park - @CLE
FD - 9.21 DK - 8.19
After Carlos Correa, the position gets very slim. Because of that, I will have a lot of exposure to Correa and will only get different exposure in tournaments. My 2nd highest owned guy will be Timothy Anderson. Anderson has entered into the majors and shown how good he is right away. The White Sox will be taking on the Cleveland Indians and there worst pitcher, Cody Anderson. Anderson is a guy that has just stuck around the majors, but struggles consistently with giving up the long ball and stolen base. Anderson has hit righties to a .341 wOBA clip alongside some fantastic speed and power numbers. In tournaments, I see the merit of using anyone, but Anderson brings a special combo of power and speed, which is rare to find.
Early Slate - Troy Tulowitzki, Addison Russell
THIRD BASE
Kyle Seager FD 3700 DK 4500
Opponent - MIN (Duffey) Park - @MIN
FD - 11.46 DK - 8.81
While this is the first Seattle Mariner I am mentioning, they are one of the top teams to consider on the slate for a tournament stack. Seager can be deployed in both stacks and as a 1 off, and he is my favorite of them all, with Cano being a close 2nd. Seager has demolished righties so far in 2016 with a .394 wOBA that is backed up by a phenomenal set of peripherals and batted ball rates. The opposing pitcher, Tyler Duffey, is a absolutely horrible and has given up a .341 wOBA against lefties since 2014. While Target Field is not amazing, it is much better than Safeco Field which gives the Mariners a huge advantage with the home run ball. Seager is fairly priced on both sites, though I prefer him on FanDuel as he is a bit cheaper.
Adonis Garcia FD 2900 DK 3600
Opponent - MIA (Chen) Park - @MIA
FD - 8.19 DK - 6.58
If you want to look a bit cheaper, you have to consider Adonis Garcia. Garcia is the Braves 2nd most powerful bat, and he is a lot better against lefties then he is righties. Agaisnt lefties, Garcia has sported a .355 wOBA that is backed up by a 35% hard contact rate and an 11.4% HR/FB rate. He will be facing off with Wei-Yin Chen, a veteran southpaw. Chen has given up the 3rd most home runs against right handers and while his other numbers are good, that home run issue gives the righties a lot of upside. While Garcia is nowhere near a cash game play, he is a phenomenal tournament play on both DraftKings and FanDuel. he is pretty cheap across the industry and brings a ton of upside to the table.
Early Slate - Josh Donaldson
OUTFIELD
Mark Trumbo FD 3400 DK 3700
Opponent - ARI (Ray) Park - @BAL
FD - 12.24 DK - 9.35

Adam Jones FD 3500 DK 3600
Opponent - ARI (Ray) Park - @BAL
FD - 12.09 DK - 9.39
First of all, these guys are WAY too low priced on both sites. They should both be around $4500-5k, and I would still consider them at that price. Because of this mispricing, I will have almost 1--% exposure to both of these guys. While these are the first Orioles mentioned, they are one of my favorite stacks of the night against Robbie Ray. While Ray is a decent pitcher, he struggles against righties and gives up a lot of homers. Both Trumbo and Jones have sported a +.370 wOBA against southpaws and there is no reason to expect a drop-off at this point. Play both of these guys and go down with the ship if it comes to that.
George Springer FD 3900 DK 3900
Opponent - LAA (Chacin) Park - @HOU
FD - 11.87 DK - 9.39
I promise, this is the last Houston Astros bat. Springer has to be mentioned when you are touching on the whole team. He is basically the engine of the team and when he is hitting the whole team is hitting. There is not too much more to say about the match up. He is taking on a bad righty that gives up a lot of home runs and stolen bases. This is one of my favorite situations on the season for Springer, and I expect him to hit the ball extremely hard against Chacin. Whether it finds a hole or goes into J.J. Hardy's glove, is up to the baseball gods. Springer is way too cheap on DraftKings and I think it is foolish to exclude him from your cash games.
Yasmany Tomas FD 2700 DK 4500
Opponent - BAL (Miley) Park - @BAL
FD - 9.38 DK - 7.48

Brandon Drury FD 3600 DK 4600
Opponent - BAL (Miley) Park - @BAL
FD - 8.08 DK - 6.44
We are going to finish off with a Diamondbacks outfield duo. While they may not be well known names, both Tomas and Drury have a ton of power and can lead you to the top of tournaments. Camden Yards is one of the best ballparks in the league and will only give a bonus to these guys. Both Tomas and Drury have sported +.350 wOBA's to go along with very good batted ball rates. As we know, Wade Miley is horrible against righties and we should be looking to take advantage of that tonight. Both Drury and Tomas are way too expensive on DK, but are plenty cheap on FanDuel. Both of these guys can be used across the board, but I do prefer Springer and the Orioles OF ahead of them.
Early Slate - Tigers, Blue Jays
Be sure to get a copy of our free eBook on setting Weekly DFS NFL lineups for FanDuel and DraftKings!
And again, leading into the daily fantasy NFL season we're offering a free 2 week trial of our brand spanking new NFL DFS Player Lab! Click the button below to get started making lineups on FanDuel and DraftKings!
image sources
NLDS Mets Dodgers Baseball: (AP Photo/Gregory Bull)
FREE EBOOK
SECRETS TO CRUSHING DAILY FANTASY FOOTBALL!
DON'T SET ANOTHER LINEUP BEFORE YOU READ THIS BOOK.