Basketball Picks Daily Fantasy
Expert Advice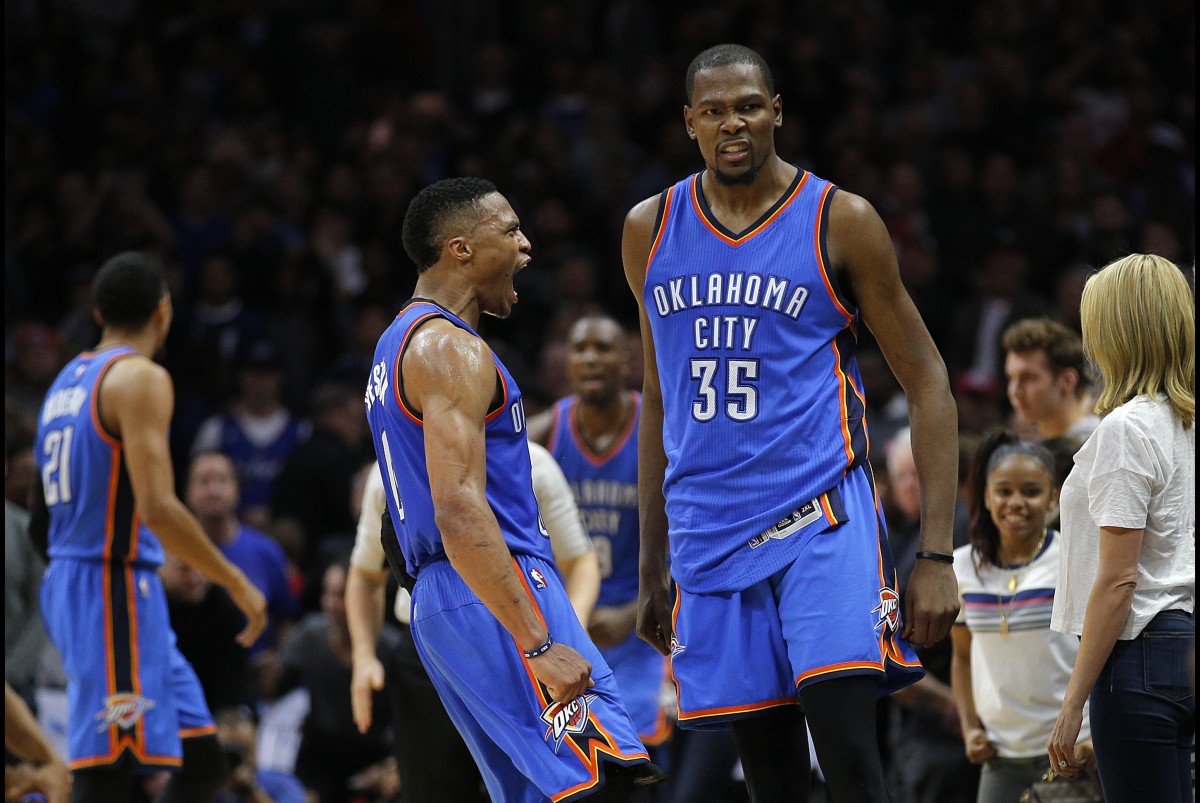 Daily Fantasy NBA Picks for FanDuel and DraftKings - 11/25/16
We are two games into the NBA season and already learning a ton. Things like Anthony Davis has 100 fantasy point potential and so does Harden. Some teams are going to be dreadful to watch this year (looking at you Nets) and some have guys who've taken a fantasy leap forward. It's crystalizing folks. We've got an interesting four game set tonight with a few new teams going. Let's get into the picks.
Now's your chance to get DFSR PRO, which will give you access to our NBA optimizer, our NFL Optimizer, and our new NFL player lab! Get started for free by clicking the button below.
First time with NBA? Be sure to read our free NBA Ebook on building lineups, general strategy and more. We've got you completely covered.
Note - We have a bunch of teams on back to backs and 3 games in 4 nights. We could definitely see some guys sit tonight. I would look out for teams like the Spurs and Wizards rest guys.
Point Guard
Russell Westbrook FD - $11900 DK - $11900
Opponent - DET
Proj Pts FD - 56.09 DK - 61
Russell Westbrook is a guy that is going to be here every night he plays. He is going to consistently go off and always has an insane amount of upside. Every time he plays, you are going to have to consider if the price is worth it or not. Today is going to be tough. there are a lot of ways to go at other positions, and I don't think Westbrook will be in my cash game lineup. The Pistons are pretty average against point guards, but there is obviously nobody that can cover Westbrook. I am looking at a balanced lineup approach, and Westbrook obviously doesn't fit into that. In tournaments though, the price doesn't matter. He has no ceiling and has as much upside as anyone in the league, +10.
Kemba Walker FD - $8500 DK - $7900
Opponent - NY
Proj Pts FD - 35.83 DK - 38.33
Kemba and the Knicks squared off last night, and Walker wasn't great. We can't expect the same thing tonight, especially because they are at home. We also have his defender, Derrick Rose, on a back to back and we all know how his defense can be. Walker has been a different player at home this season, and I expect another big game. He has the opportunity to rack up peripherals here and I am a fan of him in both cash games and tournaments.
Ishmael Smith FD - $5200 DK - $4900
Opponent - OKC
Proj Pts FD - 26.78 DK - 29.03
Ish Smith has been pretty consistent, but he hasn't been tremendous. This game could get pretty interesting, as Westbrook will be looking to push the ball all game. Ish Smith has no problem matching and has shown in the past that he can match Westbrook in a fast paced game. With both of these teams having a game last night, we could see some limited minutes, but that is something hard to predict this early in the season.
Shooting Guard
Victor Oladipo FD - $6000 DK - $6400
Opponent - DET
Proj Pts FD - 27.9 DK - 30.48
The Thunder had an OT thriller last night with the Nuggets, and came out on top. These guys all played a ton of minutes, so watch out for some late news. If they do play, you have to look at them again. They play so fast, and Oladipo has done a goo job lately of getting involved without taking away from Westbrook. You can play both in cash games, as the offense is very concentrated and we know exactly where the production is coming from. You can also play them in tournaments and make for a great combo to go with a game stack.
Nicolas Batum FD - $6700 DK - $6800
Opponent - NY
Proj Pts FD - 32.09 DK - 34.63
Batum had a pretty nice game last night, and I look for him to have another one tonight. The Knicks set up well for Batum, as they give up a ton of peripherals and open wing shots. Batum took advantage last night and filled the box score. He is an extremely safe play and I wouldn't hesitate to plug him into your cash games. With all of the teams on B2B's, this whole night is a bit risky. Make sure you can be around your compute close to lock tonight.
Zach LaVine FD - $5800 DK - $6000
Opponent - GS
Proj Pts FD - 26.81 DK - 29.43
Batum is more of a cash game play,and LaVine is more of a tournament option. The Warriors are a weird team to target guys against. There is a ton of possessions and a bunch of peripherals to grab, but the Warriors just dominate everything and the bench just ends up playing the 4th quarter. i expect the Wolves to stay with the Warriors tonight, and LaVine could be a big reason why. He has a ton of upside and he has shown it already a few times this year. While Klay Thompson is a good defender, he has struggled with laVine in the past.
Consider Josh Richardson if Goran Dragic is out
Small Forward
Kevin Durant FD - $9900 DK - $9600
Opponent - MIN
Proj Pts FD - 43.58 DK - 46.74
The Warriors have played a lot recently, but the starters have still been laying big minutes. They got a break against the Warriors the last 2 games, but should go right back to the normal minutes tonight. The Timberwolves don't have anyone to slow down Durant, and he should be able to get to the rim with ease. His ceiling may not be as high with so many mouths to feed, but he is going to be a consistent option all year. You can play Durant across the board, and he is a solid option on all sites.
Kawhi Leonard FD - $8600 DK - $8300
Opponent - WAS
Proj Pts FD - 41.86 DK - 44.3
Small forward is a spot I want to pay up at tonight, and Leonard is a guy I will make sure I have exposure to. The Wizards play very fast paced, and Leonard is the go to guy in the offense when they need some quick production. Otto Porter is a decent defender, but certainly lacks the strength it takes to stop Kawhi Leonard. He is moderately priced across the industry, and I like him in all formats. The Spurs could rest some guys tonight, so I would keep an eye on that as well. You never know with this team.
Andrew Wiggins FD - $6200 DK - $7000
Opponent - GS
Proj Pts FD - 32.26 DK - 34.45
Wiggins is probably the cheapest guy i will be playing at SF, unless some value pops out as the day moves on. He has been a very up and down player, with an insane ceiling and a very low floor. This is the perfect spot to take Wiggins, in a fast paced game with a very high over/under. Wiggins has the potential to put you over the op,and you have to get exposure on a 5 game slate. He should be pretty low owned, and he shouldn't be. Klay Thompson will likely guard LaVine, which leaves Durant to cover Wiggins. Durant isn't a great defender and has given up big games a few times this year already.
Power Forward
Kristaps Porzingis FD - $7200 DK - $7700
Opponent - CHA
Proj Pts FD - 36.96 DK - 39.43
Porzingis is one of the funnest guys to watch in the NBA. he is all over the place and it looks like he is going to be the real deal. These 2 teams played last night, and Porzingis had a pretty good night. He was hitting some shots, but missed a bunch and should of had around 40 fantasy points. He will take the court on the road tonight an the Hornets are banged u down low. Of Cody Zeller misses, Porzingis should be able to dominate down low.
Gorgui Dieng FD - $5900 DK - $6100
Opponent - GS
Proj Pts FD - 32.8 DK - 34.69
Gorgui Dieng has been pretty up and down as well, but this is the perfect spot for him to have a big game. Draymond Green is questionable for tonight, so he could be guarded by Kevon Looney and Kevin Durant. Dieng is way too big for both of those guys, and he should be able to get them on the boards all game. He is a safe cash game option, and does have a bit of upside in GPP's. His price has dipped as well, so he won't hurt the pocket. With so many superstars on the slate, you may want to pay up elsewhere.
Tobias Harris FD - $5200 DK - $5700
Opponent - OKC
Proj Pts FD - 27.09 DK - 28.89
If you are looking to pay down even further at PF, you can go to Tobias Harris. This will be a huge up pace game for the Pistons,as the Thunder are one of the fastest teams in the league. Tobias Harris has a ton of upside, as he can rack up peripherals along with the points. He is a versatile offensive player and can hit shots from the outside and then go bang down low with the big guys. The Thunder have struggled against the 4, as evident by there 29th DVOA so far. Harris is a great play in all formats, and his price is way too low.
Consider Frank Kaminsky if Cody Zeller is out
Center
Karl-Anthony Towns FD - $8800 DK - $8400
Opponent - GS
Proj Pts FD - 39.37 DK - 42.09
Karl-Anthony Towns is the T-Wolves best hope for beating the Golden State Warriors. If there is a place to attack the Warriors, it is down low. Zaza Pachulia is far from a force, and Towns will be able to dominate him. He hasn't really had the humongous game in a while,he did show it earlier in the season. The Wolves have been giving Towns more minutes, which heightens his upside. This game is going to be very fast, and if it stays close, Towns has as much upside as anyone other than Westbrook on this slate.
Marc Gasol FD - $7100 DK - $6900
Opponent - MIA
Proj Pts FD - 36.95 DK - 38.95
Marc Gasol is a pretty consistent guy, and he will rarely lose you a cash game. He will occasionally win you a tournament, but that is hard to find as well. He should be out there for 35 minutes tonight to match u with Whiteside, so that makes him a safe cash game play for me. Whiteside is a great center, but he gives up points and rebounds. Center is ugly tonight and Gasol will give you a safe 30 points.
Steven Adams FD - $4800 DK - $5000
Opponent - DET
Proj Pts FD - 24.5 DK - 26.07
Steven Adams is going to be matching up with Andre Drummond, which means a bunch of rebounds. While Drummond will grab a ton as well, him staying around the rim will help Adams grab a few more as well. Like I have stated, this game is going to be fast which will result in a lot more peripherals up for grabs. Adams has dome upside, and can get some blocks and steals to go along with his double double. He is pretty cheap as well, so he doesn't need to have you a crazy game.
GRAB A FREE TRIAL OF OUR PROJECTION SYSTEM, AND CHECK OUT DFSR PRO!
GET OUR FREE EBOOK ON DAILY FANTASY NBA!
And Daily Fantasy NBA Picks for FanDuel and DraftKings every day!
FREE EBOOK
SECRETS TO CRUSHING DAILY FANTASY FOOTBALL!
DON'T SET ANOTHER LINEUP BEFORE YOU READ THIS BOOK.