Basketball Picks Daily Fantasy
Expert Advice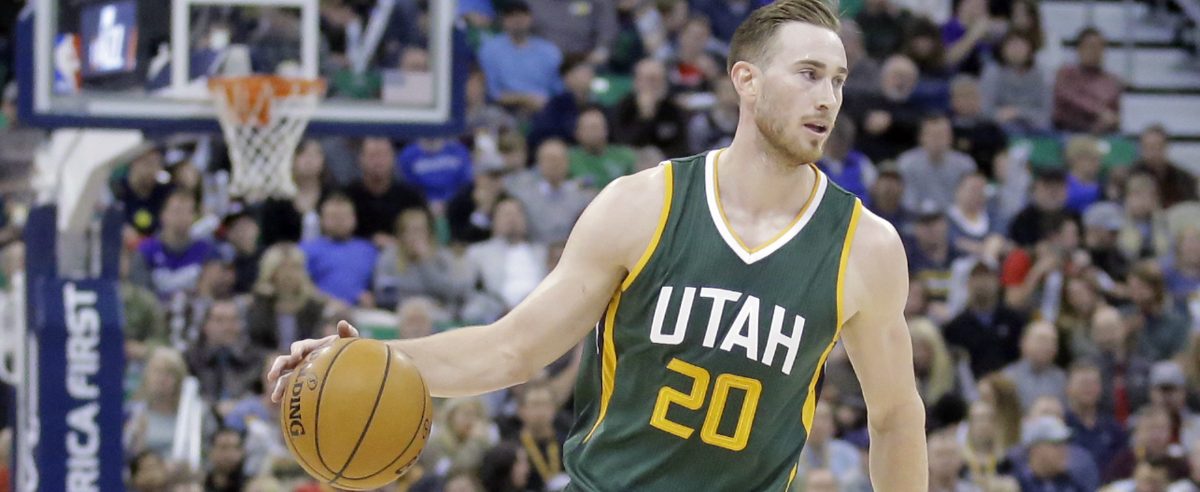 Daily Fantasy NBA Basketball Picks for FanDuel and DraftKings - 12/27/16
Now's your chance to get DFSR PRO, which will give you access to our NBA optimizer, our NFL Optimizer, and our new NFL player lab! Get started for free by clicking the button below.
First time with NBA? Be sure to read our free NBA Ebook on building lineups, general strategy and more. We've got you completely covered.
Point Guards
Russell Westbrook FD - $13000 DK - $12500
Opponent - MIA
Proj Pts FD - 56.14 DK - 59.7
This loser thought so little of Christmas that he couldn't even give us a tripe-double. What is this guy's problem? Does he hate the holidays? Instead he puts up a pedestrian 31/15/7/1/1 line that comes close to paying off these exorbitant prices. And that's the big question: What can we pay for Westbrook? He's as expensive as I can ever remember a guy on either site and on a short slate it's tough to fit his salary. This is a big pace downgrade for Westbrook playing Miami who run the 5th slowest in the league with a top third defensive efficiency. Ultimately, it's only how much you can stomach fading the best fantasy player we're likely to see in quite some time. It will greatly depend on what kind of punt value shows up along the edges.
Goran Dragic FD - $7300 DK - $7100
Opponent - OKC
Proj Pts FD - 35.92 DK - 38.22
With the Heat in a constant state of injury turmoil, Dragic remains the Miami usage dude as he's comfortable getting up 15+ shots per game while also chipping in along the other fantasy margins. Dragic doesn't play traditional point in all of the Heat sets, but he does command a fair amount of the usage when he's on the court and is enough of a threat from behind the arc that his upside is there is if he heats up. This game has a decent total and Dragic should see a ton of court time against Russ and company. Miami is still dealing with plenty of backcourt injuries and Dragic is versatile enough to work between the one and two that I like his floor.
Very strongly consider Shelvin Mack with George Hill doubtful and Dante Exum still out tonight. Mack's minutes are secure enough at the point that you're still getting value on his price. He isn't a focal point of the offense, but he's a value play for sure. There's a ton of safety in guys who control the ball for 30+ minutes at these prices. It doesn't feel amazing, but the opponent helps a ton as well.
DFSR Sponsor Fantasy Factor has offered a $20 freeroll for DFSR readers! It's capped at 50 users, and the only way to access the tournament is to click the banner below. Hope to see you in there, and make sure to bring your A game since James and I will be participating as well!
Shooting Guards
Rodney Hood FD - $4800 DK - $5300
Opponent - LAL
Proj Pts FD - 25.04 DK - 26.86
Dude's been out with a belly ache the last couple of games but he should be back in full force tonight. The illness injury is much more encouraging than than the actual body injury only because you don't worry so much about the lasting effects. He should be back in full force tonight with one of the best matchups on the short slate of games. Hood's a double digit shot attempt guy who, when hitting three, has significant upside at these prices. The matchup and price dip dictate a clear play if he's given a full bill of health. I don't think that's too much in question given the time off.
Louis Williams FD - $5500 DK - $4900
Opponent - UTA
Proj Pts FD - 26.17 DK - 28

Nick Young FD - $4500 DK - $4100
Opponent - UTA
Proj Pts FD - 21.35 DK - 23.23
Here's the old hyperbolic "Unstoppable force meeting immovable object" debate. And I say "hyperbolic" because neither player or opposing team fits the mold for those designations but whatever, close enough. The Jazz are a lousy DFS opponent and it's tough to trust either Swaggy P's and Lou Will's minutes. Only in LA can you have nicknames for role players, but here we are. They both need to hit shots (mostly 3's) to creep toward value. But it's tough sledding at SG on this short slate.
Small Forwards
Gordon Hayward FD - $7800 DK - $8000
Opponent - LAL
Proj Pts FD - 40.06 DK - 42.78
There are a bunch of tough DFS defensive teams lurking out there tonight which makes it more than a dicey slate. So when we can target a team like the Lakers who play at a top four pace and are the second worst defense efficiency squad in the league. That explains the 104 or so implied points for the Jazz, about their highest on the season. Hayward's played huge minutes in the last two (38 and 40) because the games stayed close. He's the Jazz top option on offense and at a 28.5 usage is the top guy on the team by about 20%. He'll be a chalk play for sure on a short slate and the price still plenty affordable for the production.
Justise Winslow FD - $5200 DK - $5300
Opponent - OKC
Proj Pts FD - 30.33 DK - 31.78
The good news on Winslow is he shoots as if he should be a high usage guy with a sweet stroke. The bad news is he's not much of a shooter and likely sees much more volume than should be realistic. But we care not for the actual stroke and more for the amount he's willing to throw it down. Winslow's put up 16 or more shots in the last three games and you simply don't see that kind of shot volume from players in his price range. The Heat can afford to keep him on the court for long stretches because of his defense and I think you see the same thing tonight against OKC. The game projects as close and Winslow should see plenty of court time. His price has crept up some, but not in line with the high 30's minutes he's seeing in the short term.
Harrison Barnes FD - $6700 DK - $6300
Opponent - HOU
Proj Pts FD - 33.52 DK - 35.08
Even with Dirk back, this still appears Barnes' team (Deron Williams shakes his head ferociously) and the minutes are still there mostly because he's so damn versatile on both ends of the court. Barnes was second on the team in shots last night (14) even with Dirk back though the Mavs struggled to get much going on the offensive end. They have a plodding, iso-heavy style that lends itself to frustration when you're watching and it also buzzes off some of the the rebounds (and occasional assists) you'd get from playing at a faster pace. That being said, Barnes is still a fine price fr
Power Forwards
Look, I've been doing this a long time and I call 'em like I see 'em. This is as bad a power forward group as I've ever encountered on FanDuel. It's a little different on DraftKings where you get the multi-positional piece. But man, this FanDuel group is really something else. There's, dare I say it, no one to play? With that rousing endorsement, here we go.
Ryan Anderson FD - $6200 DK - $5300
Opponent - DAL
Proj Pts FD - 24.42 DK - 26.74
He's playing more of the five since Capela went down with the Rockets forced more toward a small ball offense. They can get away with this gamble as long as they are hitting threes and Anderson's a major component in that. He's seen a shot-per-minute spike in the last three games with Capela out and attempted an absurd 14 threes in Friday's game against Memphis. That's an outlier, but not by much. But, if he's going to be part of these small ball lineups and the minutes are there then I think you can consider Anderson in cash games on a night where filling this position is tough sledding.
Julius Randle FD - $6100 DK - $5800
Opponent - UTA
Proj Pts FD - 26.8 DK - 28.5
Do we want to play folks against Utah? Never. But this isn't your typical night of DFS. Power forward is ultra shallow and we're stuck with tough decisions across the board. Randle's seen minutes above 30 in the last two games without Nance I think you see that continue here against the Jazz. What really helps Randle is the passing. He's averaging close to four assists per game which is fantastic for the position and he really just needs to see the run in order to stay safe. The Jazz are a dreadful matchup whenever you're talking DFS, but this is PF on FanDuel and all bets are off with this player pool.
Consider Jamychal Green if you think he sees close to 30 minutes.
Centers
Montrezl Harrell FD - $4300 DK - $4800
Opponent - DAL
Proj Pts FD - 27.11 DK - 28.11
The Rockets definitely miss Clint Capela, but Harrell softens the blow considerably with his versatility. He's stepped into the starting lineup and played more minutes that initially expected when Nene was still lurking around to snatch up run. Harrell's averaged a 16/4 over the last three and if anything, from watching the games, I think he's running bad on the rebounds. If we can start expecting high 20's in minutes then he's in line for monster performances at these prices when everything comes together. I suspect you see him as the chalk play tonight because of the pricing across both sites and it makes sense.
Hassan Whiteside FD - $9200 DK - $8700
Opponent - OKC
Proj Pts FD - 46.27 DK - 48.15
When most folks hate the idea of rostering Hassan, I love it. I get aversion to the guy. It looks like he loafs. He takes extended time off from the game while he finds position or can't be bothered to extended for rebounds. But there's the times when he shows up completely and dominates every aspect. This game could be one of them. OKC plays at a top third pace and he's needed to work with Adams down low. Whiteside's a double-double machine on the worst of nights and really just needs the usage to round out in order to hit the true upside.
GRAB A FREE TRIAL OF OUR PROJECTION SYSTEM, AND CHECK OUT DFSR PRO!
GET OUR FREE EBOOK ON DAILY FANTASY NBA!
And Daily Fantasy NBA Picks for FanDuel and DraftKings every day!
FREE EBOOK
SECRETS TO CRUSHING DAILY FANTASY FOOTBALL!
DON'T SET ANOTHER LINEUP BEFORE YOU READ THIS BOOK.