Weekly NFL Stacks for DraftKings and FanDuel - Week 17
In case you didn't notice, we just released our brand new NFL DFS suite of tools including full projections, optimal NFL lineups and our Player Lab, which includes filters to help you create NFL lineups for FanDuel and DraftKings for any format. It's a set of tools well beyond anything we've ever had, and something we feel will help our users *ahem* tackle the NFL season.
Week 17 NFL Stacks
Depending on your risk tolerance, Week 17 is either the most or least favorite week of the daily fantasy football season. There is really no in between as there are so many varying situations across the entire league. Before we get into reviewing last week's stacks let's take a look at some of the scenarios which should help paint a better picture of which teams will be motivated to win on Sunday.
The Dallas Cowboys, New York Giants, Pittsburgh Steelers, and Houston Texans are the only four teams who are locked into their playoff seed.
The New England Patriots have clinched a BYE in the Wild Card round but still have top seed to play for.
The Oakland Raiders will steal that #1 seed with a win and Pats loss but will lose the#2 seed if they lose and the Chiefs win.
Green Bay and Detroit will face off in Primetime which will decide the NFC North. If the Redskins lose earlier in the day, both the Packers and Lions will automatically be in the playoffs. If the Redskins win, Sunday night's game will also be a win or go home for both teams.
Atlanta, Seattle and Detroit will also all be battling for the #2 seed in the NFC.
Miami is locked into the playoffs but could move up to the #5 seed with a win over the Pats and a Chiefs loss.
And the best one of all. The Bucs still have a chance to make playoffs. Check this out:
If all of the following happens, the Buccaneers are in the playoffs.

The chances of it happening are SLIM pic.twitter.com/RHgDQgTb7g

— ESPN Stats & Info (@ESPNStatsInfo) December 25, 2016
Now that we looked at some scenarios, let's take a quick look at my grading for my Wek 16 stacks.
Tampa Bay Buccaneers - The projections came in pretty darn close on the Bucs last week. Winston was projected for 39 pass attempts and 20DraftKings points. He ended up tossing it up 35 times and ended up completing 23 for 277 yards and two touchdowns and came within 1.5 points of his DK projection. Mike Evans was his #1 target as expected and he didn't disappoint catching seven of his team-high eight targets for 97 yards and a touchdown. The upside in the passing game was limited due to the Bucs combining for 89 yards and a touchdown from Jacquizz Rodgers. Looking at the ownership from the big $4 Front Four Championship Winston was under 6% owned and Evans was right at 15% which was fifth among wide receivers. GRADE B
Indianapolis Colts - I originally thought this would end up being a lower owned stack last week but that was not the case. Hilton was the highest owned wide receiver in the $4 while Luck was the second highest owned quarterback. They didn't explode from a fantasy perspective like we would have liked but they managed to sneak in their values as Luck completed 19 of 29 passes for 288 yards and two touchdowns while Hilton caught four of nine targets for 105 yards and Moncrief did his touchdown thing catching his seventh in his last eight games. GRADE B
Atlanta Falcons - The Falcons stack of Julio Jones and Matt Ryan came in right behind the Colts combo in ownership this week with less than stellar results. While Ryan matched Luck's two touchdowns and didn't throw an interception, he only managed 277 yards passing. Julio was also a disappointment catching just four of seven targets for 60 yards and no scores. The value options of Sanu and Gabriel also failed to pan out. I think James and Doug make a great point in the Value Plays Podcast this week about Matt Ryan. They mention possibly his fantasy value has gone down a bit due to the Falcons being an elite balanced team with two very productive running backs. GRADE F
Houston Texans - Well, from a fantasy perspective this game was a complete dud and to add to the pain DeAndre Hopkins was Top 5 in wide receiver ownership and ended up with less than 50 yards receiving. Sometimes.... Ok, most of the time going contrarian leads to heartburn on Sunday night so we will take the punches and stamp an F all over the Texans. How is this team in the playoffs again?? GRADE F
If you are interested in more than stacks, be sure to check out the Main Picks Article and Value Plays Podcast for this week. There will also be a Game by Game Breakdown Podcast that will be published on Friday.
Now, without any further delay, let's take a look at some top stacking options for Week 17 with the help of the Player Lab and Lineup Optimizer tools.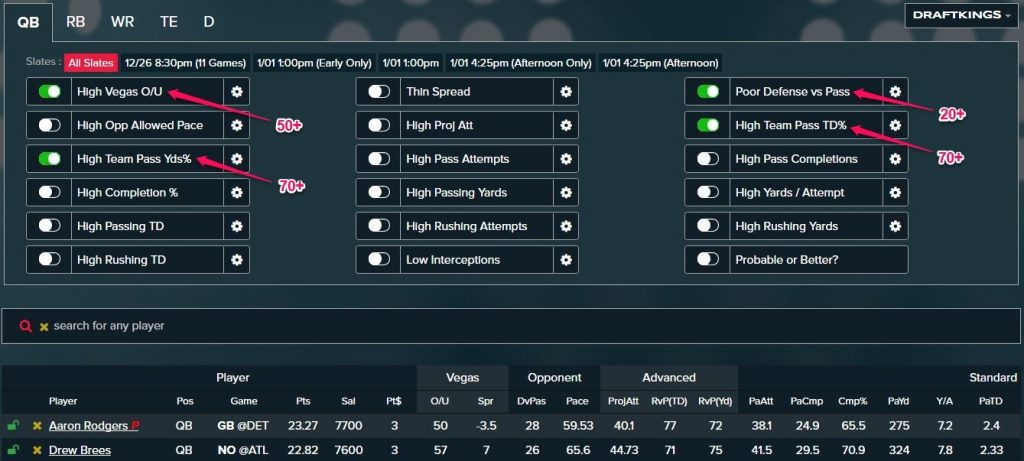 New Orleans Saints vs. Atlanta Falcons
QB - Drew Brees
Elite Option - Brandin Cooks
Secondary Option - Michael Thomas
I have leaned on these specific filters all season and nothing will change in the final week of the regular season. This week it narrowed the options down to just two quarterbacks and if you look at the Vegas total, it is clear who is the top option this week. The Saints/Falcons game has an absurd total of 57 which is right now seven points higher than the next highest total. The Falcons are clearly the better team, headed to the playoffs and should also be motivated as they are also fighting for the #2 seed and a Wild Card round BYE. Like I mentioned above in the Week 16 recap, Matt Ryan and the passing game is somewhat limited due to the very balanced nature of the offense. For these reasons it makes perfect sense to stack the Saints this week who should be in a very favorable fantasy game script. I hope most people flock to the Falcons and pass on Brees due to another perceived bad week. He was held under 40 pass attempts for just the second time in the last six games but still recorded 299 yards and a touchdown and had two scores go to Mark Ingram on the ground. While the Falcons have been better(mid pack) against the pass recently they rank 26th overall in Defense vs. the Pass when looking at the Player Lab tool. Brandin Cooks offers the most upside with his home run ability while Michael Thomas offers a bit more safety but this week it makes perfect sense to use both with Brees as he is more than capable of another four touchdown game.
Green Bay Packers
QB - Aaron Rodgers
Elite Option - Jordy Nelson
Secondary Option - Davante Adams

Up next we have Aaron"R-E-L-A-X" Rodgers and the Gren Bay Packers who have a lot to play for on Sunday night in Detroit. After a blowout loss to the Redskins in Week 11 Rodgers declared the Packers were going to run the table and make the playoffs. They can do one better if they knock off the Lions on Sunday. The winner will also take home the NFC North division title. While the defense has held their own during the win streak, Rodgers has carried the offense on his shoulders throwing for 300+ yards and multiple touchdowns in all but the one freezing cold game in Chicago. For the season, he has been completing passes at a 65.5% rate and sits fourth in the league in yards(4,128) and leads the league with 36 touchdown passes while only throwing seven interceptions.  The Lions sit in the middle of pack over the last four weeks when looking at fantasy points against the QB position but rank 28th overall in Defense vs. the Pass on the Player Lab. Rodgers is as close to matchup proof as you will find on Sunday and a lot of it has to do with him having multiple reliable options like elite wideout Jordy Nelson. As you can see from the targets chart above, Nelson has dominated the target share all season and has double-digit targets in six of his last eight games.  Nelson also leads all receivers with 14 touchdowns and also sits sixth in receiving yards(1,191). Randall Cobb is completely off the radar even if he plays this week. It has been Devante Adams who has taken over as the second option in the passing game with six or more targets in 10 straight games while adding a total of 10 touchdowns on the season.
Seattle Seahawks
QB - Russell Wilson
Elite Option - Doug Baldwin
The Seahawks are another team with something to play for on Sunday. If they win and the Falcons lose they would secure the #2 seed in the NFC and a Wild Card round BYE. Wilson is coming off his best game of the season completing 2 of4 pass attempts for 350 yards and four touchdowns. While I don't expect him to replicate those numbers in Week 17, I do think he can once again eclipse 30 fantasy points against the worst defense in football. The big thing here is that Tyler Lockett has been placed on season-ending injured reserve. Why is this important? Well, after he exited last week's game, Doug Baldwin seen 14 of his 19 targets and finished with 13 catches for 171 yards and a touchdown. There is definitely risk as the Seahawks are heavy favorites and could turn to the run early in the second half. Remember, though, they have not been the same team on the road this season with a 2-4-1 record so hopefully the 49ers can keep it relatively close as the upside is huge with projected lower ownership.
Jacksonville Jaguars
QB - Blake Bortles
Elite Option - Allen Robinson

I find it very amusing that the Jaguars coaching staff came out and said the reason for Robinson's success last week was due to moving him around the formation more. It really took 16 weeks to figure this out? I won't even get into my season long league's where I was eliminated or missed playoffs to see him go off in Week 16. Anger issues aside, Bortles finally connected with Robinson for easily his biggest yardage game of the season catching nine of 13 targets for 147 yards. A similar game plan could be in store with nothing to play for but pride in the final week in a great matchup vs. the Colts and their 25th ranked Defense vs. the Pass.
Be sure to get a copy of our free eBook on setting Weekly DFS NFL lineups for FanDuel and DraftKings!
And again, leading into the daily fantasy NFL season we're offering our brand spanking new NFL DFS Player Lab! Click the button below to get started!