Basketball Picks Daily Fantasy
Expert Advice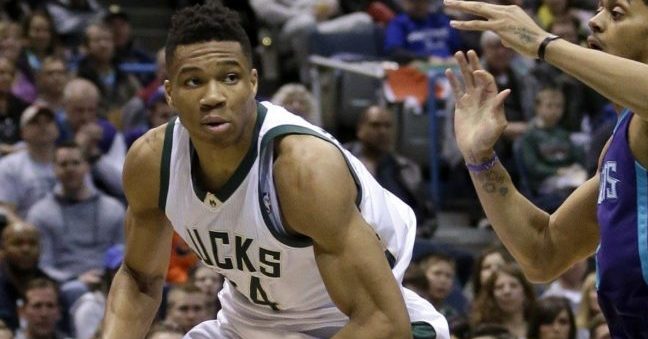 Daily Fantasy NBA Basketball Picks for FanDuel and DraftKings - 1/4/17
Now's your chance to get DFSR PRO, which will give you access to our NBA optimizer, our NFL Optimizer, and our new NFL player lab! Get started for free by clicking the button below.
First time with NBA? Be sure to read our free NBA Ebook on building lineups, general strategy and more. We've got you completely covered.
Point Guard
Russell Westbrook FD - $11800 DK - $12600
Opponent - CHA
Proj Pts FD - 54.61 DK - 58.24
Russell Westbrook is going to lead us like he does most nights at the point guard position. Tonight, the Thunder will take on the Hornets in Charlotte. The Hornets are a pretty average defensive team, and most;y ride on the back of Batum and MKG. Outside of those guys, Kemba Walker struggles and Marvin Williams isn't very fleet of foot. Westbrook should be able to get to the rim at will, even if they put Batum on him. He is expensive, but like always, he has the upside to win you a tournament and the floor to make you comfortable in cash games. There are a lot of good ways to pay up, so you have to decide if Westbrook is worth it.
Dennis Schroder FD - $6800 DK - $6600
Opponent - ORL
Proj Pts FD - 33.71 DK - 36.42
Schroder has been really solid this season, to no surprise. He has been sitting right around that 30 mark on a consistent basis and has shown a ceiling that exceeds 50. The Magic are decent vs the point guard, but Schroder has the right tools to beat this defense. They are very prone to the spot up jumper, and Schroder shoots a ton of them coming off of screens. He is mid priced on both FD and DK, so is pretty easy to fit. Whether you want a safe 30 or the chance for 50, Schroder is the way to go. These point guards in the middle usually go underowned as well, as most attention gets drawn to the superstars and value plays.
Malcolm Brogdon FD - $4400 DK - $5300
Opponent - NY
Proj Pts FD - 28.15 DK - 30.07
Speaking of point guard value play, we have Malcolm Brogdon. I was off of him after that great game, and reaped the benefits on him being high owned. I am back on board tonight with the Bucks taking on the Knicks. Hopefully some people will jump off the Brogdon train, and he comes in somewhat low owned. The Knicks aren't horrible against PG's, but they also aren't great. Rose is pretty average, and Brogdon will be able to get his. His price has come up a little bit, so the fade is definitely in play once again. However, I will not be on that side this time.
Shooting Guard
Giannis Antetokounmpo FD - $10500 DK - $10400
Opponent - NY
Proj Pts FD - 53.05 DK - 55.25
We are gonna stay on the same team here and talk about Giannis Antetokounmpo. ABC has been quite fun to watch this year, going from rim to rim in 5 steps and shooting fadeaway 3's at the buzzer. He can do everything, and is above average in every aspect of his game. He h also somehow flied under the radar, with Harden and Westbrook having insane seasons. His fantasy points still count the same though, and I think he racks them up here. The Knicks have nobody to cover him, and I don't think they have anyone that can even slow him down. I can see him having a monster game tonight, and a triple double isn't out of the question. He is a superstar, but is a little cheaper than some of the other guys, even though his production has been no worse.
Victor Oladipo FD - $5400 DK - $5500
Opponent - CHA
Proj Pts FD - 26.47 DK - 28.41
Oladipo returned from injury 2 games ago and has since put up 20 and 30 fantasy points. He looks to be pretty healthy, playing 29 and 25 minutes, and I expect him to continue playing well down the stretch. With Nicolas Batum possibly switching to Westbrook that would force Kemba on to Oladipo. He would have a huge advantage and could have a monster game. It's early in the day, so I am not sure what his ownership will be, but it shouldn't  be anywhere higher than 25%.  He's cheap, he's safe and he has the upside. We are going to see the price go way up here shortly, so take advantage while he only needs about 25 to get you value. This is a guy who has a ton of skill, and will flash the upside a few times this season. Oladipo is a solid play in all formats.
Jodie Meeks FD - $4500 DK - $4400
Opponent - ATL
Proj Pts FD - 21.1 DK - 22.58
This pick is fully contingent on Evan Fournier being ruled out, which I expect to happen. Meek has played well with Fournier out, finishing over 15 in all of the games and topping 20 in half. The Haws are no defensive stalwart anymore, and can be taken advantage of at shooting guard. Meeks is way more athletic than Kyle Korver, and should be able to put up some points. With all of the great high priced plays on this slate, you will definitely need to go down and get some value. Meeks is returning from an injury, so I don't think he has hit his minutes cap just yet. Because of that, I think his tournament upside is still there. I will have exposure in all formats, but do prefer in cash.
Small Forward
Jimmy Butler FD - $9300 DK - $9000
Opponent - CLE
Proj Pts FD - 43.18 DK - 44.98
Wow. That is the only word I could think of when watching that game the other night. With Wade out, Butler took complete control of the offense and just utterly dominated. Finishing with 52 points, 12 rebounds and 6 assists. We definitely can't expect that again, but I think he keeps it rolling here against the Cavs. LeBron is questionable, and I think there is a chance they rest a bunch of guys tonight. If LeBron is out, Butler would  be a must play as nobody else on that team can cover him. Even if LeBron does play, I think Butler will get his and have a big game along with James. It would definitely be an upgrade if Wade is out, but I like him either way.
Carmelo Anthony FD - $7500 DK - $7100
Opponent - MIL
Proj Pts FD - 37.9 DK - 40.15
Carmelo burned a lot of people the other night leaving halfway through the 2nd quarter, including me. However, this is DFS, and we have to have a short memory. Anthony has a good match up here, and  we have to give him the attention he deserves. If Porzingis misses again, he will get a bump in usage and see close to 38 minutes on the court. The Bucks don't have a real SF, but I could see Antetokounmpo and Tony Snell covering him most of the game. He should be able to get his either way, but Snell is definitely the better match  up. This game should stay close, and it could be a very sneaky game stack situation. The teams are pretty boring, but can play fast pace on occasion.
Michael Kidd-Gilchrist FD - $4600 DK - $4800
Opponent - OKC
Proj Pts FD - 24.64 DK - 25.65
MKG is truthfully one of the worst offensive players in the league. I wish it weren't the case, but the guy shoots like he has never seen a basketball. However, his defense and offensive rebounding skills allow him to get a ton of minutes. In turn, he will fall into some points, grab some steals and get some boards. In this fast paced game, I think he takes advantage and has a big game. He is cheap around the industry, and I doubt many people will be on him. You can target him in all formats, but I prefer in cash as i'm not sure his ceiling is there.
Power Forward
Kevin Love FD - $8500 DK - $8800
Opponent - CHI
Proj Pts FD - 45.45 DK - 48.42
Kevin Love has supposedly lost 12 pounds with food poisoning over the last 2 days, so this does make me a nervous. However, he said he will only return if 100%, so I will deploy him if he plays. I do think there is a decent chance that he ends up sitting, so make sure to keep an eye on news. Love has a big advantage over Taj Gibson, and should be able to dominate him on the perimeter. Love has no problem shooting lately either, tallying 12 shots in the first quarter against the Hornets the other night. James fully trusts him, and ha sno problem letting him be the guy on any given night.
Zach Randolph FD - $5800 DK - $5600
Opponent - LAC
Proj Pts FD - 25.86 DK - 26.99
Z-Bo is a fun guy to roster, and he did the privilege of pushing me over the cash line last night with his putback with a minute left. Jamychal Green left early last night, and I think he probably misses this one. That will force Gasol and Randolph to play big minutes, which should equal production against the Clippers. The Clippers have a porous interior, and the absence of Blake Griffin certainly doesn't help. Randolph is a double double machine, and I think he runs into an easy one tonight. This could be a huge game for Randolph, and I would not fade him anywhere. I will have exposure in all formats, and think he is a top play on the slate. If Green does play, he will likely be limited to tournaments.
Serge Ibaka FD - $6700 DK - $6500
Opponent - ATL
Proj Pts FD - 29.91 DK - 31.62
Ibaka has been super solid with Fournier out, staying above 28 fantasy points and topping out at 40. This match up is an interesting one, as Paul Millsap is definitely a positive individual defender. However, I think Ibaka will get a few different defenders throughout the night, and will be able to rack up the points. Millsap can be scored on, and he does struggle with the pick n roll. This is another game I could see stacking, as the upside there and I think it stays pretty close. Ibaka has definitely seen his price come up so I can see the merit in running a fade here. He will be in some of my tournaments, and I don't hate him in cash games.
Center
DeMarcus Cousins FD - $11200 DK - $11500
Opponent - MIA
Proj Pts FD - 53.77 DK - 56.68
Cousins is a beast, and is one of the only guys in the league who is truly match up proof. Whiteside is hurt, anyways, so I don't expect him to play. That leaves  Willie Reed and Udonis Haslem to stop DeMarcus Cousins. Willie Reed and Udonis Haslem. Yes, this is going to be fun. As soon as Cousins sees who will be covering him in this game, I guarantee he will just put his head down and attack every play. If Reed gets into foul trouble, the Heat will be forced to put Haslem out there and it will get really ugly. Haslem is actually almost 75 years old, and will probably have a tough time staying with one of the best athletes on the planet. Cousins has a floor of 50 tonight, and I see his upside sitting at 90. He is the one guy I will force into all my lineups, and will get my exposure to other centers through flex and in large field tournaments.
Dwight Howard FD - $7700 DK - $7300
Opponent - ORL
Proj Pts FD - 36.78 DK - 38.75
Dwight Howard is back to the guy who is extremely fun to watch and really good at basketball. Howard has been consistently hitting 40 fantasy  points, outside of a couple recent bad games. Hopefully that will keep the crowd off of him, as I will be more than happy to play him against the Magic. Both Nikola Vucevic and Bismack Biyombo are average rebounders at best, and below average defenders at best. Howard is going to get a lot of rebounds, and he is gonna be able to score. Whether he does his awkward hook shot or catches some lobs, he will get it done. His price has came back down, and he only needs about 39 to hit value. I see this as a spot with a huge ceiling, and his floor is right around 30.
Joakim Noah FD - $4900 DK - $5000
Opponent - MIL
Proj Pts FD - 25.14 DK - 26.34
Noah has been awesome lately. While I don't think  it will last all season, they should get some more good games out of him before he goes down with general soreness for 2 weeks. He is getting a good amount of minutes with Porzingis out, and has taken definite advantage. IN 3 of the last 4 games, he has scored 30, 39 and 40. Sitting near 5k on both sites, he hit 8x value, which is unheard of. I think looking for 25 makes sense tonight,and I will take that every time at this price. I just don't know if I can deal with the opportunity cost in not playing Cousins or Howard.
GRAB A FREE TRIAL OF OUR PROJECTION SYSTEM, AND CHECK OUT DFSR PRO!
GET OUR FREE EBOOK ON DAILY FANTASY NBA!
And Daily Fantasy NBA Picks for FanDuel and DraftKings every day!
FREE EBOOK
SECRETS TO CRUSHING DAILY FANTASY FOOTBALL!
DON'T SET ANOTHER LINEUP BEFORE YOU READ THIS BOOK.