Basketball Picks Daily Fantasy
Expert Advice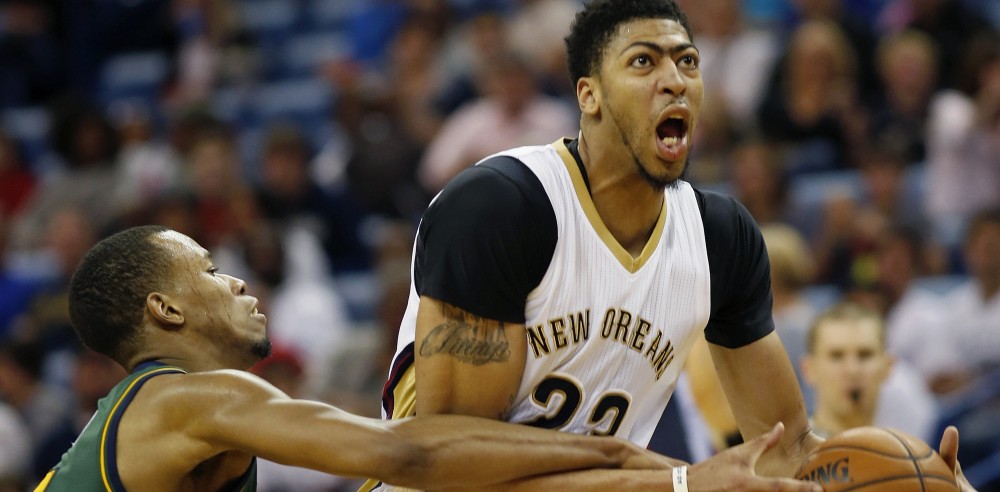 Daily Fantasy NBA Basketball Picks for FanDuel and DraftKings - 1/9/17
Well, it was a lovely weekend in DFSR land. My Steelers won, Doug's Giants lost, football lineups did great, and as of now we're fading Derrick Favors, who was a 63% start and has negative points after a quarter. And, yes, I'm writing this specifically to jinx our chances for the rest of the night.
Monday is a super tiny slate - just 3 games - but that doesn't mean we can't find a little value, so let's get to work.
Now's your chance to get DFSR PRO, which will give you access to our NBA optimizer, our NFL Optimizer, and our new NFL player lab! Get started for free by clicking the button below.
First time with NBA? Be sure to read our free NBA Ebook on building lineups, general strategy and more. We've got you completely covered.
Point Guard
Jrue Holiday FD - $6900 DK - $6600
Opponent - NY
Proj Pts FD - 33.81 DK - 36.18
Back to back rough games for Holiday owners, but there's a lot to like here, at least relative to the competition. The first thing is the minutes - Holiday is on a pretty strict 35 minute rotation unless the game is truly out of hand, and Vegas has this one separated by just 4 points. Prior to those last two games, Holiday had been paying off 5x points per dollar on the regular, and he never had as good a match-up in any of those games as he has here. The Knicks have allowed the 4th most fantasy points per game to opposing point guards in their last 10 games, and Holiday should give their offensively minded back-court fits here.
Russell Westbrook FD - $12400 DK - $13000
Opponent - CHI
Proj Pts FD - 56.67 DK - 60.54
Westbrook doesn't get top billing simply because it will be hard to pay up for him tonight. He's brushing up against being too expensive as it is, and on a short slate, you might simply not e able to find the savings you need at other positions tonight. There's a chance you can go double cheap at shooting guard or something, but it won't be easy. As for Westbrook himself, the Bulls have been absolutely abysmal against opposing point guards this season, allowing the very most fantasy points to opposing PGs on the year. It's a little tricky, though, because most of that was under Rondo's not-so-watchful eye. They're probably a better defensive team without him, but it's hard to quantify on such a small sample size. All that being said, you should probably look out for Westbrook to be a chalk cash game play once again.
Deron Williams FD - $5900 DK - $5600
Opponent - MIN
Proj Pts FD - 27.79 DK - 30.05
PG gets thin fast. I can't say I love playing Williams here, but it might be a necessary evil if you don't feel like you can afford Westbrook. It's mostly a process of elimination, here. MCW, Rose, and Rubio all have serious performance issues on their prices, and by process of elimination you're sort of left with D-Will. He hasn't exactly been a revelation himself, but he's got a few recent 5x points per dollar performances on his resume, which is more than the rest can boast. I actually like him a bit here against Rubio and the Timberwolves as well. They've been tough on opposing point guards overall, but I think Williams' strength and cunning are a bad match-up for Rubio, who is weaker and prone to gambling. I'm not saying I'd be thrilled to jam him in here, but hey, you get what you get.
Shooting Guard
Victor Oladipo FD - $5900 DK - $6300
Opponent - CHI
Proj Pts FD - 26.47 DK - 28.52
Oladipo has 4 straight games of almost exactly 5x points per dollar on this FanDuel price, and he'll carry that solid-if-not-spectacular streak into tonight's game with the Bulls. This is a very weird match-up, because normally you'd assume he'd draw Jimmy Butler and be in store for a rather rough night. But the smart money is on Butler tracking Westbrook, which would leave Oladipo with a far inferior defender. It still won't be a great match-up on account of Chicago's slow pace, but I still think the floor is there if you want to run him out.
Buddy Hield FD - $4100 DK - $4400
Opponent - NY
Proj Pts FD - 22.08 DK - 24.47

Courtney Lee FD - $4100 DK - $4100
Opponent - NO
Proj Pts FD - 19.59 DK - 20.98
I lump these two together for price reasons, but you'll play them for very different types of contests. I like Lee for your cash games - an cheap, efficient way to escape a rough position somewhat cheaply. He's been playing consistent minutes since returning from injury, and putting up a steady diet of 4.5x-5x points per dollar. Hield is like his high upside brother from a different mother. To give you an idea of how he compares to Lee, in his last 4 games he has 2 games better than Lee's best recent game and 2 games worse than Lee's worst recent game. Both of these guys have great match-ups with one another, so be sure to deploy them in their appropriate formats!
Zach LaVine FD - $6400 DK - $6700
Opponent - DAL
Proj Pts FD - 28.55 DK - 31.16
LaVine is the Buddy Hield to Oladipo's Courtney Lee, which is to say, he's the mid-range priced guy who could absolutely go off or disappear completely. If you get the 6x points per dollar you got against Utah or Philly you're winning big tournaments, and if you get the 2.5x that he put up against Washington and Portland you're losing cash games. Not an enviable spot. The Mavs are a below league average match-up here, but that doesn't stop LaVine from having big time upside. He's put up some of his biggest games in the weirdest spots (the recent Utah game being a fine example), and he could be a nice way to get separation from the field tonight. He also plays huge minutes (like everyone on the Wolves), which might actually make his floor higher than his recent flubs would suggest.
Small Forward
Jimmy Butler FD - $9600 DK - $9300
Opponent - OKC
Proj Pts FD - 44.09 DK - 45.89
Butler is the headlining small forward for us tonight in spite of his rising price for two reasons. First, there are just not many options here whatsoever. The next is that he's added a ton of usage with Rondo off the court this season. While his current price represents something like fair value, there's som chance we haven't seen his price peak just yet. I'm going to write this several times tonight, but this isn't a good match-up, so there's no sure things here. Still, Butler has averaged 23 shots in his last 3 games, 6 higher than his season average, and that's what passes for value on a slate like this.
Andrew Wiggins FD - $6400 DK - $6500
Opponent - DAL
Proj Pts FD - 30.36 DK - 32.28
Wiggins' game log looks a lot like these other inconsistent fellas, but I think ther'es more safety here than meets the eye at first blush. He's locked into 38+ minutes per night, and had been paying these prices reliably until the recent dip. Wiggins is a classic case of the DFS community not adjusting to incremental across the board improvements - he's improved in basically every DFS relevant category - all while adding a little bit of playing time each game. And this is a bad match-up for opposing small forwards. If you're playing hthis slate, expect variance for miles.
Also considered: Carmelo Anthony, though his stock is going down with Porzingis and Rose both playing full minutes loads now.
Power Forward
Anthony Davis FD - $11100 DK - $11100
Opponent - NY
Proj Pts FD - 53.17 DK - 55.11
I think Davis settles in as my favorite big money play of the night, which might leave Westbrook on the outside looking in. It's weird to say that he was "only good" against the Knicks from a fantasy perspective in their last meeting considering he put up 18 rebounds, but a slightly reduced minutes load kept him just short of greatness. The rebounds are really what you want to key in on here. 18 boards in 34 minutes is other-worldly, and it's worth noting that the Knicks' front court was playing at full strength in that one. Adding 4 more minutes (which is very reasonable to expect here) makes Davis a clearly elite play, and on a night without many of them, I suspect that makes him a cash game staple.
Gorgui Dieng FD - $5500 DK - $5700
Opponent - DAL
Proj Pts FD - 28.02 DK - 29.62
All the Minnesota guys are playing big league minutes right now, and Dieng is no exception. When things are reasonably close he plays 37+ minutes, and he's paid 5x-6x points per dollar in 6 of his last 7 match-ups. For the 100th time tonight this is no great match-up, but we're taking the minutes and opportunity safety of Dieng for cash games regardless.
Nikola Mirotic FD - $4500 DK - $4700
Opponent - OKC
Proj Pts FD - 22.65 DK - 24.66
A little upside for your big tournaments for sure, but there might be more safety here than there appears to be at first glance. Mirotic has average 27.5 minutes a game since Christmas, and has only dipped below 20 fantasy points twice since returning from injury in December. He's still priced like a back-up for obvious reasons, but the performance justifies the price and then some. I also like him against OKC for a less obvious reason - they're a very top heavy team, and their second unit is abysmal defensively. Mirotic will likely draw a large dose of Enes Kanter here, who simply can't hope to trail him on the perimeter. I love his upside, and don't mind his floor to be perfectly honest.
Center
Joakim Noah FD - $4900 DK - $4900
Opponent - NO
Proj Pts FD - 28.29 DK - 29.91
At center you're basically deciding between spending up for towns or going cheap with Noah, and as of this writing, I'm leaning toward going cheap. I'm not too spooked by the minutes in the last two games. He fouled out of one, and the Knicks got blown out in the other. In a game that rates to be much closer, I think we can rely on him for high 20s minutes here. Recently, that's all Noah has needed to pay as much as 6x points per dollar on these prices. There's obviously a decent amount of risk if the Knicks decide they'd prefer to see one of the league's most annoying players on the bench for larger stretches of time, but I'm actually fine with taking the risk if it means we can pay up for a premium guy elsewhere.
Karl-Anthony Towns FD - $9200 DK - $8900
Opponent - DAL
Proj Pts FD - 43.93 DK - 46.22
To be honest, though, a lot of folks are going to see this as a potential spot where you can pay up. Like the rest of his teammates, Towns is playing huge minutes very consistently. And like a lot of his teammates, he's slightly overpriced at the moment thanks to his huge minutes. If you're paying up for Towns tonight you're acknowledging that Bogut is a pretty rough match-up, but tolerating it because Towns is cheaper than some other superstar options and he plays as many or more minutes than the rest of them. Me? I'll probably just go with Noah and take the upside of Davis.
GRAB A FREE TRIAL OF OUR PROJECTION SYSTEM, AND CHECK OUT DFSR PRO!
GET OUR FREE EBOOK ON DAILY FANTASY NBA!
And Daily Fantasy NBA Picks for FanDuel and DraftKings every day!
FREE EBOOK
SECRETS TO CRUSHING DAILY FANTASY FOOTBALL!
DON'T SET ANOTHER LINEUP BEFORE YOU READ THIS BOOK.