Basketball Picks Daily Fantasy
Expert Advice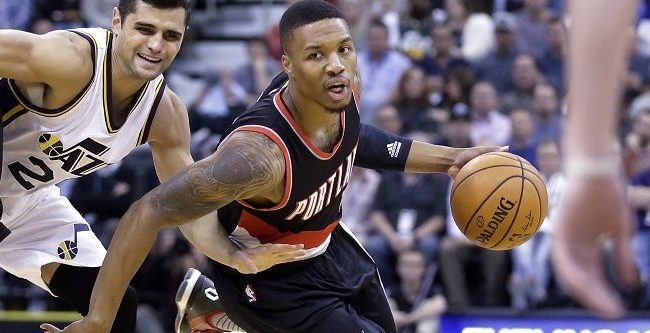 Daily Fantasy NBA Basketball Picks for FanDuel and DraftKings - 1/11/17
Now's your chance to get DFSR PRO, which will give you access to our NBA optimizer, our NFL Optimizer, and our new NFL player lab! Get started for free by clicking the button below.
First time with NBA? Be sure to read our free NBA Ebook on building lineups, general strategy and more. We've got you completely covered.
Point Guard
John Wall FD - $9500 DK - $9200
Opponent - BOS
Proj Pts FD - 45.06 DK - 47.93
John Wall had a very nice game last night, finishing with 26 points and 14 assists. He played 40 minutes, which admittedly scares me a little bit. With that being said, he has played 2 back to backs recently, and played over 36 minutes in all 4 of the games. Isaiah Thomas is not a dominant defender, and is also coming off of a highly competitive game with the Raptors. They may put Marcus Smart on him at some point as well, but he is not fast enough nor skilled enough to stay with John Wall. Wall is expensive, but has a great floor and a ceiling high enough for tournaments. Point guard is a deep position, so I don't mind going elsewhere. However, that may keep his ownership down, and that is something that needs to be taken advantage of if the case.
Damian Lillard FD - $9000 DK - $8500
Opponent - CLE
Proj Pts FD - 43.98 DK - 47.05
Lillard missed 4 or 5 games least week and returned on Thursday against the Lakers, playing 36 minutes and scoring 45 fantasy points. He then played over 40 minutes against Detroit on Sunday. The Blazers are comfortable stretching Lillard out, and he has a fantastic match up. The Cavs have  a great team defense, but can definitely give it up to the point guard. Kyrie Irving is easily the Cavs worst defender, and Lillard will look to take advantage. Lillard is a tad bit cheaper, and this is a game I will look to target a ton in tournaments. Lillard is definitely a tournament play, and I wouldn't shy away from him in cash games, but do prefer Wall there.  Lillard only played 31 minutes last night, so I think his minutes are pretty safe here.
Mike Conley FD - $7200 DK - $6900
Opponent - OKC
Proj Pts FD - 35.47 DK - 37.62
The Grizzlies and Thunder faced off a little more than a week ago, and Conley was forced to sit with an injury. He will get his chance to do his damage tonight, in a game that figures to be very fast paced. Westbrook is obvious a world class offensive player, but his defense is not up to par. Conley has been really good since returning, with over 35 fantasy points in 4 of the last 5. He also gives you a slight pricing break, as he is the cheapest of all the star PG's. If you want to pay down further, you can consider both Marcus Smart and T.J. McConnell if he starts. Conley is made more for cash games, but his upside is just fine in this match up. I think this game stays close, and it will absolutely be high scoring. He will force you to be off the likes of Lillard and Wall, but he will help you pay up elsewhere.
Shooting Guard
Zach LaVine FD - $6200 DK - $6500
Opponent - HOU
Proj Pts FD - 30.47 DK - 33.04
LaVine is listed as "day-to-day" right now, so definitely keep an eye out for news. If LaVine plays, I love him. He will get the defense of James Harden, who we all know is a horrible on ball defender. LaVine has been playing well lately, and has flashed his upside very recently. With that being said, he is pretty inconsistent. He usually switches off good games with Andrew Wiggins, and he is in the better spot here. We will talk about Wiggins in a little bit, and he is definitely appealing tonight in his own right. LaVine was in the mid 7k's just a week or two ago, and has now dropped over 1k. I do expect LaVine to give it a go tonight, but like I said, make sure you keep an eye on twitter if you want to get exposure here.
J.J. Redick FD - $4500 DK - $5500
Opponent - ORL
Proj Pts FD - 22.18 DK - 24.35

Jamal Crawford FD - $4000 DK - $4100
Opponent - ORL
Proj Pts FD - 21.17 DK - 22.96
Both of these guys are pretty interesting, and I look at one as a cash game play and one as a tournament option. Redick is the guy I will have cash game exposure too, and he is pretty safe across the board. He has over 24 fantasy points in 4 straight, and will face his old team in the Orlando Magic. Jamal Crawford may not be nearly as consistent, but his upside i s higher. He he has shown his ability to reach 40, and how easily he can hit a 6 point floor. If this game stays close, I could see a ton of guys hitting value. Chris Paul and DeAndre Jordan have a ton of upside, and Evan Fournier and Aaron Gordon could be paired for a great tournament game stack. Both of these guys are cheap, and can be used in very different ways.
Tony Allen FD - $4700 DK - $4900
Opponent - OKC
Proj Pts FD - 19.52 DK - 20.64
I have only played Tony Allen once this year, and he got me 33 against the Celtics. This game sets up similarly, as the Grizzlies will need a guy to play shutdown defense on either Victor Oladipo or Russell Westbrook. Allen will definitely be on one of them down the stretch, and that will result in him getting big minutes. Allen doesn't need to get you much, sitting in the high 4k's on both sites. I look for Allen to play around 34 minutes tonight, and would be happy with 25 fantasy points. The upside is there for a little bit more, but don't go looking for anything more than 32.
Small Forward
LeBron James FD - $10100 DK - $9700
Opponent - POR
Proj Pts FD - 49.67 DK - 53
You can go way up to Harden or Westbrook tonight, but I, like I assume most other, will pay down and go with LeBron for my high priced play. James gets a match up against the Blazers, who can't stop anybody. Maurice Harkless, Evan Turner and Aminu will all take there turns covering LeBron, to no avail. He will do what he wants, and I think this one could stay close, which would result in a monstrous game. The Blazers tend to play fast, and the Cavs have no problem running the floor. You can play LeBron alone, too, as your only exposure to this game. He single handedly offers you a 45 point floor, with a ceiling that exceeds 65. His price is fair, and he will let you pay up at 1 extra spot than Harden or Westbrook would allow.
Andrew Wiggins FD - $6300 DK - $6400
Opponent - HOU
Proj Pts FD - 32.56 DK - 34.35
If LaVine does end up sitting out, you almost have to play Andrew Wiggins. Trevor Ariza is a fine defender, but he can't hold a candle to the phenom that is Andrew Wiggins. Wiggins is definitely more of a tournament play, as he can easily go out and get you 21 fantasy points. The Rockets play at an extremely fast pace, and that is exactly where Wiggins excels most. His 3 point shot has been here recently, and he will be able to get to the rim with ease. He can also get you 50, and nobody will blink an eye. The price is depressed on him as well, and he doesn't need to have an exceptional game to pay off value. I do prefer the next guy in cash games, but definitely like Wiggins more in tournaments.
Otto Porter FD - $5900 DK - $6200
Opponent - BOS
Proj Pts FD - 28.9 DK - 30.63
Porter is as consistent as they get, totaling over 30 fantasy points in 3 of his last 4. Wall wants to get Porter involved, and he has run the 2nd unit a few times recently as well. Jae Crowder is a decent defender, but Porter isn't a guy that will get his points facing up and scoring. He thrives in transition, and corner kick outs from a driving John Wall. The Celtics are horrible rebounds as well, so we could see a few extra out of Porter in that category. His price has came down quite a bit over the past month, and I look for it to go back up soon. He only needs about 27 to hit value tonight, who shouldn't be too difficult. Porter is a good play in both formats, though I prefer him in cash games.
Power Forward
Kevin Love FD - $8100 DK - $8100
Opponent - POR
Proj Pts FD - 45.57 DK - 48.55
Kevin Love is easily my favorite power forward tonight, facing off with the cupcake interior of the Blazers. Mason Plumlee is great, but he is more of an outside the paint type of guy. He isn't into the whole defense thing, and can definitely be taken advantage of if they match up. The initial match  up on love by be Al-Farouq Aminu. Aminu is a good defender, but he is way undersized and will get bullied around down low. I look for the Cavs to force the ball into Love, and I will be off of Aminu tonight for that reason. LeBron has done everything he can to get Love involved, and it has definitely paid off. As you can tell, this is a game you will want to target in both cash games and tournaments. He has a floor around 40, with a ceiling  over 55 if his shot is falling and the game stays close.
Kristaps Porzingis FD - $7900 DK - $7500
Opponent - PHI
Proj Pts FD - 35.71 DK - 37.79
Porzingis looks to be fully back from injury, and played 34 minutes 2 games ago against the Pacers. The 76ers are the weakest team Porzingis has faces since returning, and he has a ton of upside, as well as cash game safety. Ersan Ilyasova is more of an offensive player, and he won't really do too much on defense to stop anyone. This game could easily stay close, with the Knicks going through so many weird situations. Porzingis is really the only guy with no controversy around him, and he should be able to have a smooth under the radar big game. You can throw him out there in both cash games and tournaments. He has a floor of 35, and a ceiling over 50.
Gorgui Dieng FD - $5500 DK - $5400
Opponent - HOU
Proj Pts FD - 29.44 DK - 30.9
Gorgui Dieng is kind of the odd man out in this lineup, along with Ricky Rubio. LaVine, Wiggins and Towns are the stars, and Dieng just follows along and will have a good game if the game stays close. The Rockets aren't good against power forwards, and Ryan Anderson doesn't really care about playing low post defense. Dieng tends to get big minutes against fast paced opponents, and I think he will easily hit 28 tonight. He needs about 26 to hit value, and his 6x for tournaments is 32. He could shatter both of those, and he has done it multiple times this year.
Center
Joel Embiid FD - $7500 DK - $8000
Opponent - NY
Proj Pts FD - 44.12 DK - 46.28
Embiid has a ton of upside tonight, and I don't think Joakim Noah will be able to do anything. Noah is average at best on defense at this point in his career, and Embiid is just towering over him. He will get at lest 28 minutes tonight, and we have seen his minutes stretched to 30. This game will likely stay close, and Embiid is going to get some action against the Knicks. I look for him to get involved early and often, which will result in a nice fantasy point game. With all of that said, i do like him more in tournaments, With a minutes restriction, he is not as safe as a guy like Gortat at there respective prices. Embiid will be the guy I have most tournament exposure too, and he will be sprinkled in some cash games as well.
Marcin Gortat FD - $6400 DK - $6000
Opponent - BOS
Proj Pts FD - 29.82 DK - 31.33
We are going to definitely target this game here, though we only focused on the Washington side in this article. I think you can play a few guys on Boston, but would focus more on the guards. Marcin Gortat is my 2nd favorite center on the day, but probably tops the list for cash games. He gets a consistent  35-42 minutes, and I find it hard to believe he can't get a double double against this interior in all of those minutes. The Celtics are horrible against centers, and are the leagues 2nd worst rebounding team. With Avery Bradley out, they become by far the worst. Embiid might have more upside, but I see no way Gortat doesn't come through with 30. Plus, he is way to cheap across the board. He should be priced 1 or 2 k higher.
Mason Plumlee FD - $6700 DK - $6000
Opponent - CLE
Proj Pts FD - 31.24 DK - 32.65
Plumlee is going to be my 2nd tournament guy, and can also be used in cash games if you want. Plumlee only played 24 minutes against the Lakers last night, so I would expect a ton of minutes here against the Cavs. I think the Blazers were looking forward to this one, and should be able to keep it close. Plumlee is a great guy to combo with Lillard, as they can work together and coincide for huge games. You can then throw K-Love and/or LeBron in there, and hope for a high scoring, competitive game. This isn't a huge slate, so we have to consider stacking. If one game goes to overtime, the people with exposure to that game will rise to the top in tournaments. This is a game with that kind of vibe.
GRAB A FREE TRIAL OF OUR PROJECTION SYSTEM, AND CHECK OUT DFSR PRO!
GET OUR FREE EBOOK ON DAILY FANTASY NBA!
And Daily Fantasy NBA Picks for FanDuel and DraftKings every day!
FREE EBOOK
SECRETS TO CRUSHING DAILY FANTASY FOOTBALL!
DON'T SET ANOTHER LINEUP BEFORE YOU READ THIS BOOK.