Daily Fantasy PGA Picks for DraftKings & FantasyAces  - Sony Open in Hawaii
DFSR is proud to bring you, Chris Durell. He'll be bringing weekly PGA picks, analysis, and breakdowns to help you cash on DraftKings and FantasyAces. As every week in DFS PGA changes with the course setup, field of players and weather, Chris will be providing a range of different picks for cash games(head to heads/double ups) as well as upside plays for tournaments.
If you have any questions for Chris prior to lineup lock you can reach him a variety of ways. Leave your question/comment below in the comments sections, find him in the DFSR Chat room or hit him up on Twitter(@Jager_Bombs9).

Sony Open in Hawaii
Waialae Country Club - Honolulu, Hawaii
Par 70 - 7,044 Yards
Week one of the 2017 season(calendar year) is in the books and we were treated to another excellent event in Kapalua with the SBS Tournament of Champions. It was young star Justin Thomas picking up his second win of the new season after his title defense at the CIMB Classic back at the end of October. It, at times, looked like it was going to be a runaway win on Sunday until the back nine that brought him and Matsuyama close but not close enough. Let's take a look at the final round highlights.

From a DFS perspective, there were some definite values that showed up by the time things worked themselves out. Even in a 30 man field, there were players who came in ranked in the lower half in ownership and near the top in final DraftKings points. Looking closer, you will also notice that two of the Top 3 and four of the Top 10 in DK points were in last weeks article. Let's keep up the early season momentum.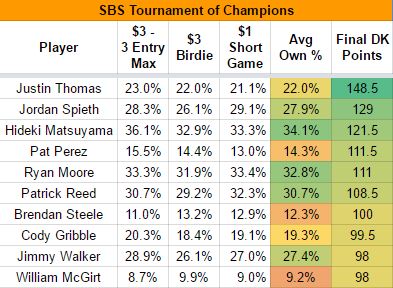 From a tournament players point of view, ownership is going to be much more important on a full field event like the Sony Open this weekend. The first place I go to get a feel for this on a weekly basis is www.FanShareSports.com. They tally each player's tag count(mentions) on social media as well start/sit recommendations and sentiment rating. Bookmark it!
Now let's jump into week two of the daily fantasy 2017 season where most of the ToC field and about 120 others will meet for the Sony Open in Hawaii. The Waialae Country Club is a Par 70 setup which means just two par 5's this week, both of which close out a nine-hole stretch(Hole 9 & 18). For a complete hole by hole breakdown, check out this LINK. While golfers could pretty much just grip and rip last week with the huge fairways, that won't be the case Waialae. The fairways aren't impossible by any means but are much smaller than Kapalua and have many more trees lining the fairways that can come into play on the second shot. For this reason, a Total Driving/Strokes Gained:Off the Tee approach (weighted more towards accuracy) will be a much more favorable model to run. I will also be looking closely at Par 4 Scoring Average and Birdie or Better % for correlation stats for DK points. Because the fairways are much harder to hit it also brings Scrambling into play as a key stat. One thing that remains the same from Kapalua to Honolulu is that the main defense of that final score will be mother nature. Over the last five years we have seen winning scores of -20, -23, -17, -24, and -13. This week's forecast looks amazing(83-85 F with less than 10 mph winds all four days) and I might just book a last minute trip! I wish.
Something else I have been working on with the cheatsheet from this season to last is building different models for different tournaments. For example, I built a model this week around Bogey Avoidance and Scoring Average before the Cut to build my cash games around. I also sprinkled BoB% and Par 4 Scoring into that model. I will be starting up my blog(way too long of delay on this) to go through some of these models each week so this article will be much less long-winded going forward. Sorry for the intro.
LET'S GET STARTED!
If you have any questions leading up to lineup lock Thursday morning you can reach me in a variety of ways. Leave a Q below in the comment section and I will get you an answer. You can hit me up in the new chatroom here at DFSR(It's crazy busy with NFL/NBA talk so try and private message me for specific PGA Q's. I am also always available on Twitter(@jager_bombs9). Good luck this week!
High End Targets ($9,000+)
Jordan Spieth
World Golf Ranking  (5th)
Vegas Odds (7/1)
Draftkings ($11,500)
FantasyAces ($6,050)
He didn't quite defend his Tournament of Champions title last week in Kapalua but was impressive in backdooring a 3rd place finish. Yes, he did look a little rusty at times(3 bad holes that cost him 7 shots) but lead the field in Birdies for the week(26) and was third in Strokes Gained: Putting, finishing as the second highest scoring DraftKings player behind his buddy Thomas. His salary hasn't changed from last week but I think the fact he has missed his only cut here in his career will once again keep his ownership below 30%. He is an elite player that can not only win anywhere but can also score tons of DK points when he doesn't win. This makes him a safe choice in all formats, especially if you are one to pay up in cash games.
Paul Casey
World Golf Ranking (15th)
Vegas Odds (28/1)
Draftkings ($9,500)
FantasyAces ($5,500)

Before seeing the DraftKings salaries on Monday afternoonI had already built my first model including SG:Off the Tee, Par 4 Scoring, BoB% and Scrambling for stats and also included course history(minimal) and current form(top weight). Casey came in #1, so I was absolutely thrilled to see him as the 5th highest priced golfer this week. He closed out last season in style with a 2nd, 2nd, 4th down the playoff stretch and was nearly that good during the fall stretch where he finished 3rd, 21st, 12th. The only hesitation I have with Casey is his 37th rank in the field when looking at BoB% which, you would think, would limit his upside but he has shown us time and time again the ability to compete at the top of the leaderboard. He also makes a great start to a cash game lineup if you are looking to go more balanced with your approach. He ranks 9th in Bogey Avoidance in the field.
Brandt Snedeker
World Golf Ranking (27th)
Vegas Odds (25/1)
Draftkings ($9,700)
FantasyAces ($5,700)
He had a ho-hum performance last week finishing 14th in a small field and has now seen a $1,000 price increase heading into the Sony Open. This should most definitely lower his ownership which was around 25% last week moving him into a nice value position. I realize he only made 17 birdies last week(22nd out of 32) but he also only had three bogeys, which lead the field. He limits the big mistakes which always give him a shot to get into contention and if the wind does get up we have seen him dominate the field. Just go back and check out the final round of last year's Farmers Insurance Open.
Hideki Matsuyama
World Golf Ranking (6th)
Vegas Odds (8/1)
Draftkings ($11,000)
FantasyAces ($6,000)
You didn't think I was going to leave out the hottest player on the planet, did you? To be perfectly honest, he was a late edition after I hummed and hawed most of Monday and Tuesday morning. I was originally concerned with the fact he missed his first three cuts here at the Sony Open but discount those performances quite a bit as he was an amateur until shortly after his third appearance. He also got MDFed in 2015 where he finished 78th through three rounds. I honestly just feel he is one of those grooves that we have seen these elite players go through which just Trumps all course history. Even with the win at the Hero World Challenge and WGC-HSBC Champions it feels like he has unfinished business as he has now finished runner-up to Justin Thomas twice. Statistically speaking he is spot on ranking second in my stats model this week.
Mid Tier Targets ($7,000 - $8,900)
Charles Howell III
World Golf Ranking (104th)
Vegas Odds (50/1)
Draftkings ($7,800)
FantasyAces ($5,150)

I am going to dip right down into the $7K range to kick off the mid-tier this week as it really feels like"Chucky 3 Sticks" is massively underpriced. I mean he comes back to the Sony Open for the 16th time in his career and has never missed a cut here and has tallied eight Top 10 finishes. Statistically speaking, he ranks 13th overall in my stats model and is also coming in with some nice form. He started his season out with a missed cut at the Safeway Open but has gone on to pick up a T39, T15, T7 and T13 coming into this week. He is safe in all formats at this price.
Marc Leishman
World Golf Ranking (56th)
Vegas Odds (66/1)
Draftkings ($8,200)
FantasyAces ($4,750)

The pricing is extremely soft this week which should spread the ownership out nicely for these mid-tier players. Leading the way are going to be names like Howell III and the red hot Pat Perez making Marc Leishman a great GPP pivot and, to be honest, I would even consider him for cash games. He has played here seven times in his career and like Howell has never missed a cut here. He has also picked up a Top 10 in 2012 and 2013.  He has been playing very well to open the new season with finishes of 5th at the CIMB Classic, T24 at the OHL Classic and most recently he finished T21 at the European Tour's Australian PGA Championship.
Also Consider - Jason Dufner
Low End Target (Min Price - $6,900)
Cody Gribble
World Golf Ranking (181st)
Vegas Odds (100/1)
Draftkings ($6,800)
FantasyAces ($4,550)

I am sticking with the rookie once again this week. He bounced back nicely after a missed cut at RSM Classic with a T14 at the Tournament of Champions. The only thing that kept him out of the Top 10 were his Friday(72) and Sunday(70) rounds. Even when the ship started sailing in the wrong direction, he was able to steady things and get back to birdie making. He was 17th in ownership last week which I feel will certainly go down in a soft pricing field. Don't let the T14 in a small field fool you either as he was 8th in DraftKings scoring. Statistically speaking, it is much of the same as I said last week as he ranks Top 5 in the field in Par4 Scoring, Bogey Avoidance, Birdie or Better %, Scrambling and Strokes Gained Putting. Nuff said!
Also Consider - Webb Simpson
**Note on Stats - The stats I refer to in this article are from my own spreadsheet/cheatsheet and weigh both 2017 and 2016 stats. If you have any questions about the cheatsheet please contact me on Twitter(@Jager_Boms9).**
Sony Open in Hawaii Update Thread
After a two-year absence, Jordan Spieth commits to next week's @SonyOpenHawaii.

The First Look: https://t.co/HDlMkcxqhT pic.twitter.com/gSOcKhFSY9

— PGA TOUR (@PGATOUR) January 7, 2017
Chris Durell has been playing Daily Fantasy Sports for three years and fantasy in general for more than a decade. He is active player in college football, NFL, NBA and of course PGA. He lives in Saskatchewan, Canada with his wife and two daughters. You can follow him on Twitter at @jager_bombs9 for advice, strategy, answers to any PGA questions and how he copes with the winters up north.