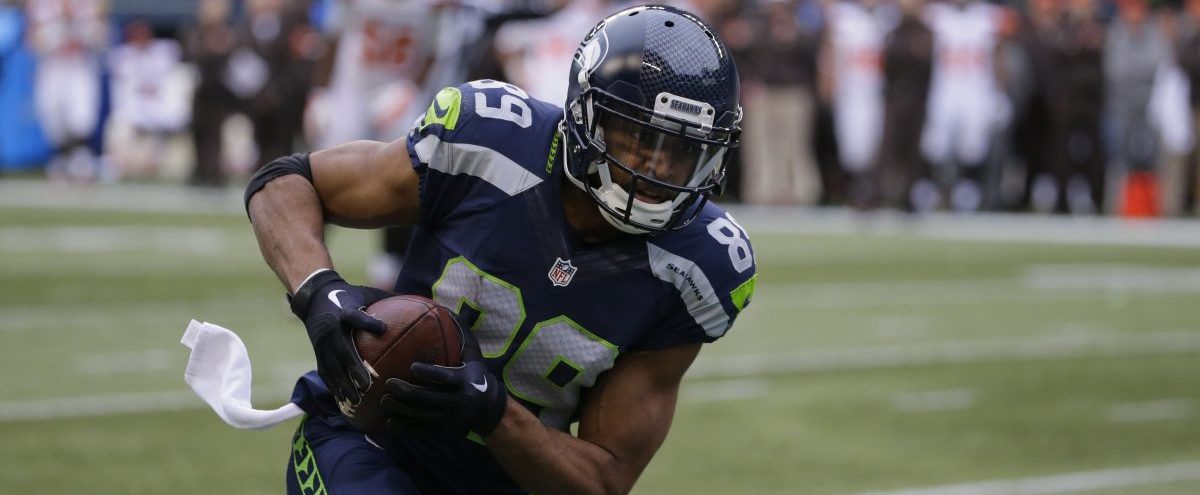 Weekly NFL Stacks for DraftKings and FanDuel - Divisional Round of Playoffs
In case you didn't notice, we just released our brand new NFL DFS suite of tools including full projections, optimal NFL lineups and our Player Lab, which includes filters to help you create NFL lineups for FanDuel and DraftKings for any format. It's a set of tools well beyond anything we've ever had, and something we feel will help our users *ahem* tackle the NFL season.
Divisional Round of Playoffs
I don't know about you but I absolutely love playoff DFS football. Believe me, I didn't always enjoy it or any small slate for that matter but the biggest lesson I have learned this season is to EMBRACE the variance. Don't look at the small four-game slate and think there are going to be tons overlapping lineups(obvious), rather dig deeper and find ways to make small pivot plays to separate yourself. When I play GPP's on a smaller slate I will narrow my core plays and build around them. Last week, for instance, I was very high on the Packers stack so I had multiple lineups with combinations of Rodgers with Nelson, Adams, Cobb and even Cook. When Nelson went down it hurt about half my Rodgers lineups but it was the other half that seen a huge boost, especially the two with Rodgers/Cobb/Adams. Even with just four points from my TE(Fiedorowicz), I placed high in multiple tournaments. Another way to be contrarian on a small slate is to go against projected game script. To do this stack a team's pass game when they are favorites in the game and expected to run a ton. Another way to help with overall ownership is to target the player who is coming off a bad week or his teammate coming off a huge week. There is so much foreshadowing here! Moving on.
Before getting into my stacks for the week, don't forget to check out the Main Picks Article and the 
If you haven't already be sure to go check out the FREE three day trial of the projections system, Player Lab, and Lineup Optimizer. Ok let's get started.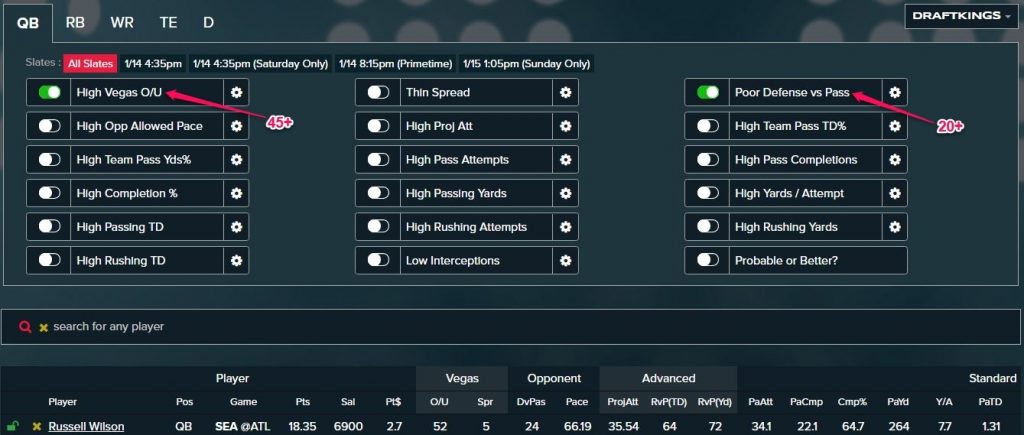 Seattle Seahawks
QB - Russell Wilson
Elite Option - Doug Baldwin
Secondary Options - Jimmy Graham, Paul Richardson
Right out of the gate I am going to go a bit contrarian as I am fully confident a large number of people will be chasing the points of Thomas Rawls after his explosion last week. Don't get me wrong, I don't think he is a bad play, especially on a small slate but like I mentioned above it can be the pivot plays that allow you to make less overlapping lineups. You can also be guaranteed that the Falcons watched the film and seen what Rawls did to the Lions a will have a gameplan to stop him. Wilson has been inconsistent with his fantasy output this season but has shown huge upside like Week 16 when he exploded on the Cardinals for 350 yards and four touchdowns for 37 DK/33 FD points.  Even last week where the game script was run-heavy, Wilson completed 76% of his passes for 224 yards and two touchdowns. He is a much better play on DraftKings where his discount off Rodgers is much greater.  If you are building just one Wilson lineup this week, pair him with Doug Baldwin who has planted himself right in the middle of theWR1 conversation. Not just in the playoffs but heading into the 2017 season as well. He was extremely productive last week in a run-heavy game script catching 11 of his 12 targets for  104 yards and touchdown which he stole from his teammate in the endzone. If you are multi entering a GPP, both Paul Richardson and Jimmy Graham will also be in play this week. Richardson is going to be very popular after making two ridiculous catches last week, one for a touchdown. Jimy Graham, on the other hand, could be an excellent contrarian option as most people will be flocking to Travis Kelce this week. I firmly believe the Falcons are the better team ad will win this game which is going to mean a ton of volume for the pass game in the second half. I am predicting Wilson throws 38 passes and three touchdowns.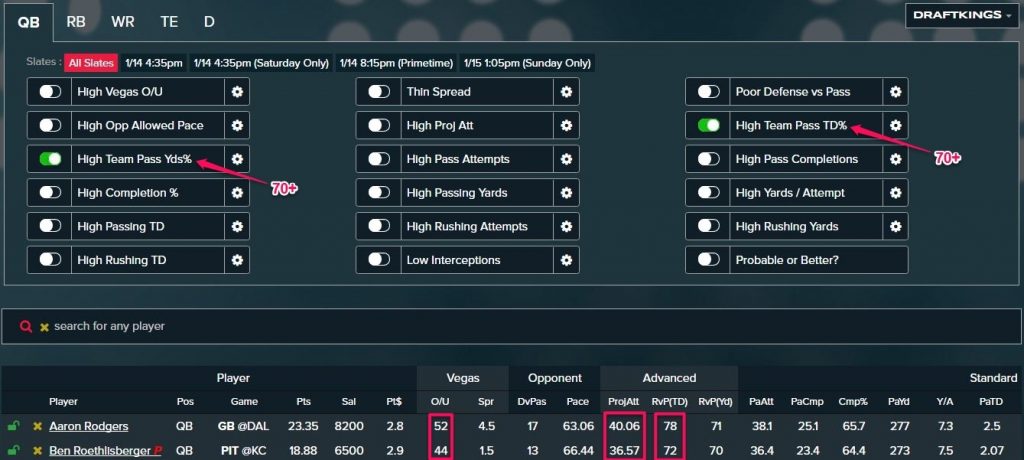 Green Bay Packers
QB - Aaron Rodgers
Elite Option - Devante Adams
Secondary Option - Randall Cobb, Jared Cook
Here is the chalk I was talking about above. The Packers won a lot of money for some players who entered multiple lineups and were able to avoid the Nelson injury. It's not just last week's performance that will drive people back to Rodgers and the Green Bay pass game. I know we do this multiple times a week but it is always worth a refresher. Since Week 11(Packers last loss) Rodgers has tossed 22 touchdown passes and zero interceptions and oh ya has thrown for 300+ yards and four touchdowns in three straight weeks. Fading him could be lineup suicide this week. For the Packers to have a chance against the NFC's #1 seed he is going to have to have another MVP-like game and I am not sure the Cowboys 17th ranked defense can hold him down for four quarters. Rodgers is game flow proof at this point as the Packers have little to no run game.
My favorite play to pair Rodgers with is going to be Devante Adams for a couple of reasons. First of all, he is projected to be lower owned than Randall Cobb who is coming off a huge three touchdown game. The second and more important reason is the fact Adams has been out targeting Cobb by a large margin going all the way back to Week 7 of the regular season. If you aren't paying up at tight end for either Kelce or Graham you ca take the discount and roll with Jared Cook who could play a bigger role over the middle with the loss of Jordy Nelson. He caught five of his nine targets last week for 48 yards. His target share has been trending up for about a month now as he has seen eight or more targets in three of his last four games. Like last week, do not be afraid to make multiple lineups with several combinations of all these players.
Dallas Cowboys
QB - Dak Prescott
Elite Option - Dez Bryant
Secondary Option -  Terrance Williams
This stack is very comparable to my Seahawks recommendation above. It is definitely going to be contrarian a high majority of lineups will feature Ezekiel Elliott. I won't be fading Zeke completely but definitely see the value in stacking the passing game, especially against the Packers who have allowed the most fantasy points to wide receivers over the past four weeks. The outcome of last week could have been much different had the Giants not dropped two touchdowns early in the game after burning Micah Hyde twice on the same play.  The guy with the most experience and upside is going to be Dez Bryant who just might be looking for a little revenge after the "catch, no catch" scenario in Green Bay two years ago. If you are looking for salary relief with upside you must consider Terrance Williams. No, I am not crazy, and no I wouldn't mention him in normal circumstances. The playoffs are a different animal and if you can grab one or two guys with lower ownership, you can really separate yourself when playing the chalky plays. The upside comes with the projected matchup against Damarious Randall who ranks 110th out of 120 cornerbacks (via Pro Football Focus).
Be sure to get a copy of our free eBook on setting Weekly DFS NFL lineups for FanDuel and DraftKings!
And again, leading into the daily fantasy NFL season we're offering our brand spanking new NFL DFS Player Lab! Click the button below to get started!