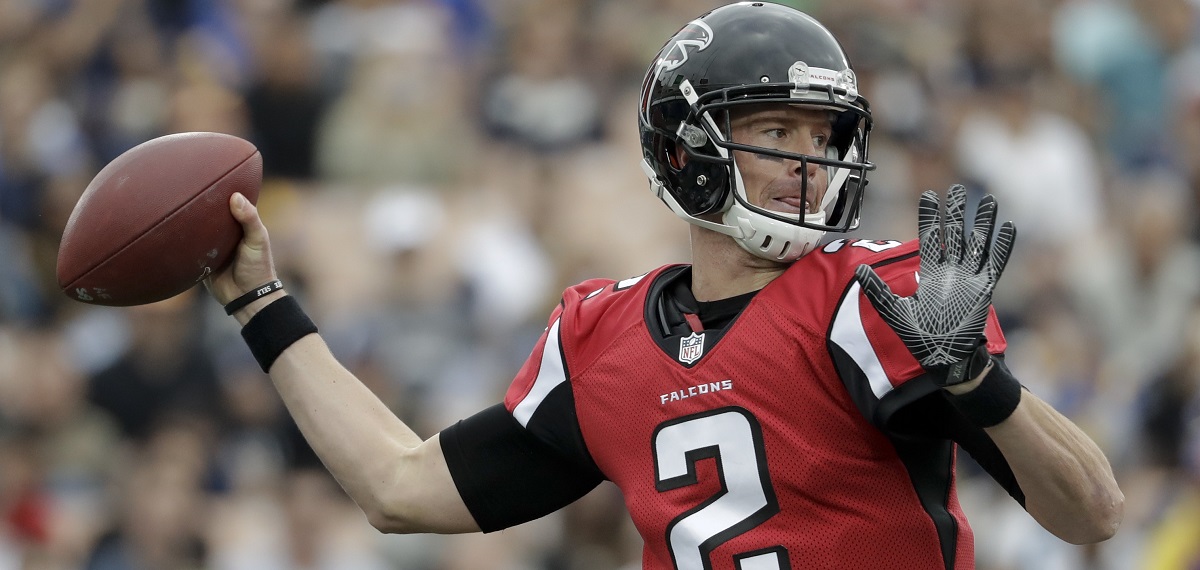 Daily Fantasy Football Picks for FanDuel and DraftKings - Conference Championship 2017
A note on formatting for this week. Instead of writing specific value plays (which would basically just be a copy of our optimal lineup), we're going to give a more in depth game by game breakdown, akin to our Friday podcasts. Let's get to work!
In case you didn't notice, we just released our brand new NFL DFS suite of tools including full projections, optimal NFL lineups and our Player Lab, which includes filters to help you create NFL lineups for FanDuel and DraftKings for any format. It's a set of tools well beyond anything we've ever had, and something we feel will help our users *ahem* tackle the NFL season.
If you want to see the numbers behind our projections, create lineups, or research as deeply as your heart desires, click the button below to test out yourself.
Green Bay Packers at Atlanta Falcons
Atlanta favored at -4.5 with O/U of 60
The 60 point over/under tells you pretty much everything you need to know about this game going in. This kind of implied total is obscene for a regular season game. For a playoff affair? It's completely unheard of and is the largest over/ under in the history of the Conference Championships. What more could you want for the last week of NFL DFS this season?
There's a ton to love about this game from a value point of view and it starts with Aaron Rodgers. Dude's just on a different level right now though I suppose he did finally look the slightest bit human last week when he threw his first interception in nine games. But he still put up 356 yards and two TDs while also making a throw for the ages to Jared Cook to set up the game-winning Mason Crosby field goal to end the game. Rodgers comes into the game with the highest projected raw points in our system which is really saying something considering the other three guys are Brady, Ryan and Big Ben. You'll have to pay a pretty penny to get it done, but his floor is just ridiculously high considering his accuracy, ability to run and the likelihood that this game is a total shoot out.
There's still a lot of safety in the Packers' receiving corps with Davonte Adams seeing double digit targets last week in spite of missing part of the game with a tweaked ankle. Randall Cobb also saw a solid target share (8) on his way to a 7/62 line. Both see their prices stick in the same range as last week with just as much expectation for volume in the passing game. Jared Cook led the team in targets though he's seen a big price jump on both sites. I suspect the targets are a real thing now that we've seen multiple weeks with a high usage, but the price is becoming an issue.
Green Bay doesn't run a ton, instead opting for possession routes to eat up short yardage, but I do like Ty Montgomery who saw 11 carries and 7 targets. The two TDs aren't likely to happen again, but for full point PPR on DK you can easily pay the $5600.
Meanwhile the Atlanta side of the ball remains an embarrassment of talent while also lacking any clear DFS option to play in cash games. Matt Ryan put together one of the best QB seasons in recent memory and yet had a game in which he attempted 40 or more passes. Because the Falcons' attack is so balanced, they just haven't needed him to be a high volume passer. That could of course change this week if the score starts heading into the stratosphere, but I'm worried about his floor especially if some of the TD upside gets buzzed off in the run game.
Speaking of, Devonta Freeman would be an auto-lock if we could project him close to twenty carries, but they change things up enough with Tevin Coleman that relying on Freeman's touches becomes shaky.
The same can be said for the Atlanta passing game. Sure, Julio Jones is beyond elite at the position, but the Falcons just haven't had to force-feed him the ball as in years past. He hasn't seen double digit targets in a game since mid-November though if there was a game for him to break it out of the box, this is it. The Packers ranked 28th in DVOA against WR1s this season and we saw Dez just torch them last week.
I don't want much else to do with the rest of the Atlanta passing game beyond some speculative GPP plays mostly because Ryan spreads the ball around a ton. Taylor Gabriel has some moderate upside though I'm worried that he just doesn't see a full snap count because of how these him.
All in all, this game is appointment television and the perfect way to kick off the last week of the NFL DFS season.
Pittsburgh Steelers at the New England Patriots
Patriots favored at -5.5 with an O/U of 50.5
This game doesn't have the flashy total that the NFC Championship does, but there's still plenty of fantasy value to be gleaned here.
We'll start with Pittsburgh, because their fantasy distribution is a lot easier to project than New England's on a week to week basis. Last week the Steelers supported exactly 1 elite fantasy supporter - Chris Boswell. But let's not get carried away. The Steelers moved the ball with ease against Kansas City's tough defense, chewing up yards on the ground to the tune of nearly 6 yards per carry, and dominating the time of possession. And, yes, they fell apart as things got closer to the end zone, but that looks a lot more like variance than anything we need to be concerned about heading into New England.
The Steelers rate to try and put the same recipe together this week against the Pats, and while they weren't able to run the ball effectively against them in their earlier meeting this season, you have to keep in mind that the Pats were able to stack the box with Landry Jones under center. This meeting should be quite a bit different, as Ben Roethlisberger and Antonio Brown are back on the same page, and the Pats won't be able to cheat nearly as easily. Bell comes at a discount to where he's been recently, and at just $9,500 on FanDuel he's a great inclusion in cash games.
But can we go deeper on the Steelers, here? With four great quarterbacks going this weekend, I don't think I'm in the market for Roethlisberger. Brown was solid last week, but he hasn't exactly looked like a $9,000 receiver in quite some time. But wait! He's not a $9,000 receiver anymore! At just $8,400 you're getting him in more Mike Evans territory, and he's starting to look like a value and upside play. He'll always be elite when it comes to converting targets into receptions, and I wouldn't worry about the lack of touchdowns since not a single Steeler set foot in the end zone last week. If I have one major takeaway from the Chiefs game it's that the plan for these playoffs is to give the ball to Bell and Brown as much as possible - 46 of the Steelers plays from scrimmage were designed for their dynamic duo - and that should be all the value you need even if they are underdogs this week. After those two the only other remote consideration is Jesse James, but that's only because tight end is pretty shallow.
On the Patriots side of the ball, things are a little bit dicier. The running back position is an absolute mystery - Dion Lewis returned from obscurity to help people win big tournaments last week, but will that same plan be in effect against the Steelers? The Texans' slow linebacker corp was a perfect match-up for Lewis, and the Steelers present no such opportunity. Lewis costs $7,000 on FanDuel now, and I can't imagine a world where I'd pay up for that level of uncertainty unless we received word that Blount was hurt or something.
And then there's the passing game. For a team that puts up this many points, the Patriots sure are a pretty irritating team for daily fantasy purposes. The shining star in their situation is Julian Edelman, who's topped 12 targets in 5 of his last 6 games, and seems to be options 1-3 with Gronk permanently shelved. Martellus Bennett has fallen out of favor, Chris Hogan has been more sizzle than steak (and frankly, hasn't even been much sizzle), and.. that's pretty much it. Brady is a fairly interesting option, but do you really want him over one of the Rodgers/Ryan duo in the game with the highest total of the season?
Again, you can grab a free trial of our NFL DFS suite of tools including full projections, optimal NFL lineups and our Player Lab, which includes filters to help you create NFL lineups for FanDuel and DraftKings for any format. It's a set of tools well beyond anything we've ever had, and something we feel will help our users crush it this daily fantasy NFL season.
You can grab a go test it out yourself.