Basketball Picks Daily Fantasy
Expert Advice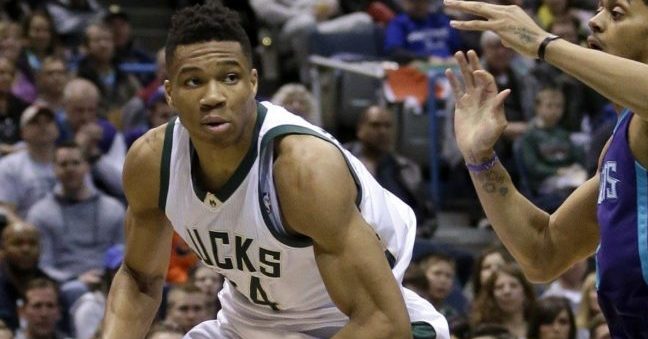 Daily Fantasy NBA Basketball Picks for FanDuel and DraftKings - 1/23/16
After a dreadful blowout and injury ridden Sunday slate we return to some semblance of sanity on Monday. We bid adieu to DFS NFL and settle into a couple month stretch where NBA is only show in town. The good news is, we happen to be having a fantastic NBA season here at DFSR! Let's see what the projection system is seeing in advance of tonight's rather large slate.
Now's your chance to get DFSR PRO, which will give you access to our NBA optimizer, our NFL Optimizer, and our new NFL player lab! Get started for free by clicking the button below.
First time with NBA? Be sure to read our free NBA Ebook on building lineups, general strategy and more. We've got you completely covered.
Point Guard
Kyrie Irving FD - $8100 DK - $7900
Opponent - NO
Proj Pts FD - 41.11 DK - 43.77
Right away we're posed with another guy that has to have at least some question marks around him. With Kyrie they are two-fold: first, does the recent performance justify this price? And second, could this game get too far out of hand for him to pay this price? Let's tackle the performance bit first. He's only got two games since returning from injury where you'd be happy with his performance, so that's not exceptional. But the thing those two games had in common were that the game stayed close. So, we're hoping this one stays close (which it might not, but a -6.5 spread isn't all that worrisome). But there's more to it than just the blowout, here. New Orleans has been a phenomenal match-up for opposing point guards all season, allowing the 3rd most fantasy points per game to opposing PGs this year. Kyrie will be largely unplayable on these prices in even league average match-ups, but the plus plus match-up makes me think he'll be nearly chalk tonight.
Goran Dragic FD - $7100 DK - $7200
Opponent - GS
Proj Pts FD - 35.93 DK - 38.42
Now here's a guy that's been paying his price with a little more regularity. His issue, of course, is the opposite of Kyrie's. The blowout risk is more severe here and the match-up isn't quite as good, but Dragic has been handling the ball a ton for the Heat, and Golden State's 3rd fastest PACE should yield more possessions than usual. Throw in more of those possessions being in transition (where Dragic excels) and I think you have a cash game viable play with significant upside if the Heat can manage to hang.
Situations to watch:
There are a number of situations where news will make the difference as to how we want to proceed. Matthew Dellavedova played 36 minutes and was excellent in the last Bucks' game. If he starts again, he's terrific. Austin Rivers seemed to maintain his role even as Felton was bumped to the bench by Speights. The projection system has been rewarded for its faith in George Hill, who was phenomenal against Indy and has a terrific match-up with OKC. Lots of options tonight, though they come with lots of question marks.
Consider: John Wall, even in a less than plus match-up vs. the Hornets - you have to appreciate the closer spread than the other two more expensive guys above.
Shooting Guard
Giannis Antetokounmpo FD - $10800 DK - $10600
Opponent - HOU
Proj Pts FD - 51.86 DK - 54.19
The whole DFS industry will be deciding between Giannis and Harden tonight, and early returns from our system are favoring Giannis from a couple of different angles. He's cheaper, has a slightly better match-up, and was much better on a points per dollar basis the last time these two met. Still, James Harden is an excellent play with a great match-up in his own right - so nobody would fault you for trying to play both here.
Brad Beal FD - $6700 DK - $6700
Opponent - CHA
Proj Pts FD - 34.42 DK - 36.77
Just a rock solid, high floor, low ceiling cash game option for tonight. Beal has been locked into 38-39 minute rotations, and only seems to be at risk of not paying his price when his shot isn't falling. While that happened twice very recently, let's not let recency bias capture too much of our attention. Beal is a huge role player in that Washington offense, and we're getting him at a ~$600 discount to what appears to be his true value. In spite of Batum's defensive rotation the Hornets have allowed the 7th most fantasy points to opposing shooting guards this season, and I think Beal is a fine way to invest your shooting guard dollars if you can't get up to paying for both of the big fellas.
The cheap question mark squad
And there are a bunch of them at shooting guard. Dejounte Murray was terrific on his price in his last go around in spite of shaving 8 minutes off his prior game's total. Reggie Bullock has played a ton of minutes to mixed results, but has at least 1 incredible performance on his current prices. Sean Kilpatrick has been much maligned, but is still very cheap, and could be an interesting separation play with 8x+ points per dollar upside in a bad match-up with the Spurs. All this to say - keep your eyes peeled for cheap options at SG tonight, because they appear to abound.
Small Forward
Sam Dekker FD - $4300 DK - $4200
Opponent - MIL
Proj Pts FD - 24.3 DK - 26.28
Dekker's case is pretty straightforward - he was phenomenal in his last start, it looks like Ryan Anderson will miss this one, and he's getting praised heaped on him by his coaching staff. Not much more to see, there. He's more expensive than he was in his last start, sure, but he's also averaged thirty-four fantasy points per game in his last two contests. I have to admit that the scoring output looks nowhere close to sustainable, but with the Bucks keying in on Harden once again I think 5x points per dollar is his floor assuming he starts again.
Kawhi Leonard FD - $9800 DK - $9400
Opponent - BKN
Proj Pts FD - 50.08 DK - 52.39
Kawhi's going to suffer from the same fears as the Cleveland and Golden State guys tonight for sure. What do we make of the combination of his highest career fantasy price and the blowout risk? Well it's not totally clear at this point. Yes, I was liking Kawhi a lot more at $8,300, and no, it's not a welcome sign that the sites are so dramatically correcting for match-up these days. But is Kawhi still a value here? I'll tell you that I wouldn't even consider him in a league-average match-up on these prices, but a league-average match-up this is not. The Nets have (surprise) allowed the very most fantasy points per game to opposing small forwards this season, and don't have anyone to match Kawhi's combination of strength and athleticism. Leonard, meanwhile, has topped 51 fantasy points per game in each of his last 3 (significantly) more difficult fantasy match-ups. Is this just who Leonard is without Tony Parker? It could be, and I'm willing to roll with him once again.
Paul George FD - $7000 DK - $7500
Opponent - NY
Proj Pts FD - 35.25 DK - 38.52
It's crazy to think that George was more expensive than Kawhi as recently as this season, and how dramatically the mighty can fall. The question with George is the opposite of Kawhi, which is to say, has the underlying package really gotten so much worse, here? Yes, there have been some personnel changes for the Pacers this season. Yes, he's had some incremental steps in the wrong direction - fewer shots, rebounds, and assists per 36 minutes this season. But he's also shooting better from the field and from 3, and has cut back on turnovers. And he's only 26, so it's not like he's past his prime or anything. I'm willing to make a decent sized bet that we see George touch $8k once again this season, and I'm a big time buyer on FD in particular even in a league average match-up with the Knicks.
Strongly consider: Joe Ingles, if you think he maintains the minutes. I'd sign off on that.
Power Forward
David Lee FD - $5100 DK - $5500
Opponent - BKN
Proj Pts FD - 30.74 DK - 32.12
The DFS world has slept on David Lee as he's put up 7.5x and 6.5x on these prices as a member of the Spurs starting lineup, but I highly suspect that won't be the case tonight. Lee appears to be locked into a 30+ minute rotation in non-blowout games, and while that's not guaranteed against Brooklyn by any stretch, he's the type of value that could lose a few minutes and still pay off handily. Brooklyn is an excellent match-up for opposing rebounders and paint scorers, and I think Lee is just a straightforward value/upside play that it's hard to imagine living without tonight.
Tobias Harris FD - $6100 DK - $6200
Opponent - SAC
Proj Pts FD - 29.88 DK - 31.55
Harris' game logs are going to look odd to an uncritical eye, but it's just a bit of short term variance that has kept his price right in the sweet spot of where we'd like to see it. This game features two below average teams, and while Vegas doesn't have a spread pegged at this time, it's hard to imagine that a blowout is the average expectation here. So what do we know about Harris in non-blowouts? Well, he's locked into 38-40 minutes per game, and has been good for 5x+ points per dollar in the last 4 games where he's played those minutes. He's also a very troublesome match-up for Kosta Koufos and Anthony Tolliver, neither of whom possess the speed necessary to follow Harris inside and out. Seems like a very high floor play with some upside built in if the Pistons decide to take advantage of the match-up even further.
Thaddeus Young FD - $5700 DK - $5500
Opponent - NY
Proj Pts FD - 27.61 DK - 28.94
Thad maintained his daily fantasy basketball darling status in a brutal match-up with Utah, supplying a steady 19/9/3 in a reassuring 38 minutes. It's tough to know what the truth is about how the Pacers would like to divvy up their minutes at the moment, but it can't be a bad thing that they trusted Thad with extra run in one of the worst possible match-ups and he came through for them. Going up against the Knicks is somewhat of a reprieve for sure. While Porzingis is terrific as a help defender around the basket, his on-ball skills are not nearly as good, and our projection system certainly sees this as a plus match-up. In a lot of ways the totals we have projected look low, and I'd be happy to deploy him in cash games.
Center
Cody Zeller FD - $5000 DK - $5000
Opponent - WAS
Proj Pts FD - 25.76 DK - 26.78
Zeller now has 3 terrific games and 2 terrible ones in the last 5. A lot of people will hedge when things like this happen and give some non-answer like "the truth is somewhere in between," but I'm not going to. I think Zeller is just the good version. It's clear to me that the Hornets plan to play him 30-33 minutes per game, and if you look at what he's done under those constraints, he's a 5x points per dollar guy minimum on these prices. Now he's obviously going to be worse when the Hornets are blowing teams out (or getting blown out), but as of this writing Vegas sees this as the closest match-up on the slate. I'm ignoring the league average match-up with the Wiz here. This is just a price and opportunity mismatch that will almost surely correct itself soon.
Should we Boogie tonight? I mean, it does seem like DeMarcus Cousins is sort of stuck in beast mode. He's now rampaged through 3 of his last 4, personally destroying the souls of the Thunder, Bulls, and Pacers while taking an understandable detour against the vicious Grizzlies interior defense. The only thing keeping him out of top consideration is the match-up. Drummond is a reasonable interior defender, and more importantly, Detroit plays really really slowly. I wouldn't mind paying up for him at all here if we get some punts to break our way, but chances are good he'll be on the outside looking in for me tonight.
GRAB A FREE TRIAL OF OUR PROJECTION SYSTEM, AND CHECK OUT DFSR PRO!
GET OUR FREE EBOOK ON DAILY FANTASY NBA!
And Daily Fantasy NBA Picks for FanDuel and DraftKings every day!
FREE EBOOK
SECRETS TO CRUSHING DAILY FANTASY FOOTBALL!
DON'T SET ANOTHER LINEUP BEFORE YOU READ THIS BOOK.