Basketball Picks Daily Fantasy
Expert Advice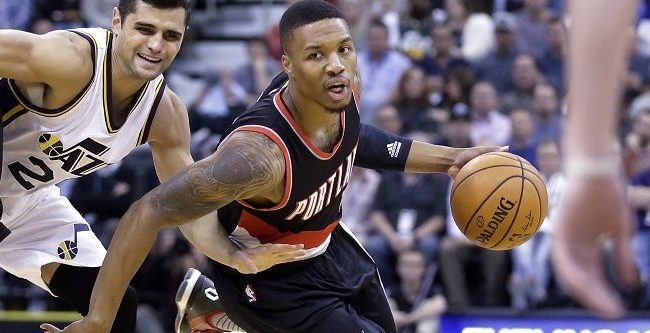 Daily Fantasy NBA Basketball Picks for FanDuel and DraftKings - 2/13/17
Now's your chance to get DFSR PRO, which will give you access to our NBA optimizer, our NFL Optimizer, and our new NFL player lab! Get started for free by clicking the button below.
First time with NBA? Be sure to read our free NBA Ebook on building lineups, general strategy and more. We've got you completely covered.
Point Guard
Mike Conley FD - $7900 DK - $7700
Opponent - BKN
Proj Pts FD - 39.41 DK - 41.61
Conley headlines our point guard ranks tonight for one fairly straightforward reason - his match-up. The Nets have been jockeying back and forth with the Nuggets as the very best match-up for opposing point guards. Conley, meanwhile, is already arguably a value. He went out and put up 20/5/9 against the Warriors, and it goes without saying that the Nets are a significantly better match-up. They've played the league's fastest place with a bottom 3 defense, and a grizzled creator like Conley should eat them for lunch.
Damian Lillard FD - $8600 DK - $8600
Opponent - ATL
Proj Pts FD - 43.33 DK - 46.71
Lillard has been one of the most consistent point guards in all of daily fantasy sports recently, putting up nearly identical lines (averaging 29/6/6 and 46 fantasy points) in each of his last 3 games. And those weren't even phenomenal match-ups - he drew Boston's tough wing defenders, Russell Westbrook, and Dallas' reasonable defensive backcourt (and more importantly, their 2nd lowest PACE). Atlanta, meanwhile, has been a top ten match-up for opposing point guards all season thanks to the defensive downgrade they've seen from Jeff Teague to Denis Schroder. Lillard is a rock solid cash game option, even if he's unlikely to be atop big tournament winning lineups tonight.
George Hill FD - $6200 DK - $6100
Opponent - LAC
Proj Pts FD - 30.95 DK - 32.66
Hill has been sort of maligned as a daily fantasy commodity, but he's really been turning things around recently. He rocked Boston for 36 fantasy points in his last game, scored 42 against Atlanta few games before that, and has sprinkled in solid performances around those bombs. He can still no-show on you from time to time, but if you're in the market for a huge performance tonight he's one to keep an eye on. A lot of people are still using season long defense vs. position statistics, and those are going to be flawed by the fact that Chris Paul makes up a lot of the Clippers' numbers here. Austin Rivers isn't half the defensive force that Paul is, and I think we could be in line for a very nice Hill game here.
A quick note on Steph Curry: Make no mistake - this is an otherworldly match-up for Steph. He's reasonably priced, has had some huge games recently, and will likely be something of a chalk play. The question is, will he get his minutes? If you think so, you need to play him. If you think the minutes are too risky, then any of the above guys should do.
Shooting Guard
Tim Hardaway Jr. FD - $5700 DK - $5800
Opponent - POR
Proj Pts FD - 28.11 DK - 30.09
Shooting guard is a little bit sketchy tonight, but I'm pretty into Hardaway here assuming Sefolosha is out again. We're definitely getting into the price territory where we at least have to think about it, but the Hawks don't seem to have any reservations at the moment. Hardaway Jr. might be as good a ball handler as Schroder at this point, and he brings something completely different to the table from Sefolosha offensively. He's averaged 37 minutes in the last two games, and looked terrific against the Kings. Now he's scoring dependent enough that he's going to have off nights from time to time, but have you seen some of the other options available to us here? They aren't incredible. The Trail Blazers haven't been the greatest match-up for opposing shooting guards this season, but I think the value and safety from my perspective is probably good enough that you don't need to worry too much about it.
Will Barton FD - $5800 DK - $6400
Opponent - GS
Proj Pts FD - 29.97 DK - 32.06

Gary Harris FD - $5200 DK - $5100
Opponent - GS
Proj Pts FD - 26.88 DK - 28.48
And here are your high risk, high reward options tonight. Both Barton and Harris have put up 6x+ points per dollar on these prices recently, but they obviously carry quite a bit of risk on account of the match-up. The dream here is that the game stays close, and you get a bunch of extra possessions on account of what would then be a fast paced game. Both of these teams would be happy to play in a fast paced game - they both have a top 5 PACE this season - but the blowout risk is very real. On the same token, you could argue that they both rate to play a bigger role in the offense if the game starts slipping away. Either way, it's tough to recommend these guys for cash game purposes even if I do believe their "average" performance winds up paying value.
Evan Fournier FD - $5400 DK - $6000
Opponent - MIA
Proj Pts FD - 28.68 DK - 31.1
Fournier is probably a FanDuel only play, but I think he's interesting largely because of the fact that many people are going to be a little bit frustrated with him at this point. He was great against Philly, horrific against Dallas, good against Houston, bad against Atlanta, and terrific against Toronto. Who's the real Evan Fournier? Hell if I know. But I do know that it looks like the Magic fully intend to play him 36+ minutes per game in normal game scripts right now, and the 8 point spread in Miami's favor isn't enough to scare me off here. The Heat are simply not a good match-up thanks to their absurdly slow pace, but Fournier looks like a reasonably safe cash game option given the lack of other options on this slate.
Also considered: Victor Oladipo and Kentavious Caldwell-Pope. I like both roughly as much as Fournier, but they are a little bit more obvious plays. I'd be fine winding up with any of that crew.
Keep an eye on Gerald Henderson: He played 30 minutes against the Spurs and was excellent on his prices. If he starts again, he's a tremendous value here.
Small Forward
T.J. Warren FD - $4900 DK - $5000
Opponent - NO
Proj Pts FD - 25.43 DK - 26.64
If you thought shooting guard was bad, small forward might give you hives. The Suns have had a pretty schizophrenic approach to doling out minutes recently, but Warren has actually been pretty steady in terms of both opportunity and production. It makes sense - he's a young guy, and they probably have to be thinking about the future. In his last 6 games he's paid 5x points per dollar in 5 of them, and then randomly lost a ton of minutes and was awful against Brooklyn. Is there a chance he falls out of favor once again? I suppose, but in a terrific match-up with the Pelicans, I'm willing to take my chances.
Harrison Barnes FD - $6200 DK - $6000
Opponent - BOS
Proj Pts FD - 30.14 DK - 31.88
Barnes was a popular play against the Magic, and wound up being a total whiff. But did you see the insane game script there? Ain't going to happen tonight. Prior to his last game, Barnes had pretty well established himself as a $6,000 player on FanDuel, putting up great totals even in tough match-ups like the prior one against the Jazz. Deron Williams' return doesn't help anyone on the team's usage for sure, but I'll take my chances against what looks like the Celtics' 3rd unit of small forwards. If Jae Crowder returns this one goes down a little bit, but Barnes would still be worth a look.
Michael Beasley FD - $4300 DK - $4700
Opponent - DET
Proj Pts FD - 27.09 DK - 28.57

Dante Cunningham FD - $3600 DK - $3500
Opponent - PHO
Proj Pts FD - 19.42 DK - 20.56
Two separate sets of question marks. With Beasley it's the opportunity. The Bucks are very short handed right now, but we unfortunately didn't get a good sense of their actual plans since their last game ended in a blowout. If he's going to play 30+ minutes he's a value on these prices regardless of the match-up, but do you trust the minutes? Cunningham has the opposite problem. He'll get minutes with Terrence Jones' injury here, but can he actually produce? No one stands on the court doing nothing as much as Dante Cunningham. He looked relatively decent against the Kings last night, though, so he might be a reasonable floor option in a great match-up that should feature lots of possessions with the Suns.
Power Forward
Frank Kaminsky FD - $4800 DK - $5700
Opponent - PHI
Proj Pts FD - 28.62 DK - 30.42

Alex Len FD - $4000 DK - $4500
Opponent - NO
Proj Pts FD - 23.57 DK - 24.83
The underpriced back-ups. With Zeller and Chandler doubtful for Monday's games, it looks like Kaminsky and Len will be excellent punt plays once again. Kaminsky went off on the Clippers for 43.1 fantasy points in 36 minutes, and in an even better match-up with the Sixers, it's hard to believe he'll pay off less than 5x-6x points per dollar here. As for Len, he's a little trickier. He paid 5x points per dollar against the Rockets, but the Suns' minutes were all over the damned place on account of them getting blown out. I believe he'll see more minutes in this one, and like Kaminsky, he's also looking at a better match-up here. I wouldn't be upset to roster both of these guys, to be honest.
Paul Millsap FD - $8000 DK - $7600
Opponent - POR
Proj Pts FD - 41.82 DK - 44.17
It's never exciting to write Millsap's name into a pick's article, but that's actually because he's sort of consistent and boring. He put up nearly identical lines in his last two games, playing exactly 38 minutes, scoring 25 and 23 points, grabbing exactly 6 rebounds, and scoring nearly identical numbers of fantasy points. The good news for him? The Trail Blazers might just be his best match-up of the season. They've allowed the 3rd most fantasy points to opposing power forwards this season, and unlike the Lakers and Nets (the first and second best match-ups), the Trail Blazers should be able to keep it close enough to let Millsap get his full run of minutes. He seems like a solid cash game option, even if he lacks the upside you're looking for in big tournaments.
James Johnson FD - $6400 DK - $6200
Opponent - ORL
Proj Pts FD - 31.36 DK - 33
Johnson's getting more expensive, but he's also playing more and producing more than ever. He rocked 36 minutes off the bench against the Sixers, putting up his third straight 35+ fantasy point performance. More importantly, he played his highest minutes total since 1/13 in spite of Hassan Whiteside also playing a ton of minutes in their last game. He's shooting more than he ever has in the past, and he's also shooting better, falling below 50% field goal percentage just once since January 23rd. The Magic are basically a league average match-up here, so you can expect to see a lot of Johnson in cash games once again.
Center
Steven Adams FD - $6200 DK - $6000
Opponent - WAS
Proj Pts FD - 31.57 DK - 33.01
It's kind of boring, but given the current state of center in this league, that might be a good thing. The Thunder are so thin up front right now that Adams has been locked into a 37+ minute rotation in close games, and while Westbrook is chewing up a lot of the team's usage, Adams still has two 6x+ points per dollar games in his last 5. Gortat is a fairly tough match-up for Adams on the defensive end, but so much of Adams' value comes on the board and defending the paint that I think this actually profiles as a roughly league average match up for him when all things are taken into account.
Dwight Howard FD - $6800 DK - $6900
Opponent - POR
Proj Pts FD - 35.6 DK - 37.56
Howard's a tough guy to evaluate, but I present him to you as the high upside alternative to Adams if you aren't excited about the New Zealander's ceiling. Howard's price has been held down by inconsistent minutes (and, let's face it, performance), but there are some real gems on his resume as well, like the 24/23 game against the Rockets. And, yes, he has had some ups and downs since then, which makes it easy to forget that he had a 5 game stretch at the end of January where he was paying these prices on the regular. The issues for Howard are two-fold. He's a bad free throw shooter, which can take him out of games late, and he can get in foul trouble from time to time. The good news here is that the Trail Blazers' simply don't have anyone on their roster that can match his strength and athleticism. He seems like a great high upside play.
GRAB A FREE TRIAL OF OUR PROJECTION SYSTEM, AND CHECK OUT DFSR PRO!
GET OUR FREE EBOOK ON DAILY FANTASY NBA!
And Daily Fantasy NBA Picks for FanDuel and DraftKings every day!
FREE EBOOK
SECRETS TO CRUSHING DAILY FANTASY FOOTBALL!
DON'T SET ANOTHER LINEUP BEFORE YOU READ THIS BOOK.