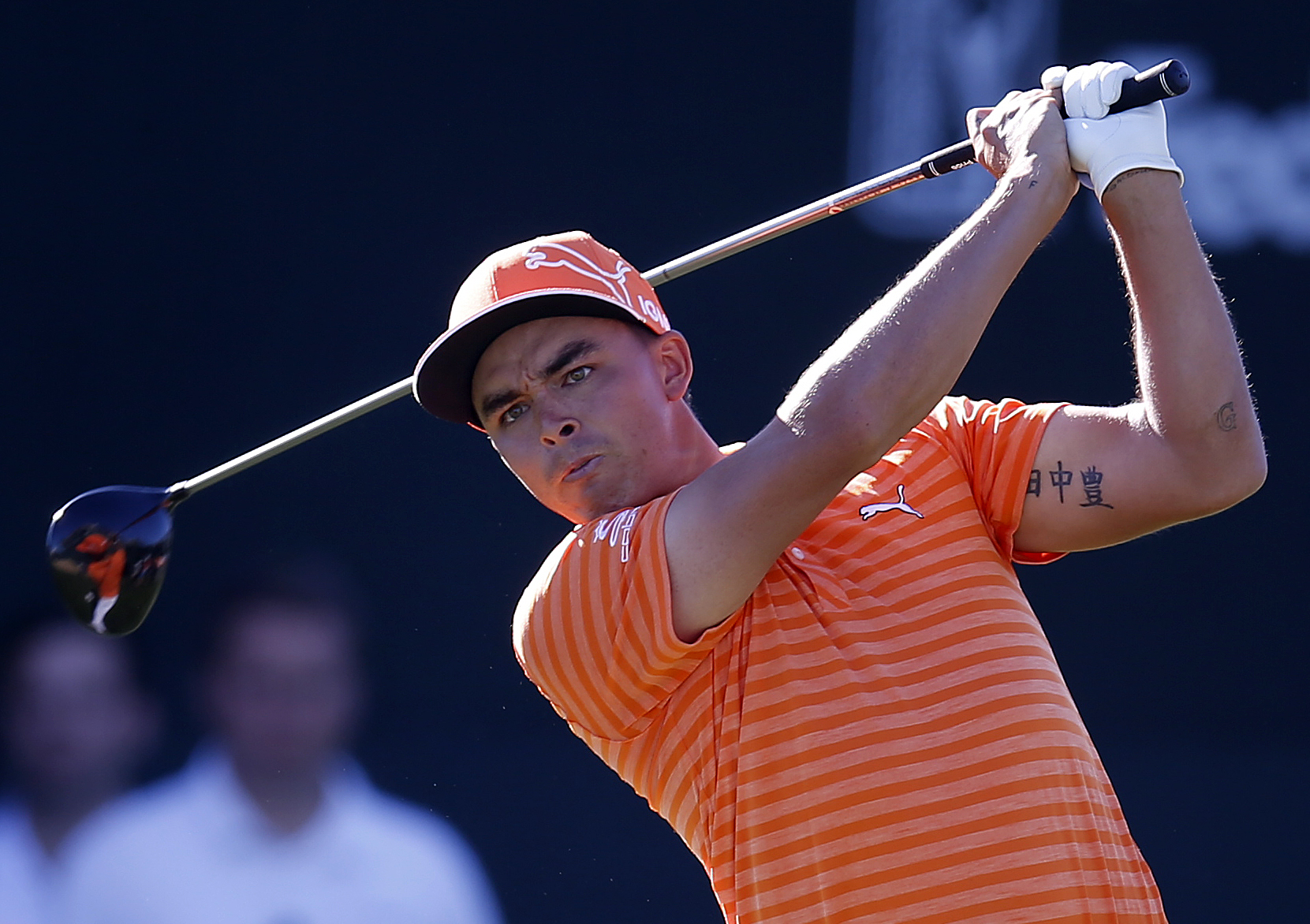 Daily Fantasy PGA Picks for DraftKings - Arnold Palmer Invitational
DFSR is proud to bring you, Chris Durell. He'll be bringing weekly PGA picks, analysis, and breakdowns to help you cash on DraftKings. As every week in DFS PGA changes with the course setup, field of players and weather, Chris will be providing a range of different picks for cash games as well as upside plays for tournaments. If you have any questions to lineup lock you can reach him a variety of ways. Leave your question/comment below in the comments section, find him in the DFSR Chat room or hit him up on Twitter(@Jager_Bombs9).


Chris is also currently providing his DFS PGA cheatsheet for FREE while it is still in BETA mode. You can also grab a copy of the Salary/DK Points/Ownership Trends Sheet HERE. It is a link to a shared google sheet in "View Only" mode. It shows every golfer and his DraftKings salary, Vegas odds, Official World Golf Ranking, raw stats, course history, current form, tournament past 4 years results(if applicable) and correlated stats. I also have weighted stats and weighted overall rankings. If you want to make your own model with the sheet go to "File" at the top and "Make a Copy". If you need help please reach out to me on Twitter or in the DFSR chatroom on Wednesday morning and evening.
Arnold Palmer Invitational
Welcome back for another week of daily fantasy golf. This year's Arnold Palmer Invitational will have a completely different feel than the 38 before it as the "King" himself will not be there to hand off the trophy on Sunday. It will be an emotional week for many as they are reminded of all the amazing things Arnold Palmer has done on, and most importantly, off the course. His gigantic smile may be gone but the Legacy of who Arnold Palmer was and what he meant to the game of golf will always live on!
While only two Americans(Bubba Watson & Rickie Fowler) in the Top 20 of the Official World Golf Ranking will be at Bay Hill this week, the field is still very strong. Five of the Top 10 players and 29 of the Top 50 have accepted their invites to honor the King and try and win the tournament. Before getting into the picks, let's take a look at the course.
The Course
Bay Hill Club & Lodge - Orlando, FL
Par 72 - 7,419 Yards
Greens - Bermuda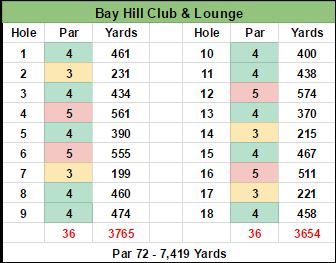 *Click to enlarge*
Bay Hill is a Par 72 setup that stretches 7,419 yards through tree lined fairways with a heavy presence of water and sand. For a terrific look at every hole check out the flyover videos by "Arnold Palmer's Bay Hill Club and Lodge" on YouTube.

As you can see, water comes into play big time on six of the 18 holes with a ton of strategically placed bunkers on the fairways and protecting almost every green. You will also notice the course is going to play longer than its posted 7,419 due to some forced layups with three or four holes which will be a "less than driver" off the tee approach for most of the field.
The Stats & Fantasy Approach
With all four Par 3's coming in over 200 yards, it will put a ton of importance on Par 4 and 5 scoring which have made up nearly 90% of the scoring over the past two years. This is back up by the correlation stats over the past two years which have seen Par 4 Scoring and Birdie Better % right at the top of most important. Most of all, this course requires players to be on top of their game from Tee to Green so the most weighted stat this week is going to be Strokes Gained: Tee to Green. I will also be sprinkling in some long iron stats from 175-200 and 200+ yards with some of the forced layups on Par 4's and 5's.
From a fantasy perspective, we have a whole game in town this week as FanDuel has launched their PGA product. I have added the salaries to my cheatsheet and will be testing the waters this week and will be analyzing the data to help provide specific strategies for each site moving forward. For starters, here are the basic rules:
With a salary cap of  $60,000, you will select eight golfers. The catch? You must select four golfers for the first two rounds and four other golfers for the final two rounds. You will only receive round points(birdies, pars, bogey, streaks, etc..) for each golfer in the rounds you select him. You will, however, receive finishing position points for all eight of your golfers.
The main scoring is very similar to DraftKings awarding positive points for Birdies, Eagles, and Pars and negative points for Bogey or worse. The big difference I notice right away is that Double Bogeys or worse are much more penalized on FanDuel.
Golfers can also grab bonus points in a variety of ways

Streak Bonus(.6) - Consecutive holes under par
5+ Birdies(4) - Complete  a round with five or more Birdies
Bounce Back(.3) - A hole under par after a hole over par
Bogey-Free Round(5) - No Bogeys over the entire round
As you can see the game is very similar but also very different from what we are used to. The one thing I like so far from the standpoint of picking golfers for different rounds is that I am already tracking Scoring Average before the Cut. This gives us a closer look at the splits of a player and help determine whether he is best suited for rounds 1-2 and rounds 3-4. I will also be adding final round scoring average to assist in this as well.
For a feel of where ownership is going to be this week, be sure to head over to FanSharSports where they track all the social media mentions of all players throughout the week. They then quantify this data and rank each player in their "Most Tagged List". They have also added Salary Differential, Subject Tags and Projections. All the tools you need to help you become a better daily fantasy golf player.
High End Targets ($9,000+)
Rory McIlroy
World Golf Ranking (#3)
Vegas Odds (7/1)
Draftkings ($12,000)
FanDuel ($10,700)

First of all, I think it's really close at the top this week and I will have exposure to almost all the top-tier golfers $9,500 and up. It starts with Rory who made his return to the WGC Mexico two weeks ago. He started out red hot with rounds of 68 and 65 but fell off the pace a bit on the weekend but still finished with a T7. He has played here twice, finishing T11 in 2015 and even with two rounds of 75 last year, picked up a T27 with an incredible final round that included five birdies and two eagles. Looking at the stats, he ranks 1st in SG: T2G, 2nd SG:OTT + APP(Ball Striking 2.0), 7th in Driving Distance, 4th in Par 5 scoring, and 6th in birdie or better %. If you are playing both sites this week Rory is best utilized on DraftKings where he doesn't get as punished by his bogeys or worse as he ranks 64th in Bogey Avoidance in the field.
Rickie Fowler
World Golf Ranking (#9)
Vegas Odds (16/1)
Draftkings ($9,900)
FanDuel ($9,500)
It's been a great start to the season for Fowler. He picked up his fourth career win at the Honda Classic to kick off the Florida swing and has three Top 10's. Since missing the cut at the Farmers Insurance Open, he has recorded a score under 70 in 10 of his 12 rounds. Statistically, he is elite and ranked Top 10 in SG: T2G, GIR from 175-200 and 200+ yards, Par 3 & 4 scoring, Bogey Avoidance, Scrambling and Sand Save %. His course history here isn't great but has a Top 5 back in 2013 and is playing great now. He is safe in all formats this week under $10K on both sites.
Justin Rose
World Golf Ranking (#13)
Vegas Odds (20/1)
Draftkings ($9,500)
FanDuel ($9,700)
Due to Rose playing in mostly high-profile events, he always comes at a bit of a discount under $10K. In fact, he has only been over $10K once this season back at the Farmers Insurance Open. This does drive up the ownership(ranks 6th in GPP avg own%) but he has been very consistent this season. In five PGA Tour events, he has three top 10's and two finishes of T38 and T39. He also comes back to Bay Hill with some nice course history with four Top 10's in 11 events including last season's T9 finish. He also fits the model statistically ranking 5th in SG:T2G, 1st in SG: OTT, 7th in SG: OTT + APP, 3rd in GIR from 200+ yards, 7th in Par 4 scoring, 9th in par 5 scoring and 7th in BoB%. He ranks #2 in my overall model and is another safe play in all formats under $10K on both sites.
Also Consider: Jason Day(GPP)
Mid Tier Targets ($7,000 - $8,900)
Francesco Molinari
World Golf Ranking (#33)
Vegas Odds (45/1)
Draftkings ($8,600)
FanDuel ($7,700)

I would bet he is going to see an ownership spike this week after a season average of under 8% in GPP's. He comes back to Bay Hill and Arnie's tournament with tremendous course history making all four cuts with two Top 10's. His game translates well as he ranks 14th in SG: T2G, 2nd in SG: APP, 3rd in Driving Accuracy, 17th in Par 4 scoring, 8th in par 5 scoring and 10th in BoB%. His form has also been spot on coming into this week with six Top 25 finishes in seven starts.
Zach Johnson
World Golf Ranking (#42)
Vegas Odds (66/1)
Draftkings ($8,500)
FanDuel ($8,500)

Zach doesn't come in with great form but that might open up an opportunity for a lower ownership in GPP's, especially with a loaded top tier. Form hasn't stopped ZJ in the past from performing here as he has gone into each of the last two years events with a missed cut and worse than a T45 finish and ended up finishing Top 10 at Arnie's tournament both years. In his career, he has made 12 of 13 cuts here at Bay Hill with five Top 5 finishes. Statistically, nothing really pops off the page besides his Top 10 rank in Scrambling, SG:ATG and Par 5 scoring, all of which should play a big role this week.
Wesley Bryan
World Golf Ranking (#72)
Vegas Odds (45/1)
Draftkings ($7,100)
FanDuel ($6,700)

Bryan is quickly proving to the world that he is much more than a trick-shot artist. He actually used those skills this past week to make an unbelievable approach shot from a cart path and then followed it up by making the birdie putt. Check it out.

He ended up with three rounds of 68 and a T7 at the Valspar Championship, his third straight Top 10 finish. He doesn't have the driving distance of some of the players but makes it up with his approach shots and around the green game. It's his first trip to Bay Hill so I wouldn't trust him in cash games but he makes an excellent Top 20 upside play at a value price in the low $7K range.
Low End Target (Min Price - $6,900)
Marc Leishman
World Golf Ranking (#62)
Vegas Odds (80/1)
Draftkings ($6,800)
FanDuel ($7,100)
Leishman has been a very consistent option this season and now comes with a season-low salary of $6,800 on DraftKings. That alone makes it a great time to jump on board but that isn't the only reason. He has played here seven times in his career with five made cuts including a T17 last season. He is an elite putter(2nd in SG: Putting) and also ranks inside the Top 20 in SG: ATG, Par 3 and 4 scoring, Scoring average before the cut, bogey avoidance, and birdie or better %. That is an excellent fit for what we are looking for this week. Looking at FanShareSports most tagged list, he also appears to be a nice low ownership play.
Also Consider:  Lucas Glover
If you have any questions leading up to lineup lock Thursday morning you can reach me in a variety of ways. Leave a Q below in the comment section and I will get you an answer. You can hit me up in the new chatroom here at DFSR(It's crazy busy with NBA/NHL talk so try and private message me for specific PGA Q's. I am also always available on Twitter(@jager_bombs9). Good luck this week!
**Note on Stats - The stats I refer to in this article are from my own spreadsheet/cheatsheet and weigh both 2017 and 2016 stats. If you have any questions about the cheatsheet please contact me on Twitter(@Jager_Boms9).**
Arnold Palmer Invitational Update Thread
**Weather Update**
Chris Durell has been playing Daily Fantasy Sports for three years and fantasy in general for more than a decade. He is active player in college football, NFL, NBA and of course PGA. He lives in Saskatchewan, Canada with his wife and two daughters. You can follow him on Twitter at @jager_bombs9 for advice, strategy, answers to any PGA questions and how he copes with the winters up north.
image sources
Rickie Fowler: (AP Photo/Rick Scuteri)