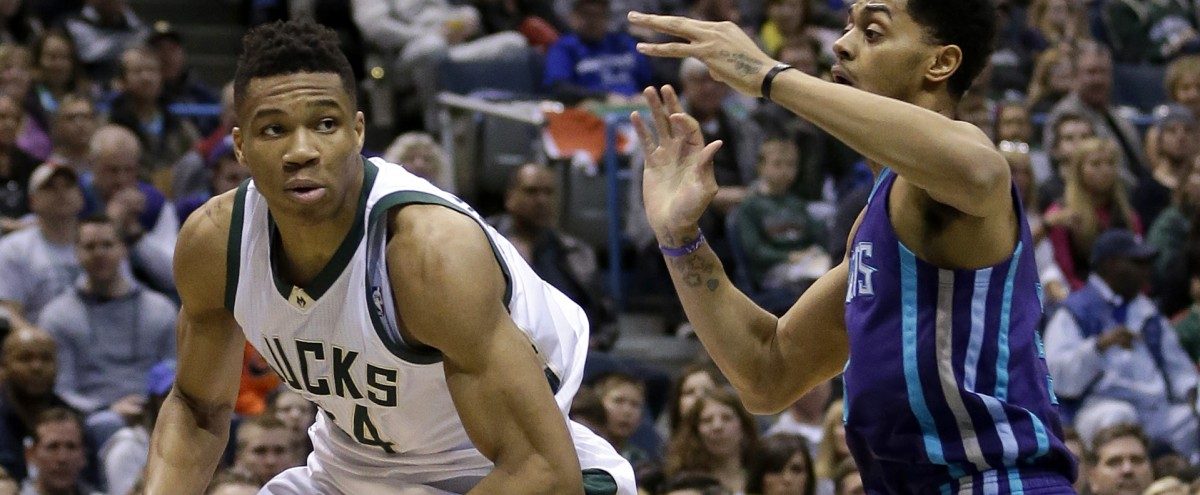 Daily Fantasy NBA News and Injury Updates for FanDuel and DraftKings - 4/12/17
Welcome to the daily updates and injury news article. We'll try and update it right up to line-up locks with as much information as comes across our desks. Let's get to it!
Last night's picks can be found here, so you can wrap your mind around what you need to be looking at before lineups lock tonight.
By the way - we keep our projection system updated with all of the changes as they occur throughout the day right up until lineup lock. Every day. If you want access to that system so you can cut out a lot of the research element, click the button below!
What We Know
Giannis Antetokounmpo, Khris Middleton, and Tony Snell will all sit against the Celtics
Malcolm Brogdon and Greg Monroe are the only 2 guys with any talent left on this team so you have to like them. Michael beasley could also see a ton of run and he has unlimited upside.
John Wall, Brad Beal, and Markieff Morris are all listed as out
With Otto Porter back, you can expect him to shoot a ton. Brandon Jennings and Jason Smith could also see some minutes and shots. Jennings is my favorite of the two.
Kristaps Porzingis and Carmelo Anthony will sit against the 76'ers
Maurice Ndour has been playing big minutes and he becomes an interesting play tonight. Guillermo Hernangomez is also pretty safe against a horrible 76'ers interior.
Brook Lopez and Jeremy Lin will sit against the Bulls
Lopez and Lin are the only 2 guys who have been shooting a lot lately, so it'll be interesting to see how this works out. Still, I don't love anyone. The Nets play a ton of guys and I think they just play everyone 22-24 minutes. Trevor Booker is an interesting GPP play.
Draymond Green and Andre Iguodala will be rested against the Lakers
The Warriors have nothing to play for, so I don't love anything here. With Durant back, the usage is a bit more spread out. Matt Barnes could see some minutes at 3/4 and be a good tournament play. Curry and Thompson always have the upside as well.
Anthony Davis and DeMarcus Cousins will both rest for the regular season finale
Alexis Ajinca and Cheick Diallo are my 2 favorite options here down low. They should each see 25 minutes and hit value. Jordan Crawford and Jrue Holiday will both see an uptick in usage.
Damian Lillard, C.J. McCollum, and Allen Crabbe are all out tonight
Shabazz Napier will once again see big minutes and be a phenomenal play. Connaughton and Layman were both good last game and I could see them getting an extended run here. Aminu may also see a usage uptick when on the court.
Cavaliers situation
Stay away, at least that's what I'm going to do. With LeBron already out, I think the team is shaky. Love and Irving are both questionable and make very high upside GPP plays but I won't be doing it. If all 3 get ruled out, Deron Williams and Channing Frye are great ways to go.
The entire Hawks starting 5 is out
Wow, talk about a rest day. Malcolm Delaney, Taurean Prince, and Ersan Ilyasova are my 3 favorite guys. They should each see at least 30 minutes and pay off their salary with ease. Lamar Patterson and Kris Humphries could also see some minutes and be interesting tournament options.
Harrison Barnes, Dirk Nowitzki, and Wes Matthews are all out
This is another spot I'm staying away from. The Mavs benched some guys at halftime last game and I have no interest in targeting players on a team where that's even a possibility.
What We're Waiting to know
DeMar DeRozan is questionable to play against the Cavs
If DeRozan plays, go ahead and get some exposure in tournaments. If DeRozan is out, Kyle Lowry is a phenomenal way to go against Kyrie Irving defense. this game will be competitive and Lowry has a great match-up. Norman Powell will also see an extended run at the 2 and makes for a good tournament option.
The "Every Lineup" Guys
Shabazz Napier
Napier put on a show with these guys out last game, finishing with 45 fantasy points against the slow Spurs defense. He is a must-play tonight against the Pelicans and their atrocious defense. Napier will shoot 20 times again and I see no reason to fade. At all. In tournaments, I guess you could bet on an injury or something. Other than that, I don't think Napier has many paths to not paying off his salary.
Boban Marjanovic
BOBAN! hey, with such a mess in the NBA tonight, cheer yourself up and play some Boban. If you want to see a 10 foot barbarian run around for 25 minutes, he's your guy. The Magic are very weak down low and I'm not sure there's anyone on this team that will slow him down or even try to. Van Gundy has been playing Boban consistently and there is no expectation of him sitting in the season finale. At center, Boban is a great way to go. Unless Napier, you can fade him. There are som great alternatives at the position like Hernangomez and Ajinca.
GRAB A FREE TRIAL OF OUR PROJECTION SYSTEM, AND CHECK OUT DFSR PRO!
GET OUR FREE EBOOK ON DAILY FANTASY NBA!
And Daily Fantasy NBA Picks for FanDuel and DraftKings every day!