Daily Fantasy PGA Picks for DraftKings - Valero Texas Open
DFSR is proud to bring you, Chris Durell. He'll be bringing weekly PGA picks, analysis, and breakdowns to help you cash on DraftKings. As every week in DFS PGA changes with the course setup, field of players and weather, Chris will be providing a range of different picks for cash games as well as upside plays for tournaments. If you have any questions to lineup lock you can reach him a variety of ways. Leave your question/comment below in the comments section, find him in the DFSR Chat room or hit him up on Twitter(@Jager_Bombs9).


Chris is also currently providing his DFS PGA cheatsheet for FREE while it is still in BETA mode. You can also grab a copy of the Salary/DK Points/Ownership Trends Sheet HERE. If you are looking for some help with either sheet please go check out my YouTube video going over this week's sheet for the Masters.
Valero Texas Open
Welcome back for another week of daily fantasy golf. After a huge first career victory from trick shot king Wesley Bryan, the PGA Tour heads to the Greg Norman/Sergio Garcia designed Oak Course at TPC San Antonio. Unfortunately for golf fans, we won't be seeing many of the world's elite due to scheduling. We are now just two weeks removed from the Masters, a week away from the newly formatted Zurich Classic and less than a month away from the Players Championship. Patrick Reed(15) and Matt Kuchar(17) highlight the field as the only two golfers inside the Top 20 in the world. Overall, there are only nine of the world's Top 50 players but don't let that get you down as this is where the cheatsheet and added research can really pay off. Let's take a look at the course.
The Course
TPC San Antonio (AT&T Oaks Course)
Par 72 - 7,552 Yards
Greens - Bermuda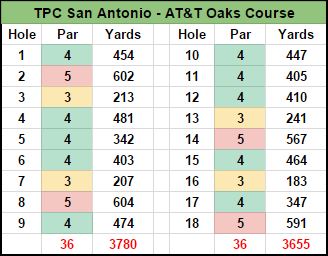 *Click to enlarge*
The Stats & Fantasy Approach
My Top 5 Key Stats:
Strokes Gained: Off the Tee + Approach
Driving Distance
Par 4 Scoring
Birdie or Better %
Strokes Gained: Putting
The Oaks course is a longer track with minimal elevation when comparing it to the Canyons of TPC San Antonio. The fairways are harder than average to hit and are surrounded by natural areas where golfers can get into a drop shot situation and lose strokes. Because of these factors, I will be looking at Strokes Gained Off the Tee + Approach as my key stat this week. I will also be sprinkling in Driving Distance with those as length matters on the long course. Looking at the hole by hole stats for the last three years, Par 4 Scoring stood out a bit more than Par 5 scoring but both will be weighed this week. As always, Birdie or Better % is weighted as it correlated the closest to DraftKings scoring and also looking at the sheet, Strokes Gained: Putting showed up as a correlated stats here.
For some more in-depth analysis and course breakdown head over to Future of Fantasy where you can find almost any trend possible. Windy round rankings, Pete Dye Course rankings, Bermuda Grass rankings and more. 
For a feel of where ownership is going to be this week, be sure to head over to FanSharSports where they track all the social media mentions of all players throughout the week. They then quantify this data and rank each player in their "Most Tagged List". They have also added Salary Differential, Subject Tags and Projections. All the tools you need to help you become a better daily fantasy golf player.
I have decided to setup my article a bit different going forward and concentrate a little more on the information from my cheatsheet. I will be mentioning players who show up very high in my Course History, Current Form and Stats models. Let's jump right in and have a look at the top golfers this week.
Top Course History Targets
Charley Hoffman
World Golf Ranking (#49)
Vegas Odds (25/1)
Draftkings ($10,700)
FanDuel ($8,300)

There is no one in this week's field who comes to TPC San Antonio with better course history. In his career, he has made all 11 cuts here and after finishing Top 15 in seven straight years, broke through with the win last season. He also comes back to Texas with some nice form making eight of 11 cuts in 2017 including two Top 5's and five Top 25 finishes. I am writing this before salaries are out but Hoffman saw a big bump to $8,700 on DraftKings for the RBC Heritage and I only see that going up as he is one of only nine players in the field currently inside the Top 50 in the world.
Daniel Summerhays
World Golf Ranking (#85)
Vegas Odds (75/1)
Draftkings ($7,000)
FanDuel ($6,600)
Summerhays hasn't played here as much as Hoffman but has similar results. He has yet to win here but has five straight Top 30 finishes including a stretch from 2013 to 2015 where he had recorded a T7, T2, and T4. Summerhays is much more of a GPP play as his form has not been on lately as he went into the RBC Heritage with no finishes inside the Top 40 with three missed cuts since his T16 at the Waste Management Phoneix Open. The good news is that he is currently four under sitting in T31 going into Sunday's final round.
Harold Varner III
World Golf Ranking (#124)
Vegas Odds (80/1)
Draftkings ($7,800)
FanDuel ($5,900)
He has only played here once but looked comfortable with a T9 finish last season. It was the second of his four Top 10's in his 2016 rookie season.While he has yet to record a Top 10 this season, he has picked up a win at the Australian PGA Championship in December and comes into this week with four straight made cuts and has made six of his last eight. He is definitely risky but has upside in a weaker field if he can make some putts this week.
Top Current Form Targets
Adam Hadwin
World Golf Ranking (#46)
Vegas Odds (30/1)
Draftkings ($9,100)
FanDuel ($8,900)

It has been quite a season on the PGA Tour for Hadwin. After missing the cut at the Safeway Open he fell to 200th in the world rankings but has quickly made up ground and now sits inside the Top 50. Since the missed cut in October, he has made 12 straight cuts including his first career win at the Valspar Championship, runner-up at the CareerBuilder Challenge and four total Top 10 finishes. He missed the cut here in his only other trip but is a completely different player this season and stats prove it. He is currently 18th in Strokes Gained: Putting, 15th in Strokes Gained: Approach and 23rd in Strokes Gained: Tee to Green. Fatigue could be a factor as it will be his third straight week playing but hard to fade as he ranks 9th overall in average DraftKings points per tournament since the calendar flipped to 2017.
Brendan Steele
World Golf Ranking (#57)
Vegas Odds (28/1)
Draftkings ($9,900)
FanDuel ($8,500)

Steele returns to the site of his first career victory this week and is in fantastic form in 2017. He opened the season with a win at the Safeway Open and has not missed a cut all year in 12 events. He is coming off a nice Sunday at Augusta where he shot a 69 and finished T27 for the week. He also sits right at the top of my stats model this week as he ranks 1st overall in the field in SG: T2G, 18t, in SG: OTT, 5th in SG: APP, 3rd in Par 4 and 5 scoring, and 2nd in Bogey Avoidance. Fire up Steele in all formats.
Jimmy Walker
World Golf Ranking (#25)
Vegas Odds (20/1)
Draftkings ($10,500)
FanDuel ($9,700)
After a rough start to the season where he missed three of his first five cuts and a near dead last finish at the HSBC Champions, Walker is starting to pick up steam. He has made seven straight cuts including a T18 most recently at the Masters. He is another former winner of this event(2015) and has two Top 10's and made seven of 11 cuts here in his career. He has really struggled off the tee this season(180th) but has been top shelf(sorry hockey playoffs are on) as he ranks 23rd overall on Tour. He is probably too risky for cash games but is an excellent, high upside GPP play.
Who the Stat Like
Tony Finau
World Golf Ranking (#74)
Vegas Odds (35/1)
Draftkings ($8,400)
FanDuel ($8,100)
I already talked about Hadwin and Steel who rank #1 and #3 in my overall model so we will jump right to the guy in the middle of them, Tony Finau. Looking at the field ranks for this week, Finau is 1st in SG: OTT, 2nd in SG: OTT + APP, 5th in Driving Distance, 4th in Par 4 Scoring, 3rd and 14th in GIR from 175-200 and 200+ and 15th in both Bogey Avoidance and Birdie or Better %. The only risky part of his game is his putting which ranks 118th on the sheet. This alone makes him a GPP only play but he comes with a ton of upside and if he can make some key putts, he will be on the leaderboard on Sunday.
Billy Horschel
World Golf Ranking (#)
Vegas Odds (35/1)
Draftkings ($8,900)
FanDuel ($7,300)
He absolutely burned me last time I wrote him up but I won't let that affect my decision making this week as he is a great play for more than his stats. He is 11th overall in my stats model thanks to ranks of 12th in SG: OTT + APP, 3rd in GIR from 200+,  4th in BoB% and 11th in Bogey Avoidance. On top of the stats, Horschel has some excellent course history including two straight Top 5 finishes and three in his last four trips to the Oaks Course. With Hadwin and Donald likely commanding a ton of ownership, Horschel makes a projected low owned GPP play.
If you have any questions leading up to lineup lock Thursday morning you can reach me in a variety of ways. Leave a Q below in the comment section and I will get you an answer. You can hit me up in the new chatroom here at DFSR(It's crazy busy with NBA/NHL talk so try and private message me for specific PGA Q's. I am also always available on Twitter(@jager_bombs9). Good luck this week!
**Note on Stats - The stats I refer to in this article are from my own spreadsheet/cheatsheet and weigh both 2017 and 2016 stats. If you have any questions about the cheatsheet please contact me on Twitter(@Jager_Boms9).**
Valero Texas Open Update Thread
**Weather Update**
I will be digging into the weather closer to tee off and will report anything in the commetns section below and on my Twitter feed(@Jager_Bombs9)
Chris Durell has been playing Daily Fantasy Sports for three years and fantasy in general for more than a decade. He is active player in college football, NFL, NBA and of course PGA. He lives in Saskatchewan, Canada with his wife and two daughters. You can follow him on Twitter at @jager_bombs9 for advice, strategy, answers to any PGA questions and how he copes with the winters up north.
image sources
Charlie Hoffman: (AP Photo/Chris O'Meara)