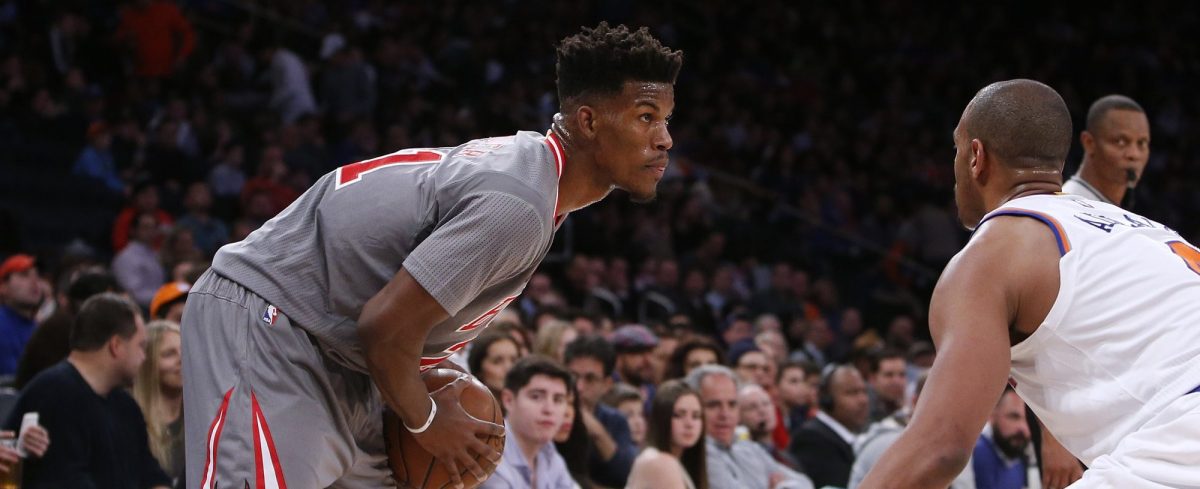 Daily Fantasy NBA Basketball Picks for FanDuel and DraftKings - 4/21/17
Well, last night we witnessed an all-time great comeback on the part of Lebron and the Cavs' second unit. It was really something to behold. Unfortunately we got the other side of things with that Raptor performance. The NBA giveth and the it taketh away. Here's to hoping for a solid three games tonight.
Now's your chance to get DFSR PRO, which will give you access to our NBA optimizer, our MLB Optimizer, and our new MLB player lab! Get started for free by clicking the button below.
First time with NBA? Be sure to read our free NBA Ebook on building lineups, general strategy and more. We've got you completely covered.
Boston Celtics at Chicago Bulls
It's officially panic time in Boston. They've lost the first two games of the series and Game Two wasn't particularly close. The Bulls got near peak performances from some of their starters and looked moderately rejuvenated considering their personnel. After going through most of the season with hodgepodge rotations. They've settled into the playoffs playing Jimmy Butler and Rajon Rondo huge minutes. The latter turned in a fantastic game last time out with an 11/14/9 line and added in 5 steals in 40 minutes. He'll likely get similar run in Game Three though it's worth noting that he's seen a big price increase (especially on FanDuel). Butler meanwhile isn't Jimmy Minutes for nothing. He played 42 last game and will almost definitely see a similar amount here. He's expensive though does make an interesting price pivot off the two other big names on the slate (we'll get to them in a bit).
Robin Lopez has seen solid, low 30's, minutes and has been efficient both in scoring and on the glass. But he, like his two teammates above has seen a price bump on both sites because of it. If anything, Dwyane Wade remains the strongest dollar-for-dollar deal on the Bulls and he was second on the team in shots last game with 16. I like him at a tough to fill shooting guard slot.
Meanwhile, Celtics shook up some of their rotations last game but it didn't seem to matter much. They lost the rebounding game and struggled from beyond the arc. Isaiah Thomas could be one of the best values on the entire slate tonight. He finished with 42 minutes and the Celtics are going to need his scoring and playmaking in this one. He's able to "hide" on D with Rondo playing big minutes and that makes it easier for Thomas to stay on the court. From a DFS perspective, the rest of the Celts are kind of a mess. Avery Bradley played a ton last game, but kind of stunk and al Horford wasn't able to get anything going on offense. I suppose you could see a shake up with their starting lineup but Thomas and Bradley are the two guys I'll be targeting here.

Houston Rockets at Oklahoma City Thunder
Well that last one was something huh? I'm struggling on even where to start summing up that game. It was so high-octane and brutal at the same time. Exciting and a letdown all at once. Westbrook's performance was transcendent until it wasn't. It is just really hard to put into words what it was like watching that game, especially the 4th quarter. Russell Westbrook put up an ungodly 51/13/10/4 line, only turned the ball over 4 times and yet the Thunder still lost. Part of that was the rest of the team didn't do much because Russ was taking all of the shots. He put up a 17-43 shooting performance to go with 2-11 from three. Like I said, this game was all over the place. Westbrook sees a massive price climb after that game up to $14600 on FanDuel and $13900 on DraftKings. I think he's a pretty easy fade on those tags considering how tough it is to fit salary even in the best of playoff short slates. This isn't one of them. And while I think it will be fun to watch again, I'll be on the other side of the Russ fade train.
The rest of OKC was basically an after thought. Victor Oladipo played 41 minutes but only saw 14 shots. I do think he is a value in this one and OKC will have to involve him a little more (you would think) on the offensive end.
On the the Houston side of the ball, they were lead by Harden but he was underwhelming considering his price. The biggest contributions they got (outside of the Beard) were from Eric Gordon and Lou Williams who put up 22 and 21 off the bench respectively. It's hard to trust those minutes and production and honestly, it's tough to trust really anyone on the Rockets for their prices. I do think another 40 minutes could provide value on Trevor Ariza if he can get anything going from beyond the arc.

Los Angeles Clippers at Utah Jazz
The Jazz will be without Rudy Gobert again for Game Three of the series after squeaking out a 1-1 split in LA. The Clippers were able to take advantage of the Jazz's lack of size without their big man as LA out rebounded the Jazz 39-33 and were especially effective on the offensive glass. That should be a theme again in this one with Utah likely starting Favors again at the five. DeAndre Jordan was excellent going 18/15 before fouling out late. Chris Paul and Blake Griffin are playing big minutes, but I'm not convinced they are huge values on this slate. Both have seen a price increase (Paul especially) and the Jazz are still playing a slower pace even without the Stifle Tower.
J.J. Redick is one guy I'm still waiting to get it going. He's really struggled in the first two games and hasn't been able to get anything going at all. The first game was the turnovers, the second game it was fouls. The Jazz are picking him up off screens and it's kept his price down. I think you are still buying him cheap at SG on FD.
The Jazz have a bunch of places to buy on this slate. Gordon Hayward tied for the team lead in shots on Tuesday and finished with a 20/6/2 line in 39 minutes. They'll need him to keep attacking from the wing and he is a solid mid tier play on both sites even if he doesn't have a ton of upside.
Derrick Favors and George Hill are both coming very cheap for their respective roles even if they are going to have to fight through a stingy LA defense. We are mostly taking them at their price points considering other guys have been inflated.
GRAB A FREE TRIAL OF OUR PROJECTION SYSTEM, AND CHECK OUT DFSR PRO!
GET OUR FREE EBOOK ON DAILY FANTASY MLB and NBA!
And Daily Fantasy NBA Picks for FanDuel and DraftKings every day!