Daily Fantasy PGA Picks for DraftKings - Wells Fargo Championship
DFSR is proud to bring you, Chris Durell. He'll be bringing weekly PGA picks, analysis, and breakdowns to help you cash on DraftKings. As every week in DFS PGA changes with the course setup, field of players and weather, Chris will be providing a range of different picks for cash games as well as upside plays for tournaments. If you have any questions to lineup lock you can reach him a variety of ways. Leave your question/comment below in the comments section, find him in the DFSR Chat room or hit him up on Twitter(@Jager_Bombs9).


Chris is also currently providing his DFS PGA cheatsheet for FREE while it is still in BETA mode. You can also grab a copy of the Salary/DK Points/Ownership Trends Sheet HERE. If you are looking for some help with either sheet please go check out my YouTube video going over this week's sheet for the Masters.
Wells Fargo Championship
After a week off of daily fantasy on the PGA Tour for the Zurich Classic team event, we are back for the Wells Fargo Championship. This year's event will be a bit different than years past as the regular host course, Quail Hollow, will be hosting the 99th PGA Championship later this summer. That opens up a tremendous opportunity for the players to hit the Tom Fazio designed Eagle Point Golf Club. This will be the first Tour event held here but may not be the last after overwhelming positive feedback leading up to the event. Many players are comparing the attention to detail and course management to that of Augusta National. Pretty sick comparison! They hired Marsh Benson to help with some course improvements to get Eagle Point ready for this event including overseeding the course to Rye(used at Augusta). Marsh spent 27 years as the superintendent at Augusta and know what it takes to make a beautiful but very inviting playing environment for the players. The fairways are relatively straight with trees lining them and most holes with sand bunkers or water or both creating some choices that golfers will have to make. The greens are large in size but are very undulating and multi-tiered making the approach shot much harder than it appears on paper. Much like Augusta, most of the greens also have false fronts which can really tighten up the landing zones.
The Course
Eagle Point Golf Club - Wilmington, North Carolina
Par 72 - 7,400 Yards
Greens - Bentgrass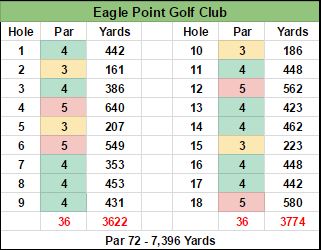 *Click to enlarge*
The Stats & Fantasy Approach
My Top 5 Key Stats:
Strokes Gained: Off the Tee/Driving Distance
Strokes Gained: Approach
GIR from 150-175
Birdie or Better %
Scrambling
With a new course that will be a bit of a mystery, I am going to keep things pretty simple this week in my model. Of the two strokes gained metrics I have listed, I will have almost double the weight on approach shots as it will be key to get to the correct spots on the green to 1. have a chance at making birdie and 2. avoid multiple 30+ foot putts and boxes on the scorecard. With the length in the 7,400 plus range I will also be looking at some guys with added distance although I don't think it is completely crucial this week as all of the Par 4's come in under 462 yards and should leave players with mid-range approach shots. That is where I have also added GIR from 150-175 as I feel that is where most of the approaches will come from. As always, I will be looking at Bidie or Better % as it correlates so well with fantasy scoring. Finally, I will be weighing scrambling as well as it should come into play with the shaved banks that should lead to some approach shots to roll away, leaving the players some tricky up and downs with faster undulating greens.
With the course a bit of an unknown this week, I will be trying to nail down some ownership projections and finding some pivots for GPP's which I will list at the end of this article.
For a feel of where ownership is going to be this week, be sure to head over to FanSharSports where they track all the social media mentions of all players throughout the week. They then quantify this data and rank each player in their "Most Tagged List". They have also added Salary Differential, Subject Tags and Projections. All the tools you need to help you become a better daily fantasy golf player.
Top Course History Targets
With no Tour events held at Eagle Point before this week, there is almost zero weight to be put on Course History but there are a few golfers who are members here and might have a bit of an advantage. Let's take a look.
Webb Simpson
World Golf Ranking (#67)
Vegas Odds (35/1)
Draftkings ($9,700)
FanDuel ($7,300)

One of the Tour players that are a member here is Webb Simpson. While he has experience at this course while some others may not, I would be cautious when using him in daily fantasy this week. With no weight really at all on course history, I will be looking very closely at stats but more importantly current form and Webb just doesn't fit the bill. Since his runner-up at the Waste Management Phoenix Open, Webb has missed three of six cuts with a T39 and T41. Even his most recent T11 at the RBC Heritage was a bit disappointing as he somewhat fell apart in the final round, shooting a 74. Looking at FanShareSports this week, Webb is currently the #1 most tagged golfer. Add it all up and the risk is much too high for the projected ownership but if you are wanting to get some of that local knowledge in your lineup, roster Webb on FanDuel in the mid $7K range.
Bill Haas
World Golf Ranking (#41)
Vegas Odds (35/1
Draftkings ($9,500)
FanDuel ($8,500)
As expected, Haas is currently #2 on the FanShareSports most tagged list as he is one of the other three golfers with local knowledge being a member here. Haas has been a bit more consistent this season with seven Top 25 finishes but the form is almost identical after missing the cut in a big way(71/76) at the RBC Heritage. I prefer Haas over Webb this week due to a few stats. He is better off the tee, a slightly better scrambler and looking at that GIR from 150-175 stat, Haas is ranked 5th while Webb is ranked 87th. With both golfers projected to be in the Top 5 of ownership, I won't have a whole lot of exposure this week as a GPP player.
Top Current Form Targets
John Rahm
World Golf Ranking (#13)
Vegas Odds (12/1)
Draftkings ($11,000)
FanDuel ($10,500)

Since turning pro after the US Open last year, Rahm has vaulted up the world rankings all the way from 551st to 13th. Wow! He has done so by making 17 cuts in 18 qualifying events including making all 11 cuts on the PGA Tour this season. He picked up his first career win at the Farmers Insurance Open and has four other Top 10's on his 2017 resume as well. he ranks #1 on my model because of the elite form and ranks behind only DJ in my stats model. Looking at the salary gap on DraftKings between the two, I will take the discount with Rahm as new courses have not even come close to stopping this kids momentum early in his career.
Francesco Molinari
World Golf Ranking (#34)
Vegas Odds (50/1)
Draftkings ($9,200)
FanDuel ($8,300)

Believe it or not, Molinari actually comes in a tick higher than DJ in the form ranks this week. I look at each player's last five events and average their finish positions. DJ had the one missed cut which brings that average just below Molinari's despite winning back to back events(not including Match Play). Molinari hasn't won but has been incredibly consistent with finishes of T22, T33, T7, T20 and T14 over his last five events and has made 10 of 11 cuts this season with three Top 10's and eight Top 25 finishes. He also fits the stats model very well(4th overall) with elite ranks in SG: APP(2nd), SG: APP+OTT(4th), Par 4 Scoring(9th), Par 5 Scoring(6th), BoB%(11th) and is not a bad scrambler either, ranking 25th in the field. As a GPP player, my favorite part about this play is that he is being mentioned a lot less than other guys in the $9K range and should be much less owned with similar upside.
Paul Casey
World Golf Ranking (#14)
Vegas Odds (20/1)
Draftkings ($9,900)
FanDuel ($9,400)
Casey is coming off a 6th place finish at the Masters after firing two impressive sub 70 rounds on the weekend. That is great news as he now comes to a course that should play similar to Augusta as I mentioned above. While that was Casey's first Top 10 since the Safeway Open last October, he has made 11 of 12 cuts on Tour this season with seven Top 25 finishes. he is another golfer who also fits the stats model this week ranking 11th in SG: APP, 26th in Driving Distance, 3rd in GIR from 150-175, 6th in Par 4 Scoring, and 7th in Bogey Avoidance. He is likely to be high owned but, for me, one of the safest plays of the week.
Other Notable Plays
The stats targets for this week closely resembled the players above in great form so instead, I will list a couple of my top plays who I haven't already mentioned.
Martin Laird
World Golf Ranking (#104)
Vegas Odds (70/1)
Draftkings ($7,100)
FanDuel ($7,300)
He sits nicely inside the Top 20 in my overall model this week ranking well in many areas. It starts with the ice value on DraftKings at 33rd in salary compared to his 22nd rank in early Vegas odds. Then there is the form which isn't going to pop off the page but he is coming off a T18 at the Valero Texas Open, which was his 4th Top 10 finish of the season. Statistically, he fits the model as well ranking 14th in SG: APP+OTT, 10th in Total Driving, 13th in Par 4 scoring, 22nd in Par 5 Scoring, 14th in Scrambling, 15th in Bogey Avoidance and 19th in BoB%.
Harold Varner
World Golf Ranking (#127)
Vegas Odds (100/1)
Draftkings ($6,300)
FanDuel ($6,000)
Scrolling down into the sub $7K range this week, Varner stood out right away. He ranks 14th in my overall model but don't mistake that for safety. He has been very boom or bust this season ranking 142nd in average DK points in 2017 but has been much better as of late with three straight tournaments with 66 or more points. He has got the distance advantage ranking 16th in the field and also ranks 27th overall in Strokes Gained: Approach + Off the Tee. The biggest thing is the upside he presents at a very low cost. While he should be considered for GPP only on both sites if you are playing on FanDuel make sure to use him in Rounds 1-2 as he ranks much higher in scoring the first two days.
If you have any questions leading up to lineup lock Thursday morning you can reach me in a variety of ways. Leave a Q below in the comment section and I will get you an answer. You can hit me up in the new chatroom here at DFSR(It's crazy busy with NBA/MLB talk so try and private message me for specific PGA Q's. I am also always available on Twitter(@jager_bombs9). Good luck this week!
**Note on Stats - The stats I refer to in this article are from my own spreadsheet/cheatsheet and weigh both 2017 and 2016 stats. If you have any questions about the cheatsheet please contact me on Twitter(@Jager_Boms9).**
Wells Fargo Championship Update Thread
**Weather Update**
I will update the notes below early in the week and then again closer to lineup lock on Wednesday afternoon to evening.
Tuesday Update - Looking at the hourly forecasts on a few other sites this week, it looks like there may be an advantage for the early Thursday/late Friday tee times. The wind appears to peak around 1-2 pm Thursday and thunderstorms are in the forecast for Friday am with wind backing off slightly in the afternoon.
Chris Durell has been playing Daily Fantasy Sports for three years and fantasy in general for more than a decade. He is active player in college football, NFL, NBA and of course PGA. He lives in Saskatchewan, Canada with his wife and two daughters. You can follow him on Twitter at @jager_bombs9 for advice, strategy, answers to any PGA questions and how he copes with the winters up north.