Baseball Picks Daily Fantasy
Expert Advice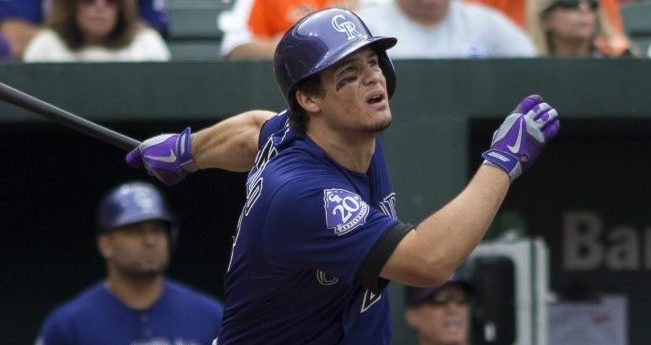 Daily Fantasy MLB Baseball Picks for FanDuel and DraftKings - 5/11/17
Welcome back for another Thursday in daily fantasy baseball. Today we have an 11 game All Day slate that begins with two games in the afternoon and is followed by nine games in the evening. And how could I not forget to mention another series in Coors with the Dodgers coming to town. Let's jump right into the picks.
Now's your chance to get DFSR PRO, which will give you access to our MLB optimizer, our NBA Optimizer, and our new player lab! Get started for free by clicking the button below.
First time with MLB? Be sure to read our free MLB and NBA Ebooks on building lineups, general strategy and more. We've got you completely covered.
Pitchers
Zack Greinke FD 10200 DK 10800
Opponent - PIT (Cole) Park - @ARI
FD - 31.16 DK - 20.58
I will start off by saying that I am not overly excited about any starting pitcher tonight. I lead off with Greinke who comes at a slight discount from Keuchel and ranks quite a bit higher from a PTS/$ standpoint on the projection system. Greinke also gets the big matchup advantage as Keuchel will face the hottest offense in baseball, the New York Yankees, who have nearly a .400 wOBA and 160 wRC+ over the last seven days. As for Greinke, he faces the Pirates who rank dead last in wOBA(.57) and wRC+(57) over the past seven days and have been much better vs. left-handed pitching. Greinke is also coming off a very impressive start in Coors Field where he struck out seven Rockies while allowing just six hits and two earned runs. He has recorded 27 strikeouts over his last three games bringing his K rate up to a very respectable 9.7 K/9 on the season. Roll him out in all formats tonight.
Jason Vargas FD 8800 DK 9000
Opponent - TB (Odorizzi) Park - @TB
FD - 28.38 DK - 18.78
If you are playing the early or all day slate today, especially from a cash game perspective, I think you have to turn to Vargas. I am having a really hard time buying into his early season numbers but digging deeper, I think they are somewhat sustainable. His 8.4 K/9 rate is just .1 higher than last season and his BABIP of .282 is not that much lower than his .318 career average. He is walking a career low 1.67 batters per nine and while the 1.19 ERA is not at all sustainable his xFIP of 3.51 is very respectable for a pitcher toss mid 80's heat(or lack there of). The Rays have pretty even splits so far but have been striking out over 27% the last seven days and 23.4% of the time vs. southpaws. This is great news as Vargas is running an elite 12% swinging strike rate. In the sub $7K price range, he opens up much more salary if you are trying to fit in the Coors bats on the all day slate.

Catcher
Buster Posey FD 3900 DK 3800
Opponent - CIN (Arroyo) Park - @SF
FD - 10.52 DK - 8.17
Posey really has everything going for him tonight. He is coming off a monster series vs. the Mets where he went 5 for 11 with a double and three home runs, one in each game of the series. He now gets to start a series with the Reds and one of the worst pitchers on the entire slate, Bronson Arroyo. He is giving up over 35% hard contact on the season and producing a very low 7% swing strike rate. That is bad news as Posey is only striking 10% of the time this season and while his team's offense has struggled overall, he is slashing a cool .362/.439/.532 on the season. He is the most expensive option on FanDuel which should help with some lower ownership on Coors night. On DraftKings, he is the sixth most expensive catcher and also eligible at first base.

Yasmani Grandal FD 3600 DK 4500
Opponent - COL (Anderson) Park - @COL
FD - 8.25 DK - 6.21
There may be some value that opens up at the position when battling lineups come out but for now, we will turn our attention to Coors Field where the Dodgers get a big park boost. Not only that, Grandal is cheaper than Posey on FanDuel and has been on a nice roll lately himself. Over the past seven days, he has put up a .405 wOBA with a 154 wRC+ and has hits in four straight(writing this before first pitch Wednesday night). He is in play in all formats on FanDuel and makes a nice addition to your GPP Dodgers stack on DraftKings with a big jump in salary.
First Base
Jose Abreu FD 3800 DK 4800
Opponent - MIN (Tepesch) Park - @CHW
FD - 10.53 DK - 8.05
Abreu will actually face Phil Hughes tonight who was scheduled to start yesterday before the rainout in Chicago. Abreu has been on a tear since a somewhat slow start to the season. Since April 23, he slashed .400/.459/.782 with an incredible .517 wOBA and has added five home runs. He should be able to build on those numbers tonight vs. Hughes who is striking out under six batters per nine and giving up a whoppign 43% hard contact rate. Play Abreu in all formats.
Cody Bellinger FD 3600 DK 4900
Opponent - COL (Anderson) Park - @COL
FD - 4.35 DK - 3.41
If you are reading this late Wednesday night, you are probably wondering why his projection is so low. Don't worry, you can expect a big bump come morning as Bellinger is on a fast track for the National League Rookie of the Year. After hitting five home runs in 77 appearances in AAA this season, he has already matched that total at the big league level. Through 13 games, he has a very impressive .320/.393/.680 slash line with .444 wOBA and is even showing patience at the plate walking over 10% of the time. There is definitely going to be some regression but it would be hard to pass up a red-hot bat going into Coors for a three-game series. His value is even higher on FanDuel where he sits in the mid $3K range.
Kennys Vargas FD 3000 DK 3900
Opponent - CHW (Gonzalez) Park - @CHW
FD - 8.61 DK - 6.55
If you are looking to go a bit off the board at the loaded position, take a shot with Vargas tonight. Since being called up on April 23, he has looked terrific with a .382 wOBA, 146 wRC+ and has added four home runs and 10 RBI. He has put up these numbers while dealing with the pressure of hitting in the middle of the lineup and while the lineup around him is nothing to jump up and down about, he will continue to provide high upside at a very low ownership.
Second Base
DJ LeMahieu FD 3400 DK 4900
Opponent - LAD (Ryu) Park - @COL
FD - 9.51 DK - 7.83
Heading right back to Coors for my top second base pick of the night and like most all bats in this game, their values are much better on FanDuel tonight. LeMahieu's numbers have fallen off somewhat to start the year but last year was more of an outlier than the norm and this is probably closer to what we should expect from him. He is hitting .271 with a .352 on-base percentage but it has been the run scoring that has fallen off with just a 77 wRC+ on the season. The good news is that he has not struggled against left-handed pitching with a .366 wOBA and 108 wRC+ and while Ryu has been better his last two starts, he still sits with a 28% HR/FB rate and that spells trouble with the high elevation in Colorado. He is safe in all formats on FanDuel.
Joe Panik FD 2900 DK 3600
Opponent - CIN (Arroyo) Park - @SF
FD - 8.22 DK - 6.51
If you are looking to pay down at the position, there is almost no better strategy than to target a player hitting leadoff and facing a weak pitcher. Panik has the leadoff part covered as he has been placed at the top of the Giants lineup for five straight games. He isn't going to provide much upside but is a patient hitter with a .288 average and .347 on-base percentage who can get around the bases and score some runs. Then there is the weak pitcher part of the formula and Bronson Arroyo fits the bill perfectly. He has been pitching in the majors for 17 years now but is getting to the end of his career and posting some bad numbers. Through six starts, he has posted a 6.53 ERA, 4.80 xFIP and has already given up seven home runs(17% HR/FB rate). If Panik is once again back in the leadoff spot, he is an elite value tonight.
Fire up No Half Time for baseball season, and get a $25 bonus code when you use promo code DFSR25MLB!

Shortstop
Jean Segura FD 4200 DK 4300
Opponent - TOR (Estrada) Park - @TOR
FD - 7.56 DK - 6.51
First of all, I think Corey Seager of the Dodgers is a great play on FanDuel but I lean Segura tonight as he comes at a $1,100 discount on DraftKings. Segura has arguably been the better hitter this year as well. In his first season with the Mariners, he is slashing .376/.414/.516 with three home runs, 21 runs scored, 13 RBI and five stolen bases. He is the primary leadoff hitter and has some big bats behind him(Cruz, Cano, Seager) to help get him around the bases. The matchup isn't elite as Estrada has been at limiting the power and extra base hits but he is nowhere near an elite pitcher and not much has come close to stopping Segura so far this season. He makes a great pivot off the Coors game and should also provide a lower ownership.
Zack Cozart FD 3300 DK 3700
Opponent - SF (Blach) Park - @SF
FD - 8.42 DK - 6.66
Cozart started off the season near the bottom of the lineup but now sits in the two hole, providing excellent PTS/$ value. He was moved up on April 28 and since the move has picked up a hit in eight of his 10 games including two doubles, a home run and most importantly 11 runs scored. Looking at his splits makes me like the play even more as he is facing a lefty Ty Blach and Cozart currently sits with a .465 wOBA and 186 wRC+ vs. left-handed pitching.
Third Base
Nolan Arenado FD 4700 DK 5300
Opponent - LAD (Ryu) Park - @COL
FD - 11.77 DK - 9.02
If you are paying up for one player tonight, I would suggest making it Nolan Arenado. He not only gets to hit in the best hitters park in the Majors, he also leads all of baseball with an incredible .610 wOBA and 264 wRC+ vs. left-handed pitching. Those are absolutely mind boggling numbers that he could easily build on tonight vs. Ryu who, like I mentioned before, has given up a 28% HR/FB rate so far this season. With those kinds of numbers, you would think he would be far and above the most expensive hitter on the slate but he is actually only the third most expensive on FanDuel and eighth on Draftkings. Take advantage in all formats.
Manny Machado FD 3800 DK 4900
Opponent - WSH (Cole) Park - @WSH
FD - 9.63 DK - 7.46
Machado gets nowhere near the hitter's environment as Arenado but is still a terrific play, especially on FanDuel at a $900 discount. While the average(.227) hasn't been there through 33 games, the power numbers have been as he has hit nine home runs, five of which have come in the month of May. He faces AJ tonight who picked up the win in his first start of the season going six innings vs. the Phillies but walked four and only struck out two batters. He has a limited sample size in the majors but his 91 mph fastball and secondary pitches have only generated a career 9% swinging strike rate. Manny should be able to take advantage a quickly regressing pitcher and if he can get on base, has a ton of power behind him to drive him in. You are going to want exposure to this game as it has the potential to be one of the highest scoring of the night outside of Coors.
Mike Moustakas FD 3300 DK 4200
Opponent - TB (Odorizzi) Park - @TB
FD - 10.21 DK - 7.86
As long as Moustakas remains at the top of the Royals order he makes a top value at the position if you are looking to save some salary. He has been the highlight of the Royals offense thus far leading them in runs scored, home runs, and sits third in total hits. The average isn't quite there yet(.254) but he has hits in all but four starts all season. The offense around him makes it hard to trust him in cash games but s an excellent salary relief pivot for torunaments.
Outfield
Mookie Betts FD 4500 DK 5800
Opponent - MIL (Nelson) Park - @MIL
FD - 12.35 DK - 10.07

Andrew Benintendi FD 4300 DK 5000
Opponent - MIL (Nelson) Park - @MIL
FD - 11.2 DK - 9.02
On the early slate, I love the idea of stacking the left-handed pitchers along with the high-octane outfielders for the Red Sox. It works out perfect as Rodriguez and Vargas are both under $10K on DraftKings. Betts has been incredibly consistent slashing .304/.375/.504 with four home run, 18 RBI and 15 runs scored and is now back at the top of the lineup in the leadoff spot. He comes in with hits in three straight and seven of his last eight games including a triple shy of the cycle two days ago. Andrew Benintendi has taken the next step in his Red Sox career and has already hit five home runs in 32 games after just two in 34 games last season. While I don't think it will last, one could argue he has been better than Betts thus far with a .339/.400/.516 slash line and elite 149 wRC+. They come at a cost due to the small two-game slate but have incredible upside vs. Jimmy Nelson in Miller Park today.
Shin-Soo Choo FD 3600 DK 3600
Opponent - SD (Chacin) Park - @TEX
FD - 11.47 DK - 8.95

Nomar Mazara FD 3200 DK 3900
Opponent - SD (Chacin) Park - @TEX
FD - 9.71 DK - 7.52
While my top outfield combo for the main slate doesn't quite have the upside as the Red Sox duo, they also come at a big discount.  Choo has yet to see an adjusted salary as he was moved up to the leadoff spot on Tuesday. He responded nicely with a hit and two runs and followed it up with a three-hit night on Wednesday. Provided he is back in the leadoff spot Thursday night, Choo is a safe play in all formats. Mazara, on the other hand, should be reserved for GPP only as he has struggled to start the season with a .234 average but remains a top value at the position as he continues to hit near the top of the lineup as well. Even better news is that he is coming off back to back games where he has picked up an extra base hit.  The matchup is also very intriguing as the Rangers get to face Jhoulys Chacin who has some pretty glaring home/road splits through seven starts. At home in the safe confines of Petco Park, he has put up an elite .45 ERA but on the road, it is quite a different story as the ERA sits at 10.24 while he has given up a 37% hard contact rate.

GRAB A FREE TRIAL OF OUR PROJECTION SYSTEM, AND CHECK OUT DFSR PRO!
GET OUR FREE EBOOK ON DAILY FANTASY MLB and NBA BY CLICKING HERE!
You'll also get our picks in your inbox every day!
image sources
Nolan Arenado: By Keith Allison (Flickr: Nolan Arenado) [CC BY-SA 2.0 (http://creativecommons.org/licenses/by-sa/2.0)], via Wikimedia Commons
FREE EBOOK
SECRETS TO CRUSHING DAILY FANTASY FOOTBALL!
DON'T SET ANOTHER LINEUP BEFORE YOU READ THIS BOOK.