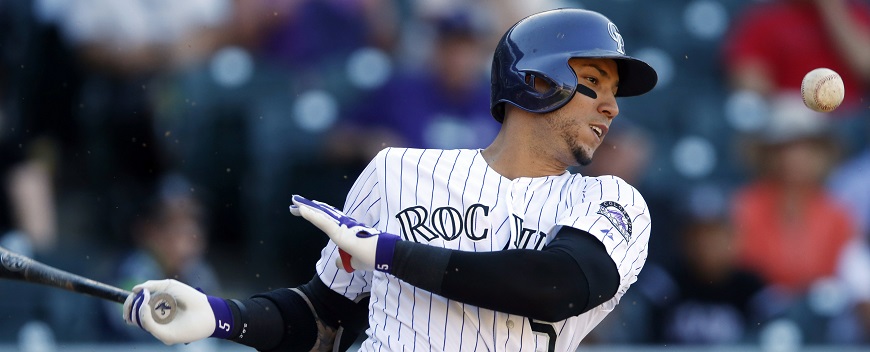 Daily Fantasy MLB Baseball Picks for FanDuel and DraftKings - 5/20/17
Now's your chance to get DFSR PRO, which will give you access to our MLB optimizer, our NBA Optimizer, and our new player lab! Get started for free by clicking the button below.
First time with MLB? Be sure to read our free MLB and NBA Ebooks on building lineups, general strategy and more. We've got you completely covered.
Pitcher
Jake Arrieta FD 9700 DK 9400
Opponent - MIL (Anderson) Park - @CHC
FD - 37.25 DK - 24.43
It's not the best day we've seen for pitching but it's far from the worst, and most of the arms available won't kill your salary either. Sure you can pay all the way up for Scherzer in Atlanta, but the system thinks you can do just as well, while saving aout 2K in the process by going with Arrieta on the early slate. Arrieta has been knocked around a bit in his last few starts, but one of those games was in Coors, so that's bound to happen, and more recently the Cards took him for 4 runs in six innings in St Louis. Today he's getting some home cooking against the Brewers, and while the Brewers may have the best record in the NL central heading in to this weekend series, they're not exactly an offensive powerhouse. They come in to the series right in the middle of the majors in team wOBA (.315) with a 90 wRC+ which dip to .308 and 89 against right handed pitching. They also strike out more than any team in baseball at a whopping 25.5% clip. Ryan Braun isn't eligible to return to the lineup until Sunday at the earliest, so if Arrieta can just keep Thames in the ballpark, He shouldn't have much trouble with this righty heavy lineup. I can see a case for Scherzer in gpp if you want to go that route, but I love Arrieta in all formats for the value he brings to cash games, and the separation his recent outings may earn him in tournaments.
Robbie Ray FD 9100 DK 8900
Opponent - SD (Perdomo) Park - @SD
FD - 35.52 DK - 23.48
Robbie Ray takes the hill tonight in San Diego with a 2-3 record in 8 starts this season. This one is pretty cut and dry when you look into the stats. The Padres K more than any team in baseball besides the aforementioned Brewers at 25%, plus their .297 team wOBA and 85 wRC+ are second only to the Phillies for being the worst in the majors. They don't discriminate when it comes to the split either, they're equally bad against righties and lefties. The left handed throwing Ray for his part strikes out 11.71 batters per 9 and while he has struggled some with his control this season allowing over 5 BB/9 and sporting a 4.57 ERA, the 3.90 SIERA speaks to the true testament to what Ray brings to the table, and against a struggling Padres offense i expect him to bring plenty. Oh, and let's not forget the park factor, Ray gets a huge boost going from Chase to Petco. I'll have tons of exposure to Ray on the main slate.
Justin Verlander FD 9300 DK 10500
Opponent - TEX (Griffin) Park - @DET
FD - 36.18 DK - 23.83
From a raw points perspective, the system is eyeing Robbie Ray and Justin Verlander as almost equal, with Verlander having the slight edge, so if you wanted to pivot off of Ray based on his poor outing against Pittsburgh, I wouldn't fault you, but only on FanDuel where the pricing is evenly matched. Don't even look this way on DraftKings. First off the K upside just isn't there, while Verlander strikes out a reasonable 9.12/9 he's going against the Rangers today who strike out less than most teams in baseball at just 20% while their wOBA against right handed pitching is pushing close to top ten territory at .324. Verlander has been the more consistent arm, posting 40 or more FanDuel points in three of his last 4 outings, I have a slight preference for Ray due to the match up and the K upside, but again, on FanDuel, it's awfully close, so it could just come down to the bats you play.
Catcher
Gary Sanchez FD 3600 DK 4600
Opponent - TB (Andriese) Park - @TB
FD - 11.42 DK - 8.81
Gone are the days when catcher was Posey or punt. Gary Sanchez has been lighting up the base path as well as fantasy lineups since returning from injury earlier this month. Sanchez has hit safely in 9 of the ten games he has played since returning to the lineup, with 5 multi hit games. He's found himself nestled into the two hole adding additional value for additional at bats. Today the Rays send Matt Andriese to the hill with his career 4.04 xFIP. If you have the salary to spend up at catcher, give a good look to Sanchez.
Brian McCann FD 3100 DK 4000
Opponent - CLE (Clevinger) Park - @HOU
FD - 9.69 DK - 7.32
If it's savings behind the plate you seek on the early slate then look no further than Brian McCann. McCann comes in to the weekend series with the Indians sporting a .357 wOBA on the season, which is 12 points higher than his career mark. In his last six outings he's got six hits including a double and a home run, 7 RBI and a walk. He walks just as much as he strikes out, 13.1% for each. Today he steps in to the batters box facing Mike Clevinger who brings an awful 4.67 xFIP to the hill. This will only be Clevingers third start to the season, but his numbers through 17 games, 10 of which he started, last year weren't that far off from where he is now, so I think we can trust what we've seen including the 7.84 BB/9. I'd like McCann more if he could find his way up in the order, but as long as he's in the top two thirds, he's in play.
Yasmani Grandal FD 3000 DK 3600
Opponent - MIA (Straily) Park - @LAD
FD - 9.63 DK - 7.24
Yasmani Grandal has been one of the best hitting catchers in baseball to this point and the site's don't seem to be in a rush to correct the pricing. Grandal has hit safely in 11 of his last 12 games, and in his last 6 he's produced 7 hits, 3 doubles, 4 RBI and a walk. Tonight he'll face Dan Straily and the Marlins. Straily has never been an arm to be intimidated by as evidenced by his 4.80 career xFIP and 4.48 SIERA. Grandal had last night off, so he should be rested and refreshed for today's contest.
First Base
Hanley Ramirez FD 3100 DK 4100
Opponent - OAK (Manaea) Park - @OAK
FD - 11.51 DK - 8.91
Speaking of rested and refreshed, Hanley Ramirez took it easy this week, with just two pinch hit appearances as the Red Sox wre in St Louis without need of a DH. He returned to the lineup Thurday night for the start of the Oakland series going 1-4 and driving in a run. This afternoon he faces Sean Manaea. The southpaw has only thrown 29.1 innings through 6 starts and despite his K upside, his 5.52 ERA, 5.22 BB/9, and 4.08 xFIP tell us all we really need to know. Ramirez is drastically underpriced, particularly on FanDuel, and while there are a few other plays at first that could net you more fantasy points, the system projects Ramirez as one of the top point per dollar plays of the day.
Kendrys Morales FD 3100 DK 4400
Opponent - BAL (Gausman) Park - @BAL
FD - 10.65 DK - 8.05
Kendrys Morales got off to a sluggish start to the 2017 season, carrying a .288 wOBA throgh April, but as the temperature has warmed up so has his bat. He's added nearly 100 to his wOBA for the month of May rocking a .377 while his wRC+ for the month is sitting at 139. He came into the weekend off a series with the Braves in which he went 5-14, and now this weekend he's in Baltimore where tonight he will face Kevin Gascan, I mean Gausman. Gausman has only 2 wins in 9 starts this season. His 4.57 BB/9 and 1.52 HR/9 all contribute heavily to his 1.86 WHIP and 5.18 SIERA. Morales is hitting righties to the tune of a .314 wOBA with 6 of his 7 home runs coming off of right handed pitching.
Second Base
Jed Lowrie FD 2300 DK 3500
Opponent - BOS (Pomeranz) Park - @OAK
FD - 9.09 DK - 7.02
With Jed Lowrie you get a bargain priced second baseman that bats in the top of the order, rocking a .340 wOBA and 119 wRC+. This weekend he and the A's are playing host to his former team the Red Sox who will send former Athletic Drew Pomeranz to the hill today. Pomeranz is 3-3 to start the season with a 5.29 ERA and a slightly more respectable 383 SIERA. Lowrie is 1-3 as I write this during last night's game following a 2-4 performance in Thursday night's opener including a 2 run bomb. If you're looking for savings on the early slate, then look no further.
DJ LeMahieu FD 2900 DK 4400
Opponent - CIN (Adleman) Park - @CIN
FD - 10.02 DK - 8.21
The Reds will send Tim Adleman to the hill today against the Rockies. Adleman will be making his sixth start to the season, following 4-4 2016 Campaign in which he made 13 starts. Adlemans trouble early on this season has been keeping the ball in the yard as he's allowing 2.3 HR/9. This is a concerning number for a pitcher who will make most of his starts, including this one in Great American hitters Ballpark. DJ LeMahieu opened the series with the Reds last night going 2-4 with a double, a walk, 2 RBI and three runs scored. This followed a rough series in Minnesota where he only went 1 for 12. Look for him to keep the bat hot today against the struggling Reds.
Ian Kinsler FD 3400 DK 4300
Opponent - TEX (Griffin) Park - @DET
FD - 10.51 DK - 8.42
From a points per dollar angle, there are several players at the position that come in higher than Ian Kinsler, but most of them like the two guys above are on the early slate. for raw points however, Kinsler leads the way especially on the main slate. Since returning from a hamstring injury Kinsler has been red hot. He's hit safely in 7 of his last 8 games including 3 multi hit games. AJ Griffin has been a solid starter for the Rangers this season, but he's not without his weaknesses. While his ERA sits a 3.15, his SIERA climbs up to 4.31. His hard hit % is 36.7% and although he doesn't walk an abundant amount of the batters he faces (2.36 BB/9) he doesn't strike out many either, so with a little patience at the plate Kinsler can work the count until he draws a walk or is given something to his liking worth swinging at.
Fire up No Half Time for baseball season, and get a $25 bonus code when you use promo code DFSR25MLB!

Shortstop
Trea Turner FD 3600 DK 5000
Opponent - ATL (Colon) Park - @ATL
FD - 11.91 DK - 10.49
Trea Turner steps in today to face Bartolo Colon. The 43 year old right hander hasn't had the debut with Atlanta that he had hoped for. He's only got 2 wins through 8 starts, a ridiculous 6.80 ERA and a 4.90 SIERA. This spells big opportunity for Trea Turner. Turner is rocking a .307 wOBA against right handed pitching and is an absolute bargain on FanDuel. On DraftKings however, I may have to consider looking elsewhere though the options on the early slate aren't as abundant as what we'll see on the main slate.
Corey Seager FD 3500 DK 4500
Opponent - MIA (Straily) Park - @LAD
FD - 10.75 DK - 8.34
Corey Seager is hitting with a .306 wOBA for the month of May. That's down drastically from his season number of .368 but there is reason to be optimistic that things are on the upswing for the 23 year old short stop. He's hit safely in 4 of his last 5 games, going 5-16 with a home run, 2 RBI, 5 runs scored and 4 walks. We've already established Dan Straily is not a pitcher we want to shy away from, so Seager is in play in all formats tonight.
Aledmys Diaz FD 2800 DK 3700
Opponent - SF (Samardzija) Park - @STL
FD - 10.07 DK - 8.02
Aledmys Diaz and the Cardinals host the Giants this weekend who will send Jeff Samardzija out to the mound tonight. The shark has really struggled through 8 starts this season, with a 1-5 record and although he's striking out 10.7 batters per 9 he's carrying a 5.26 ERA. Despite all of this he is however holding a 2.98 SIERA. Diaz, who went hitless in last night's opener to the series, has brought his wOBA for the month up to .338 after starting out at a sluggish .266 in April. I would much rather go with Seager, but if you need a little salary relief at the position, you could do much worse than Diaz.
Third Base
Manny Machado FD 3700 DK 5200
Opponent - TOR (Bolsinger) Park - @BAL
FD - 13.37 DK - 10.32
Mike Bolsinger will make his third start of the season today for Toronto, and though we don't have much to go on with Bolsinger this year, when we look at his career numbers, we see that through his 38 career starts dating back to 2014 the numbers paint a picture of consistent mediocrity. A career 4.69 ERA, 4.03 SIERA, 8.8 BB% and 1.46 WHIP and the numbers get even worse against the split where hes's allowing right handed batters an astounding .480 wOBA against. Macahado has gone hitless at the plate in his last 2 games, bringing his wOBA for May down to .305 from .332 in April, but things should turn around tonight, as stepping into the box against Bolsinger is the perfect spot to change course. The Baltimore bats are in a good place here, particularly those from the right side.
Nick Castellanos FD 3200 DK 3700
Opponent - TEX (Griffin) Park - @DET
FD - 10.91 DK - 8.44
This is another one of those plays I would love if he were a little higher in the order, but even in the six hole you have to like the value Castellanos brings. The match up with Griffin isn't ideal, but just as with Kinsler above, we know there are ways to wear him down and patience is key. Castellanos is sporting a .224/.299/.385 slash line and walks nearly 9% of the time. There's not a lot to love at the hot corner today, so if we can escape it without eating too much salary I say do just that.
Kyle Seager FD 3200 DK 3800
Opponent - CHW (Pelfrey) Park - @SEA
FD - 10.65 DK - 8.13
Yes, it's that time once again. Mike Pelfrey day. Every 5 days or so we get to exploit how he has a major league career despite the fact that he walks more batters than he K's (3.80% to 3.04%), is allowing 1.52 HR/9, and has a 6.10 SIERA. This means good things are in store for Kyle Seager. Seager comes in to the game with a .309 wOBA despite going hitless in his first 8 at bats of this White Sox series. Regardless, Seager has had a productive month of May and I love the spot hes in today.
Outfield
Carlos Gonzalez FD 2800 DK 4200
Opponent - CIN (Adleman) Park - @CIN
FD - 11.07 DK - 8.48
Carlos Gonzalez at 2800 on FanDuel in a hitters park against a pitcher that can't keep it in the yard? Sign me up!! Going back to last season, 13 of the 20 home runs Adleman has allowed have come at home. 8 of those have come off of left handed hitters. Despite the fact that he's only got 2 home runs on the season to this point for the left handed batting Gonzalez that adds up to upside city. CarGo's hard hit % is holding steady with where it sat last year at 37.1% I wouldn't be at all surprised to see him sneak one over the fence today.
Kyle Schwarber FD 3400 DK 4300
Opponent - MIL (Anderson) Park - @CHC
FD - 11.8 DK - 8.99

Ben Zobrist FD 3000 DK 3900
Opponent - MIL (Anderson) Park - @CHC
FD - 10.09 DK - 7.76
The Brewers will counter Jake Arrieta today with Chase Anderson. Anderson has 11 wins in 30 games started dating back to last year where he's carrying a 3.91 ERA and a 4.60 xFIP. He'll have his hands full dealing with the potent Cubs lineup, among them lead off hitter Kyle Schwarber and switch hitting Ben Zobrist. Zobrist has gone 5-10 in his last 3 games, indicating he could be turning things around after a sluggish start to the month. Schwarber meanwhile has struggled at the plate recently including an 0-4 performance in last nights series opener, but it's brought his FanDuel price to a point where as leadoff batter in a hitter friendly park against a mediocre starter there's a strong case in his favor. On DraftKings, I'll only consider Zobrist, Schwarber is coming in a little too steep there, but on FanDuel both bats are fully in play.
Andrew McCutchen FD 3300 DK 4100
Opponent - PHI (Velasquez) Park - @PIT
FD - 11.19 DK - 8.78
The Phillies have traveled west on the PA turnpike for a weekend series in PNC Park. That means bring your glove to the game if you're sitting in the outfield Pirates fans, because the Phillies pitchers love giving up the long ball. Now, while Jeremy Hellickson combined with the Phillies bullpen to hold Pittsburgh to two runs, and Andrew McCutchen hitless in three at bats last night, that doesn't change the fact that the Philadelphia pitching staff has given up more home runs than any other team in the majors, (61) and today's starter Vince Velasquez has allowed 8 in 7 starts. Couple that with his 4.24 xFIP and 4.23 BB/9 the Pirates three hole hitter will see plenty of opportunity to take advantage of a struggling starter and bullpen.
Mark Trumbo FD 3200 DK 4600
Opponent - TOR (Bolsinger) Park - @BAL
FD - 11.68 DK - 8.87

Adam Jones FD 3400 DK 4500
Opponent - TOR (Bolsinger) Park - @BAL
FD - 11.68 DK - 9.04
As I said earlier, I love the Baltimore right handed hitters today against Bolsinger, we touched on Machado, now let's add Adam Jones and Mark Trumbo to the mix. Bolsinger has never been a guy that you would feel comfortable with your team running him out to the mound ever 5 days, and he has been just terrible against right handed bats. Jones, who went hitless in 5 at bats last night, ended a string of 7 straight games with a base hit, and should get a new streak started today. Trumbo meanwhie was 3-5 last night with three runs scored, it was the twelth time in the last 14 games that he had reached base safely. I love the idea of a Baltimore stack tonight and it begins with these two right here.
GRAB A FREE TRIAL OF OUR PROJECTION SYSTEM, AND CHECK OUT DFSR PRO!
GET OUR FREE EBOOK ON DAILY FANTASY MLB and NBA BY CLICKING HERE!
You'll also get our picks in your inbox every day!