Baseball Picks Daily Fantasy
Expert Advice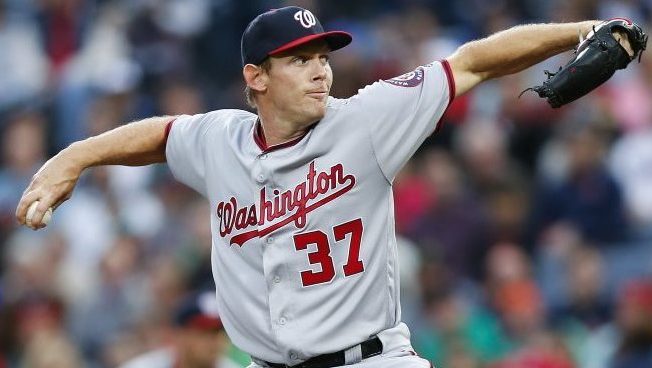 Daily Fantasy MLB Baseball Picks for FanDuel and DraftKings - 5/27/17
Now's your chance to get DFSR PRO, which will give you access to our MLB optimizer, our NBA Optimizer, and our new player lab! Get started for free by clicking the button below.
First time with MLB? Be sure to read our free MLB and NBA Ebooks on building lineups, general strategy and more. We've got you completely covered.
Pitcher
EARLY
Stephen Strasburg FD 11100 DK 12100
Opponent - SD (Richard) Park - @WSH
FD - 42.58 DK - 27.99
On the early only slate, we have high priced, elite arms aplenty, but Stephen Strasburg stands above the crowd for raw projected point totals in our system and with good reason. First off, he's toeing the rubber today against one of the worst offenses in the major leagues in the San Diego Padres. The Padres come into the weekend with the third worst wOBA (.288) and the third worst wRC+ (78) in baseball, and they strike out nearly 24% of the time. Even the average arms in the league can pick up a big boost in production going against the Padres. So an arm like Strasburg, who was excellent his last time out against the Braves picking up 11 Ks in 7.2 innings, and is fanning 8.8 batters per 9 on the season while holding a 3.50 xFIP becomes a stellar play, excellent for cash and tournament lineups.
Danny Salazar FD 9300 DK 10200
Opponent - KC (Vargas) Park - @CLE
FD - 33.89 DK - 22.35
If you want to pivot off of Strasburg in tournaments then you should definitely look the way of Danny Salazar. Salazar has struggled some in his recent outings, allowing 5 earned runs in 2 of his last three appearances, and not making it out of the third inning in one of those. Today he faces the Royals whose strikeout percentage of 20.8 is right about league average, but Salazar's 13.21 K/9 is the best you'll find in baseball and that is where the appeal lies. The Royals have a collective .291 team wOBA with a 78 wRC+ against right handed pitching, only the Giants are worse at this point. I'm a little skeptical of Salazar in cash games due to his struggles through his three starts during the month of May, though not completely against it. If you think he can piece together his first quality start of the month he could pay off big time while allowing for some higher priced bats.
Jerad Eickhoff FD 7200 DK 6400
Opponent - CIN (Arroyo) Park - @PHI
FD - 28.88 DK - 19.21
Jerad Eickhoff is 0-5 through his first 5 starts to this season, but that's not all entirely his fault. While he has struggled at times, and has a 4.70 ERA and 1.43 WHIP with a 4.44 xFIP, when we dig a little deeper we see the Phillies right hander has put in 4 quality starts and is striking out 8.19 batter per nine, up both from his 2016 total and his career number. Today he takes to the hill against a Reds team that while they may not strike out often (19.9%), that number climbs to 20.3% against right handers. The Reds will counter with Bronson Arroyo who has been terrible to start this season, so if the Phillies bats can find some life and the Hoff can put together some K's while picking up his first win, he could make for a very intriguing tournament play.
MAIN
While the early slate features the likes of Strasburg, Salazar, Darvish, and Greinke, it gets a little dicier on the main slate. With only 5 games going we don't really have a clear cut standout play. All signs point to Dallas Keuchel making his return from the DL against the Orioles, so that is certainly one way to go as long as you're sure he's back to full health. After that you can consider Gerritt Cole hosting the Mets, John Lackey in LaLa Land, or his host Brandon McCarthy. After that things really get ugly. With the suspect pitching, and Keuchel being the only arm over 10K on both sites, coupled with a Coors game, the main slate has all the makings of a tournament slate which is how I may play it.
Catcher
EARLY
Gary Sanchez FD 3300 DK 4600
Opponent - OAK (Cotton) Park - @NYY
FD - 11.18 DK - 8.63
Gary Sanchez took to the bench last night against the southpaw Sean Manaea, but look for him to be right back in the top of the Yanks order this afternoon as the Atheltics send right handed pitcher Jharel Cotton to the hill. Sanchez has struggled mightily against left handed pitching this season, but has been a beast against right handers. Against Righties this season Sanchez is sporting a slash line of .295/.368/.508 with a .377 wOBA and a 147 wRC+. Cotton will be making his eighth start of this season, thirteenth of his career. Through this season Cotton is sporting a 1.53 WHIP and a .319 BABIP with a 4.78 xFIP.
MAIN
Yasmani Grandal FD 3400 DK 3900
Opponent - CHC (Lackey) Park - @LAD
FD - 9.77 DK - 7.34
All of the top point per dollar plays behind the plate come on the early only slate, I had to dig down rather deep into the pool to come up with Grandal, but that's not to say he's without merit. The only real strike against him would be the matchup as Lackey is no slouch, but Grandal is reasonably priced, bats in the top of the Dodgers order, and has reached base safely in six of his last 7 games. Also, for what it's worth, John Lackey of 2017 is not the same John Lackey we saw in 2016. He's added 1.5 on to his ERA this season, Outside of an impressive outing in Coors Field of all places, he has struggled this year, allowing 3 or more earned runs in 4 of his last 5 outings, and 35 hits through 28.1 innings in that span. Keep an eye on lineups as they're released and if a nice punt jumps to the top of a lineup somewhere then go for it, otherwise, I'll likely ride Grandal in to the evening.
First Base
EARLY
Ryan Zimmerman FD 3400 DK 4500
Opponent - SD (Richard) Park - @WSH
FD - 12.23 DK - 9.36
Not only can we capitalize on this Padres/Nationals matchup in our pitching, but when you have San Diego sending Clayton Richard to the hill against one of the most explosive offenses in baseball, then we need to certainly look to the Washington bats as well. We start off with Ryan Zimmerman, who has the second best wOBA at the position at .456 with a 1.82 wRC+. His 13 home runs are just 2 shy of Mike Trout and Aaron Judge's best in the bigs 15. This is all despite going 0-4 at the plate in 2 of his last 5 games. Through 10 starts Richard is allowing just over 1 HR/9 with a hard hit % nearing 30. I expect him to have his hands full trying to contain the Nats in hitter friendly D.C. and it will all revolve around Zimm in the cleanup spot.
Carlos Santana FD 3500 DK 4200
Opponent - KC (Vargas) Park - @CLE
FD - 12.26 DK - 9.32
If you're looking to pivot away from the Nats, then Carlos Santana presents an excellent opportunity to do just that at first base. The salaries and the projections are almost identical to Ryan Zimmermann. Santana may not be having the season that Zimmermann is but he gets just as nice a match up in Jason Vargas. Vargas comes in with a 5-3 record and 2.30 ERA, but if we look a little deeper we see a 4.20 xFIP and a 3.95 SIERA, coupled with a 30.1 hard hit rate. Santana meanwhile has come around after a slow start to the season and in just his last 7 games, is sporting a .261/.320/.565 slash line and .370 wOBA.
MAIN
Adrian Gonzalez FD 2800 DK 3200
Opponent - CHC (Lackey) Park - @LAD
FD - 9.06 DK - 6.93
Adrian Gonzalez opened up the series with the Cubs in L.A. with a bang, hitting a 2 run home run. It was the 35 year old first basemans first long ball of the year. That said, he's still finding ways to contribute production at a value price across the industry. He's reached base safely in 5 of his last 7 including a 3 for 4 performance with 2 doubles and 3 RBI against Miami on Sunday. He's not the splashiest name out there, but with some suspect pitching, and Coors bats to consider in other positions (stay tuned) AGon makes for an excellent punt at an ugly position on the main slate.
Second Base
EARLY
Rougned Odor FD 2800 DK 3400
Opponent - TOR (Estrada) Park - @TOR
FD - 9.5 DK - 7.66
This is just an excellent value play right here. Odor has struggled a bit with his power and upside this season but he has been consistently reaching base, providing implied safety for near minimum salary particularly on FanDuel. Coming into the weekend series with the Jays he has reached base safely in 9 of his last ten games. The matchup isn't ideal as Marco Estrada has been impressive to start the season against left handed bats, but for the price, I'll take a chance on Odor finding his way on base while hopefully bringing in a run or two in the process.
Ian Kinsler FD 3400 DK 4200
Opponent - CHW (Holland) Park - @CHW
FD - 10.6 DK - 8.49
Kinsler got the day off on Friday as he was scheduled to play the second game of the double header, but when the first game got rained out, Detroit pushed the early lineup into the night game. Look for Kinsler to return to the lineup for the first game today which is the one we want to focus on. Derek Holland will take to the hill for the White Sox, he comes in to the game with a 4.88 xFIP, allowing a .321 wOBA against right handed hitters along with a 1.26 WHIP, a 1.42 HR/9 and 3.86 BB/9. Kinsler went hitless in the first two games of the Houston series, ending an 8 game streak, but then he went 3-10 in the final two games of that 4 game stretch with the Astros. He'll bring his .308 wOBA in to Chicago and look to keep his new streak going. I'll stick with Odor on DK, but I'm not too bothered by the price difference on FanDuel so I may split exposure there.
MAIN
Brandon Phillips FD 2800 DK 4200
Opponent - SF (Blach) Park - @SF
FD - 7.77 DK - 6.51
Ty Blach will take the hill for the Giants tonight, for his ninth career start. He brings with him a career 4.80 xFIP and 5.12 SIERA. This bodes well for the Braves who will step into the box against him, including Brandon Phillips. Batting second in the Atlanta order, and coming in at a sub 3K FanDuel price, Phillips pushes near must play territory, its a perfect storm of price, opportunity and match up. Phillips is among the top ten at the position in wOBA (.344) and his .341 BABIP is in the top 5. He opened the series last night going 1-4 with a double. While I plan on having Phillips everywhere on FanDuel, the DraftKings price, while not completely off putting, does lead me to look to other options before committing.
Fire up No Half Time for baseball season, and get a $25 bonus code when you use promo code DFSR25MLB!

Shortstop
EARLY
Trea Turner FD 3700 DK 4800
Opponent - SD (Richard) Park - @WSH
FD - 11.48 DK - 10.12
Another Nationals bat against Clayton Richard. This time we look at Trea Turner, who may not be lighting up the stat sheets the way Ryan Zimmerman is, but in his own right has plenty in his favor going against Richard. Though his wOBA sits at only .286 and his BABIP at .281, he's got 7 hits in 21 at bats over his last 6 games, and he led off with his 5th home run of the season last night against Luis Perdomo. Everything we've already covered against Clayton Richard still applies, while Turner may not be an every game home run threat, Richard's stepping to the hill with a .349 xFIP and 3.87 SIERA and will have his hands full with the top of this Washington batting order.
Francisco Lindor FD 3500 DK 4500
Opponent - KC (Vargas) Park - @CLE
FD - 11.07 DK - 8.94
If you need to save a couple hundred dollars in salary then allow me to present another Cleveland alternative to a Nationals bat. Lindor is currently riding an 11 game hitting streak coming in to today's game following a 2-4 performance at the plate in last night's series opener. He sits among the top ten shortstops in baseball in wOBA (.360). He's also sporting a .281 BABIP, a 128 wRC+, and leads all qualified shortstops with 10 home runs. Turner and the Nationals definitely have the better match up but the system sees no issue if you want to switch up to Lindor as a tournament play.
MAIN
Aledmys Diaz FD 3800 DK 4500
Opponent - COL (Freeland) Park - @COL
FD - 10.61 DK - 8.45
This play is predicated on batting order, if Aledmys Diaz is batting high in the order against Kyle Freeland then he is a great play, in Coors Field, coming in with a sub 4K pricetag on FanDuel. Diaz has been on a tear lately hitting in 5 straight and 8 of his last 9. During that time he also has 5 double,s 5 walks, and 5 runs scored. He had the night off against Senzatela last night and with the Cardinals recent struggles I wouldn't be surprised to see them shake things up in the lineup in the near future. If Diaz is in the top of the order hes a must play and worth consideration even in the heart of the order.
Third Base
EARLY
Maikel Franco FD 3100 DK 3600
Opponent - CIN (Arroyo) Park - @PHI
FD - 11.4 DK - 8.73
Watching the Phillies play baseball has been no easy task as of late. It's actually been difficult the last few years, but the past 4 weeks have been just brutal. Although Maikel Franco has been struggling right along with the rest of the team, he's actually been putting up some solid under the radar fantasy performances during that stretch. Despite going1-8 in the two games he played against Colorado, and hitless last night to open the Cincinnati series, he actually scored at least 6 FanDuel points in the 7 previous games, including a 22.2 point performance against the Rangers on the 18th. Today the Phillies will face the ghost of Bronson Arroyo. Arroyo's return to the Reds has not gone well, as evidenced by his 5.53 xFIP, 5.18 SIERA, and 2.89 HR/9. Citizens Bank Park is among the friendlier hitter parks in baseball, Philadelphia is long overdue for a big game and it could very well come tonight courtesy of Arroyo.
Nicholas Castellanos FD 2800 DK 3500
Opponent - CHW (Holland) Park - @CHW
FD - 3.87 DK - 8.38
Castellanos was held out of the final two games of the Tigers series in Houston, and then got an extra day of rest with the first game of yesterdays double header rained out. Hopefully the rest did him well as he went 0-11 in three straight games without getting on base before heading to the bench. While the recent struggles at the plate have contributed to Castellanos' wOBA dropping below .300 (.295 to be exact) it has also contributed to the exceptional pricing, particularly on FanDuel. If he returns to the top of the Detroit batting order this afternoon, he becomes an exceptional value play there, and isn't out of consideration on DraftKings either. I touched on Holland's numbers against right handed bats above with Ian Kinsler, so that all works in Castellanos' favor as well. I prefer Maikel, but if you're not sold on him and want the extra value the Tigers third baseman provides, I wouldn't fault you in the least.
MAIN
Manny Machado FD 3700 DK 4200
Opponent - HOU (Keuchel) Park - @HOU
FD - 11.08 DK - 8.55
I made mention to the return of Dallas Keuchel in my blurb above on the main pitching slate, and of course if you do decide to ride with him you may not want to go here, but otherwise, Machado is a strong play for overall points and points per dollar at the hot corner on the main slate. He's showing patience at the plate, drawing a walk in three of his last 6 games, and he's scored over 10 FanDuel points in 3 of his last 8 games. He has also gone hitless in 4 of those, so there is some risk, but on the shorter main slate the options aren't quite as abundant as they are early in the day, and Machado is one of the more appealing options.
Outfield
EARLY
Jayson Werth FD 3500 DK 3700
Opponent - SD (Richard) Park - @WSH
FD - 11.93 DK - 9.25
With all of the Nationals love you've been seeing to this point, I bet you were scrolling through the article expecting to see Bryce Harper here weren't you? See, the thing with Harper is the price. Sure he's projected for more raw points, but from a point per dollar perspective, you get just short of Harper production out of Jayson Werth for 1K-1.6K less salary, which is huge, especially if you're paying all the way up for Stras. Now, if you go Salazar, or just like to live dangerously and punt pitcher, then you can consider Harper, otherwise, Werth is the clear play in the Washington outfield against Richard. Werth went hitless last night against Perdomo, but still managed to stretch a walk into a stolen base and run scored. Werth has seen somewhat of a resurgence through the first 2 months of this season, with his slash line (.281/.387/.460) and his wOBA .368 being the best he's put up since 2014. I love him across the industry in all formats.
Michael Saunders FD 2700 DK 3500
Opponent - CIN (Arroyo) Park - @PHI
FD - 10.28 DK - 7.87

Odubel Herrera FD 2600 DK 2900
Opponent - CIN (Arroyo) Park - @PHI
FD - 9.67 DK - 8.09
I'll be honest, when I saw Odubel Herrera among the picks put out by the system for the early slate my skin crawled just a bit. This is a guy that went on an 0-12 stretch with 5 straight strikeouts against the Rockies on Thursday. Then he doubled and scored a run in the ninth of last night's series opener which redeemed him a bit in my eyes. That coupled with the match up against Bronson Arroyo is enough for me to trust in the system and roll with Odubel. Saunders has been on a similar slide and despite going 0-4 in last night's series opener, he began to turn things around with a home run on Wednesday against the Rockies, followed by a double and run scored the next day. If the Phillies offense is truly turning a corner, today's game with Bronson Arroyo presents a perfect opportunity. I'll ride the Phillies in all formats, because the matchup gives me confidence in their safety, and their recent struggles has me feeling gpp separation.
MAIN
Carlos Gonzalez FD 4000 DK 4900
Opponent - STL (Wainwright) Park - @COL
FD - 12.72 DK - 9.74
Back to Coors Field we go for the main slate outfield. Up first we have the Rockies Carlos Gonzalez. CarGo has gotten off to a sluggish start to the season, with a 70 wRC+ and a .307 wOBA which is 60 points off of his career number, but he has been turning things around lately. He's returning to the friendly confines of Coors Field after a hot series in Philly during which he went 8-14 with a double, a home run, 3 RBI and 3 runs scored. Now he's back home and tonight he's stepping into the box against Adam Wainwright, who is allowing a .369 wOBA to opposing left handers with a nearly 39% hard hit rate. I prefer stacking the Cardinals in tonight's edition of "Load up on Coors Bats", but if you do a game stack make sure CarGo is locked in among your Rockies.
Dexter Fowler FD 3600 DK 4800
Opponent - COL (Freeland) Park - @COL
FD - 12.47 DK - 9.92
Speaking of stacking Cardinals, let's add one more to the mix for good measure. Dexter Fowler is underwhelming this season as the leadoff hitter for the Cardinals compared to his time in Chicago. His .205 average and .305 wOBA leave something to be desired, but the good news is, that gives us a lead off hitter in Coors Field for less than 4K on FanDuel. His hard hit % this season of near 22 isn't far off from his career number of 24.9% and today he will be stepping in against Kyle Freeland making his tenth start with a 4.59 xFIP, a 3.31 ERA, and a whopping 45.5 hard hit % allowed to left handed bats in Coors Field.
GRAB A FREE TRIAL OF OUR PROJECTION SYSTEM, AND CHECK OUT DFSR PRO!
GET OUR FREE EBOOK ON DAILY FANTASY MLB and NBA BY CLICKING HERE!
You'll also get our picks in your inbox every day!
FREE EBOOK
SECRETS TO CRUSHING DAILY FANTASY FOOTBALL!
DON'T SET ANOTHER LINEUP BEFORE YOU READ THIS BOOK.