Baseball Picks Daily Fantasy
Expert Advice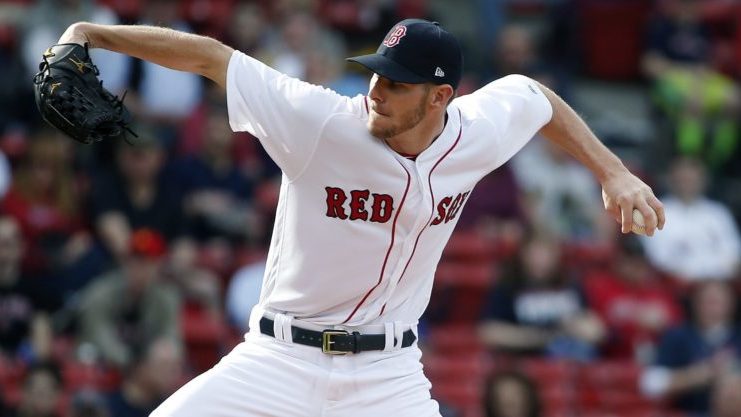 Daily Fantasy MLB Baseball Picks for FanDuel and DraftKings - 6/26/17
Now's your chance to get DFSR PRO, which will give you access to our MLB optimizer, our NBA Optimizer, and our new player lab! Get started for free by clicking the button below.
First time with MLB? Be sure to read our free MLB and NBA Ebooks on building lineups, general strategy and more. We've got you completely covered.
Pitcher
Chris Sale FD 11700 DK 12900
Opponent - MIN (Berrios) Park - @BOS
FD - 46.76 DK - 30.94
This is definitely a pretty weird slate. We have a few main offenses who stand out, with the rest being very unattractive. That leaves us with some guys who will be very highly-owned. The same can be said for the pitcher position. Chris Sale is the clear top option and I don't think anyone is a close 2nd. This may result in some high ownership, but hey, I'm jumping on board. The Twins travel to Fenway Park and hold the day's lowest implied run total. Sale has been one of the league's best pitchers so far this season, sporting a combined 2.64 xFIP and a crazy 12.2 K/9. He hasn't disappointed much at all, which has been one of his big issues over his career. When we're seeing a consistent Chris Sale, he is worth the price of Clayton Kershaw. He takes on a Twins lineup who strikes out plenty, holding a 21.3% strikeout rate since the beginning of 2017. They hold a very average .314 wOBA against lefties and only have 1 or 2 guys who truly intimidate. Miguel Sano and Brian Dozier are certainly great against lefties, but that's about it. Mauer, Kepler, Polanco, and Buxton all hold 24%+ K rates against lefties, which basically make them a guaranteed K machine against Sale. All in all, Sale is going to have a fantastic game and it really just depends on if you can afford him. Let's take a look at a guy who comes in a bit cheaper.
Jeff Samardzija FD 8300 DK 8400
Opponent - COL (Marquez) Park - @SF
FD - 38.92 DK - 25.64
Jeff Samardzija isn't the best pitcher out there, but he one of those guys who "gets it done". He doesn't strikeout a ton, he doesn't hold a super low GB rate, but he does eat up innings and limits run production. He's held a .335 wOBA against lefties and a .305 against righties. He's also held a 28% hard contact rate, so guys are simply not putting the barrel on the ball. In AT&T Park, that's a huge problem for an offense to have. This Rockies offense isn't a very good one anyways, especially on the road. They posted the 28th ranked wOBA in 2016 on the road, opposed to the 2nd highest at home. AT&T Park is one of the bottom 3 parks in the league fo hitting and it's why this os one of the slates lowest over/unders. Carlos Gonzalez and Charlie Blackmon are the 2 guys who offer some issues for Samardzija, but if he can get around them, he's working with a lot of righties that love to strikeout. Outside of D.J. LeMahieu, there isn't a single righty with a sub 20% K rate in the order. Samardzija always has a little bit of risk, but he's relatively cheap and will help you pay down for some bats. On DraftKings, he's a phenomenal SP2 in cash games. On FanDuel, I won't be going anywhere other than Chris Sale in cash games. In tournaments, the Shark makes a lot of sense if you want to stack 2 expensive offenses.
Catcher
Yasmani Grandal FD 3000 DK 4000
Opponent - LAA (Nolasco) Park - @LAD
FD - 10.23 DK - 7.72
Like I mentioned, there are a few offenses who stand out far above the rest. The Dodgers are certainly one of them. They hold the 2nd highest team total behind just the Yankees and are expected to beat around Nolasco. Keep in mind, Dodger Stadium is a pitchers park, so it's not easy for Vegas to predict 5.25 runs out of a team that should hypothetically see 8 innings of at-bats. Ricky Nolasco used to be a pretty effective number 2 or 3 starter, but those days are long gone. He's now absolutely horrible, allowing a near .380 wOBA to both righties and lefties. We'll dive in deeper a bit later, but it's pretty clear how bad he is. The Dodgers lineup is obviously one of the more lethal around and Grandal has a lot to do with it as such a rare commodity, a catcher than can actually hit both lefties and righties. As a switch-hitter, Grandal constantly holds the platoon advantage. He'll hit 5th or 6th behind the likes of Justin Turer and Cody Bellinger, who get on base against righties. The power is always there with Grandal and he's cheaper than Gary Sanchez, who figures to be extremely highly owned once again. Grandal may not hit as many homers as Sanchez this year, but he'll hit 20 and I wouldn't be surprised to see one get smacked out here.
Gary Sanchez FD 3700 DK 5000
Opponent - CHW (Holmberg) Park - @CHW
FD - 13.36 DK - 10.27
Gary Sanchez could have been in the top spot here, but I do like Yasmani Grandal a bit more. He's just a bit cheaper and is in the positive platoon of his 2. Gary Sanchez on the other hand, is a lot better against righties. Dylan Holmberg is a lefty and not a very god one at that. He's posted a .285 wOBA against righties, which sounds fine and dandy on the surface. When you peer down and see a .174 BABIP, it all changes. The Yankees righties have a ton of upside here and I just couldn't ignore Sanchez completely. With that being said, I think he will be over-owned in tournaments. Grandal should be half as popular and in my opinion, is pretty close in raw expectation. I don;t want that to pull away from Sanchez, who still has the best chance to hit an HR of any catcher on the night. Guaranteed Rate Field is very friendly to righties and certainly more favorable than Yankee Stadium. To sum it up, Sanchez is a great spend if you have the funds. If you don't, feel comfortable in moving down to Yasmani Grandal.
First Base
Matt Holliday FD 3200 DK 4300
Opponent - CHW (Holmberg) Park - @CHW
FD - 12.9 DK - 9.75
2 years ago, Matt Holliday was struggling to reach $2800 on FanDuel in the Cardinals outfield. He's revitalized his career in New York and it looks like he's the real deal. he's not necessarily swinging for power, but the homers are coming when he spreads it to right and right center. Those balls that used to hit the warning track in Busch Stadium are now finding the bleachers in the big city. Holliday held a .420+ wOBA against lefties for many years, so we know the elite eye is there. He's down to a .374 at this point, which is incredible for 37 years old. We touched on Dylan Holmberg and he's pretty cut and dry. He's gotten plenty of opportunities to fit in over the years, but never left his mark on the majors, forcing him back to AA and AAA. His low BABIP this season has kept in the game, but it won't late much longer. Holliday and the Yankees are great candidates to put a whooping on DavidHolmbergg and deliver him the regression monster on a silver platter. Holliday will be in the 3 or 4 spot and makes for an elite play in both cash games and tournaments. First base is loaded as always, so there should be some ownership spread out. People don't seem to get over-enthused about Matt Holliday anyways. Don't join that train of thought, especially not tonight.
Cody Bellinger FD 3800 DK 5500
Opponent - LAA (Nolasco) Park - @LAD
FD - 12.35 DK - 9.63
Why wouldn't you roster the reincarnated Babe Ruth? Aaron Judge is surely getting a lot of hype and rightfully so, but there's this kid named Cody Bellinger in the other big city that deserves a little respect. Personally, I think the approach and swing of Bellinger is more consistent than Judge. While everything seems like roses right now for Judge, he's a power hitter and we know what comes along with that. He's also 40 feet tall and has a huge strike zone, which is a big reason for the high K rate. Getting back to Cody Bellinger, he's the most real of deals. He's currently holding a .400 wOBA against righties and has backed it up with an insane 51% hard contact rate. That's a number that compares to the likes of Giancarlo Stanton and Bryce Harper. You would expect his BABIP to high as a rookie and for him to come down to life very soon. It's not the case. Bellinger is holding a very average .285 BABIP for a slow 1B, who struggles to outrun fringe grounders. He's already belted 17 homers against righties and I doubt he stays under 35 this season. Ricky Nolasco doesn't need much to be explained. He's absolutely horrible against everyone and has shown no signs of getting any better. He's 34 years old and has been throwing big innings since 2006, so it makes sense as to why he's falling off. Jump on the Dodgers train before Nolasco sees one of his last ever starts.
Second Base
Daniel Murphy FD 4000 DK 5200
Opponent - CHC (Butler) Park - @WSH
FD - 11.6 DK - 9.12
The Cubs have got what they need out of Eddie Butler, which is to eat up 5 or 6 innings and give up 2 or 3 runs. He's been worse against lefties and faces his toughest lineup of the season. The Nationals obviously have 2 lefties with a whole lot of bat and we'll take a look at both. First is Daniel Murphy, who was actually better against righties than Harper was in 2016. He posted a .419 wOBA and hit 19 homers. He was better at home and sported a top 5 number in almost every category. He hasn't slown down one bit this year. In fact, he's only been better against lefties. Murphy is no fluke and you can rely on him at a high price. With that being said, we're going to have to pay down somewhere. Murphy is expensive and I'm not sure he's al that neccesary in cash games. If you need to punt, you can typically find a 2B who is getting a start off the bench. If you're looking for a guy in the mid-range, we're about to touch on one who deserves a whole lot of attention.
Starlin Castro FD 3100 DK 3800
Opponent - CHW (Holmberg) Park - @CHW
FD - 10.66 DK - 8.34
Starlin Castro is more than making a name for himself in New York. As a Cubs fan, I never wanted to see Castro leave. He always cares about the situation and even if he doesn't come through, he won't sit there and let it happen. He;s going to battle every at-bat and it has a lot to do with his .300 AVG against both lefties and righties. He's always hit righties well, so it's great to see the lefty numbers come around over the last couple years. So far in 2017, he's holding a .330 wOBA against lefties, but also has 6 warning track flyouts, which aren't even accounted for in his peripherals. Those warning track outs will be HR's tonight, hitting in Guaranteed Rate Field. GRF has ranked in the top 10 over the past 5 years for righties and you have to love all of these Yankees bats. Castro in particular, may end up over Daniel Murphy in cash games. He's a slot cheaper and helps you fit in Chris Sale with a lot more comfortability. He did miss yesterdays' game, but I assume it was for rest. As always, keep an eye out as lineups pop up.
Fire up No Half Time for baseball season, and get a $25 bonus code when you use promo code DFSR25MLB!

Shortstop
Corey Seager FD 3800 DK 5200
Opponent - LAA (Nolasco) Park - @LAD
FD - 12.15 DK - 9.37
Ah, I love seeing Corey Seager in a good match-up. He is just so good and seems to always come through when I'm on him. He's actually been better against lefties so far this year, but that won't last. He's always been a lot better against righties and actually held an exact .400 wOBA against them in 2016. Seager has power and speed upside, which is rare to see out of this position. He also dominates in Dodger Stadium, where he held a .446 wOBA against righties. He faces off with Ricky Nolasco, who has been absolutely atrocious. Against lefties, Nolasco has sported a .363 wOBA. He's also found a way to allow 23 homers in just over 80 innings. Yes, you read that correctly. 23 home runs. 80 innings. The Dodgers are clearly one of the top stacks of the night and have pretty fair prices over on FD. On DraftKings, you have to be careful with Chris Sale on the mound. Let's take a look at a guy who comes in a bit cheaper and has some HR upside.
Addison Russell FD 3000 DK 3900
Opponent - WSH (Gonzalez) Park - @WSH
FD - 8.7 DK - 6.75
Corey Seager is pretty expensive, so I get it if you need to pay down a bit. We'll look at Addison Russell, who has fund himself back in the cleanup spot recently against lefties. If he's there once again, he instantly becomes one of the top value/punt plays on the slate. Gio Gonzalez is a good pitcher, don't get me wrong. He also has some obvious troubles against righties. He's sporting a .328 wOBA against them, while allowing an astounding 12 homers in just 69 innings of work. He has an HR issue with righties and this is a team that can certainly take advantage. Russell has hit lefties well for his entire career. In 2016, he held a .354 wOBA and backed it up with a 25.4% LD rate. Wrigley Field is definitely more friendly than Wrigley Field, but the type of power Addison Russell has isn't slight. He's not a guy that relies on a small park to hit one out. I still prefer Corey Seager by a longshot, but Russell is cheaper and he can easily hit one out tonight.
Third Base
Justin Turner FD 3800 DK 4600
Opponent - LAA (Nolasco) Park - @LAD
FD - 11.66 DK - 9.04
We've focused on lefties so far for the Dodgers, but we know the drill with Justin Turner. Even as a righty, he is far better against right-handed pitching.  Over the last 4 years, he's sported a .388 wOBA that's backed up with extremely low K rates and high BB rates. Turner is an extremely elite hitter against righties and they seem to have a tough time with his approach as a whole. Ricky Nolasco has a tough time with a lot more than that. Currently sporting a .391 wOBA against righties, Nolasco is nearing his end. You have to love a reverse splits righty facing off with a reverse splits righty. It's a rare recipe for success that doesn't take too much deep diving.This entire Dodgers stack is going to be one that comes in popular, but it remains to be seen how the ownership will look on DK, where things are always a bit tighter. Turner is my 2nd favorite Dodgers bat, behind Corey Seager. He is cheaper than the next guy we'll look at and although he'll be higher owned, he's safer.
Kris Bryant FD 3800 DK 4700
Opponent - WSH (Gonzalez) Park - @WSH
FD - 12.35 DK - 9.51
Speaking of right-handed power on the Cubs, there is some guy named Kris Bryant. He's pretty good, but some may argue sample size. In all seriousness, Bryant has already cemented himself as a top 3 hitter in the MLB against lefties. He hasn't slowed down at all in 2017 holding a .461 wOBA against lefties to go along with the crazy 5 homers in just 56 at-bats. Bryant isn't as expensive as a lot of the other studs on DK, so I could see paying for him with the HR upside. Gio Gonzalez is a slightly above average pitcher with some very big issues against righties. We mentioned the 12 homers in 69 innings, but that's not it. Gio is allowing righties to hit the ball hard nearly 37% of the time. It all comes down to Gio Gonzalez getting a little bit worse. His BABIP looks fine and I can't seem to find any reason why Gio is going to start dominating righties. We all know how much upside Bryant has and he should come in about 5-10% owned. If he has one of his nights (usually against a lefty), those will be the % who are in the top of tournaments. Bryant is a beast in tournaments and you can't blame anyone for using him in cash either.
Outfield
Bryce Harper FD 4500 DK 5400
Opponent - CHC (Butler) Park - @WSH
FD - 14.55 DK - 11.23

Brian Goodwin FD 2600 DK 3800
Opponent - CHC (Butler) Park - @WSH
FD - 4.36 DK - 3.6
If you're playing Chris Sale at pitcher, you probably won't be able to afford Bryce Harper. This would mean paying down at literally every other spot. You can get exposure to Brian Goodwin as a lefty OF'er in the lineup, but let's make the obvious clear. He has nowhere near the upside or even hypothetical floor of Harper. He is a lot cheaper and gives you some SB/HR power. Harper, on the other hand, has an insane amount of upside in this match-up. He's holding a .433 wOBA against righties right now and his peripherals don't suggest any luck is the reason. Harper is still just 24 years old hasn't reached his prime yet. He'll probably hit 40 homers this year and is a good candidate for one tonight. Eddie Butler is a pretty basic righty. He throws a basic 4-pitch mix with 1 plus fastball and 3 average supporters. He's been average against lefties and is only due for a little bit of regression. The Nationals as a whole are always going to be an intriguing stack and Eddie Butler has a long history of horrid starts. Harper is great in all formats, but take a look at this whole offense if you're going to go there.
Andrew Benintendi FD 3200 DK 4100
Opponent - MIN (Berrios) Park - @BOS
FD - 10.78 DK - 8.72

Mookie Betts FD 3500 DK 5200
Opponent - MIN (Berrios) Park - @BOS
FD - 13.15 DK - 10.76
We haven't touched on these Red Sox yet, but they obviously make for a great stack in Fenway Park. Jose Berrios isn't a bad pitcher, so I'm not overly worried about targeting the Sox with all of the other horrid pitchers. However, they do hold a 5.05 implied run total and figure to be low owned, so they're worth a look. Berrios os holding a .271 wOBA and .228 BABIP against lefties, so even though he looks pretty good, he will see regression. Benintendi does see the better split here and I like him more in cash games. Betts is more expensive and should be minutely owned at his price. He's personally better against righties and is always one of those guys who has crazy upside. He can hit 2 homers, steal 2 bags, and be on his way to leading you to the top of a tournament. If you have a tough time believing it, try to think back to that time last year when he hit 7 homers in 4 games. He would be 70% owned if this game was a week after that. All in all, the Sox always have limitless upside in Fenway Park and deserve some attention in tournaments. I will stay away from Berrios in cash games, even with the Red Sox at home.
Avisail Garcia FD 3200 DK 4200
Opponent - NYY (Montgomery) Park - @CHW
FD - 9.67 DK - 7.66
To finish us off, we'll take a look at the other side of the diamond in Chicago. We've touched plenty on the Yankees, who should win this game going away. However, the White Sox are still projected to put up 4.5 runs, which is a lot. We know Guaranteed Rate Field is a + for hitters and Garcia is much better there. He's also far better against lefties. While his .480 wOBA against them may be a bit inflated, but he is a legit hitter against lefties and should end around .430 or so. He's hitting the ball hard over 50% of the time and running into line drives at a 26% clip. Montgomery is nothing special, sporting a .301 wOBA against righties, but striking out just 6 per 9. When Garcia isn't striking out, he's driving the ball. He's fairly priced around the indstry and I don't see him being very highly owned. The White Sox aren't a team I would target like crazy, but a 1-off Avisail Garcia or Jose Bareu is something I can certainly get behind.
GRAB A FREE TRIAL OF OUR PROJECTION SYSTEM, AND CHECK OUT DFSR PRO!
GET OUR FREE EBOOK ON DAILY FANTASY MLB and NBA BY CLICKING HERE!
You'll also get our picks in your inbox every day!
image sources
Chris Sale: (AP Photo/Michael Dwyer)
FREE EBOOK
SECRETS TO CRUSHING DAILY FANTASY FOOTBALL!
DON'T SET ANOTHER LINEUP BEFORE YOU READ THIS BOOK.