Baseball Picks Daily Fantasy
Expert Advice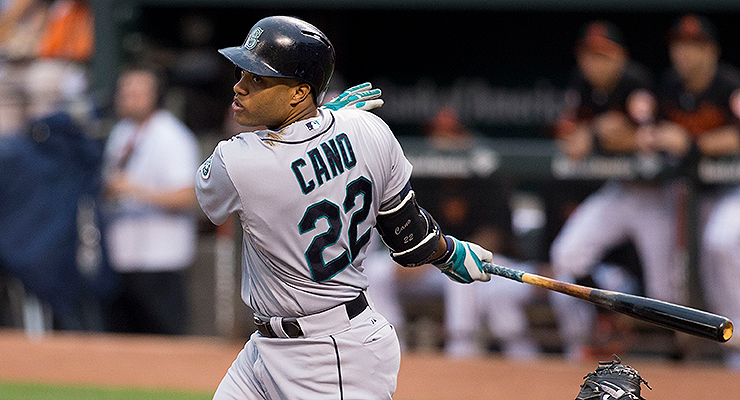 Daily Fantasy MLB Baseball Picks for FanDuel and DraftKings - 6/27/17
Now's your chance to get DFSR PRO, which will give you access to our MLB optimizer, our NBA Optimizer, and our new player lab! Get started for free by clicking the button below.
First time with MLB? Be sure to read our free MLB and NBA Ebooks on building lineups, general strategy and more. We've got you completely covered.
Pitcher
James Paxton FD 8500 DK 8700
Opponent - PHI (Nola) Park - @SEA
FD - 33.67 DK - 22.15
I know, Max Scherzer is on the slate and you probably expected him to be here. He's still obviously in play, but he faces the Cubs and isn't even a huge favorite. At his price, I really don't think he's a must in cash games. With that being said, he's still Max Scherzer and I couldn't blame anyone for playing him in cash games for that sole reason. He has more upside than anyone on the slate and if he pitches his optimal game, nobody will be better. We're going to take a step down in pricing and look at James Paxton. Paxton struggled out of the gate after returning from the DL, but found his strikeout pitch last game and gave up 2 runs that shouldn't have scored (error). He looks to be back to the real James Paxton. The real James Paxton is a guy with an 11 K/9 and a 2.53 combined wOBA. Paxton was in the race for Cy Young before he got injured and isn't priced like it. He faces off with the Philadelphia Phillies, who are absolutely horrible. They hold the 21st wOBA in baseball against lefties at .310, but I can assure you, they would be a firm 30 if they played at Safeco Field every night. Safeco Field is one of the top 3 parks for pitching and these Mariners pitchers are excellent at taking advantage. The Phillies are easily one the worst teams in all of baseball and you have to love Paxton in both cash games and tournaments.
Jeff Hoffman FD 7400 DK 8100
Opponent - SF (Cain) Park - @SF
FD - 29.96 DK - 19.79
This one may come as a bit of a surprise. Just because Jeff Hoffman is coming up with the Rockies, he gets the reputation of sucking. It's just not anywhere further from the truth. Hoffman was drafted with the 9th overall pick in just 2014. He has superstar pedigree and moved up the ranks in the minors extremely fast and efficiently. He's now in the majors and has dominated some more. Yes, he has struggled against the Dodgers and Diamondbacks in Coors Field. There isn't a single pitcher in the league I would give a neg for that. Hoffman has controlled both sides of the plate, sporting a .210 wOBA against lefties and an inflated .358 BABIP against righties. Fortunately, he's far far away from Colorado tonight. He'll come into San Fran and face off with the Giants, in pitcher-friendly AT&T Park. AT&T Park is one of the top parks in all of baseball for pitching, if not the absolute best. It also homes one of the worst offenses on the planet. The Giants hold the league-worst wOBA at home, .281. It's embarrassing for the city of San Francisco after having so many contending years. Hoffman has to go overlooked once again and I can't find a reason to avoid him.
Catcher
Russell Martin FD 2800 DK 3700
Opponent - BAL (Gausman) Park - @TOR
FD - 12.01 DK - 9.11
Wow, Kevin Gausman has fallen off a cliff. A steep, rocky, never-ending cliff. For a guy who has shown so much promise in past years, you almost have to think he's injured or something. While he's always been a reverse-splits righty that holds somewhere between a .340 and .360 wOBA against them, it's no longer the case. Gausman has held opposing righties to an insane .418 wOBA, while allowing 9 homers in less than 50 innings. He has been bad in almost every game so far and I don't see any reason to think the Rogers Centre is a good cure spot. Ever since Donaldson and Tulo returned, this team has started to get its funk back. They are extremely lethal and an offense we'll target plenty tonight. Russell Martin is far from flashy but he's very safe in this match-up and shouldn't be over 25% owned. Russell Martin is a reverse-split hitter in his own right, so this sets up perfectly. Neither FanDuel nor DraftKings have Martin priced too high, so I'm willing to play him in both cash games and tournaments.
Yasmani Grandal FD 2900 DK 3900
Opponent - LAA (Chavez) Park - @LAD
FD - 10.85 DK - 8.18
Jesse Chavez has bounced around the majors a lot, seeming to make 3 or 4 starts before disappearing for another 3 months. He's getting a few more starts right now and with how his stats are looking, it may not be long before he's gone again. He's posted a .340 combined wOBA and while better against lefties, a 4.25 xFIP doesn't help. He still hasn't figured out to throw anything other than his FB + CH and won't find much success until he does. Batters are sitting on the fastball and sporting a .351 so far, which will only go up as he limits his arsenal. Yasmani Grandal is one of those catchers who don't seem to be in play very often, but you'll look at the games and see him involved in the offense a lot. He sits in the middle of the order and sees pitches to hit. He's a good enough hitter to take advantage and as a switch-hitter, he's always holding the advantage against the pitcher. He's priced down on both sites and makes for an excellent option in both formats. I'm personally split between Martin and Grandal for my cash games right now. It'll likely depend on where they end up in the batting order.
First Base
Hanley Ramirez FD 3100 DK 4000
Opponent - MIN (Santiago) Park - @BOS
FD - 14.24 DK - 11.03
The Blue Jays and Dodgers are definitely up there as the top offenses of this slate, but so are the Red Sox. They face off with Hector Santiago, who has been on the DL for most of the season. He started 12 games before going down, but was absolutely horrible in those. We'll dive in a bit deeper later, but he has huge HR problems and Vegas expects him to have issues in Fenway. The Sox currently hold an implied run total of 6.13, which is higher than any other team. As a side note, why in the world is any organization forcing their unstable lefty to return in Fenway Park against the Red Sox? Maybe wait for the Royals in Kauffman in 5 days or the Angels in 10? Maybe it's just me, but it doesn't seem very smart to throw a guy who's coming off of the DL, which actually just saved him from miserable performance after miserable performance. I guess this is why they are the Twins and they are always bad. Getting back on topic, Hanley smashes lefties. He posted a .453 wOBA against them and while that may be a bit inflated, those numbers don't happen by accident. He's much better at home with the green monster and is my pick for HR of the night. He's fairly priced and a priority for me on the slate.
Carlos Santana FD 3300 DK 3200
Opponent - TEX (Ross) Park - @CLE
FD - 12.9 DK - 9.74

Edwin Encarnacion FD 3700 DK 4500
Opponent - TEX (Ross) Park - @CLE
FD - 12.77 DK - 9.54
Tyson Ross just saw his first innings of 2017 last week, where he was obliterated. Capital O. He hasn't seen more than 15 innings since 2015, when he seemed to take a dip in production overall. He's now being looked at like a bum by Vegas and I have to follow. He's not the same pitcher he once was and isn't able to rely on a dominant fastball 1/2 of the time. He moves into Cleveland to face one of the grittiest offenses in the game. The Indians seem to never lay and I can't remember more than 2 or 3 times where I've noticed them looking defeated. We know both Encarnacion and Santana and what type of upside they both bring. With Encarnacion being more expensive and Santana seeing the R/L matchup, I expect Santana to be higher owned. Both of these guys held .390+ wOBA's against righties in 2016 and have nothing to prove. Encarnacion will be a lot lower-owned than Santana and we know he can hit 2 HR in his sleep. Progressive Field is no container for the power of either of these guys. Pay attention to an Indians lineup that will likely go overlooked.
Second Base
Jason Kipnis FD 3100 DK 3600
Opponent - TEX (Ross) Park - @CLE
FD - 11.87 DK - 9.47
Jason Kipnis is in play a lot of nights, but rarely stands out as one of the best options. He's getting some shine tonight, facing off with Tyson Ross in Progressive Field. TysonRosss, once a big prospect with a lot of potential, is 2 arm surgeries deep and nowhere near the same pitcher. He also used to be horrible at holding runners, which I highly doubt he has corrected. He was much worse against lefties, and if anything, has only gotten worse. Tyson ROss should be looked as a completely different guy than the one who was dominating offenses in Petco Field on a regular basis. Jason Kipnis isn't the flashiest of players, but you wouldn't know that by his numbers. He hit 23 homers and stole 15 bases last year, giving you upside that is rare at the position. He's also pretty cheap on both sites, allowing you to have some extra money at another position. Kipnis hits well in Progressive Field and this is an offense I'm fully comfortable targeting. Kipnis is elite in both cash games and tournaments.
Robinson Cano FD 3500 DK 4500
Opponent - PHI (Nola) Park - @SEA
FD - 11.59 DK - 8.91
The Mariners aren't a team we're all over tonight, but you have to love Robbie Cano as a 1-off. He's still one of the undisputed best lefties in the league, at least in terms of hitting opposing righties. In 2017, Cano is holding a .356 wOBA and a 40% hard contact rate. With a .263 BABIP, his numbers will inevitably come up. He's been coming through in the right spots and it seems like he's back to having the vibe of Yankees Cano. The team relies on him and he clearly shoulders the load, successfully. He faces off with a young stud in Aaron Nola. Nola is going to have a future and be a solid pitcher when it's all said and done. As of now, he's still very much figuring it out against lefties. He's held a .349 wOBA so far and nothing points to that being exaggerated in any way. He's walking nearly 5 lefties per 9 innings, so it's clear that he's just nervous and unwilling to throw his pitches in the zone. Cano will make him pay if he makes a mistake and should be pretty low-owned. I could of went with a Dustin Pedroia or LeMahieu, but there obvious and don't need to be harped on. Cano should be low owned and has a ton to work with in the match-up.
Fire up No Half Time for baseball season, and get a $25 bonus code when you use promo code DFSR25MLB!

Shortstop
Xander Bogaerts FD 3600 DK 5000
Opponent - MIN (Santiago) Park - @BOS
FD - 13.48 DK - 10.78
What's not to like? Can I just stop there? I honestly don't see anything to not like about this match-up with Hector Santiago. Santiago doesn't give up tons of singles to righties, but he gives up an insane amount of home runs. Insane. In just 2016, he gave up 26 home runs to righties. In 2015? 26. With half of those games being played at Target Field, Santiago should get an award for such a feat. In all seriousness, the green monster is looming. Santiago might give up 60 home runs per year if he played for the Sox and I think he might give up about that many tonight if they let him. Coming off of the DL, Santiago will likely be held to around 70 pitches, which forces a stretched pen to face the Sox. Bogaerts is good against everyone, so obviously holds a strong .364 wOBA dating back to 2016. Bogaerts is seeing a price bump on DK, so I can see the reasoning behind the fade. On FanDuel, not too much.
Corey Seager FD 3900 DK 5300
Opponent - LAA (Chavez) Park - @LAD
FD - 12.88 DK - 9.94
To start, Seager is a bit knicked up. Coach Dave Roberts said he was 80% 2 days ago, so I would assume a return is on the horizon. If Seager does sit once again, you can obviously ignore everything I'm about to say. If he's in there, you can be confident that he's in playing shape. Dave Roberts has made it clear that he won't put the future of the origination in any jeopardy, especially when the opportunity cost is a June game. Seager is obviously one of the best SS's in the game and at just 23, he's going to get better. He held a .400 wOBA against righties in 2016 and looks to be getting there again this year. He also hits better at home, where he posted a .461 wOBA in 2016. Jesse Chavez is as average as they get and has held a wOBA against lefties from .330-.360 over his career. Seager isn't as likely to hit one out as Bogaerts, but he might be safer and lower owned. Take a shot if he's in there.
Third Base
Josh Donaldson FD 3800 DK 4100
Opponent - BAL (Gausman) Park - @TOR
FD - 14.44 DK - 10.89
Starting us off at third base, we'll take a look at a guy who was out of our lives for a lot of this year. Josh Donaldson has finally returned from injury and it's great to see him back. He's already on his way to having another fantastic season, currently sporting a .400+ combined wOBA. He's definitely better against lefties, but don't let that take you away from his top 5/ elite numbers against righties as well. Donaldson changes the dynamic of this entire offense and we've clearly seen it upon his return. As for tonight, the Jays get one of the best match-ups around right now, Kevin Gausman. Even when Gausman is having his "good" games, he's allowing 4 runs and finding a way to strikeout 9. He's been far worse against righties and is currently holding the league's worst wOBA against them for qualified starters. The Blue Jays hold one of the highest implied run totals on the night and Vegas expects them to put up some runs. We get a very fairly priced Donaldson in an exceptional match-up, so I'm jumping on board.
Justin Turner FD 3900 DK 4700
Opponent - LAA (Chavez) Park - @LAD
FD - 12.37 DK - 9.59
We've focused on the lefties with Grandal and Seager so far, but Justin Turner has the best match-up of all. Jesse Chavez is a reverse splits pitcher, which means he is worse against righties (rare). The same can be said for Justin Turner, who prefers to hit righties. This is the perfect situation for Turner and I think we'll get him around 10% owned. Chavez has held a .385 wOBA against righties, which is a little worse than just bad. He's given up 19 homers in 80 innings with half of his games played in the spacious Angels Stadium. Turner currently holds a .430 wOBA against righties, which isn't too far off the number he has been at in recent years. If you want to pay up from Donaldson and get contrarian, Turner is a phenomenal way to go. I don't see many people taking Turner over Donaldson when it comes down to it and I actually agree in cash games, but in tourneys, use that to your advantage. Turner is seeing one of his best match-ups yet this season and I'll make sure I do whatever is necessary to get some exposure.
Outfield
Chris Young FD 2300 DK 3500
Opponent - MIN (Santiago) Park - @BOS
FD - 11.79 DK - 9.16

Mookie Betts FD 3600 DK 5100
Opponent - MIN (Santiago) Park - @BOS
FD - 14.81 DK - 12.11
We're taking a look at a duo that should be very popular. Both Mookie Betts and Chris Young dominate lefties and take on a bad one, at home in Fenway Park. Chris Young is basically a lock on FanDuel, priced at an insane $2300. I'm playing him in cash games, no matter the ownership. Betts on the other hand, carries a heftier price tag and shouldn't be crazily owned. Young held a .422 wOBA against leftie sin 2016, while Betts posted a .341. We've touched on Hector Santiago and there isn't much else to say. He has huge HR issues against righties and has shown no signs of turning that around. With the Red Sox being the only team projected to put up over 6 runs by Vegas, you can't ignore them for hurting you in the past. The hit well as a team in Fenway Park and both of these guys are a big reason why. Both Young and Betts are elite options in cash games, as well as in tournaments, where they have a better shot to hit an HR in the game than any other. Santiago has a special talent to give up HR's and you can expect a few of these Red Sox to take advantage. Also, play Chris Young.
Carlos Gonzalez FD 2700 DK 3200
Opponent - SF (Cain) Park - @SF
FD - 10.71 DK - 8.21

Charlie Blackmon FD 3900 DK 5100
Opponent - SF (Cain) Park - @SF
FD - 11.61 DK - 9.61
We haven't touched on this Rockies offense yet, but it speaks more to just how bad they suck than anything. These are the first 2 lefties with any real juice and you have to love them both. Even at AT&T Park, there is plenty of upside. First, CarGo can hit it out here no problem and Blackmon has some power as well. Even if Blackmon doesn't have the same power potential as normal, he makes up for it on the bases. With AT&T Park being so spacious and runs typically being difficult to come by, teams will often push their running games in order to manufacture runs. Blackmon is amazing at it and has been a great baserunner since entering the majors. Both CarGo and Blackmon sported .380+ wOBA's against righties in 2016 and we know how great they are. They face off with Matt Cain, who is officially DONE. He must not have much pride, because as a guy who used to dominate offenses every 5 days, I find it hard to believe it's easy to get bullied every time you take the mound. A .375 wOBA is very true for Cain and it'll be around there at the end of the year. I see no reason to avoid Blackmon or GarGo if they fit. I actually think this duo is a bit safer than the one above, but may not have as much upside. CarGo has retruned to his favorite group, the DL. You can ignore him.
Jose Bautista FD 3900 DK 3900
Opponent - BAL (Gausman) Park - @TOR
FD - 14.4 DK - 10.77
I could of went a lot of ways with this last OF spot. I just can't get over how bad Kevin Gausman has been. I mean, it's almost as if it's a completely different pitcher on the mound. A .418 wOBA is absolutely astounding at this point in the season and this ballpark won't help either. The Rogers Centre isn't as friendly for hitting as Camden Yards, but it's not far off. The Jays hit much better at home and while they all hit lefties a bit better, they can definitely hit righties. They were a top 10 team in 2016 against them. Bautista has actually been better against righties on this season, sporting a .360 wOBA and hitting 12 homers. He's turned it on of late and seems to be pretty focused at the plate, which you couldn't say just a month ago. This entire Blue Jays offense is going to be popular tonight and rightfully so. If Gausman does struggle like expected, the Orioles don't have great relievers outside of the backend. The Jays may be in for a huge performance and I certainly hope so, as do my lineups. Bautista is typically a GPP play only, but his price is down and I could play him in cash on DK.
GRAB A FREE TRIAL OF OUR PROJECTION SYSTEM, AND CHECK OUT DFSR PRO!
GET OUR FREE EBOOK ON DAILY FANTASY MLB and NBA BY CLICKING HERE!
You'll also get our picks in your inbox every day!
FREE EBOOK
SECRETS TO CRUSHING DAILY FANTASY FOOTBALL!
DON'T SET ANOTHER LINEUP BEFORE YOU READ THIS BOOK.