Baseball Picks Daily Fantasy
Expert Advice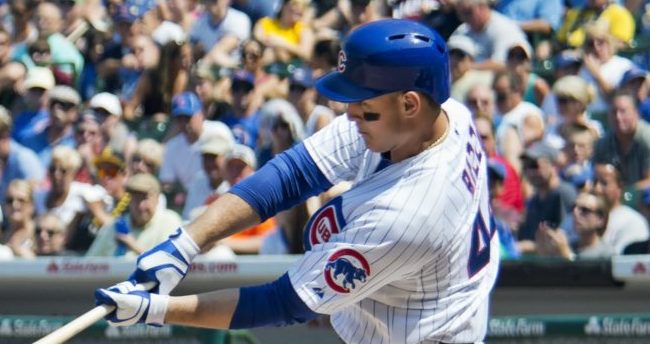 Daily Fantasy MLB Baseball Picks for FanDuel and DraftKings - 7/14/16
Now's your chance to get DFSR PRO, which will give you access to our MLB optimizer, our NBA Optimizer, and our new player lab! Get started for free by clicking the button below.
First time with MLB? Be sure to read our free MLB and NBA Ebooks on building lineups, general strategy and more. We've got you completely covered.
Pitcher
Carlos Carrasco FD 9500 DK 12100
Opponent - OAK (Gray) Park - @OAK
FD - 35.93 DK - 23.63
While the return to baseball on Friday doesn't give us too many options at the top, one stands out more than the rest. Carlos Carrasco and the Cleveland Indians open up the second half on the road in Oakland and come in as early -155 favorites. Carrasco didn't show up in our midseason CY Young award article but he is definitely in the race(6th in Vegas odds) with his 10-3 record, 3.44 ERA, and 9.8 K/9 rate. He has had a couple blips on the radar but has been extremely consistent averaging 37.7 FanDuel and 20.9 DraftKings points per start. Tonight he gets an elite matchup vs. an A's team that strikes out second most(25.4%) of any team vs. right-handed pitching. The price in DraftKings has reached a season-high making him GPP only but on FanDuel under $10K, he is safe in all formats.
Jacob DeGrom FD 10900 DK 11800
Opponent - COL (Gray) Park - @NYM
FD - 36.06 DK - 23.74
We will have to monitor the weather closely on this one as there is currently 40%-50% chance of rain around game time. If the game is a go, deGrom is a nice arm to pay up for in a home matchup where the Mets are currently -145 favorites. It has a lot to do with the fact the Rockies have struggled away from Coors in the first half ranking 24th in wOBA and 27th in wRC+ on the road with a 23.7% strikeout rate. I much prefer Carassco's consistency for cash games but think deGrom is a great ownership pivot for tournaments. He has tallied double-digit strikeouts six times and has topped 30 DraftKings points/50 FanDuel points eight times.
James Paxton FD 9200 DK 9900
Opponent - CHW (Shields) Park - @CHW
FD - 30.77 DK - 20.4
I think if the Mets game is a for sure go, you can go even more contrarian and roll with James Paxton. He will likely be avoided, at least on FanDuel, with Carrasco just $300 more and the fact the White Sox are a Top 5 team vs. left-handed pitching. They have faded a bit lately as they had the lead in the department for over two months to start the season which is really all that held them together. If there is one team that has already committed to sell now and rebuild it's the White Sox as they shipped Jose Quintana to the Cubs Thursday. The pitch count seems to be no longer a concern as he has pitched into the 7th inning in three straight starts and has a ton of upside with a 10+ K/9 rate. The discount can definitely help you get a couple big upgrades with your bats.
Catcher
Salvador Perez FD 3500 DK 3900
Opponent - TEX (Perez) Park - @KC
FD - 10.22 DK - 7.85
If you are planning on paying up at catcher in tournaments tonight, there is a strong argument it should be Salvy. Despite the Royals ranking 27th in overall runs scored, Perez has had a monster first half as he leads all catchers with 18 home runs and 57 RBI and sits Top 5 in wOBA and wRC+. He is one guy you don't have to platoon because of splits and he gets a plus matchup vs. arguably the worst pitcher on the slate. Roll him out with confidence, if you can afford him.
Buster Posey FD 3000 DK 3800
Opponent - SD (Richard) Park - @SD
FD - 10.77 DK - 8.3
While I prefer Salvy on DraftKings at just $100 more, I think it is totally worth taking the $500 discount on FanDuel and rolling with the future Hall of Famer Buster Posey. Like Perez, he is a catcher who has thrived this season despite playing on a team that doesn't score a lot of runs. Through 77 games, Posey leads all catchers with an impressive .324 average, .384 wOBA and 142 wRC+. He hits righties very well(.361 wOBA, 127 wRC+) but has crushed lefties this season to the tune of a .439 wOBA and 177 wRC+ so fire him up in all formats tonight.
First Base
Anthony Rizzo FD 4100 DK 4800
Opponent - BAL (Gausman) Park - @BAL
FD - 14.35 DK - 10.94
There are a ton of great options at the position tonight and my favorite for tournaments has to Anthony Rizzo. We all know he is an elite hitter with tremendous patience at the plate but his recent struggles could help keep his ownership lower than normal. I personally think it has a ton to do with luck this season as his .259 average sits behind a low .242 BABIP that is over 40 points lower than his career mark. Add to it that he is striking out over 5% less and is walking about 3% more this season and you have yourself a prime candidate for a big second half turn around. It could very well start tonight against Kevin Gausman who hasn't given up too many home runs but enters the second half with a 5.85 ERA and 4.90 xFIP while walking just under four batters per nine. That is definitely not a recipe for success.
Eric Thames FD 3500 DK 4600
Opponent - PHI (Pivetta) Park - @MIL
FD - 13.59 DK - 10.62
While I prefer Rizzo and a few others on DraftKings, I absolutely love Thames on FanDuel as the projections have him as the top PTS/$ play of the night at first. After a four-year absence, Thames has returned to the majors a new player and has absolutely mashed in the first half. He enters Friday's contest with an impressive .389 wOBA and 137 wRC+ with 23 home runs and while 11 of those came in April, he went into the break with hits in five of his last six games with eight runs scored. He is a GPP only play on DraftKings but safe in all formats on FanDuel tonight.
Also Consider: Josh Bell (PIT)
Second Base
Robinson Cano FD 3200 DK 4200
Opponent - CHW (Shields) Park - @CHW
FD - 12.26 DK - 9.42
With Cano in an elite matchup vs. James Shields, I do not see any reason to pay up for Murphy or Altuve on this slate, at least in cash games. Cano has seen the average drop a bit this season(.275) but has continued to provide power upside with 17 home runs and 60 RBI going into the second half. I can also see some positive regression coming to that average as he has been a bit unlucky with BABIP(.269) this season and it's also good news to see his K rate down almost 4% this season. We have been picking on Shields since he returned from injury and it is fully justified as he has stunk up the show with a 7.78 ERA, 6.46 xFIP while giving up nearly 40% hard contact and a 21% HR/FB rate. Load up on Mariners tonight.
Dee Gordon FD 3300 DK 3800
Opponent - LAD (McCarthy) Park - @MIA
FD - 8.3 DK - 7.95
The Marlins currently sit as home dogs on Thursday night but I think they can put up some runs with Brandon McCarthy on the mound. He has been very inconsistent and is striking out batters below league average while walking over 2.5 per nine. He does well limiting the power(5% HR/FB rate) but that is not Gordon's game at all as he has zero entering the second half. What Gordon does bring to the table is his ability to get on base(.342 OBP) and tear up the base paths. He already has tallied 32 stolen bases and scored 53 runs.
Also Consider: Jonathan Villar (MIL)
Try out InGame Fantasy for a totally new DFS experience. Promo code: DFSR


Shortstop
Carlos Correa FD 4000 DK 4700
Opponent - MIN (Berrios) Park - @HOU
FD - 11.7 DK - 9.09
He comes at a high cost but not only has been one of the top shortstops but one of the best players overall in the game. He is another player that could have easily made it into our MVP candidate article as he ranks 6th overall among hitters in WAR(4.0). From a fantasy perspective, he enters the second half with 20 home runs, 65 RBI, and 62 runs scored with an elite .325/.402/.577 slash line. The matchup isn't anything to write home about but Berrios hasn't been great lately allowing 3+ earned runs in three straight starts with five home runs against. I much prefer my next option for cash games but think Correa is an excellent GPP play tonight that could be very low owned.
Zack Cozart FD 3400 DK 4300
Opponent - WSH (Gonzalez) Park - @CIN
FD - 9.9 DK - 7.77
If it's consistency you are looking for, go knocking on Zack Cozart's door tonight. He picked up a hit in his first MLB All-Star Game at-bat and enters the second half with a dazzling .316/.394/.547 slash line with nine home runs and 42 runs scored. He has been the primary #2 hitter in the Reds lineup and benefits greatly from hitting in front of Joey Votto. Cozart, like Correa, doesn't get the best matchup at the position but Gio Gonzalez appears to be due for some regression considering his xFIP(4.28) is close to a run and a half higher than his ERA on the season. More good news. Cozart has assaulted left-handed pitching this season to the tune of a .451 wOBA and 179 wRC+. He is safe in all formats in the next tier down of pricing.
Also Consider: Elvis Andrus (TEX)
Third Base
Justin Turner FD 3600 DK 4600
Opponent - MIA (Straily) Park - @MIA
FD - 10.56 DK - 8.19
Turner got off to a hot start this season before being sidelined with an injury for over three weeks. He didn't lose any momentum as he has a very impressive .375/.500.727 slash line over the past month and leads all third basemen with at least 200 plate appearances with a .377 average, .447 woBA and a 183 wRC+ as the second half is about to kick off(football references already popping up). The best part is that he comes at a bit of a discount from the elite players at the position which makes him a great mid range play in all formats.
Kyle Seager FD 2500 DK 3300
Opponent - CHW (Shields) Park - @CHW
FD - 11.33 DK - 8.67
Ever since the sites released their pricing for tonight over the All-Star break I have been pondering why the heck Seager is $2,500 on FanDuel vs. James Shields. I get that he has struggled with the power and the average and well everything this season, but he has upside and gets an elite matchup tonight. The strikeout rate remains in the 16% zone which isn't terrible but he just hasn't been able to drive runs in. The good news is that the opportunity will remain as he hits in the five-hole behind Cano and Cruz and faces gas can James Shields who has been terrible since returning from injury. In four starts, he has posted a 7.78 ERA, 6.46 xFIP with an ugly 21.9% HR/FB rate.
Also Consider: Evan Longoria (TB)
Outfield
George Springer FD 4400 DK 5500
Opponent - MIN (Berrios) Park - @HOU
FD - 12.54 DK - 9.74

Josh Reddick FD 3300 DK 4500
Opponent - MIN (Berrios) Park - @HOU
FD - 11.75 DK - 9.22
There are currently five teams with an implied run total over five and outside of the Mariners, the Astros are my favorite of the bunch. They lead all of baseball with 527 runs, which is a whopping 41 runs more than the second place team. They are absolutely loaded from bottom to top and it starts at the leadoff spot and George Springer. He isn't your prototypical leadoff man as he doesn't run much anymore(2 SB) but comes in with an elite .311/.380/.613 slash line with 27 home runs, 61 RBI and 76 runs scored. Josh Reddick ranks quite a bit higher on the PTS/$ scale making him the preferred cash game option and he has played a big role with Astros in 2017. Primarily hitting out of the two-hole, he has put together one of his best seasons since 2012 when he was with the A's. The difference this season has been the slash line which sits at a career-high .313/.365/.515 to go along with nine home runs and 55 runs scored.
Mark Trumbo FD 3600 DK 4300
Opponent - CHC (Montgomery) Park - @BAL
FD - 12.24 DK - 9.3
After a career-high 47 home runs and 108 RBI in 2016, we knew there would be some regression for Trumbo but that doesn't mean he isn't still a very high upside GPP play. He entered the break with 14 home runs and just 44 RBI but the entire team was struggling which didn't help the upside. The floor is very low for a player who strikes out over 20% of the time and sits with a .254 average and .316 on-base percentage but he did go into the break with hits in eight straight and nine of his last 10 games that included four home runs. He has also really improved his hitting vs. left-handed pitching after a hitting below the Mendoza lien vs. southpaws in 2016.
David Peralta FD 3000 DK 4200
Opponent - ATL (Dickey) Park - @ATL
FD - 11.86 DK - 9.55
Peralta is in a great spot tonight facing R.A. Dickey who I love to pick on. Yes, he can get the Knuckler moving and shut a team down at time but overall he has been pretty terrible as he enters the second half with a 4.23 ERA and even worse 5.10 xFIP. The real issue is when he starts issuing free passes(3.45 BB/9) as he doesn't have the K upside(5.95 K/9) to get out of a jam. The Diamondbacks rank as a Top 10 offensive team going into the second half and Peralta is right in the middle of the strong lineup. He enters tonight's matchup with a .358 wOBA and 115 wRC+ with eight home runs and 49 runs scored. He is more of a GPP play on DraftKings over $4K but at $3K on FanDuel he is in play in all formats.
Also Consider: Steven Souza Jr, Corey Dickerson (TB)
GRAB A FREE TRIAL OF OUR PROJECTION SYSTEM, AND CHECK OUT DFSR PRO!
GET OUR FREE EBOOK ON DAILY FANTASY MLB and NBA BY CLICKING HERE!
You'll also get our picks in your inbox every day!
FREE EBOOK
SECRETS TO CRUSHING DAILY FANTASY FOOTBALL!
DON'T SET ANOTHER LINEUP BEFORE YOU READ THIS BOOK.