Baseball Picks Daily Fantasy
Expert Advice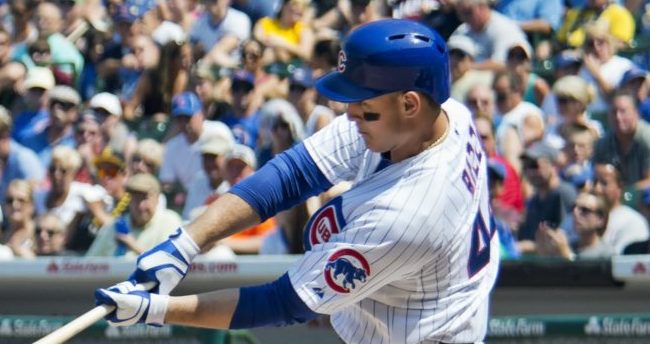 Daily Fantasy MLB Baseball Picks for FanDuel and DraftKings - 7/19/16
Now's your chance to get DFSR PRO, which will give you access to our MLB optimizer, our NBA Optimizer, and our new player lab! Get started for free by clicking the button below.
First time with MLB? Be sure to read our free MLB and NBA Ebooks on building lineups, general strategy and more. We've got you completely covered.
Pitcher
Early Slate 
Carlos Carrasco FD 9700 DK 13400
Opponent - SF (Cain) Park - @SF
FD - 35.78 DK - 23.44
I am really not sure what DraftKings is doing with their pricing of pitchers lately as I never thought I would see the day Carlos Carrasco would be over $12K let alone $13K like he is tonight. I would only advise using him in deep GPP's today as the games are split down the middle giving us a medium sized early slate reducing the amount the value plays that will pop up to make him easier to roster. On FanDuel, however, it is a different story as his salary remains under $10K making him a viable option in all formats. He and the Indians are early -220 favorites and Carrasco gets a huge park boost going to AT&T Park in San Francisco. There is always a chance of him blowing up as he has given up 5+ earned runs in two of his last four starts but the strikeout upside he brings gives him enough of a floor to offset the earned runs. His last start was a perfect example as he gave up five earned runs but struck out 10 and still ended up with 34 FanDuel/19.5 DraftKings points.
Main Slate
Jacob DeGrom FD 11200 DK 12600
Opponent - STL (Leake) Park - @NYM
FD - 37.94 DK - 24.94
On the main slate, we have two options over $10K on FanDuel and three on DraftKings but I lean deGrom for a couple of reasons. First of all, while he and Greinke have very close to the same stats(ERA, K rate, win/loss record) and matchup rating it is deGrom who gets the sizeable park boost throwing in Busch Stadium vs. the All American Smallpark. Early in the season deGrom struggled with giving up walks but has cleaned that up and has been terrific lately. Since being torched for 15 earned runs in two starts at the end of May/start of June, he has held opponents to one earned run or less in five of his last six starts with 47 strikeouts and nine walks and has gone at least seven innings in all of them. Roll him out in all formats.
Be sure to check out the starting pitcher article released shortly after this one with another option from each slate today.
Catcher
Early Slate 
Hector Sanchez FD 3600 DK 3200
Opponent - COL (Gray) Park - @COL
FD - 8.5 DK - 6.52
After starting and hitting home runs in three straight games, Sanchez sat out last night so there is a very good chance he is back in the lineup today. If so, he is a great play on an early slate that lacks catcher options and if he hits cleanup again, he becomes almost a must play. He has not been consistent at all this season hitting below the Mendoza line but provides enough pop to warrant to spot and as a bonus, he gets to hit in Coors Field.
Also Consider: Wilson Contreras(CHC)
Main Slate
Jonathan Lucroy FD 2400 DK 3300
Opponent - BAL (Gausman) Park - @BAL
FD - 9.42 DK - 7.27
It's been a rough season for Lucroy who sports a .258/.303/.365 slash line but has been better lately with hits in five straight and nine of his last 10 going into Tuesday night. On top of that, he gets an elite matchup vs. a struggling(understatement) Kevin Gausman who has given up 13 earned runs in his last two starts pushing his ERA North of 6.00 for the season. His fall down the lineup will hurt his overall projection tonight but in the mid $2K range on FanDuel, he is a perfect fit to load up on bats and still get deGrom in your lineup.
Also Consider - Welington Castillo(BAL)
First Base
Early Slate 
Anthony Rizzo FD 4200 DK 5400
Opponent - ATL (Dickey) Park - @ATL
FD - 14.38 DK - 10.97
If you are not paying up for Carrasco and his ridiculous price on DraftKings you will be able to load up some bats and no better place to start than Anthony Rizzo. He has been better at home this season but gets to take his at-bats in left hander friendly SunTrust Park and went into Tuesday night action with home runs in three straight games giving him 23 on the season. Despite his low average(.260), he has maintained a respectable 133 wRC+ which continues to give him upper tier value from a DFS perspective.
Also Consider: Carlos Santana(CLE)
Main Slate
Eric Hosmer FD 3400 DK 3900
Opponent - DET (Verlander) Park - @KC
FD - 10.37 DK - 8.06
With deGrom being more of the clear #1 play on both sites tonight, I will be leaning on more of a value PTS/$ approach at first base. Hosmer comes with a very affordable price under $4K on both sites and has provided a ton of consistency this season with a career-high .312/.368/.487 slash line. The power numbers are down as a whole a the Royals offense has struggled(27th in runs scored) but he makes an excellent cash game play with a steady floor.
Also Consider: Miguel Cabrera(DET)
Second Base
Early Slate 
Brian Dozier FD 3500 DK 4600
Opponent - NYY (Montgomery) Park - @MIN
FD - 12.4 DK - 9.89
While Dozier has 11 more home runs against right-handed pitching is wOBA(.377) and wRC+(136) are much better vs. southpaws. H has also heated up recently with hits in five straight including three multi-hit efforts and two home runs. The power is what I am concentrating on as he could get two, possibly three at-bats vs. Jordan Montgomery who has given up at least one home run in seven straight starts.
Also Consider: DJ Lemahieu(COL)

Main Slate
Logan Forsythe FD 3300 DK 3600
Opponent - CHW (Rodon) Park - @CHW
FD - 10.27 DK - 8.07
Another top value at second base who destroys southpaws. Forsythe, like Dozier, is only every playable against lefties and maybe some lower rung righties but it's a stretch. He comes into tonight with a .383 average, .465 woBA, and 193 wRC+ vs. left-handed pitching and should more than likely be back in the leadoff spot tonight. In the mid $3K range on both sites, Forsythe is a great play in all formats.
Also Consider: Daniel Murphy(WSH)
Try out InGame Fantasy for a totally new DFS experience. Promo code: DFSR


Shortstop
Early Slate 
Trevor Story FD 3900 DK 4200
Opponent - SD (Richard) Park - @COL
FD - 12.54 DK - 9.85
I highlighted Story in the DFSR mid season awards, however, it was under the bust column. I explained that Story has been striking out a ton more in 2017 and has been absolutely horrible against right-handed pitching. If he was facing a righty tonight, he would NOT be in this article I assure you of that. The good news is that he gets to face a southpaw at home at Coors Field and is under priced on both sites. He enters tonight hitting .292 with a .404 wOBA and 132 wRC+ vs. southpaws and will most likely be in most of the optimal lineups. Hard to pass this spot up today.
Also Consider:  Francisco Lindor(CLE)
Main Slate
Elvis Andrus FD 3000 DK 4100
Opponent - BAL (Gausman) Park - @BAL
FD - 9.81 DK - 8.47
While Story is under price on both sites due to his splits and home park, Andrus is just under priced overall on FanDuel tonight. After a career-high season in 2016, he is backing it up in 2017 with a .291 average and has stepped up the power game with 11 home runs, 50 RBI, and has scored 54 runs. More than anything, I just want to pick on Kevin Gausman as much as possible tonight as he has given up 13 earned runs in his last two starts including four home runs last game vs. the Cubs. Andrus has also been much better vs. right-handed pitching this season with a .346 wOBA and 113 wRC+ and at his current price, is safe in all formats.
Also Consider:  Troy Tulowitzki(TOR)
Third Base
Early Slate 
Miguel Sano FD 3700 DK 4100
Opponent - NYY (Montgomery) Park - @MIN
FD - 12.7 DK - 9.49
Chances are you won't be able to afford Nolan Arenado today on a smaller slate with limited value pitchers and this has me gravitating to Sano at a big discount. When you think of lefty mashers, Arenado is definitely the first name that pops up but Sano has also been very successful. Coming into tonight he sports an impressive .420 wOBA and 166 wRC+. He has struggled since the All-Star break hitting just .143 but is in a prime spot to snap out of it vs. Jordan Montgomery, who I mentioned with Dozier likes to give up the long ball.
Also Consider: Nolan Arenado(COL)
Main Slate
Manny Machado FD 3500 DK 4600
Opponent - TEX (Perez) Park - @BAL
FD - 13.68 DK - 10.55
After a disappointing start to the season, Machado closed out the first half on a high note with hits in six straight and eight of last nine games including three home runs. While he has yet to hit one out in the second half he has continued the hot hitting with hits in four of five games. While I don't the O's scoring 12 runs again tonight, I do see them getting to Martin Perez who is nothing more than an average arm with a 4.55 ERA and 4.62 xFIP coming into tonight.
Also Consider: Justin Turner(LAD)
Outfield
Early Slate 
Giancarlo Stanton FD 4200 DK 4700
Opponent - PHI (Pivetta) Park - @MIA
FD - 14.2 DK - 10.64

Christian Yelich FD 3400 DK 3900
Opponent - PHI (Pivetta) Park - @MIA
FD - 11.1 DK - 8.83
If you are playing the early or all-day slate today and not getting exposure to the Marlins, you might be doing it wrong as everything is lining up for a big offensive output today. They have been up and down lately but rank 6th overall in wOBA(.347) and wRC+(113) over the last 14 days. They have been led by their power bat Giancarlo Stanton who has been mashing lately with three multi-home run games in the month of July giving him 28 for the season. If you are paying up for Carrasco and can't quite afford Stanton, make the pivot to Yelich who doesn't provide the power upside(8 HR on the season) but does provide consistency with a ./284 average and .362 on-base percentage. The key to the whole Marlins double OF stack comes with the matchup vs. Nick Pivetta who has been borderline trash this season(sorry Jerry) with his 5.63 ERA and equally bad 4.79 xFIP. The best part about targeting him is the 17.7% HR/FB rate this season which includes four starts where he has allowed two or more home runs.
Ian Desmond FD 3700 DK 4600
Opponent - SD (Richard) Park - @COL
FD - 13.32 DK - 10.8
If Coors Field is more your style, don't hesitate to get Desmond in your lineups today. He hasn't shown the upside he had in years past but has been consistent option hitting .290 on the season out of the five and six-hole in the lineup. He has been a tick better vs. left-handed pitching this season but much better over the course of his career with a 15-20 point wRC+ and wOBA differential. He makes a nice value on-off option for cash games or as a part of a stack that could be a bit differentiated.

Main Slate
David Peralta FD 3000 DK 4600
Opponent - CIN (Adleman) Park - @CIN
FD - 12.26 DK - 9.88
The first name in the outfield that popped off the page on the main slate was Peralta who is hitting near the top of the Diamondbacks and has been extremely consistent. He picked up three more hits last night and now has hits in seven straight and 24 of his last 28 games. He doesn't get much of a park downgrade tonight going into the Great American Smallpark and gets a plus matchup vs. Tim Adleman who sits with an ugly 7.03 ERA and 5.06 xFIP over his last five starts and has given up nine home runs in that time(27.3% HR/FB rate).
Jay Bruce FD 3500 DK 4400
Opponent - STL (Leake) Park - @NYM
FD - 10.53 DK - 8.02

Michael Conforto FD 3700 DK 5100
Opponent - STL (Leake) Park - @NYM
FD - 11.17 DK - 8.43
The Mets are in a great spot tonight to put up some runs and support their ace Jacob deGrom as they face off with Mike Leake. While he somehow sits with a 3.14 ERA I am just not buying it as he barely strikes over six batters per nine and sits with a BABIp over 15 points lower than his career mark. He also struggles more against lefties and that's where the Mets outfield bats come into play. Conforto is back in the leadoff spot and has been heating up with hits in six of his last nine games with two doubles, two home runs, and eight runs batted in. For ultimate upside, I like turning to Jay Bruce tonight who enters the night with 25 home runs on the season and has hits in eight of his last nine games. He has also destroyed right-handed pitching hitting .292 with a .401 wOBA and 151 wRC+. I trust both in all formats tonight.
Also Consider: Mark Trumbo(BAL), Nomar Mazara(TEX)
GRAB A FREE TRIAL OF OUR PROJECTION SYSTEM, AND CHECK OUT DFSR PRO!
GET OUR FREE EBOOK ON DAILY FANTASY MLB and NBA BY CLICKING HERE!
You'll also get our picks in your inbox every day!
FREE EBOOK
SECRETS TO CRUSHING DAILY FANTASY FOOTBALL!
DON'T SET ANOTHER LINEUP BEFORE YOU READ THIS BOOK.