Baseball Picks Daily Fantasy
Expert Advice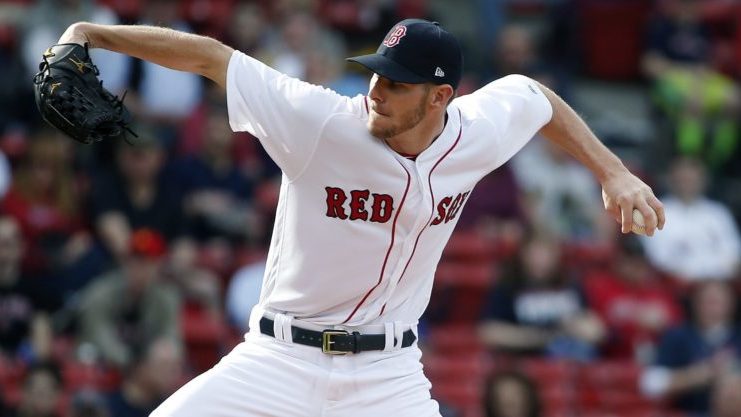 Daily Fantasy MLB Baseball Picks for FanDuel and DraftKings - 7/21/17
Now's your chance to get DFSR PRO, which will give you access to our MLB optimizer, our NBA Optimizer, and our new player lab! Get started for free by clicking the button below.
First time with MLB? Be sure to read our free MLB and NBA Ebooks on building lineups, general strategy and more. We've got you completely covered.
Pitcher
Chris Sale FD 11800 DK 13400
Opponent - LAA (Nolasco) Park - @LAA
FD - 48.27 DK - 32.05
After making a very strong case for best pitcher in baseball in the first half, Sale showed no signs of letting up last Saturday. He faced one of the most lethal offenses in baseball in the Yankees and struck out a season-high 13 batters while allowing just three hits in 7.2 innings but ended up getting a no decision. It was the 13th time this season he has struck out at least 10 batters in a game and he has now pushed his league leading strikeout rate up to 12.70 for the season. He comes at a cost but I favor him over Scherzer as he gets the better matchup, even with Trout back in the Angels lineup.
Alex Wood FD 10200 DK 11800
Opponent - ATL (Garcia) Park - @LAD
FD - 39.9 DK - 26.18
We get a little bit of narrative in this matchup as Alex Wood will face his former team for just the second time in his career after the Braves drafted him in 2012. He was traded to the Dodgers back in 2015 and has transformed into an elite starter this season giving the Dodgers a lethal one-two punch at the top of the rotation. Wood has yet to lose a decision and goes into Friday night with a clean 11-0 record and sparkling 1.56 ERA that is completely backed up by a 2.58 xFIP that sits second to only Corey Kluber. The matchup doesn't stand out as a must play as the Braves are right around league average when looking at wOBA, wRC+ and ISO vs. left-handed pitching but no one has been able to figure out Wood. At a nice discount from Sale and Scherzer, Wood is playable in all formats.

Aaron Nola FD 9100 DK 8400
Opponent - MIL (Garza) Park - @PHI
FD - 34.67 DK - 22.91
On DraftKings, I like the idea of rolling with Wood and Nola in cash games as the combination still leaves you with an average salary of $3,700 for your bats. I also think he makes an excellent GPP pivot on FanDuel and with the number of top options tonight, he will most likely be very low owned. He gets a downgrade a bit in the win projection as the Phillies as a whole are a hot mess and rank second last in runs scored. Well, he is currently a -145 favorite(Thurs night) and gets a plus matchup. He comes into Friday with an impressive 9.2 K.9 rate and faces a Brewers team that strikes out 25% of the time vs. right-handed pitching and 28% over the last 14 days. There should be enough strikeouts tonight to overcome the the lack of run support.
Catcher
Brian McCann FD 2700 DK 3700
Opponent - BAL (Jimenez) Park - @BAL
FD - 11.72 DK - 8.89
At catcher, there are two mid range options I am projecting to be in most of my lineups tomorrow and it starts with Brian McCann. He and the league leading Astros(558 runs scored) get a big park boost as they head on the road to start a three game series in Baltimore. They will be very popular over the next few days as the O's pitching staff sits second to last in the league in ERA(5.85) and have given up the fifth most home runs(91). It starts with Ubaldo Jimenez tonight who has seen his wheels fall off lately giving up four or more earned runs in three straight and four of his last five games.
Salvador Perez FD 2900 DK 3600
Opponent - CHW (Shields) Park - @KC
FD - 11.39 DK - 8.75
Next up we got Sal Perez who has shown us his 20+ home run upside over the last couple of years but has added some consistency to his bat in 2017. He entered Thursday nights game with a .282 average(highest since 2013) and leads all catchers with 18 home runs and 58 RBI on the season. The most impressive part is that he is doing this on a Royals team that ranks near the bottom of the league in runs scored. More good news, as he gets an elite matchup tonight vs. gas can James Shields who has given up four or more earned runs in three of his last four games with seven home runs against. Perez is also better against righties with a .353 wOBA and 120 wRC+. He is safe in all formats.
First Base
Eric Hosmer FD 3400 DK 3900
Opponent - CHW (Shields) Park - @KC
FD - 12.2 DK - 9.48
I am not fond of the matchups for the top priced first basemen but have found three mid-tier options who all bring value to the table Friday night. For cash games, I love Eric Hosmer especially on DraftKings where he comes at a $700 discount from the options below. Consistency is also the name of Hosmer's game as he enters tonight's matchup with a .312 average, .362 wOBA, and 126 wRC+ and has brought his K rate down almost 5% from last season. As I mentioned with Sal Perez above, the Royals get an elite matchup tonight facing arguably the worst pitcher on the slate.
Justin Smoak FD 3600 DK 4600
Opponent - CLE (Bauer) Park - @CLE
FD - 10.07 DK - 7.6
Smoak comes in behind Hosmer for a few reasons tonight starting with the price difference I mentioned above. He has also been better vs. southpaws but the matchup against Bauer cannot be ignored. Since his big 14 K outburst at the end of May, Bauer has pitched to a 4.95 ERA/4.49 xFIP over his last eight starts while walking almost 4.5 batters per nine. Smoak went hitless in his first two games back from the All Star break but has heated up since with hits in five straight including two home runs yesterday, giving him 26 for the season.
Justin Bour FD 3300 DK 4600
Opponent - CIN (Bailey) Park - @CIN
FD - 10.67 DK - 8.12
If you are playing tournaments and looking for a low owned pivot with similar upside, consider Justin Bour tonight. He is having a bit of a breakout season as he has put his excellent hitting(.285/.365/.552 slash line) together with his power profile(21 HR/63 RBI). He does strikeout almost 22% of the time and gets a knock hitting lower down in the lineup than the above options but gets the best hitting park of the three options and could put up a monster game at low ownership helping us to GPP glory on Friday.
Second Base
DJ LeMahieu FD 3600 DK 4500
Opponent - PIT (Williams) Park - @COL
FD - 12.21 DK - 9.97
Our first trip to Coors in the article brings us the 2016 National League batting champ, DJ Lemahieu. The average and runs scored have dipped this year but he still sits with a terrific .311 average and .368 on-base percentage.  He also gets to hit at home in a game with an enormous 11.5 total tonight and he hits second in front of one of the best hitters in baseball in Nolan Arenado. The opportunity to score runs will definitely be there as the Rockies have been red hot winning four straight while scoring 49 runs. There is also a chance you can get him at a lower ownership as Pedroia and Altuve are both in great spots and in the same range of salary.
Logan Forsythe FD 3300 DK 3500
Opponent - ATL (Garcia) Park - @LAD
FD - 9.66 DK - 7.59
If you are looking for value up the middle, it's safe to turn back to Forsythe who is always an option against southpaws. The average still floats under the Mendoza line against righties but he is hitting .371 vs. lefties with a .456 wOBA and 187 wRC+. Those numbers put him in elite company with names like Arenado, Turner, and Judge. He also gets an additional boost facing lefties as he normally occupies the leadoff spot but because of his platoon play, he continues to be underpriced and a great value. Safe in all formats.
Also Consider: Dustin Pedroia(BOS)
Try out InGame Fantasy for a totally new DFS experience. Promo code: DFSR


Shortstop
Zack Cozart FD 3300 DK 4300
Opponent - MIA (Urena) Park - @CIN
FD - 10.61 DK - 8.33

J.T. Riddle FD 2000 DK 2700
Opponent - CIN (Bailey) Park - @CIN
FD - 6.52 DK - 5.3
At the shortstop position, we are going to look at an option on both sides of the Reds/Marlins game. On the high end, I like Cozart who makes a nice pivot off Segura, Story, and Seager who should take up a ton of ownership at the position. Cozart may not have the full upside of those players but he has been an extremely consistent option who comes in with an elite .321/.400/.566 slash line with 20 doubles, six triples, and 11 home runs. He gets a plus matchup vs. Jose Urena who has been a train wreck in July walking over four batters per nine and has given up five home runs in just 13 innings pitched. Cozart is safe in all formats.
On the other side of the field, we get a punt option in J.T. Riddle who allows us to get an elite pitcher and some top bats in our lineup. He doesn't get any projection multipliers hitting down in the order but has been at his best in the month of July hitting .296 with a .350 on-base percentage. For cash games, it is worth paying up for Cozart leaving Riddle a GPP only, punt play tonight.
Also Consider: Troy Tulowitzki(TOR)
Third Base
Miguel Sano FD 3900 DK 4500
Opponent - DET (Sanchez) Park - @MIN
FD - 12.64 DK - 9.44
It's been a breakout season for Sano who has tied a career in RBI(66), set a mark in runs scored(60), and is just two home runs shy of tying his career mark in that category as well. What is most impressive is that even with a 33% K rate he has maintained .272 average while adding a .379 wOBA and 138 wRC+. I normally only target him against lefties but considering Anibal Sanchez has been 1. terrible on the road(6.33 ERA, .407 wOBA against) and 2. terrible vs. righties(.392 wOBA against & 8 HR) I will most definitely consider Sano, especially on FanDuel under $4K.
Mike Moustakas FD 3200 DK 3600
Opponent - CHW (Shields) Park - @KC
FD - 11.84 DK - 9.05
The Royals offense has been inconsistent, to say the least, so when I see them go off the night before I am always hesitant to go back to the well. If they were not facing one of the worst pitchers on the slate you wouldn't see any of them here but James Shields continues to be a train wreck since returning from injury in mid-June. In five starts, he has allowed 21 earned runs in 25.2 innings pitched with eight home runs against(19.5% HR/FB rate) and a 6.56 xFIP. This fully explains the elite PTS/$ projections this evening. Load up on the Royals.
Also Consider: Justin Turner(LAD)
Outfield
George Springer FD 4200 DK 5100
Opponent - BAL (Jimenez) Park - @BAL
FD - 13.91 DK - 10.8
It is really close at the top for me tonight between Stanton and Springer but Springer not only gets the edge in raw points but is also cheaper giving him the edge in PTS/$ as well. From a cash game perspective, I want the player who is a little more consistent and has more opportunities to score runs. Enter George Springer who hits leadoff for the highest scoring team in the league and while both have elite wOBA's over .390, Springer gets the edge in OBP, runs scored, and strikes out 4% less overall. I am not trying to sell you on fading Stanton, however, and I will definitely have shares in GPP but Springer is my top outfielder on the slate.
Nelson Cruz FD 4000 DK 4800
Opponent - NYY (Sabathia) Park - @SEA
FD - 12.8 DK - 9.66
While I would normally recommend Cruz against almost any lefty in all formats, he has a few things going against him making him a GPP only play tonight. He hasn't been as consistent lately with no multi-hit games since July 7 but has five home runs in that time. Tonight he faces CC Sabathia who has actually been pretty good lately limiting opponents to just eight earned runs over his last eight starts which should help with keeping Cruz's ownership in check. Don't worry too much as there is definitely blow up potential looking at Sabathia as a whole as he has given up four or more earned runs five times this season including four straight back in May.
Christian Yelich FD 3500 DK 3700
Opponent - CIN (Bailey) Park - @CIN
FD - 10.78 DK - 8.58
For tournaments, I prefer Stanton who has endless upside with his Hulk-like power but for cash games, I will settle for Yelich who comes at a discount and helps us get to a top tier pitcher. He has had a solid season hitting .282 but has been enjoying his best month of the season in July where he holds a .377 wOBA and 132 wRC+. Then there is the combination of the park upgrade going to the Great American Smallpark and the matchup vs. Homer Bailey who has been shaky since his return. He has two decent starts(one in Coors) where he has given up just two earned runs but has given up a combined 22 earned runs in the other three starts with six home runs against. I am banking on another home struggle for Bailey and a big night at the plate for the Marlins.

Nick Williams FD 3000 DK 3500
Opponent - MIL (Garza) Park - @PHI
FD - 11.1 DK - 8.52
Williams is getting an opportunity to prove himself with injuries to Aaron Altherr and Howie Kendrick. He has more than exceeded expectations through 16 games with a 3.16/.349/.614 slash line and enters tonight with an extra base hit in four straight games. The price is rising fast but there is still time to jump on board, especially in a matchup vs. Matt Garza who helps neutralize the strikeouts with his below average 6.1 K/9 rate and 4.64 xFIP.

Also Consider: Yasiel Puig(GPP), Lorenzo Cain
GRAB A FREE TRIAL OF OUR PROJECTION SYSTEM, AND CHECK OUT DFSR PRO!
GET OUR FREE EBOOK ON DAILY FANTASY MLB and NBA BY CLICKING HERE!
You'll also get our picks in your inbox every day!
FREE EBOOK
SECRETS TO CRUSHING DAILY FANTASY FOOTBALL!
DON'T SET ANOTHER LINEUP BEFORE YOU READ THIS BOOK.