Baseball Picks Daily Fantasy
Expert Advice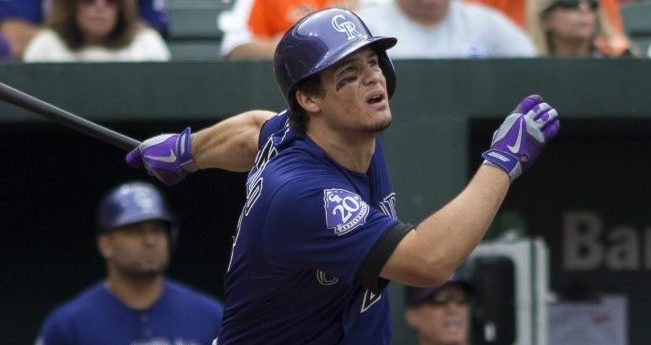 Daily Fantasy MLB Picks for FanDuel and DraftKings - 8/3/16
Now's your chance to get DFSR PRO, which will give you access to our MLB optimizer, our NBA Optimizer, and our new player lab! Get started for free by clicking the button below.
First time with MLB? Be sure to read our free MLB and NBA Ebooks on building lineups, general strategy and more. We've got you completely covered.
Pitchers
Early Slate
Michael Wacha FD 8400 DK 9700
Opponent - MIL (Garza) Park - @MIL
FD - 30.43 DK - 20.13
The three-game early slate is very interesting considering the top two pitchers(in salary) face off against one another and neither really gets a good matchup as both offenses are very dangerous. This makes the choice to turn to Michael Wacha very easy for me today. He gets the best matchup of all six pitchers as he faces a Brewers team that ranks dead last in hitting over the past few weeks with a .279 wOBA an 64 wRC+ with an awful 28% strikeout rate. Overall, they still rank Top 10 in those categories vs. right-handed pitching but still K 25.3% of the time. Wacha has been up and down this season but the highs have been much more frequent than the lows lately. He has held opponents to zero earned runs in two of his last three starts and held them to two or less earned runs in six of his last seven starts.
Main Slate
Alex Wood FD 9600 DK 11400
Opponent - ATL (Newcomb) Park - @ATL
FD - 36.1 DK - 23.72
Wood's put together one of the best pitching seasons in all of the majors (even with some time off due to injury) and would likely be a strong contender for the Cy Young if not for that absence and the Dodgers' rigidity with his pitch counts when he is healthy. But the last two games he's struggled, allowing 11 ER over 11 innings (with only 9 K's) to the Braves and Giants respectively. He'll face the former again tonight this is should be a good bounce back opportunity. Atlanta, without Matt Kemp, lacks anything in the way of power right handed bats and actually are quite lefty heavy down the lineup. Wood's 10.07 K/9 and 2.84 xFIP are in the elite level and LA has worked to stretch his pitch count out in the short term. He's likely the chalk on this slate with the FanDuel price coming in exceptionally low.
Eduardo Rodriguez FD 7800 DK 7200
Opponent - CHW (Gonzalez) Park - @BOS
FD - 31.21 DK - 20.61
Speaking of huge money line favorites coming on the cheaper side, Rodriguez and the Sox opened at -240 (10 o/u) and it's easy to see why. The White Sox are a bottom-feeding team at this point after selling off some at the trade deadline and not being all that good to begin with. The lineups they've run with in the short term have been K heavy as opposed to their season-long team stats. Look no further than the dumpster dive of a lineup they threw out yesterday against Happ and you have a pretty good idea of what will happen today. Obviously, E-Rod's issue is control with him walking more than 3.5 batters per nine but he as K upside that mitigates the wildness. I see him as a solid SP2 on DraftKings with the win expectation and a GPP target on FD if he can keep some semblance of control. Editor's Note: Rick Porcello will make the start after last night's rain out.
Catcher
Early Slate
Catcher on the early slate is a bit muddy at this time of the night. I am likely avoiding Contreras of the Cubs as he gets a tough matchup vs. Zack Greinke and both Manny Pina and Yadier Molina started against each other last night. If Molina starts the day game after night game, he will be my top target today. If Jonathan Lucroy, who has yet to play a game with his new team, starts I will likely have some exposure to him as well. I won't have a final say on this position until lineups are released in the morning.
Main Slate
Austin Barnes FD 2400 DK 4200
Opponent - ATL (Newcomb) Park - @ATL
FD - 10.16 DK - 8.05
Barnes typically gets the start against the lefties and oh how's destroying the ball when that happens. He's putting together a phenomenal season with a .915 OPS though to be fair it isn't all a huge platoon advantage. He's mashed both sides of his split. The 15.5% walk rate is really encouraging as a cash game play considering how he gets on base. And that should come in handy against Sean Newcombe who has all kinds of control issues. Newcomb is walking more than 4.5 batters per nine which mirror some of his struggles he had in the minors. This is a great spot for a lot of Dodgers and as long as he's in the lineup Barnes is likely a chalk play on FanDuel.
Evan Gattis FD 3000 DK 4200
Opponent - TB (Snell) Park - @HOU
FD - 11.96 DK - 9.13
Speaking of guys putting together excellent seasons, Gattis continues to rake with a .836 OPS (right in line with his career numbers). While this season he's been better against righties, that doesn't follow his career numbers where he's sporting more of a platoon neutral .338 wOBA against southpaws. Blake Snell could be in trouble against a patient Houston team who mitigates the K's and really works counts. Gattis should be hitting in the middle of the lineup (think cleanup) and the Astros are projected to put up runs against the Tampa lefty.
First Base
Early Slate
Mark Reynolds FD 4000 DK 4800
Opponent - NYM (Montero) Park - @COL
FD - 14.46 DK - 11.06
Same story at first base for the early slate as the top two options(in salary) face each and get below average matchups vs. high-quality starters. Next in the pecking order is Mark Reynolds of the Rockies who saw his salary drop below $5K on DraftKings once again, making him a top play. I found it an odd salary movement considering he is still at home in Coors and has much better splits vs. right-handed pitching this season with a .313 average, .401 wOBA and 130 wRC+. Take advantage of the upside and get Reynolds into your lineups.

Main Slate
Miguel Cabrera FD 3600 DK 4500
Opponent - BAL (Gausman) Park - @BAL
FD - 12.95 DK - 9.8
He definitely hasn't been vintage Miggy this season with the .770 OPS representing a crazy nosedive off his career numbers. Some of it can be attributed to BABIP issues (35 points below his career average), but he's also K-ing more. That being said, the hard contact rate is still there and I think this is more of a blip than an indictment on the big guy going forward. The Tigers are in a good spot against Gausman who isn't a total gas can, but is simply an average major league pitcher. Miggy's prices are still too low across the industry thanks to his struggles and I'm fine buying on the lower side.
Hanley Ramirez FD 2900 DK 3500
Opponent - CHW (Gonzalez) Park - @BOS
FD - 12.77 DK - 9.95
Speaking of prices that are way too low, Han-Ram is a complete steal tonight against Miguel Gonzalez. Hanley's been serviceable if uninspiring this season with a mid .700's OPS but he still has the advantage of hitting cleanup for this Red Sox team who project to put up runs against Gonzalez. Ramirez does have 17 HRs on the season and walks more than 10% of the time. Again, it's the prices I'm most interested in here as he's drifting toward punt land in the short term.
Second Base
Early Slate

Neil Walker FD 3600 DK 3900
Opponent - COL (Marquez) Park - @COL
FD - 11.14 DK - 8.58

Asdrubal Cabrera FD 3600 DK 4600
Opponent - COL (Marquez) Park - @COL
FD - 10.83 DK - 8.5
I am not too fond of the position today so I turn to Coors Field. Cabrera is the top play for cash games if you can afford it(on DraftKings) as he occupies the two-hole and gets the at-bat upgrade. Walker would be my choice for GPP's as he should be lower owned due to his struggles(2 for 12) since returning from the DL at the end of July. He was having an excellent season before going down with an impressive .349 wOBA and 117 wRC+ in 60 games to start 2017.
Also Consider Ben Zobrist on DraftKings who is just too cheap despite the matchup vs. Greinke
Main Slate
Logan Forsythe FD 2700 DK 2900
Opponent - ATL (Newcomb) Park - @ATL
FD - 10.47 DK - 8.23
I know, I sound like a broken record recommending Forsythe again but due just destroys left-handed pitching. So far this season vs. southpaws, he is hitting .316 with an elite .403 wOBA and 153 wRC+. He doesn't provide much power upside but is also under $3K on both sites which help get to a top pitcher or two and some top bats at other positions while providing a very manageable floor. Safe in all formats.
Shortstop
Early Slate
Adam Rosales FD 2300 DK 3100
Opponent - CHC (Quintana) Park - @CHC
FD - 3.69 DK - 2.93
I am looking to go cheap at the position on a three-game slate and Rosales fits that mold perfectly. It was a disappointing start the season with the A's where he slashed .234/.273/.346 from mostly the nine hole but he hit third in his first game with the D-Backs and made the most of it going 2 for 5 with a double and two RBI. He has been much better vs. left-handed pitching with a .331 wOBA and 108 wRC+(.243/49 vs. RH) and if hitting in the top half six is a viable play in all formats.
Main Slate
Brandon Crawford FD 2700 DK 3000
Opponent - OAK (Graveman) Park - @SF
FD - 9.03 DK - 7.08
If you can afford it tonight, Corey Seager is the top play and for GPP's Francisco Lindor should be lowered owned facing Sonny Gray in pinstripes.  For me, I like saving at the position and paying up for pitching and while Crawford doesn't provide a ton of upside, he has been decent lately with hits in seven of his last 10 games with three multi-hit efforts. He also gets a decent matchup vs. Kendall Gravemen who has been nothing more than an average arm with a 4.52 xFIP and has allowed a home run in six of his eight starts.
Third Base
Early Slate
Nolan Arenado FD 4800 DK 5400
Opponent - NYM (Montero) Park - @COL
FD - 16.52 DK - 12.61
Pay up at third base! Arenado comes at a cost but is more than worth it as he has been one of the hottest hitters in the league all season and especially in the second half. Since the All Star break, he has a .515 wOBA, 240 wRC+ with eight home runs and a league-leading 29 RBI. Arenado could get a ton more opportunities to drive in runs on Thursday facing Rafael Montero who is walking nearly five batters per nine and has given up four home runs in his last two starts. If you can only afford one Rockie this afternoon, make it Arenado.
Main Slate
Manny Machado FD 3800 DK 4600
Opponent - DET (Boyd) Park - @BAL
FD - 13.76 DK - 10.6
Despite not hitting a home run since before the All Star break, Machado has turned his season around. Through 19 games in the second half, he is hitting .343 with a .367 wOBA and 129 wRC+ and comes into tonight's action with hits in five straight and 10 of his last 12 games with six extra base hits. He has also been better vs. left-handed pitching with a .339 wOBA and 109 wRC+ on the season with a crazy 49.5% hard contact rate.
Outfield
Early Slate
Charlie Blackmon FD 4900 DK 5500
Opponent - NYM (Montero) Park - @COL
FD - 15.08 DK - 12.47
On FanDuel I don't think you are going to end up spending all that much on pitching considering the soft pricing, which means it could be time to load up on bats. Blackmon is putting together a career season with a .986 OPS thanks to a .273 ISO. He's seen a boost in HR/FB ratio but hell, it's Colorado after all and that kind of thing can happen. The Rockies have the highest implied total on the day against Montero and this could definitely be a spot to break the bank on a guy like Blackmon.
Also Consider: Randal Grichuk, Jay Bruce
Main Slate
Mookie Betts FD 4100 DK 5000
Opponent - CHW (Gonzalez) Park - @BOS
FD - 14.93 DK - 12.21

Jackie Bradley Jr. FD 2500 DK 3700
Opponent - CHW (Gonzalez) Park - @BOS
FD - 11.69 DK - 9.05

Andrew Benintendi FD 3100 DK 3600
Opponent - CHW (Gonzalez) Park - @BOS
FD - 13.19 DK - 10.67
The hell with it, let's do the Red Sox OF trifecta here. All three are in a great spot against Miguel Gonzalez whose season long numbers are really something behold. He's carrying a 5.60 xFIP into the game thanks to the inability to strike major league batters out and the ability to walk them. That's bad news for a guy like Betts who walks more than he strikes out (10% to 9%) and has the perfect power/ speed combo in the leadoff position. He's expensive, but this is such a solid spot. Benintendi and JBJ don't have the nearly the upside but the latter could hit in the two hole at mid tier prices and is pushing one a 10/10 season with HRs and steals. Meanwhile, JBJ brings in a mid .700s OPS and this is the much better side of his split. I'm not saying you need to play all three here, but the Red Sox have the gift of facing arguably the worst pitcher on the slate.
Also Consider: Enrique Hernandez, Yasiel Puig, Rajai Davis

GRAB A FREE TRIAL OF OUR PROJECTION SYSTEM, AND CHECK OUT DFSR PRO!
GET OUR FREE EBOOK ON DAILY FANTASY MLB and NBA BY CLICKING HERE!
You'll also get our picks in your inbox every day!
image sources
Nolan Arenado: By Keith Allison (Flickr: Nolan Arenado) [CC BY-SA 2.0 (http://creativecommons.org/licenses/by-sa/2.0)], via Wikimedia Commons
FREE EBOOK
SECRETS TO CRUSHING DAILY FANTASY FOOTBALL!
DON'T SET ANOTHER LINEUP BEFORE YOU READ THIS BOOK.