Daily Fantasy NASCAR Race Preview & Picks for DraftKings - I love New York 355 at the Glen
DFSR is proud to bring you Chris Durell. He'll be bringing weekly NASCAR picks, analysis and a FREE cheatsheet and video to help you cash on DraftKings.

Playing other DFS sports? Now's your chance to get DFSR PRO, which will give you access to our MLB optimizer and Player Lab! Get started for free by clicking the button below.
Want to learn some about MLB? Be sure to read our free MLB Ebook on building lineups, general strategy and more. We've got you completely covered.
I love New York 355 at the Glen
Watkins Glen International - Watkins Glen, NY
Track - 2.428 Mile Road Course
Laps - 90
This week the Monster Energy Cup Series will travel to Watkins Glen, New York for the second road course race of the season. Watkins Glen is much more different than Sonoma and I am not just talking location(Infineon-California, Watkins Glen-New York). Infineon Raceway is very technical with 12 turns while Watkins Glen has just seven turns and is much faster as drivers can reach speeds of 18-190 mph on the back stretch. The NASCAR America team breaks it quite well in this video.
Through 21 races, it has been a memorable year with 14 different race winners which includes Joey Logano's encumbered finish that won't count towards his playoff push. Speaking of the playoffs, there are just five races remaining for those non-winners to either grab a victory or point-race their way in and that includes Joey Logano who is currently sitting 18th and 69 points out of a playoff spot. Here is a look at the bubble going into this weeks race at the Glen:
14th - Chase Elliot(616 Points)
15th - Jamie McMurray(615 Points)
16th - Matt Kenseth(594 Points)
PLAYOFF CUTLINE
17th - Clint Bowyer(577 Points)
18th - Joey Logano(525 Points)
19th - Daniel Suarez(464 Points)
20th - Erik Jones(444 Points)
For fantasy, place differential is going to be the number one target this week. Over the last six races, at least 20 drivers in each have gained positive place differential with at least seven drivers with double-digit place differential. With just 90 laps it limits the dominator points available but is note worthy that over the past six races at the Glen at least two drivers have led 20+ laps in every race. Let's now take a look at some trends and early picks.
Last Six Winners
2016 - Denny Hamlin (started 6th)

2015 - Joey Logano (started 16th) 

2014 - A.J. Allmendinger (started 6th)

2013 - Kyle Busch (started 5th)

2012 - Marcos Ambrose (started 5th)
2011 - Marcos Ambrose (started 3rd)
Top 5 Current Track History at Watkins Glen
Joey Logano has dominated here over the last two years with a win in 2015 and runner-up last year. This is good news for his playoff chances as he sits outside the bubble. It has been a Team Penske and Joe Gibbs Racing track over the last two years with Brad Keselowski, Kyle Busch, and Matt Kenseth joining Logano as the only other drivers to finish both races inside the Top 10.
Top 5 Career Track History at Watkins Glen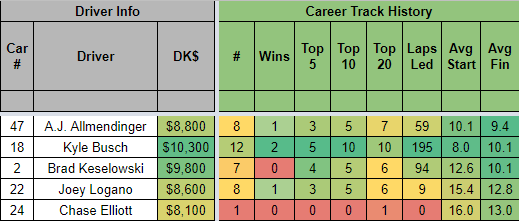 Looking at track history from a career scope, it has been A.J. Allmendinger who has enjoyed Watkins Glen more than any other driver. It's his best track by a long shot(next closest avg finish-Phoenix at 17.8) and the place where he captured his only Cup win. He is also the only driver with a career average finish below 10. Kyle Busch and Brad Keselowski are real close with shared 10.1 career average finishes but it is Busch who leads all active drivers with two wins.
Top 5 Current Track Type History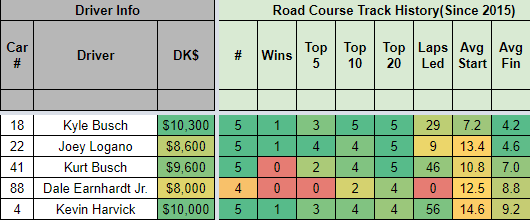 Over the last five road course races, it has been Kyle Busch and Joey Logano who have dominated with a win each and an average finish south of 5. Busch has finished all five races inside the Top 10 while Logano has four Top 5's in those five races. Teammates Kurt Busch and Kevin Harvick also pop as both have managed to lead laps on the road courses and maintain an average finish below 10.
Top 5 Current Form (last six races)

Topping the form chart are Denny Hamlin, Kevin Harvick, and Clint Bowyer who all have a 10.0 average finish or better over the last six races. Rookie Daniel Suarez has also been extremely impressive in the #19 JGR car recently with three straight Top 10 finishes at three different track configurations(New Hampshire, Indy, Pocono). While those four have been very consistent it has been Kyle Busch hogging all the DraftKings points. Over the last six races which take us back to Sonoma, Busch has averaged 53.3 DK points per race which is 6.7 per race more than Martin Truex Jr. who is next on the list. Be sure to check out the race by race trends sheet to see all Dk points per race averages including track type.
Early Week Picks
Kyle Busch ($10,300) - He got the monkey off his back last week and will be now gunning for playoff points with five races to go in the regular season. He will be chalky once again in all formats but like I said above, he has dominated the DK points and showed up in every category up top as well.
Denny Hamlin ($9,200) - He started his career with four straight Top 10's here but struggled in the years following with finishes outside the Top 20 in five of his next six. He turned that streak around in a big way last year winning for the first time at the Glen. He also comes in with extremely consistent for with Top 5 finishes in four of his last six races(9.0 avg fin).
Joey Logano ($8,600) -  His price has dropped $200 and is close to $1,000 below his season average. He has dominated here and on road courses lately and needs the win in a big way as he sits on the outside looking in when viewing the playoff picture.
Erik Jones ($6,500) - He is a rookie in his first race at the Glen but I am willing to risk it seeing as he saw his salary drop $,1800 this week. He proved he can be viable on road courses at Sonoma as he started 30th and worked his way up to a 25th place finish. This play will come down to qualifying but looks great right now.
**Reminder: There will be no video again this week with same-day qualifying on Sunday. I will, however, have a quick top picks article up over at my blog(JagerBombs Fantasy Sports). Check it out Sunday after Qualifying and follow me on Twitter(@Jager_Bombs9).**
Below you will find a copy of my DFS NASCAR cheathsheet which includes Track History, Current Form, DraftKings points averages, Track Type History, Practice/Qualifying Ranks and much more. Get it HERE. I also have available my Race by Race Trends sheet you can view as well. 

If you have any questions scroll down to the comment section and join the conversation.Good Luck everyone!
Chris Durell has been playing Daily Fantasy Sports for four years and fantasy in general for more than a decade. He is active player in NFL, MLB, NHL, PGA, and of course NASCAR. He lives in Saskatchewan, Canada with his wife and two daughters. You can follow him on Twitter at @jager_bombs9 for advice, strategy, answers to any NASCAR questions or how he copes with the winters up north.