Daily Fantasy PGA Picks for DraftKings & FanDuel - PGA Championship
DFSR is proud to bring you, Chris Durell. He'll be bringing weekly PGA picks, analysis, and breakdowns to help you cash on DraftKings. As every week in DFS PGA changes with the course setup, field of players and weather, Chris will be providing a range of different picks for cash games as well as upside plays for tournaments. If you have any questions to lineup lock you can reach him a variety of ways. Leave your question/comment below in the comments section, find him in the DFSR Chat room or hit him up on Twitter(@Jager_Bombs9).


Chris is also currently providing his DFS PGA cheatsheet for FREE while it is still in BETA mode. You can also grab a copy of the Salary/DK Points/Ownership Trends Sheet HERE.
PGA Championship
The final opportunity to capture a major in 2017 has arrived as the PGA Championship starts this Thursday. The tournament rotates courses each year and for the first time will be hosted by the Quail Hollow Club in Charlotte, North Carolina. While Quail Hollow has not hosted a major, it has hosted the Wells Fargo Championship annually since 2003(was Wachovia Champ from 2002-2008) and I have added the past five years results to the cheatsheet. I will be weighing that course history a little lower than usual as the team at Quail Hollow made some big changes to the course following the 2016 wells Fargo Championship. I wrote about some of the changes in my Early Thoughts Article over on my blog. The big takeaway is that the course is now playing longer and will now be a Par 71(previously Par 72). The other major player this week will be the rain as there is about a 50% chance or great of thunderstorms from Friday through Sunday. Stay tuned to my weather updates which I have now added to my cheatsheet.
From a fantasy perspective, I won't be putting a ton of emphasis on the Milli Maker as I don't particularly like the payout structure, especially if you are not max entering like many will be doing this week. I did win a couple satellite tickets and with those,  will be attempting to go a bit contrarian to form a unique lineup. To do this I will be using a combination of tools starting with the FanShare Sports Most Tagged List that I go over at the bottom of this article. I will also be using the ownership projections from Fantasy National Golf Club.
The emphasis this week will be most definitely be hitting the fairways here at Quail Hollow and with the added length and high chances of wet conditions, Driving Distance is also going to be huge in my opinion. This has me weighing Strokes Gained Off the Tee right at the top of the list when looking at key stats that I list below. I do love the ball strikers here and will have Strokes Gained Approach as my next key stat in the model and will be specifically looking at long iron approach distances(175-200 & 200+ yards). All three Par 5's are under 600 yards this week and should be scoring holes which has me weighing it over Par 4 scoring this week. I will also combine that with Birdie or Better % overall. I weigh Putting a little lower as it can be very streaky at times and will rather look at the short term trends for that stat vs. season long numbers(using FNGC).
Let's now take a look at the course overview, previous winners, and then get into the top picks when looking at form, history, and the stats model.
The Course
Quail Hollow Club - Charlotte, NC
Par 71 - 7,600 Yards
Greens - Champion UltraDwarf Bermuda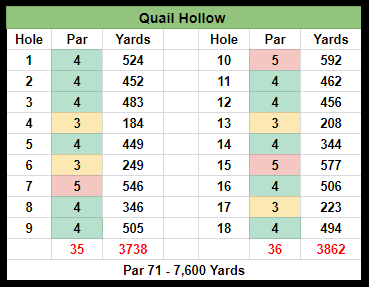 **Click to Enlarge**
Past Five PGA Championship Winners
2016 - Jimmy Walker (-14 at Baltusrol)
2015 - Jason Day (-20 at Whistling Straits)
2014 - Rory McIlroy (-16 at Valhalla) 
2013 - Jason Dufner (-10 at Oak Hill)
2012 - Rory McIlroy (-13 at Kiawah Island)
Past Five Wells Fargo Championship Winners(Quail Hollow)
2016 - James Hahn (-9)
2015 - Rory McIlroy (-21)
2014 - J.B. Holmes (-14)
2013 - Derek Ernst (-8)
2012 - Rickie Fowler (-14)
Top Stats in the Model
Strokes Gained Off the Tee/Distance
Strokes Gained Approach
GIR from 175-200 and 200+ Yards
Par 5 Scoring 
Birdie or Better %
Other Stats I am Weighing: Strokes gained Putting, Bogey Avoidance
Top Course History Targets(Wells Fargo at Quail Hollow)
Rory McIlroy
World Golf Ranking (#4)
Vegas Odds (7/1)
Draftkings ($11,800)
FanDuel ($10,300)
I could have fit Rory into any one of these categories this week. He ranks #1 on my sheet in Strokes Gained Off the Tee, 2nd in Strokes Gained Approach + Off the Tee, 5th in GIR from 200+ Yards, 1st in Par 5 Scoring and 4th overall in Birdie or Better %. He is also coming off back to back Top 5 finishes but the reason he is mentioned here is for his course and tournament history. He has not only won the PGA Championship twice(2014-Valhalla & 2012-Kiawah Island), he has also won the Wells Fargo Championship here at Quail Hollow twice(2015 & 2010). I won't be using him in cash games as I don't think you need to go into the $10K+ range, but my core tournament lineups will be centered around Rory this week. He will be chalk in the top tier but I think there is more than enough ways to separate yourself with your other five golfers.
Justin Rose
World Golf Ranking (#13)
Vegas Odds (35/1)
Draftkings ($9,000)
FanDuel ($8,200)
Rose is another golfer that nails down both the PGA Championship and Wells Fargo Championship history this week. There was a stretch where he missed three straight cuts at the PGA but over the past five years has two Top 5's(2012 & 2015) and has not finished worse than 33rd. He has also been excellent at Quail Hollow, playing here twice over the last five years finishing 3rd and 5th. The price continues to drop(-$1,300 since OPEN) making him a great value but will be a GPP only play for me due to the weak form coming into this major.
Also Consider: Phil Mickelson (Never missed a cut in 14 appearances at Quail Hollow with 9 Top 10's)
Top Current Form Targets
Hideki Matsuyama
World Golf Ranking (#3)
Vegas Odds (11/1)
Draftkings ($10,500)
FanDuel ($8,800)

He doesn't rank at the top of my five-tourney form list but is my favorite of the group. He is coming off a dominating win last week at the Bridgestone to add to his already elite 2017 season. The win was his third of the season to go along with three runner-up finishes, the most recent at the US Open a few weeks ago. Looking at his last 12 rounds overall(three tournaments) on FNGC, Deki ranks #1 in DraftKings points, #3 in SG: T2G, and #7 in SG: APP. He also ranks 14th in Par 4 efficiency and 2nd in Par 5 efficiency in that timeframe. He also comes to us with some history as he is coming off a 4th at last years PGA Championship has been trending at the Wells Fargo as well over the last three years(2014-T38, 2015-T20, 2016-T11). I will be using him in GPP's on both sites but think he makes an elite cash game play on FanDuel in the $8K range.
Charley Hoffman
World Golf Ranking (#20)
Vegas Odds (55/1)
Draftkings ($7,600)
FanDuel ($6,500)

"I'm tired of finishing second."@hoffman_charley is here to win. pic.twitter.com/1JxZzXbavF

— PGA TOUR (@PGATOUR) August 6, 2017
I always love seeing that kind of confidence in a player. Serously! 282 Yards over water from the primary rough? Whoa!
The season started off as a huge roller coaster ride as Hoffman missed six of his first 10 cuts. That is now in the past as he has been one of the hottest players on Tour lately. He hasn't missed a cut since the Heritage in mid-April and comes in with three Top 5 finishes in his last five tournaments. He also has some excellent Major form considering he is in the mid $7K with a T22 at the Masters, 8th at the US OPen, and T22 at the OPEN Championship. The other thing that stands out to me when looking at his last 12 rounds is that he ranks 3rd in DK points, 4th in SG: OTT and 20th in SG: Putting. He doesn't have the PGA Championship history and hasn't played Quail Hollow since a missed cut in 2011, but is coming in red-hot and could force his way up the leaderboard if he continues playing at an elite level.
Also Consider: Jordan Spieth (T13, Win, Win, T35, T13, T2 in last six tournaments)
Who the Stats Like
Dustin Johnson
World Golf Ranking (#1)
Vegas Odds (12/1)
Draftkings ($11,400)
FanDuel ($10,000)

The World's #1 player appears to be rounding back into form after back to back missed cuts at the Memorial and US Open and disappointing T54 at the OPEN Championship. He finished T8 at the RBC Canadian Open and T17 this past week at the Bridgestone and has shot in the 60's in seven of his last eight rounds. Statistically speaking, he tops all golfers on my sheet with a rank of 2nd in SG: OTT, 1st in SG: OTT + APP, 3rd in Driving Distance, 4th in GIR from OTF, 11th and 6th in GIR from 175-200 & 200+ yards, 10th in Par 4 Scoring, 6th in Par 5 Scoring, and Top 10 in both BoB% and Bogey Avoidance. My favorite part about this pick is the fact that Rory, Matsuyama, and Fowler should soak up a ton of ownership in the top tier making DJ an excellent GPP pivot.
Tony Finau
World Golf Ranking (#61)
Vegas Odds (80/1)
Draftkings ($7,000)
FanDuel ($7,000)

While DJ could be lower owned, you can expect Finau to be very chalky thanks to an extreme value price tag of $7,000 on both sites. He sits 8th in my stats model this week thanks to elite rankings of 5th in SG: OTT, 7th in SG: OTT + APP, 7th in Driving Distance, 4th in both GIR from 175-200 and 200+ yards, 13th and 10th in Par 4 and Par 5 Scoring and ranks Top 15 in both BoB% and Bogey Avoidance. From a statistical standpoint, he is a cheap man's Dustin Johnson. He also fits the recent form model this week with eight straight made cuts including Top 10's in two of his last three and ranks 6th in average DraftKings points over his last five tournaments. Don't let the high ownership scare you off this elite value play.
Also Consider: John Rahm(3rd in SG: OTT, 3rd  in SG: OTT+APP, 5th in Par 4, 16th in Par 5, 7th in BoB% on sheet)
Who is being Mentioned on FanShareSports(DraftKings)
$10K+ Range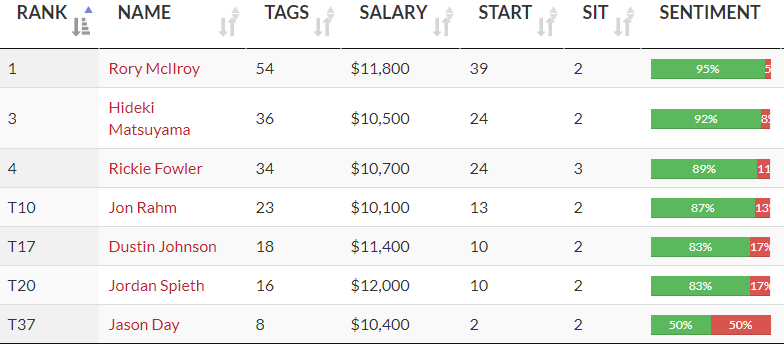 With his course and PGA Championship history, stats, and trending form you can expect Rory to be one of the highest owned golfers not only in the top tier but overall. If you are looking to pivot away in the Milli Maker or other big GPP's I already discussed DJ above but also love the idea that Jordan Spieth could be under owned. He is looking to become the sixth golfer in PGA Tour history to complete the Career Grand Slam after his big win at the OPEN a few weeks ago. He ranks #1 in SG: APP on my sheet and the only real concern for me is the Off the Tee game.
$9K & $8K Range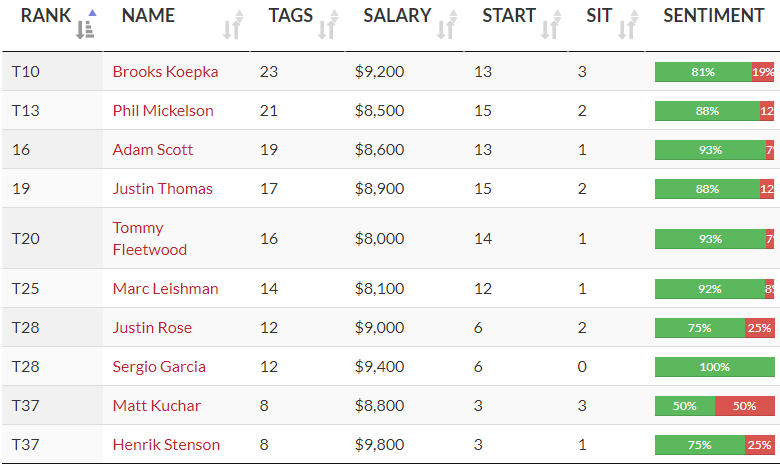 My early thought here is that this range is an excellent spot to try and separate yourself is using chalky top tier plays like Matsuyama, Rory, Fowler. Of the top 20 players most tagged this week, there are only four players from the $8K/$9K range. Brooks Koepka is my top player in this region despite being projected for the highest ownership. Dude has been tremendous at the Majors in his career. Check this out:
Since missing the cut in his first two majors, he has made 14 straight cuts including his win at the US Open and has finished Top 5 at the last two PGA Championships. At a salary under $10K on both sites, he is a steal this week. If you are looking for low ownership in this tier take a close look at Matt Kuchar, Henrik Stenson, and Branden Grace who have all seen tag counts below 10 thus far.
$7K & $6K Range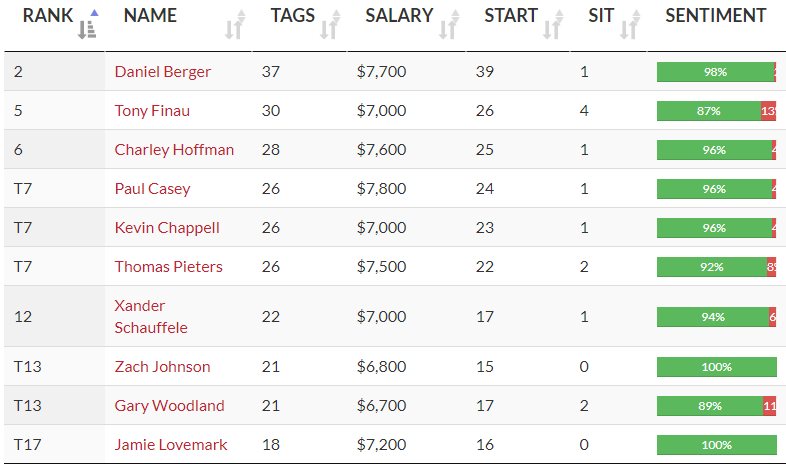 As you can see, this range is loaded with popular plays as DraftKings has once again softened the pricing for a major to most likely attract newer players to the game. What it does is push the ownership level of the stars and scrubs approach as it is very easy to combine two studs in the top tier with multiple players from this range. Daniel Berger and Tony Finau are going to be the biggest chalk here as both have received 30+ tags through Tuesday morning. I discussed Finau and Hoffman above in the player write-ups but if you are looking to pivot off some of these popular plays here are a few I like:
Danny Lee - Super low price in the mid $6K range and has finished 9th and 13th in his last two trips to Quail Hollow in 2016 and 2015(Wells Fargo). Has been tagged just eight times(5 start) and is projected around 5%-8% ownership and I wouldn't be surprised to see it lower.
Brendan Steele -  He is likely to be a little higher owned than Lee but still sits outside the Top 10 in the range. He fits my overall model as he has finished 14th and 9th in his last two trips to the Wells Fargo at Quail Hollow and ranks Top 31st or better in all Strokes Gained metrics besides putting(65th) on my sheet.
Gary Woodland - Another player that seems way too cheap for what you are getting. Sure, the form hasn't been the greatest but he hits on the stats model(14th in SG: T2G, 15th in Driv Dist, and 12th in Par 5 Scoring). He also had success at Quail Hollow with three straight Top 25 finishes including a 4th in 2015.
PGA Championship Update Thread
**Weather Update**

Chris Durell has been playing Daily Fantasy Sports for five years and fantasy in general for more than a decade. He is active player in college football, NFL, MLB, NASCAR, NHL and of course PGA. He lives in Saskatchewan, Canada with his wife and two daughters. You can follow him on Twitter at @Jager_Bombs9 for advice, strategy, answers to any PGA questions and how he copes with the winters up north.