Daily Fantasy NASCAR Race Preview & Picks for DraftKings - Pure Michigan 400
DFSR is proud to bring you Chris Durell. He'll be bringing weekly NASCAR picks, analysis and a FREE cheatsheet and video to help you cash on DraftKings.

Playing other DFS sports? Now's your chance to get DFSR PRO, which will give you access to our MLB optimizer and Player Lab! Get started for free by clicking the button below.
Want to learn some about MLB? Be sure to read our free MLB Ebook on building lineups, general strategy and more. We've got you completely covered.
Pure Michigan 400
Michigan International Speedway - Brooklyn, MI
Track - Two-Mile D-Shaped Oval
Laps - 200
The regular season is winding down fast and we are now just four races away from the Playoffs. After picking up his fourth win of the season last week, Martin Truex Jr. has opened up a huge lead at the top of the standings(881 points) over Kyle Larson(765 points) and is likely going to grab those extra 15 playoff points awarded to the regular season champion. Going into this weekend there are 13 drivers who have picked up an official win and are already locked into the Playoffs leaving three final spots to either a first-time race winner in 2017 or it will come down to a points race. While it appears Chase Elliott, Jamie McMurray, and Matt Kenseth are comfortable, one bad race can change the whole landscape with the new points system. Before getting into this weeks race lets's take a look at the drivers around the cutline.
14th - Chase Elliot(648 Points)
15th - Jamie McMurray(643 Points)
16th - Matt Kenseth(637 Points)
PLAYOFF CUTLINE
17th - Clint Bowyer(609 Points)
18th - Joey Logano(542 Points)
19th - Daniel Suarez(508 Points)
20th - Erik Jones(477 Points)
This week the Monster Energy Cup Series heads back to the fastest track in NASCAR, Michigan International Speedway. Looking at this week's cheatsheet, it is very clear that track position is very important as we see four of the last six winners have started from the pole with some heavy correlation to starting position. From a dominator standpoint, we see a split when it comes to how many drivers lead laps. Three of the last six races have seen one driver(Larson, Logano, Kenseth) lead 90 or more laps with the other three races having two or three drivers share the laps led. The race earlier this year, which was the first here with stages, saw Kyle Larson dominate from the pole but led 96 while Kyle Busch(40) and Martin Truex Jr(62) still got a nice share. Practice will be the determining factor. Place differential is always key as well as we have seen at least 18 drivers pickup positive PD and at least three drivers pickup double-digit PD in each of the last six races.
Let's now take a look at some of the trends going into this weeks race.
Last Six Winners at Michigan International Speedway
2017 Spring - Kyle Larson (started 1st)
2016 Fall - Kyle Larson (started 12th)
2016 Spring - Joey Logano (started 1st)
2015 Fall - Matt Kenseth (started 1st)
2015 Spring - Kyle Busch (started 24th)
2015 Fall - Jeff Gordon (started 1st)
Top 5 Current & Career Track History at Michigan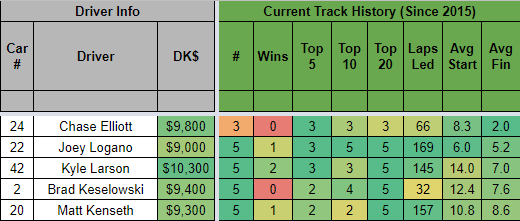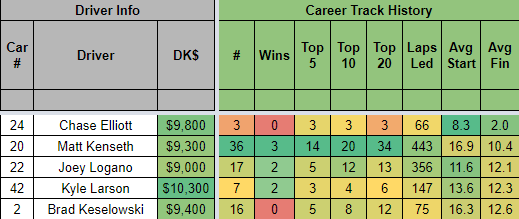 Chase Elliott continued to impress here at MIS in June with his third straight runner-up finish to start his career on the track. He has been struggling lately with just one Top 10 in his last four races but this could very well be the week he breaks out again. The driver keeping Elliott out of Victory Lane the last two race here has been Kyle Larson who has picked up back to back checkered flags here. He won from the poll in June and picked up his first ever Cup Series win here last August from the 12th place starting position. Matt Kenseth won the race in August 2015, his third at MIS in his career and outside of Elliott's small sample size holds the best career average finish among active drivers. While Brad Keselowski has not won here yet in his career, he sits in the Top 5 on both the current(8.6) and career(12.6) average finish list.
Top 5 Current Track Type History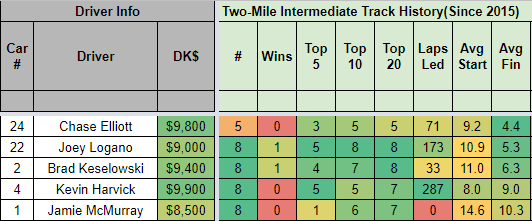 Looking at the results from both Michigan and Fontana since the start of 2015, it has been Chase Elliott leading the way as he has yet to finish outside the Top 10 at a two-mile track. Joey Logano is a close second and hasn't finished outside the Top 10 at either track since 2012(10 races). Brad Keselowski has also been impressive on the two-mile tracks with a 6.3 average finish over the last eight races and has finished Top 10 in nine of his last races between the two tracks.
Top 5 Current Form (last six races)

This is where things get interesting. As you can see it is very close at the top with four drivers within a 1.7 average finish differential. Denny Hamlin is the only one of the group that has won a race recently showing you the consistency of this group. These are the drivers I love to add to my cash lineups on a weekly basis. Looking at the DraftKings points averages over the last six races, both Martin Truex Jr(59.4) and Kyle Busch(54.7) have dominated as they have led the majority of laps.
Dominator Pick 
Brad Keselowski ($9,400)
Everything lines up here for Brad to be the mega chalk this week but I dare you to fade him. He is starting from the pole and was fastest in final practice & second fastest in the first practice on Saturday. He has yet to win here in his career but I mentioned above he has finished Top 10 in nine of the last 10 races at MIS including three Top 5's.
Place Differential Picks 
Ryan Blaney ($8,700)
I am honestly not sure how popular Blaney will be to the general public this week as he has just one top 10 at Michigan in five races and three finishes of 24th or worse. The less owned the better as he qualified 12th and posted the 4th fastest speed in both final practices on Saturday.
Martin Truex Jr. ($10,600)
Brad Keselowski made it clear he thinks the Toyota camp is toning things down this week as NASCAR inspects the competitive balance heading into playoffs. #FakeNews if you ask me. After qualifying 13th on Friday, crew chief Cole Pearn continually made the #78 car better posting the 10th and 2nd fastest speeds in the final two practices on Saturday.
Dale Earnhardt Jr. ($7,900)
I haven't been on the #88 in awhile as the speed and results just haven't been there. That could change this weekend as Jr. presents some nice place differential value. He starts 19th but posted the 6th fastest practice speed in both final practices.
Top Value Play
Ty Dillon ($6,600)
Starting 33rd this week, Dillon makes an elite value pay considering the #13 car got better on Saturday posting the 28th and 24th fastest speeds. He has finished inside the top 20 in five of his last six races overall and finished 20th, 24th, and 14th in his only three races at MIS.
YouTube Video
Below you will find a copy of my DFS NASCAR cheathsheet which includes Track History, Current Form, DraftKings points averages, Track Type History, Practice/Qualifying Ranks and much more. Get it HERE. I also have available my Race by Race Trends sheet you can view as well. 

If you have any questions scroll down to the comment section and join the conversation.Good Luck everyone!
Chris Durell has been playing Daily Fantasy Sports for four years and fantasy in general for more than a decade. He is active player in NFL, MLB, NHL, PGA, and of course NASCAR. He lives in Saskatchewan, Canada with his wife and two daughters. You can follow him on Twitter at @jager_bombs9 for advice, strategy, answers to any NASCAR questions or how he copes with the winters up north.