Baseball Picks Daily Fantasy
Expert Advice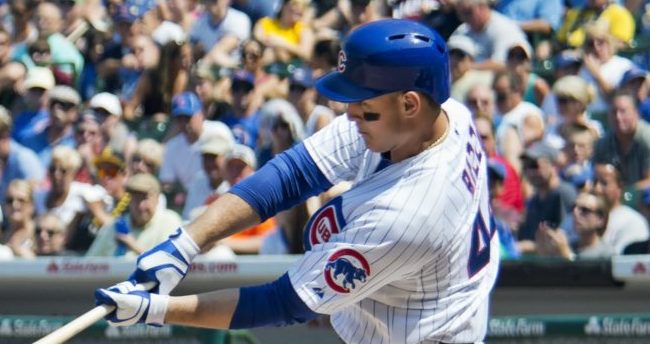 Daily Fantasy MLB Baseball Picks for FanDuel and DraftKings - 8/14/17
Now's your chance to get DFSR PRO, which will give you access to our MLB optimizer, our NBA Optimizer, and our new player lab! Get started for free by clicking the button below.
First time with MLB? Be sure to read our free MLB and NBA Ebooks on building lineups, general strategy and more. We've got you completely covered.
Pitcher
Jose Quintana FD 8400 DK 11600
Opponent - CIN (Wojciechowski) Park - @CHC
FD - 35.37 DK - 23.17
When we have a slate like yesterday with numerous aces on the hill, you're bound to run into a few days like this. Our only true ace on this hill (Greinke) is in Chase Field facing off with the best offense in baseball. While he has as much upside as ever, I can't see an argument for Greinke in cash games. Instead, we'll move down a bit and focus on Jose Quintana, the newly acquired Cub. Quintana would be the ace in a lot of rotations and has the ability to be a top 15 pitcher. He played in front of a bad defense in the White Sox and will make some head turns on the north side. As a lefty, he is virtually unhittable against same-side bats (.259 wOBA, 9.58 K/9) and has limited righties to a .323 wOBA. This match-up with the Reds is solid one, considering they come in at 17th in the league with a 90 wRC+. They are far worse on the road and struggle more against lefties than righties. Eugenio Suarez and Zack Cozart are the 2 big lefty killers to maneuver around, but I don't think he'll have much trouble. While I'm hesitant to say I feel safe with any of these options, Quintana is as closes as you will find. Price-wise, he's great on FanDuel. DraftKings is a whole different story at a staggering $11.6k. It will be interesting to see how the rise in price will affect his ownership across different formats. As for me, Quintana will be in 100% of my cash games and most of the tournaments.
Jerad Eickhoff FD 7400 DK 8000
Opponent - SD (Wood) Park - @SD
FD - 27.92 DK - 18.59
Jerad Eickhoff is a good pitcher. On this slate, there's something to be said for that. Pitching is absolutely barren on this slate and the opportunity to pay down for Eickhoff is something that needs to be considered. First things first, Eickhoff is no slouch running into good luck. He's a strong young pitcher who is expected to be a long-term rotation arm in Philly behind Nola. Eickhoff may not be as good Nola, but he's not too far off either. Against righties, Eickhoff sports a .293 wOBA and strikes out nearly 9 batters per 9. His problems come against lefties, who have been a bit lucky with a .340 BABIP. This match-up with the Padres is ideal and the move into PetCo Park will only help the pitching. Eickhoff also sees some strikeout upside tonight with the Padres K'ing nearly 26% of the time. Travis Wood is on the other side of the mound and I suspect a win will be rather easy if Eickhoff can control the damage. At such a solid price across the industry, Eickhoff is a play I'm fine with in both cash games and tournaments.
Catcher
James McCann FD 2500 DK 3200
Opponent - TEX (Perez) Park - @TEX
FD - 10.08 DK - 7.9
Starting us off at catcher, let's take a look at James McCann. McCann is a pretty weird hitter if we're being honest. Against righties, he's absolutely horrible. He holds a .277 wOBA and belongs nowhere near the lineup. Against lefties, however, McCann is one of the best hitting catchers in all of the sport. In nearly 200 PA, McCann has posted a .431 wOBA with 12 XBH. It's rare to see such a distinction in numbers, but it's always possible. McCann and the Tigers are a team we want to look at tonight in both cash games and tournaments against a soft-tossing lefty in Martin Perez who has some HR issues. The price is absolutely phenomenal here and the biggest selling point of the item is the hard cover.
Alex Avila FD 2500 DK 3800
Opponent - CIN (Wojciechowski) Park - @CHC
FD - 4.71 DK - 3.55
While James McCann is one of the best lefty-hitting specialists around, he will never be a must play. We do have some other options at the position and one in particular that's very interesting. Alex Avila has hit righties exceptionally well for years now and is expected to see Wojciechowski today. The Woj hasn't been the worst young pitcher of all time, but he hasn't been great either. With a .332 wOBA allowed to lefties, the Cubs should be able to get it going a little bit at home. Avila has been producing non-stop since getting to Chicago and I think he puts on another stellar hitting show here. He may not be just as safe as McCann, but he's close and has as much upside, if not more.
First Base
Freddie Freeman FD 4500 DK 5600
Opponent - COL (Bettis) Park - @COL
FD - 13.47 DK - 10.34
If I have to pick out 1 hitter from this entire slate as the top point scorer, it would be
Freddie Freeman
. Anytime he's facing a righty in Coors Field, I will have heavy exposure.
Chad Bettis
Ian one of the better arms the Rockies have. But Hess till not very good at home with a .364 wOBA. Freeman has posted a .400+ wOBA against righties for years now and I think it's safe to assume Freeman may be over .480 if he played in Coors as a home ballpark. I'm sure Rockies fans would love to see it. This is a slate with plenty of options and while 1B is a spot I like paying up for on this slate, you can always wait until lineups come out and attack the cheap value in good spots. If you're looking for a guy with domination potential, he's the one.
Anthony Rizzo FD 3900 DK 4700
Opponent - CIN (Wojciechowski) Park - @CHC
FD - 13.09 DK - 9.98
If Freddie Freeman is a bit too expensive or doesn't float your boat for whatever reason, Anthony Rizzo is an elite pivot. He faces off with Asher Wojciechowski and a Reds bullpen that has been struggling for years now. Nobody is here to argue how good Rizzo is, but let's take a look. Against righties, he's held a .411 wOBA since the start of 2016. He has as much HR upside as anyone in the league in this match-up and should be treated as one of the top raw plays on the slate. The Woj is a young right-hander who is far from ready to be thrown in the fire. The Cubs are projected to score over 5 runs and I think Rizzo leaves a big enough footprint on that number.
Second Base
Ian Kinsler FD 3300 DK 4400
Opponent - TEX (Perez) Park - @TEX
FD - 11.67 DK - 9.32
Ian Kinsler against a lefty is always a fantastic idea. Dating back to 2013, Kinsler has been dominating Lefties to a .412 wOBA. He's sported a 1.37 HR/9 and has done a good job with the HR against lefties. They do match-up with the Detroit Tigers, however. The Tigers figure to be one of the top match-ups to choose from on this slate and figure to put up some fireworks. Martin Perez is absolutely atrocious against righties with a .373 wOBA and 16 homers allowed. He has no shot against this righty-heavy Tigers team that has more than enough HR potential. All in all, Kinsler is the top option at the position and is in a spot where he can limit damage in multiple ways.
Jonathan Schoop FD 3800 DK 3800
Opponent - SEA (Gallardo) Park - @SEA
FD - 10.81 DK - 8.33
Without any must-play aces on the hill, you can pay up for a lot of bats. Let's take a look at
Jonathan Schoop
here, who has brutalized both lefty and righty pitching. Schoop, along with Gallardo, has reverse splits tendencies. Schoop is better against righties and Gallardo is worse against them. You don't see it often and when you do, it's something to jump on in a tournament. Schoop is always going to give you the big HR upside and with the M's projected for over 5 runs, he is a very safe way to go. I still like Kinsler a bit more in cash games, but not by much. Second base is pretty wide open and there are some other ways to get creative a bit lower with a Gennett or Villar type.
Try out InGame Fantasy for a totally new DFS experience. Promo code: DFSR


Shortstop
Jean Segura FD 4300 DK 4700
Opponent - BAL (Gausman) Park - @SEA
FD - 9.67 DK - 8.3
Jean Segura
is a bit pricey here, but SS is ugly and he does stand out a bit. As a right-handed hitter who hits opposing righties better, this match-up sets up perfectly for Segura.
Kevin Gausman
has definitely figured a few things out and is slowly transitioning into the arm he was last year. Still, he's always struggled against righties and has a long way to go until that's fixed. Since 2014, he's allowed a .361 wOBA and 1.36 HR/9. Segura may not have much power upside in this park, but he can bring upside in other ways as well, like stealing bases and manufacturing runs. If you don't have the funds to pay up for Segura, I get it. I just think he does hold a slightly premium spot at the position and may go under-owned at the high price point.
Freddy Galvis FD 3100 DK 3800
Opponent - SD (Wood) Park - @SD
FD - 8.93 DK - 7.27
Freddy Galvis
isn't a name you hear much come up in the DFS world and it makes sense. He's an average bat in a horrible lineup. He doesn't stand out and isn't good enough to make a name for himself in Philly. He is good enough, however, in this match-up with Travis Wood. First things first, Travis Wood is by no means a good pitcher. He's allowed a .342 wOBA and has struggled mightily at holding runners on first. I'm not a huge fan of Galvis as a player, but he's in the 2 spot and should get some RBI opportunities in a dangerous offensive spot. You will have to pay down in a couple spots and Glavis is one of the top spots to do that with. He should get you some kind of production and is cheap enough to not dent your cash game hopes.
Third Base
Jake Lamb FD 3300 DK 4800
Opponent - HOU (McHugh) Park - @ARI
FD - 12.13 DK - 9.28
Surprise, surprise. Jake Lamb at home against a righty. Lamb is still one of the best and most electric bats in the game. He demolishes righties to a well over .400 wOBA and is even better in Chase Field. He hits between the likes of Paul Goldschmidt and J.D. Martinez, so pitchers have no choice but to throw Lamb strikes. Collin McHugh isn't a bad pitcher and he's not one you want to pick on a ton, but he's also not great. He's given up a .358 wOBA to lefties since 2016 and his trouble with the HR ball will presumably never go away. He moves into a very friendly hitters park and should have trouble with the lethal D-Backs order. Lamb is priced down just a bit and makes for an easy choice in both cash games admins tournaments.
Evan Longoria FD 2800 DK 3100
Opponent - TOR (Tepesch) Park - @TOR
FD - 11.51 DK - 8.79''
Evan Longoria
isn't a guy I thought I'd be targeting much at all this year. Especially against a righty. Longo has long been a lefty-smasher for years, but it looks like those days are possibly over. He's sporting a similar .331 wOBA to righties and hasn't seen a monster split over the last year or two.
Nick Tepesch
is absolutely horrible and there isn't much else to say. He last pitched in 2014, when he allowed a whopping .370 wOBA to righties. The Rays aren't a team that flashes too much, but deserve some respect as an under the radar GPP stack. They have some power spread throughout and we won't see much more than 15% ownership on anyone, if that.
Outfield
Carlos Gonzalez FD 3700 DK 3400
Opponent - ATL (Teheran) Park - @COL
FD - 12.42 DK - 9.52

Charlie Blackmon FD 5100 DK 5800
Opponent - ATL (Teheran) Park - @COL
FD - 14.59 DK - 12.07
We haven't touched on the Rockies yet, even though an implied run total over 6 is being thrown out by Vegas. You can definitely play all of these Rockies in the infield, but I'm not sure they stand out at their prices with the other options to choose from. Our favorite Rockies of the bunch are Cargo and Blackmon and they make for an elite play in both cash games and tournaments. When
Julio Teheran
takes the mound, you know what you'll get for the most part. He's absolutely terrible against lefties (.371 wOBA since '16) and is typically strong against righties, but has been slipping in that department early on as well. This game in Coors Field currently holds an 12 over/under with the Rockies projected to put up 6.38 runs. Blackmon and Cargo are 2 elite hitters against righties and I will take them both for HR pick of the night. I know, cheating.
Corey Dickerson FD 3000 DK 3600
Opponent - TOR (Tepesch) Park - @TOR
FD - 11.85 DK - 9.3
Corey Dickerson
is the best hitter on this Rays team and they do a great job of hitting him right in the top of the order, giving him as many plate appearances as possible. Dickerson has utterly destroyed righties for the last few years and hasn't shown any signs of slowing down. A .355 wOBA on a low BABIP and what you like to see out of a guy with 22 homers on the season. He faces off with
Nick Tepesch
, who we've touched on briefly. He utterly bad and hasn't been able to have a solid start since his last stretch of starts in mid-2014. Tepesch is looking to make a comeback here and Vegas is expecting the worst with the Rays well over 5 runs. They make for great plays in all formats and are priced fairly around the industry.
Rhys Hoskins FD 2100 DK 3300
Opponent - SD (Wood) Park - @SD
FD - 11.1 DK - 8.48
Rhys Hoskins
is a guy you need to pay attention to. He's one of the biggest hitting prospects in the minors and will likely end up being a premier Power bat for the Phils. He has 40 HR upside and while he hasn't shown it yet, he's had less than a week. We looked at Travis Wood plenty and conclude he's just bad at this point. With peripherals that look correct, there's no reason for the surface numbers to read what they did. Wood is going to have a lot of trouble for the rest of this year and I truthfully don't think he will make it until the end without being pulled. Hoskins is going to hit an HR very soon and this could be the game it happens. I will have my fair share of exposure in all formats.
GRAB A FREE TRIAL OF OUR PROJECTION SYSTEM, AND CHECK OUT DFSR PRO!
GET OUR FREE EBOOK ON DAILY FANTASY MLB and NBA BY CLICKING HERE!
You'll also get our picks in your inbox every day!
FREE EBOOK
SECRETS TO CRUSHING DAILY FANTASY FOOTBALL!
DON'T SET ANOTHER LINEUP BEFORE YOU READ THIS BOOK.