Baseball Picks Daily Fantasy
Expert Advice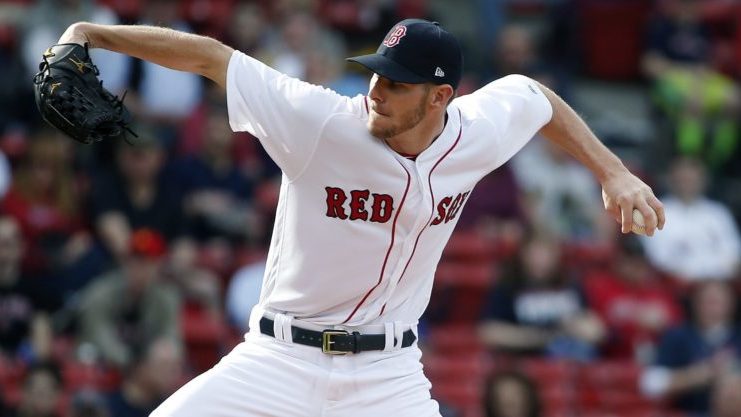 Daily Fantasy MLB Baseball Picks for FanDuel and DraftKings - 8/19/17
Now's your chance to get DFSR PRO, which will give you access to our MLB optimizer, our NBA Optimizer, and our new player lab! Get started for free by clicking the button below.
First time with MLB? Be sure to read our free MLB and NBA Ebooks on building lineups, general strategy and more. We've got you completely covered.
Pitcher
Chris Sale FD 11500 DK 14100
Opponent - NYY (Sabathia) Park - @BOS
FD - 43.32 DK - 28.61
Let's get right to Stephen Strasburg. We saw the dumpster fire that was the Nationals scratching Scherzer after lock yesterday and I can't say I'm excited for this one. Strasburg has been questionable all week and Dusty Baker said "we'll see". With how things go with this organization, I'm definitely not comfortable with him in my cash games. Fortunately, we have some great pivots. Chris Sale is going to be super expensive, but you know what you're getting. He's arguably the best pitcher in the league this year and he has a pretty solid matchup with the Yankees. They hold just a .305 wOBA against lefties and strikeout nearly 23% of the time. They're worse on the road and have been coming down to earth in recent weeks. Sale is an easy cash game option and one you have to strongly consider in tournaments as well. It just comes down how much salary you're willing to sacrifice for a safe pitcher.
Jerad Eickhoff FD 7400 DK 7900
Opponent - SF (Blach) Park - @SF
FD - 26.67 DK - 17.72
If you do want to pay down a bit, Jerad Eickhoff makes a lot of sense. While he doesn't have a ton of upside, this is one of the safest match-ups he has seen all year. As we know, the Giants are dead last against righties with a .291 wOBA they only have 2 or 3 hitters that intimidate righties and even they struggle to produce in the spacious AT&T Park. Eickhoff has struggled against lefties on the season, though a .342 BABIP indicates he's been getting a bit unlucky. He's dominant against righties and strikes them out at a 9 per 9 innings clip. Expect Eickhoff to be one of the more popular pay-down options on the slate and rightfully so. Good pitcher. Horrible team. Great ballpark. The pieces are there and as long as Eickhoff can come out with his regular weapons he'll be fine.
Catcher
Robinson Chirinos FD 2900 DK 3700
Opponent - CHW (Holland) Park - @TEX
FD - 12.09 DK - 9.22
We're going to be on these Rangers a ton, so we might as well start early. Catcher is extremely ugly tonight and in result, Robinson Chirinos is the top option. Chirinos is a switch-hitter who has absolutely demolished lefties so far with a .384 wOBA. He is a pretty good hitter and often gets RBI opportunities lower in the order. We will touch plenty on Derek Holland, but just know he's one of the 2 worst pitchers in baseball against righties. I have no hesitancy in plugging in all of the Rangers righties and especially one that may be under-owned. Don't sleep on Chirinos.
Juan Centeno FD 2200 DK 2400
Opponent - OAK (Graveman) Park - @HOU
FD - 4.6 DK - 3.57
With both Evan Gattis and Brian McCann on the DL for. A couple more days, the Astros will rely on Max Stassi and Juan Centeno. While Stasi is a guy that I have 0 interest in, I can't say the same for Centeno. He's actually really good against righties and can give you a super cheap punt twitch some real potential. Kendall Graveman is a very boring arm and we know the 'Stros are going to put up some runs. Graveman has posted a .342 wOBA over the last 2 years against lefties and should struggle in this one. Centeno isn't a guy you should ever go out of your way for, but he makes a decent play if you need to save and want a decent bat.
First Base
Jose Abreu FD 3300 DK 4500
Opponent - TEX (Perez) Park - @TEX
FD - 11.94 DK - 9.09
While we will definitely be focusing on the other side of the diamond a lot more, Abreu is definitely my favorite 1B on this slate. Starting with his fair price, you don't feel the need to pay up out of your shoes for a guy with HR upside. Secondly, Jose Abreu is a completely different hitter against lefties. So far in 2017, he's held a .444 wOBA and 8 homers. Abreu is one of the 5 or 10 best hitters in the game against lefties and will now see a match-up with Martin Perez. Perez is a veteran southpaw with a whole left on the table. He's had huge HR issues in recent years and has posted a .363 wOBA since 2016. You can stack this White Sox team, but they just stink. Abreu is the only guy I love and he is definitely one of my overall favorites on this slate.
Mike Napoli FD 2900 DK 3800
Opponent - CHW (Holland) Park - @TEX
FD - 15.1 DK - 11.36
We saw Napoli bang one out against James Shields last night. He now gets an even better match-up with a lefty in Derek Holland. Napoli has always been better against lefties and while he's been hindered for a lot of this year, he's still Napoli against a bad lefty. Derek Holland is one of the absolute worst pitchers I've ever been around and I'm not sure you want to meet him. He gives up about a .500 wOBA to righties and has allowed just over 1 HR/9. The Globe Life Park in Arlington is a top 5 hitters ballpark during the summer months and it isn't close. Napoli may not be as safe as a lot of these options, but the upside is certainly there for a huge performance.
Second Base
Scooter Gennett FD 2900 DK 4000
Opponent - ATL (Teheran) Park - @ATL
FD - 9 DK - 7.08
`
Second base is probably the weakest position on this slate. There are no elite guys that stand out and since we don't have lineups yet, we have no idea what scrub is going to find himself in the 2 hole. However, we do have a couple options that peak my interest, with the first in Scooter Gennett. Gennett and the Reds will face off with the Braves and Julio Teheran in hitter-friendly SunTrust Park. Julio Teheran is actually a really good pitcher against righties and you would never think he's so pitiful against lefties. He's posted a .371 wOBA over the last 2 years. You won't often find a guy this talented hat is so bad against 1 side of the plate, but here he is. Gennett against righties is something worth paying attention to in 2017 with a .385 wOBA. For all of my OG DFS guys, we remember when this guy was hitting HR's between Aramis Ramirez and Ryan Braun in Milwaukee. He's a solidified bat in this league that will be around for years to come. The Reds aren't a stack I love, but a 1-off Gennett or Votto is something you have to adore.
Dee Gordon FD 3100 DK 3900
Opponent - NYM (Montero) Park - @NYM
FD - 9.09 DK - 8.69
If you want to pivot off of Scooter, Dee Gordon has a terrific match-up. The Marlins will go on the road to New York and face off with Rafael Montero, or as Mets fans like to call him, Rafael MonTerrible. The guy is just a thorn in the side of alMetsts fans and we know why. He was a big prospect that has ended up being atrocious. He gives up production to both sides of the plate, doesn't hold runners, and isn't any good at situation pitching. For example, I saw him throw an outside changeup to a lefty last week with the shift on. As any hitter with a brain would, he batted down the line for a double. That's not something MLB pitchers do. They don't forget how to pitch to a shift. Sorry Mets fans. We know what we get out of Dee Gordon when he pulls up. If he can find his way on base, it'll be a free for all. The price is there and so is the upside. He's strong in all formats and should go somewhat under-owned.
Try out InGame Fantasy for a totally new DFS experience. Promo code: DFSR


Shortstop
Elvis Andrus FD 3900 DK 5200
Opponent - CHW (Holland) Park - @TEX
FD - 13.82 DK - 11.79
With so many ugly positions on this slate, it'll be difficult to stay away from the Rangers. They face off with Derek Holland, who is an absolute dumpster fire. In 93 innings against righties, Holland has sported a .404 wOBA and allowed 24 dingers. Elvis Andrus on the other hand, has turned into a good hitter. He's solid on both sides of the plate and has both power/contact in the 3 hole. If you're playing this Rangers team a lot and are looking to stack, you almost have to be on Andrus. He's in the heart of the order and will have a ton of guys on base if things go to plan. Shortstop is ugly and this is a fairly obvious play in cash games. Don't think too hard.
Xander Bogaerts FD 3100 DK 4000
Opponent - NYY (Sabathia) Park - @BOS
FD - 10.95 DK - 8.69
Just when it looked like C.C. Sabathia was getting things together, he's allowed 4 ER or more in 3 straight performances.  Sabathia used to be a guy we target a ton with righties, but has been better in recent years. In 86 innings against righties, Sabathia is once again mightiliy struggling. He's allowed a .362 wOBA over the last 2 and isn't shown any good signs right now. While I won't say Sabathia is done, therei s going to be a time where he hits a wall. This could be it. Xander Bogaerts is just as good against both lefties and righties, but gives me a very strong case for cash game plays with the build and look. This Red Sox team is firmly in play as a stack against a Yankees team who despises the Mets and everything that has to do with it.
Third Base
Adrian Beltre FD 4500 DK 5400
Opponent - CHW (Holland) Park - @TEX
FD - 16.34 DK - 12.44
Adrian Beltre against a bad lefty is something I will target until I can no more. He has been raking for about 20 years now and is at the point of mastery. He's a career .400+ wOBA hitter against southpaws and deserves the respect. Derek Holland, as we all know, is absolutely awful. Capital A, Awful. Against righties, he's allowed a .404 wOBA on 36% hard contact rate. I'm not sure there's any better match-up in baseball for Beltre, or at least 1 I can think of off the top of my head. He's at home, against a lefty, at Globe Life Park. He's my favorite Ranger on the board and will be a mainstay in cash.
Travis Shaw FD 4300 DK 5200
Opponent - COL (Bettis) Park - @COL
FD - 11.77 DK - 8.99
I try to list just 1 bat from the Coors Field offenses, but we know they are all in play. If I wanted, I could throw 7 or guys in here that deserve consideration for the sole fact of hitting in Coors Field. My favorite on the Brewers is Travis Shaw. Shaw, while under-rated, is having one of the best seasons in baseball. He's hit 22 homers against lefties and has held an Uber-elite .400 wOBA. He now moves into Coors Field and faces off with Chad Bettis. Bettis, who has one of the greatest stories in baseball, isn't bad. He's actually one of the Rockies best arms, however, this is Coors Field. I don't care how good you are if you're in Coors Field. You will give up runs and your breaking pitches won't break. Shaw is an elite play at 3B and if you can afford him, do it.
Outfield
Carlos Gonzalez FD 3800 DK 4200
Opponent - MIL (Woodruff) Park - @COL
FD - 13.45 DK - 10.36

Charlie Blackmon FD 4900 DK 5800
Opponent - MIL (Woodruff) Park - @COL
FD - 15.78 DK - 12.86
If you're looking for some Rockies exposure, this OF is where to go. Depending on who ends up where in the order, these 3 lefties are the top plays. The Rockies doesn't have many other lefties in the order and it often limits what you can do with a stack. They face off with Brandon Woodruff tonight, who is a decent prospect. He's been pretty good since coming in the league, but hasn't been in a match-up nearly this tough. The Rockies are expected to put up close to 7 runs here, so make sure you pay attention. Blackmon (.386 wOBA) is the best hitter in the OF at this point with CarGo and Parra following closely behind. Don't feel the need to fade this Coors Field game on a slate where ownership will be plenty spread out.
Chris Young FD 2600 DK 4000
Opponent - NYY (Sabathia) Park - @BOS
FD - 11.11 DK - 8.54
The classic lefty specialist. Every time the Red Sox face off with a lefty, you can expect Chris Young to be in the heart of the order. He's one of the teams best hitters against lefties with a .362 wOBA and he does have the HR upside. Sabathia has tried to limit the damage, but it's tough when you can't get righties out. Young has been a lefty specialist for years now and has posted a .374 wOBA over the last 3 seasons. In Fenway Park, the monster offers a ton of HR upside. Don't sleep on Chris Young here. His price is always low (FD) and as long as he's facing a lefty, I'll be there.
Rhys Hoskins FD 2500 DK 3400
Opponent - SF (Blach) Park - @SF
FD - 10.45 DK - 7.95
I feel like Rhys Hoskins has been in play since the day he got called up, as the Phillies just keep seeing lefty after lefty starting pitcher. Tonight, it's Ty Blach. Blach isn't the worst pitcher in the world, but he will give up a few runs. He's allowing a .340 wOBA to righties and striking out just over 4 batters per 9 innings. This Phillies team will put the ball in play and that's more than they can usually do. Hoskins is one of the bigger hitting prospects in the game and is squarely in play against a bad lefty. He has extreme HR potential and at his price, is hard to get off of in cash games. The entire Phillies offense is actually a stack I like in large-field tourneys.
GRAB A FREE TRIAL OF OUR PROJECTION SYSTEM, AND CHECK OUT DFSR PRO!
GET OUR FREE EBOOK ON DAILY FANTASY MLB and NBA BY CLICKING HERE!
You'll also get our picks in your inbox every day!
FREE EBOOK
SECRETS TO CRUSHING DAILY FANTASY FOOTBALL!
DON'T SET ANOTHER LINEUP BEFORE YOU READ THIS BOOK.