Daily Fantasy PGA Picks for DraftKings & FanDuel - The Northern Trust
DFSR is proud to bring you, Chris Durell. He'll be bringing weekly PGA picks, analysis, and breakdowns to help you cash on DraftKings. As every week in DFS PGA changes with the course setup, field of players and weather, Chris will be providing a range of different picks for cash games as well as upside plays for tournaments. If you have any questions to lineup lock you can reach him a variety of ways. Leave your question/comment below in the comments section, find him in the DFSR Chat room or hit him up on Twitter(@Jager_Bombs9).


Chris is also currently providing his DFS PGA cheatsheet for FREE while it is still in BETA mode. You can also grab a copy of the Salary/DK Points/Ownership Trends Sheet HERE.
The Northern Trust
Never know what can happen in the #FedExCup Playoffs.@TheNTGolf kicks off the path to a championship. pic.twitter.com/t44UVXUy4V

— PGA TOUR (@PGATOUR) August 22, 2017
Playoffs? That's right, the Major Championship season is over but things are just starting to heat up as the FedEx Cup Playoffs get underway this Thursday. The top 125 golfers in the FedEx Cup standings have qualified for The Northern Trust but we have just 120 in the field this week. The five golfers sitting out the first leg of the Playoffs are Sergio Garcia, Adam Scott, Brandt Snedeker(injury), Scott Piercy, and Dominic Bozzeli.
While there have been some terrific storylines all season(first-time winners, rookie triumphs, Garcia's first major, etc..), one of my favorite came last week at the Wyndham Championship where Martin Flores stepped up to the tee on the Par 3 16th hole on the outside of the playoff bubble with just three holes to go. That was until this happened...
This hole-in-one may just get Martin Flores into the FedEx Cup playoffs. pic.twitter.com/E9s88nbBbu

— GOLFonCBS (@GOLFonCBS) August 20, 2017
He went on to Par the 17th hole and Birdie the 18th hole and enters the Playoffs as the 118th seed. What a story!
For the first time, the Glen Oaks Club in Old Westbury, New York will host a PGA Tour event.  The course is a Par 70 that stretches out to 7,350 Yards and has Poa Annua grass on the green surfaces. While the course is new to hosting not just a PGA Tour event but the opening Playoff event, it will be setup and ready for the task as the club hired one of the best. Craig Currier was brought on back in 2010 and is not a stranger to big events as he was the superintendent at Bethpage and prepared the Black course for both the 2002 and 2009 Mens US Open.
The course has tree lined fairways that are not super tight and fairly easy to hit(via Scott Brown in a PGA Tour article) which is going to put some extra emphasis on Driving Distance when looking at Strokes Gained Off the Tee. Looking at the Hole by Hole breakdown, players will have to avoid some well-placed bunkers off the tee to give themselves a shot at the rolling greens that are also protected heavily by bunkering and water on some holes. There are also a lot of uphill approach shots which vaults Strokes Gained Approach to the top of my key stat list this week. With Poa Annuna greens being more difficult to putt on, I will also be looking at the Fantasy National Golf Club tools and looking at recent performances on these green types. I will also be looking at other trends using their amazing tools that include Last 12 and 24 rounds on Par 70 courses in the 7200-7400 yard range.
With all that said, let's jump in and take a look at some of the top picks for this week.
The Course
Glen Oaks Club - Old Westbury, NY
Par 70 - 7,350 Yards
Greens - Poa Annua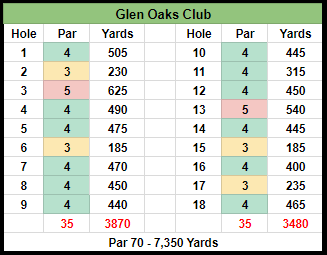 **Click to Enlarge**
Top Stats in the Model
Strokes Gained: Approach
Strokes Gained: Off the Tee/Driving Distance
Par 4 Scoring
Birdie or Better %
Strokes Gained: Putting on Poa Greens
Other stats I am Weighing: Par 5 BoB%, GIR from 175-200 & 200+ Yards, Strokes Gained: Around the Green/Sand Save %
Who the Stats Like
Dustin Johnson
World Golf Ranking (#1)
Vegas Odds (15/1)
Draftkings ($10,800)
FanDuel ($10,000)

When I setup the cheatsheet for this week's Playoff event, the first thing that stood out to me was the #1 player in the world's salary. FanDuel has DJ as the top overall priced golfer but looking at DraftKings, he comes in 5th on the list. That is just too cheap for the upside he provides. It starts with the stats(#1 overall in my stats model) as he ranks 2nd in G: T2G, 2nd in SG: OTT, 9th in SG: APP, 1st in Driving Distance, 9th in Par 4 scoring, 5th in Par 5 Scoring, and 9th in overall Birdie or Better %. On top of that, looking at the last 36 rounds on courses with Poa greens(FNGC), he ranks 1st in DK points, SG: Total, SG: T2G, SG: OTT, SG: APP, and 6th in SG: Putting. Falling and getting injured before the start of the Masters derailed his Major season but it was very positive to see him shoot a final round 67 at the PGA Championship(finished T13) and he should be well rested coming off a Bahamas holiday. I am considering going extremely heavy on DJ in all formats this week.
Everything clicked and putter finally started rolling for me today. Feeling good headed into the Playoffs.

— Dustin Johnson (@DJohnsonPGA) August 13, 2017
Tony Finau
World Golf Ranking (#62)
Vegas Odds (75/1)
Draftkings ($7,300)
FanDuel ($8,300)
The other name that stood out to me at first glance was Tony Finau who sits way down in the $7K range on DraftKings. He is 7th overall in my model thanks to some sparkling stat ranks including 4th in SG: OTT, 4th in Driving Distance, 4th and 13th in GIR from 175-200 and 200+ Yards, 21st in Par 4, and 10th in Par 5 Scoring, 11th in BoB% and 13th in Bogey Avoidance. He has also fared well on courses with Poa greens ranking 26th in DK points, 4th in SG: OTT, 45th in SG: APP, and 26th in SG: Putting. The form for Finau has been terrific all year with six Top 10's and 10 Top 25's and he hasn't missed a cut since the PLAYERS in mid-May. At these prices, he is a safe option in all formats.
Also Consider: Graham DeLaet(Top 20 in both SG: APP & OTT, Top 10 in both GIR from 175-200 & 200+ yards)
Top Current Form Targets
Hideki Matsuyama
World Golf Ranking (#2)
Vegas Odds (10/1)
Draftkings ($11,500)
FanDuel ($9,600)

The momentum has been building for Hideki since the beginning of the year. He enters the Playoffs as the #1 seed thanks to three wins(WGC-HSBC, WM Phoenix Open, & WGC-Bridgestone) and although he didn't grab that first Major, he did finish Top 15 in all four tournaments. He sits third behind Rickie Fowler and Paul Casey in average finish over their last five tournaments but sits first overall when looking at average DraftKings points per tournament(96.7 pts). Hideki also ranks second to DJ in my stats model and joins DJ as the only other player on Tour to rank Top 10 in both Strokes Gained Off the Tee and Strokes Gained Approach. 
Paul Casey
World Golf Ranking (#17)
Vegas Odds (33/1)
Draftkings ($9,000)
FanDuel ($9,000)

Casey is one of just four golfers in the field to rank top 10 in all three categories(stats, average finish last 5, DK pts last 5) and is the only golfer under $11K with this distinction. He has been Mr. Consistent all season with just one missed cut(Sony Open) and comes into this week with a tidy 12.0 average finish over his last five tournaments with an average of 78 DraftKings points per tournament. Like the golfers I mentioned above, Casey is going to be chalky so if you are playing heavy GPP this week make sure to check out my pivot plays based off FanShareSports tags at the bottom of the article. 
Also Consider: Brooks Koepka (T13, T17, T6, WIN, T37 last five tournaments)
Top Fade of the Week
John Rahm
World Golf Ranking (#8)
Vegas Odds (28/1)
Draftkings ($8,900)
FanDuel ($8,900)
While my fade game was completely up to snuff last week(Reavie T37 & 42nd in DK Pts), I am back at it again and this time maybe a little riskier. Last time I faded Rahm he almost won the tournament and finished Top 5 in DK points but here we are folks, post Eclipse. Looking at my sheet, there are only two other golfers in the $7,500+ range who have scored less DraftKings points per tournament(41) than Rahm. Using the FNGC tools, I also had a peek at his last 12 rounds overall and not much outside of Off the Tee is at all promising that he will be turning things around this week. There is always a chance something clicks and he contends this week but I don't think it's worth the risk considering the other options in his price range.

Who is being Mentioned on FanShareSports(DraftKings)
$10K+ Range

DJ and Matsuyama lead the way in the $10K+ range this week when looking at start calls but as you can see some are fading DJ(82% Sentiment) while both Spieth and Matsuyama are sitting at 100% as of Tuesday afternoon. I figured Fowlers and his $11K+ salary would have him a little less owned this week but I didn't think he would fall outside the Top 10 in tags. If this continues through Wednesday leading up to lineup lock I will be shifting some GPP investment his way. Another risky play this week, if you are into that sort of thing, is Rory McIlroy who rumbled about possibly hanging it up for the season but has decided to at least try and play through the rib injury and start the Playoffs. If Tuesday is any indication, I think he will be alright this week.
Rory McIlroy is hitting golf balls from a luxury suite above home plate at Yankee Stadium. ⛳️

🎥: @McIlroyRory / Instagram pic.twitter.com/SXFU7dMoKi

— Sporting News (@sportingnews) August 22, 2017

$9K & $8K Range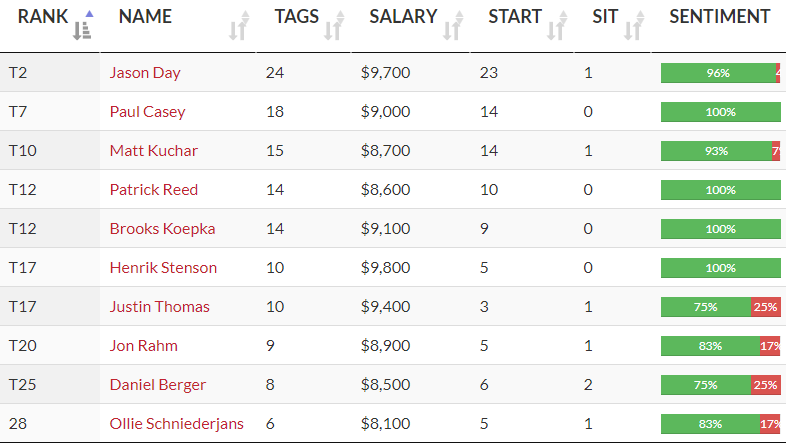 With an elite field and some very popular picks in the top tier, it could be stars and scrubs being a very popular lineup approach this week. If you are looking to differentiate in GPP's I think you can look to the mid range and go for a balanced approach considering the plethora of talent in this range. It doesn't look like you will be getting any ownership discounts on Jason Day this week after for straight tournaments where he saw an average of 10% or less each time. He is currently tied for second in total tags and first overall in start recommendations. My favorite play in this range is Patrick Reed who won the Barclays last year on Bethpage Black which is a nice correlated course. He has also been trending in the right direction recently with six Top 25 finishes in his last seven tournaments including a runner-up at the PGA Championship last time out. Some of the names who are even further down the list that I will have exposure to are Daniel Berger(16th in DK Pts, 1th in SG:T2G, 2nd in SG: APP over last 24 rounds), Justin Thomas(18th in DK pts, 29th in SG: OTT, 25th in SG: APP last 24 rounds on Poa courses, and Justin Rose(likely low owned due to form but 2nd in DK pts, 6th in SG: OTT, 34th in SG: APP, 19th in SG: Putting last 24 rounds on Poa courses).
$7K & $6K Range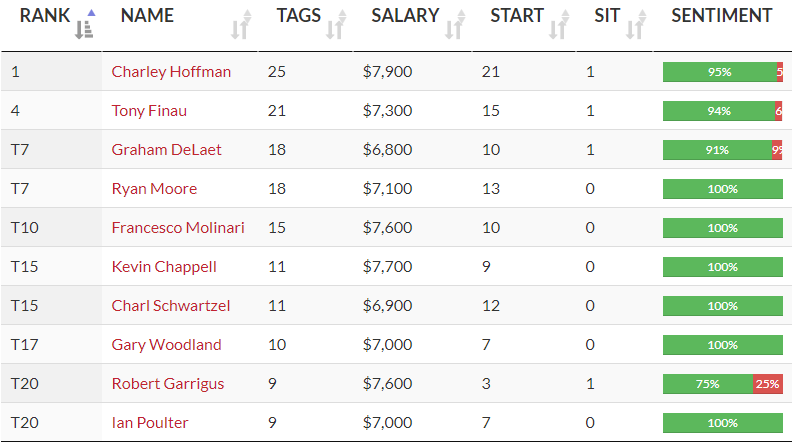 With a very attractive sub $8K price tag, Charley Hoffman sits first in overall tags and second behind only Jason Day in start call. It makes sense as he has excellent form having not missed a cut since mid-April including Top 5's in two of his last three tournaments. Tony Finau and Graham Delaet are my favorite options in this range despite being projected for top 10 ownership this week. If you are looking to pivot for ownership, consider Jamie Lovemark(Only 5 tags & 8th in Par 4 scoring, 19th in Driving Distance, & To p40 in Scrambling, Bogey Avoidance and BoB%) and Jimmy Walker(Only 3 tags & 4th in DK points, 4th in SG: Putting last 24 rounds on Poa courses).
Weekly YouTube Video
The Northern Trust Update Thread
**Weather Update**
Chris Durell has been playing Daily Fantasy Sports for five years and fantasy in general for more than a decade. He is active player in college football, NFL, MLB, NASCAR, NHL and of course PGA. He lives in Saskatchewan, Canada with his wife and two daughters. You can follow him on Twitter at @Jager_Bombs9 for advice, strategy, answers to any PGA questions and how he copes with the winters up north.