Baseball Picks Daily Fantasy
Expert Advice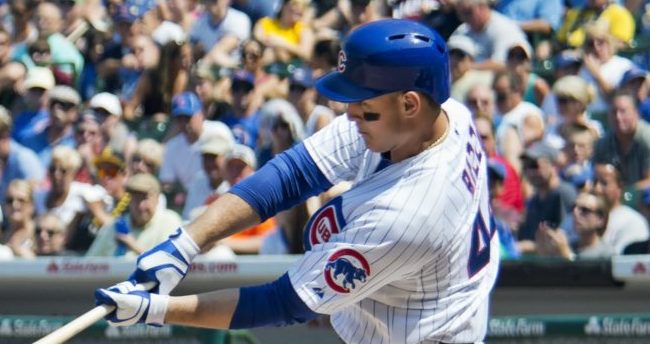 Daily Fantasy MLB Baseball Picks for FanDuel and DraftKings - 8/24/17
Now's your chance to get DFSR PRO, which will give you access to our MLB optimizer, our NBA Optimizer, and our new player lab! Get started for free by clicking the button below.
First time with MLB? Be sure to read our free MLB and NBA Ebooks on building lineups, general strategy and more. We've got you completely covered.
Pitcher
Early Slate
J.A. Happ FD 8100 DK 9700
Opponent - TB (Cobb) Park - @TB
FD - 29.62 DK - 19.61
Today we have a pair of six game slates and for the early slate, we have an overpriced Robbie Ray on Draftkings and a shaky pitch count option in Hyun-Jin Ryu. This has me turning to J.A. Happ as my top pitcher today as he comes in under $10K on DraftKings and in the low $8K range on FanDuel. He has definitely corrected the home run issue he had upon returning from the DL in July and has now gone five starts in a row without giving up a long ball. He did give up five earned runs to the Cubs in his last start but held opponents to one earned run in his three prior starts and has struck out at least eight batters in three of his last four games. He gets a great matchup to hit that strikeout upside today vs. a Rays team that ranks in the bottom third in wOBA and wRC+ and strikes out 26% of the time vs. left-handed pitching.
**Update: Happ appears to be scratched as of 1:00 a.m. ET with Tom Koehler making the start for Toronto. This shifts things a little as I will be paying up for Robbie Ray on the early slate. Sorry for the confusion as the article is written the night before.**
Main Slate
Carlos Martinez FD 9800 DK 12100
Opponent - SD (Perdomo) Park - @STL
FD - 41.38 DK - 27.27
Don't get me wrong here, I will definitely have shares of Chris Sale tonight but for cash games on a smaller, six-game slate I prefer to build around the cheaper and higher PTS/$ ranked Carlos Martinez. First of all, the Cards are the largest favorite(-245) on the day and he gets to pitch in a much better pitcher's park in St. Louis. Sure he doesn't give us access to the same ceiling as Sale(12.8 K/9) but CarMart hasn't been a push over this season with a 9.4 K/9 rate and 10.4% swinging strike rate. He also gets the better matchup vs. the Padres who rank second to last in wOBA and wRC+ vs. right-handed pitching and strikeout just over 25% of the time. I will be using Martinez in all formats tonight.
Catcher
Early Slate

J.T. Realmuto FD 3000 DK 4000
Opponent - PHI (Thompson) Park - @PHI
FD - 10.22 DK - 8.23
Assuming he is back in the lineup this afternoon, Realmuto is a top target and ranks right near the top in both raw points and PTS/$ over the entire day. He isn't flashy but has been very consistent this season with a .290/.346/.470 slash line that includes 15 home runs, 53 RBI, and 55 runs scored. He will be in a nice spot to add to those numbers today vs. Jake Thompson who is slated to get another start for the Phillies. He was less than impressive in his previous start allowing nine hits and seven runs(2 ER) including three long balls against the Angels. For the season he is allowing over 40% hard contact which could lead to some trouble against the Marlins. Realmuto is safe in all formats, especially on FanDuel at just $3K.
Also Consider: Chris Herrmann(ARI)
Main Slate
Alex Avila FD 3000 DK 3700
Opponent - CIN (Romano) Park - @CIN
FD - 10.06 DK - 7.45
On the main slate, I will turn to the Cubs new catcher(via trade from Tigers) who has really started to heat up with his new team. We talked a lot about Avila early in the year as he absolutely crushes right-handed pitching and sits with an elite .395 wOBA and 148 wRC+ against them. He is currently 1 for 4 on Wednesday night but did extend his hit streak to six games including two multi-hit efforts. He gets a plus matchup vs. Sal Romano who was better in his last start(1 ER vs. ATL) but allowed 15 earned runs in the three starts before that and sits with an ugly 5.32 ERA and 5.01 xFIP on the season.
Also Consider: Yadier Molina(STL)
First Base
Early Slate
Miguel Cabrera FD 3200 DK 3500
Opponent - NYY (Garcia) Park - @DET
FD - 12.02 DK - 9.05
I get it. You are probably sick of hearing about Miggy as he shows up frequently in our articles but the price continually dictates a high PTS/$ value. Hear me out before you go and X him out of the optimizer. Sure, he is aging and nowhere near the Triple Crown hitter he once was but can still be a very serviceable option, especially against southpaws. While the average vs. righties is south of .250, he has hit .325 with a .381 wOBA and 139 wRC+ vs. lefties. Today he will face Jaime Garcia who has struggled since joining the Yankees as he has allowed 11 earned runs(3 HR) in his first three starts with a 43.8% hard contact rate against.
Also Consider Paul Goldschmidt(ARI) if you are paying down at pitcher
Main Slate
Anthony Rizzo FD 4600 DK 5400
Opponent - CIN (Romano) Park - @CIN
FD - 14.95 DK - 11.38
Rizzo leads all hitters on both slates in raw points on Thursday and is my top play if you are paying up for bats. He enters Thursday nights game with hits in eight of his last nine games including five multi-hit efforts, four doubles, and two home runs. If you are looking for consistent run production look no further as Rizzo is now just two home runs away from his fourth straight 30 home run, .380 wOBA, and 130 wRC+ season. He also gets a nice matchup vs. Sal Romano in a plus hitting environment in the Great American Ballpark.
Also Consider Albert Pujols(LAA) for value
Second Base
Early Slate
Dee Gordon FD 3300 DK 4200
Opponent - PHI (Thompson) Park - @PHI
FD - 10.05 DK - 9.61
The Marlins have the highest implied runs(5.2) of the early slate and second highest behind the Cubs on the entire day. This makes them all nice targets and it starts with the leadoff hitter Dee Gordon who will get a ton of opportunity to score runs and also adds upside with his elite speed and has already stolen 43 runs on the season. If he can get on base a couple times chances are he will score double-digit fantasy points as the hitters behind him will be able to capitalize on their power as Jake Thompson has struggled in his previous appearances giving up over 40% hard contact and three home runs in his last start.
Also Consider: Josh Harrison(PIT)
Main Slate
Brian Dozier FD 4200 DK 5400
Opponent - CHW (Holland) Park - @CHW
FD - 14.31 DK - 11.29
Normally I would think it's crazy that Dozier is more expensive than Altuve but considering each's matchup I will let it pass tonight. Altuve is more of a contrarian GPP play as he faces one of the best pitchers in the league in Stephen Strasburg while Dozier gets an elite splits matchup vs. southpaw Derek Holland. Dozier has been enjoying his best month of the season in August with a .333/.429/.702 slash line and has destroyed left-handed pitching for the season with a .424 wOBA and 167 wRC+. That is bad news for Derek Holland who enters the game with a 6.28 ERA, 5.69 xFIP and ugly 18.4% HR/FB rate.
Also Consider: Roughned Odor(TEX)
Try out InGame Fantasy for a totally new DFS experience. Promo code: DFSR


Shortstop
Early Slate
Corey Seager FD 3700 DK 4400
Opponent - PIT (Kuhl) Park - @PIT
FD - 12.31 DK - 9.47
The 2016 National League Rookie of the Year is red hot right now and not only sits at the top of the raw points projections but also hovers close to the top in PTS/$ value thanks to an affordable price on both sites, considering the talent. He was the offensive highlight in a 1-0, 10th inning loss last night where he picked up three hits and now has hits in 12 straight and 17 of his last 18 games pushing his average above .310 for the season. The options are very limited at the position on the early slate making it an easy choice to pay up for Seager in all formats.
Main Slate
Eduardo Escobar FD 3100 DK 3800
Opponent - CHW (Holland) Park - @CHW
FD - 10.84 DK - 8.58
If you know me or have read my articles on the regular this season, you know I love targeting lefty splits. Escobar is another one of those platoon players at the top of my list as he has been much better vs. left-handed pitching with a .359 wOBA and 123 wRC+(.286/73 vs. RH). He sits atop the PTS/$ rankings at the moment as he provides a very affordable sub $4K price tag on both sites and gets an elite matchup vs. Derek Holland who has given up 20 earned runs over his last four starts with just nine strikeouts and 15 walks.
Also Consider: Xander Bogaerts(BOS)
Third Base
Early Slate
Evan Longoria FD 2700 DK 3600
Opponent - TOR (Happ) Park - @TB
FD - 10.9 DK - 8.39
I didn't have Longoria in here originally vs. Happ but with the change to Koehler as Toronto's starter I like Longo as one of my top value plays at any position. He has struggled vs. southpaws this season(.219 avg, .295 wOBA, 84 wRC+) but has been above average vs. righties(..283 avg, .333 wOBA, 110 wRC+) and gets a plus matchup. Koehler was traded to the Jays and was activated late last night and that is music to the Rays ears as he has been awful this year with a 7.92 ERA, 5.62 xFIP and 21.7% HR/FB rate. Load up on Rays who are affordable and help you fit Robbie Ray in as your starting pitcher.
 Also Consider: Nick Castellanos(DET)
Main Slate
Jedd Gyorko FD 3200 DK 3800
Opponent - SD (Perdomo) Park - @STL
FD - 11.15 DK - 8.57
Gyorko has been taking it to his old team in the first two games of this series with going 3 for 8 with a home run and two RBI in each game. That is now three straight with multiple runs batted in and his third multi-hit game in the last week. That and the sub $4K price tag on both sites has him right up there from a PTS/$ value tonight and my top play at the position in all formats.
Also Consider Rafael Devers(BOS) who had 2 HR vs. Bauer last time out. 
Outfield
Early Slate
David Peralta FD 3400 DK 3800
Opponent - NYM (Montero) Park - @NYM
FD - 11.56 DK - 9.24
To fit Robbie Ray and his giant price on DraftKings into our lineups we are going to have to mine for value and avoid the power bats in Judge, Stanton, Blackmon and others. With the lack of pitching on the slate, I am totally fine going down to Peralta as my top player in the outfield. He has been consistent all season with a .298/.353/.462 slash line(going into Thursday night's game) and that number will go up today as he picked up three hits last night. It was the third time he has recorded three hits in a game in the last 10 days.
Rhys Hoskins FD 3300 DK 4000
Opponent - MIA (Worley) Park - @PHI
FD - 11.91 DK - 9.07
The price is quickly rising but there is still lots of time to jump on board. Hoskins continues to show his power at the major league level after hitting 60+ home runs at the minor league level over the last two seasons. After going 2 for 3 last night with a home run and five runs batted in, he now has seven long balls in his first 14 games with the Phillies and enters this afternoons game with a five game hit streak on the line. He also benefits from being thrust into the cleanup role and is safe in all formats.

Main Slate

Kyle Schwarber FD 3600 DK 4400
Opponent - CIN (Romano) Park - @CIN
FD - 12.49 DK - 9.38
I mixed up the order for the main slate and start with the PTS/$ value play in Kyle Schwarber. He continues to hit out of the two-hole for the Cubs which is proving to be a profitable spot for him from a fantasy perspective as he has hits in five of his last six games with a double, two home runs and five runs scored. Like I mentioned with Rizzo and Avila, Romano bounced back last start with a win vs. the lowly Braves but had given up 15 earned runs in his three prior starts. The Cubs have the highest implied runs of any team on the entire day and while they will be chalky are in a terrific spot.
Mike Trout FD 5000 DK 5700
Opponent - TEX (Perez) Park - @LAA
FD - 15.69 DK - 12.25
If you can afford Trout in your lineup he is an elite play tonight facing Martin Perez and his 5.26 ERA and 13% HR/FB rate. Trout is nearly an elite play any night at the moment as he continues to push his way up the MVP ladder down the stretch. He will soon be qualified in the offensive categories and the fact he has helped bring the Angels back from the dead and into the Wildcard talks is astounding. Sinc returning in mid-July he has an elite .328/.452/.594 slash line with a 184 wRC+. I don't think it's necessary to pay up that far in cash games but if enough value opens up as lineups come out, I will definitely consider it.
GRAB A FREE TRIAL OF OUR PROJECTION SYSTEM, AND CHECK OUT DFSR PRO!
GET OUR FREE EBOOK ON DAILY FANTASY MLB and NBA BY CLICKING HERE!
You'll also get our picks in your inbox every day!
FREE EBOOK
SECRETS TO CRUSHING DAILY FANTASY FOOTBALL!
DON'T SET ANOTHER LINEUP BEFORE YOU READ THIS BOOK.