Baseball Picks Daily Fantasy
Expert Advice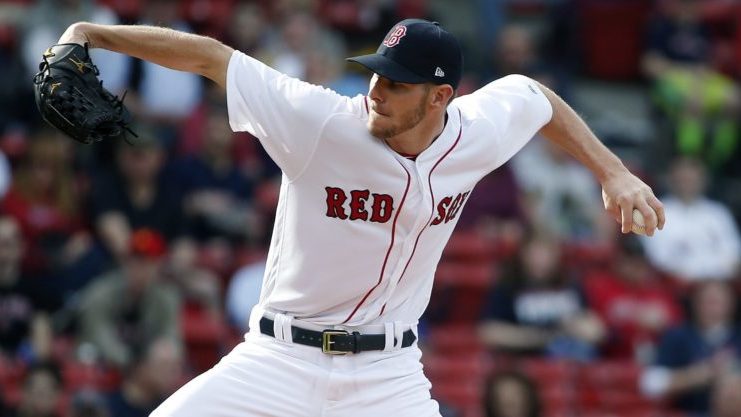 Daily Fantasy MLB Baseball Picks for FanDuel and DraftKings - 8/29/17
Now's your chance to get DFSR PRO, which will give you access to our MLB optimizer, our NFL Optimizer, and our new player lab! Get started for free by clicking the button below.
First time with NFL or MLB? Be sure to read our free MLB and NFL Ebooks on building lineups, general strategy and more. We've got you completely covered.
Pitcher
Chris Sale FD 10900 DK 13200
Opponent - TOR (Koehler) Park - @TOR
FD - 42.43 DK - 27.95
For a 15-game slate, the cupboard isn't exactly overflowing with stud SPs. Unless you're banking on another Rich Hill flirtation with perfection, Chris Sale is looking like extreme chalk, and you already know the reasons why. They begin and end with the fact that he's Chris Sale, MLB leader among qualified starters in Ks/9 (12.77) and FIP (2.08). Toronto isn't a bad lineup vs. lefties, and the Rogers Centre is friendly to hitters, but whatever. Sale has been arguably the best pitcher in the game this season, and with at least 9 Ks in 15 of his 26 starts he delivers the best safety/ceiling you're going to find on this slate and many others.
Jake Arrieta FD 9900 DK 11100
Opponent - PIT (Kuhl) Park - @CHC
FD - 36.11 DK - 23.64
We'd have a hard time using him over Sale on FanDuel, where their cost discrepancy isn't that wide, and the prices are going to make them borderline impossible to use in tandem on DraftKings, but Arrieta is at least interesting tonight. As ever, how interesting is going to depend on the wind in Wrigley. Lefties have had some success against him this season (.338 wOBA, .214 ISO), but he's also got a nearly 25 K% against them so that neutralizes the danger somewhat. Also, what lefties are we worried about in the Pittsburgh lineup? John Jaso and Adam Frazier? Not exactly the kind of dudes who make us rearrange our plans. So as long as he keeps Josh Bell at bay, we're feeling decent about Arrieta's chances tonight, because his numbers against righties are approaching studly (.266 wOBA, .117 ISO). Also of note: he's held opponents to two earned runs or fewer in eight straight starts, so while his overall numbers don't scream "ace," he's been pretty close to the guy he was last year lately.
Luke Weaver FD 8400 DK 7600
Opponent - MIL (Garza) Park - @MIL
FD - 27.16 DK - 17.99
For SP2 value plays, you could do a lot worse than Weaver, who looks like he might just live up to the hype. One caveat: there could be some confirmation bias at play here, because the MLB track record is still pretty scant. But he's been excellent at every stop in the minors, and in just shy of 60 big-league IP he's fanning 10.71 per 9 IP, so we're willing to buy in -- especially at that DK price. Milwaukee's got some thump (.189 team ISO vs. RHP) and Miller Park is worrisome, but this isn't a lineup that terrifies us. They're well below average in the split (92 wRC+, 20th in MLB) with a league-worst 25.7 K%, so it's a solid matchup. And at these prices Weaver's got some leeway; one or two shots into the cheap seats won't sink us as long as he's racking up some whiffs.

Catcher
Salvador Perez FD 2700 DK 2900
Opponent - TB (Cobb) Park - @KC
FD - 10.41 DK - 7.94
We've got one of the steadiest sources of power at a bad offensive position coming at punt-type prices. Yeah, the park isn't great, and Alex Cobb isn't terrible, but the projection system is having a hard time mustering a give-a-damn about that. Perez plays half his games in Kauffman and has still managed to slap 20 bombs in three straight years. He's already at that mark in just 104 games in 2017 and is having his best offensive season to date with a .223 ISO and a .236 ISO with a .347 wOBA against RHP. Unless you plan on paying up for Gary Sanchez, we don't see a better play out there, and Perez will fit much cozier into your Chris Sale lineups.
Jonathan Lucroy FD 3300 DK 3500
Opponent - DET (Fulmer) Park - @COL
FD - 9.6 DK - 7.37
There's always a case to be made for a Colorado catcher at home, and as far as Coors Field price-hikes go, Lucroy's aren't all that bad. Lucroy has clearly lost something this season, and the move to Denver has only led to marginal improvement (he's always played in hitter's parks, so a massive shift probably shouldn't have been expected). But he's still making contact at an exceptional rate (10.7 K%), and good things are known to happen when you put the ball in play in Coors. Michael Fulmer is a solid arm, but he's reliant on his sinker, which make him extra susceptible to the quirks of pitching at altitude. Bonus: the Tigers' bullpen is on track to take the triple crown of relieving sadness (MLB worst 5.26 ERA, 4.94 FIP, 4.88 xFIP), so there's fun to be had when Fulmer exits.
First Base
Joey Votto FD 4200 DK 5100
Opponent - NYM (Flexen) Park - @CIN
FD - 14.72 DK - 11.08
Joey Votto is a national treasure, you guys. He's real and he's magnificent and despite what his stats say, he's 33 years old and he (probably) can't keep doing this forever. You won't have many other reasons to, but just for the sake of appreciating a master at his craft, watch a Reds game from time to time, because there's a better-than-average chance you'll see something equal parts weird and awesome, like a four-man outfield (managerial h/t: Joe Maddon), or a 0-for-0 day with five walks, 43 pitches seen, and nearly 20 minutes spent in the batter's box (research h/t: Jeff Sullivan). The author's fanboy status aside, there's plenty to like about the Reds' 1B tonight, including: A) Mets starter Chris Flexen, owner of a 6.91 FIP in 28 IP, B) the Great American Smallpark, and C) Votto's splits vs. RHP this season (.432 wOBA, .270 ISO, 11 K%, 19 BB%).
Mark Reynolds FD 3900 DK 4600
Opponent - DET (Fulmer) Park - @COL
FD - 13.26 DK - 9.91
It's not often that the Coors play represents the price break, and Reynolds isn't exactly cheap, but he'll save you a few buck compared to Votto and the upside is comparable. Reynolds has been at his best vs. RHP this season with a .385 wOBA and .257 ISO. He still strikes out a bunch, but that risk is minimized with Fulmer on the mound (6.31 Ks/9), and he's been a monster in Coors this season (.438 wOBA, .329 ISO).
Second Base
Jose Ramirez FD 2900 DK 4700
Opponent - NYY (Garcia) Park - @NYY
FD - 11.42 DK - 9.33
The GPP side of me kinda wants to slap the FanDuel pricing algorithm for this, but the cash game side (the side that doesn't care as much about chalk) wants to give it a hug. This price is just dumb. Yeah, Ramirez hit a bit of slump last week, and yeah, he's better from left-hand side. But the dry spell is done and we're still talking about a guy with a .347 wOBA and .187 ISO in the heart of a dangerous lineup in a hitter's park, and he's priced in the Joe Panik neighborhood on FD. Just lock him in.
Robinson Cano FD 3400 DK 4100
Opponent - BAL (Bundy) Park - @BAL
FD - 11.1 DK - 8.47
Baltimore starter Dylan Bundy has run hot-and-cold all year, but all told, we're looking a pretty average (or below) guy. He's most vulnerable against lefties (.334 wOBA, .202 ISO, 15 K%), which is problematic in Camden Yard, one of the best parks in baseball for lefty power. All of which adds up to a great matchup for Cano, who has come back to earth after last year's monster season, but remains an excellent source of production at the position. He's owns a .359 wOBA and .209 ISO vs. RHP this season, and is still one of the toughest guys in the league to strike out (10.1 K% vs. righties).
Shortstop
Zack Cozart FD 3200 DK 4200
Opponent - NYM (Flexen) Park - @CIN
FD - 11.83 DK - 9.2
We typically target Cozart against lefties, but we shouldn't his dominance against southpaws obscure the fact that he's actually been pretty good against everybody in 2017. Furthering his late-blooming breakout, the 32-year-old has put up a .379 wOBA and .225 ISO vs. RHP this season. Those numbers will play in any park, much less one of the most homer-friendly venues in baseball. Also, we kind of glossed over Chris Flexen in the throes of our Joey Votto lovefest earlier, but just to reitereate, dude has not been good. He's got 20 walks and just 19 Ks in 28 IP, and righties have a .422 wOBA and .248 ISO against him. Of course, the sample size is too small to be fully trusted, but it tells us enough to know that we can play good hitters against him, and though our earlier selves would've scoffed at the notion, Cozart is a pretty good hitter.
Eduardo Escobar FD 2700 DK 3400
Opponent - CHW (Shields) Park - @MIN
FD - 10.42 DK - 8.24
Value hunting at SS is going to be a bleak experience tonight -- which is nothing new, but that doesn't make it any less depressing. Beyond the fact that he's cheap and that he's facing James Shields, Escobar doesn't actually have a lot going for him tonight (he's been much better vs. LHP this season). But a punt-priced SS against a dreadful starter might be good enough. Shields has done a better job of missing bats lately, but it hasn't been enough to make him good, and aside from a slight uptick in Ks, this is still one of easiest guys to pick on in DFS. He enters Tuesday with a 5.65 ERA and 6.13 FIP, thanks largely to 4+ BBs/9 and 2.28 HRs/9.
Third Base
Manny Machado FD 3900 DK 5400
Opponent - SEA (Ramirez) Park - @BAL
FD - 13.87 DK - 10.73
I doubt we're going to be able to pay that DK price in cash games, but he's doable on FanDuel, and even though we like him best against lefties, the projection system has him as one of the top overall producers at the position and the best value among the top-shelf guys. And just so we haven't forgotten after a sluggish start: this is still one of the game's elite talents. He bad-BABIP'ed his way to a .230 batting average before the All-Star break, but like the advanced stats predicted, regression has arrived. Since the beginning of July he's put up a .327/.354/.579 triple slash with a .387 wOBA, .252 ISO and a 10.5 K%. Meanwhile, Erasmo Ramirez is just a guy. He's not terrible, and he's kinda valuable as a swing guy in real-life, but as far as we're concerned, he's the height of mediocrity (4.52 ERA, 4.35 FIP). We don't totally love playing righties against him, because he does a decent job of limiting the damage there, but we'll make an exception for Machado when we can get him at less than $4K.
Maikel Franco FD 2600 DK 3200
Opponent - ATL (Dickey) Park - @PHI
FD - 10.14 DK - 7.71
If you want to go with a deeper discount, we're pretty intrigued by Franco. On the surface, his 2017 numbers are kinda gross (.284 wOBA), but it's nigh impossible to figure out why. First things first: the BABIP. It's awful. .229. And even though he's always been a below-average guy in that regard, that's a 40+ point drop year over year. The easy thing would be to just chalk it up to bad luck and move on, but usually there's some sort of explanation -- some drastic change in the batted ball profile or something. But in Franco's case, it really might be just a case of severe misfortune. The ground ball/fly ball mix is virtually unchanged, he's hitting fewer pop-ups, and his hard/medium/soft contact rates are steady. Granted, it's not like he set the world on fire last season, but that's OK at these prices. We're still getting a solid contact hitter (15 K%) with decent pop (.175 career ISO, 43 HRs since beginning of 2016). That might not be the kind of play that gets your pulse racing, but it's not a bad option against a declining knuckleballer in a small park.
Outfield
Mookie Betts FD 3800 DK 5100
Opponent - TOR (Anderson) Park - @TOR
FD - 13.54 DK - 10.93
Brett Anderson, who posted an 8+ ERA with the Cubs this season, is making his first appearance with the Blue Jays tonight, which puts every Red Sox hitter with a moderate ability to handle southpaws firmly in play. If you've been paying attention to baseball for a while you'll remember the time when Anderson was pretty good, but it appears as if those days are gone. He's not as bad as that ERA would suggest, but he had massive control problems with the Cubs (4.91 BBs/9), and dating back to his last extended run in the majors (2015 with the Dodgers), righties own a .340 wOBA against him. Mookie's power numbers vs. LHP this season won't blow your mind (.160 ISO), but that's fine. The park is friendly, and he's putting up a .290/.395/.450 triple slash with twice as many walks as Ks (!) vs. LHP this season. He's a better play on FanDuel, but he's usable everywhere.
Ryan Braun FD 3100 DK 3200
Opponent - STL (Weaver) Park - @MIL
FD - 11.7 DK - 9.25
Here's the thing, we really like Luke Weaver tonight (see above). But holy buckets. That DK price, you guys. I mean, nobody is trying to suggest that Braun is the MVP type of dude he once was, but he's actually not that far off from the one who hit .300 with 30 bombs and 16 SBs last season. His .352 wOBA/.224 ISO this season (.345/.220 vs. RHP) represents only a slight decline, so in lineups where we're not playing Weaver, we're gonna have to give Braun a really long look if for no other reason than salary enforcement.
Max Kepler FD 3200 DK 3700
Opponent - CHW (Shields) Park - @MIN
FD - 12.46 DK - 9.74
So Max Kepler is more expensive than Ryan Braun on both sites, and it actually looks like it's kinda justified. What a time to be alive. That's more of an endorsement for Kepler than a condemnation of Braun, though, because while Kepler has been putrid against southpaws, he's raking against righties in 2017 (.361 wOBA, .232 ISO). Also, we can't forget: James Shields. He's kept the total meltdowns relatively sporadic this season, but every lefty who picks up a bat against him has to be considered. He's giving up a .387 wOBA in the split since the beginning of 2016 and a .422 wOBA this year.
Jon Jay FD 2600 DK 3200
Opponent - PIT (Kuhl) Park - @CHC
FD - 9.48 DK - 7.55
Here we play the Joe Maddon batting order guessing game. If Jay is in the lineup and hitting at the top, he's looking like a nice punt play. He doesn't have any power to speak of, so mostly what we're counting on here is 4+ PAs and a couple of times on base creating run-scoring opportunities. And it's not a bad bet, considering Jay's .375 OBP (.372 vs. RHP) and Chad Kuhl's struggle with lefties (.367 wOBA, 5.14 xFIP).
Consider: Carlos Gonzalez, if he's back in the lineup.
GRAB A FREE TRIAL OF OUR PROJECTION SYSTEM, AND CHECK OUT DFSR PRO!
GET OUR FREE EBOOK ON DAILY FANTASY MLB and NBA BY CLICKING HERE!
You'll also get our picks in your inbox every day!
FREE EBOOK
SECRETS TO CRUSHING DAILY FANTASY FOOTBALL!
DON'T SET ANOTHER LINEUP BEFORE YOU READ THIS BOOK.