Daily Fantasy PGA Picks for DraftKings & FanDuel - Dell Technologies Championship
DFSR is proud to bring you, Chris Durell. He'll be bringing weekly PGA picks, analysis, and breakdowns to help you cash on DraftKings and FanDuel. As every week in DFS PGA changes with the course setup, field of players and weather, Chris will be providing a range of different picks for cash games as well as upside plays for tournaments. If you have any questions to lineup lock you can reach him a variety of ways. Leave your question/comment below in the comments section, find him in the DFSR Chat room or hit him up on Twitter(@Jager_Bombs9).


Chris is also providing his DFS PGA Weekly cheatsheet and Season-Long Trends Sheet to help you become a better player. The weekly sheet has DraftKings and FanDuel salaries, odds, Official World Golf rankings, tons of stats, current form, tournament history, and much more. The trends sheet takes a closer look at DraftKings points, salaries, and ownership by tournament. Get yours today.
Dell Technologies Championship
What a start to the 2017 FedEx Cup Playoffs. Jordan Spieth entered the final round with a three stroke lead but had the #1 player in the world, Dustin Johnson, breathing down his neck. Through five holes on the opening nine, Spieth even extended his lead to five strokes with two early birdies but gave three strokes back before making the turn while DJ picked up a Birdie on hole nine. The back nine is where things got interesting as DJ made Birdies on hole #10, #13, and #15 while Spieth made Birdies on holes #13 and #14. They entered the 18th hole tied at -13 and when DJ missed the fairway and was forced to layup, it appeared that Spieth would go on to win. Not so fast! Spieth made his par while DJ was left with a fast 17-foot putt to force a playoff. He ended up draining it and on the first playoff hole, DJ made no mistake off the tee this time bombing a drive 340 yards followed by an on-point wedge shot that gave him a 3-foot birdie for the win. Words don't do it justice so check out the highlights from the final round before we dig into this week's event.

This week the top 100(96 in the field) in the FedEx Cup standings move on to TPC Boston for the second leg of the Playoffs. We had no course history to go off last week and while the tournament name and sponsor has changed this week, the location has not. TPC Boston has been the host of this event since 2003 so we can get back to weighing the course history and analyzing who has been successful here. It also helps give us a better feel for what stats correlate and should be weighed.
The course is a Par 71 with some length as it stretches out to 7,342 yards. The first thing that stands out when looking at the course layout below is that six of the Par 4's fall between 450 and 500 yards which has me looking closely at bombers with good mid-range iron games and for the shorter hitters(sub 300 yards) we want to make sure they are on point with their long irons from 175-200 and 200+ yards. It is also noteworthy that three of the four Par 3's are over 200 yards as well. Par 4 scoring will be high up in the model with 11 of them this week but we won't discount the Par 5's too much as two of the three of them(Hole #18 & #7) have played as the top 3 easiest holes over the last three years. In a winning effort last year, Rory McIlroy was even par on the Par 4's and a field leading -12 on the Par 5's. For a closer look at the last three years results be sure to check out the additional tabs on my DFS PGA Cheatsheet.
Looking at the salaries this week, Spieth and Johnson have separated themselves from the field on both sites. While it is possible to stack them together on FanDuel and still have a nice looking lineup, it can't be done on DraftKings this week which forces us to make a decision. My own personal strategy on Draftkings will be to build a lineup with Spieth and then copy that lineup with Johnson in his place. Early in the process, I am looking at about 70% of my lineups in the 20 max constructed this way with the other 30% being a more contrarian approach. How do I determine who is contrarian and who isn't? I use a multitude of tools including Fantasy National Golf Club, FanShareSports, Brad Messersmith's projections, and Logan Harper's projections.
With all that said, let's jump in and take a look at some of the top picks for this week.
The Course
TPC Boston - Norton, MA
Par 71 - 7,342 Yards
Greens - Bentgrass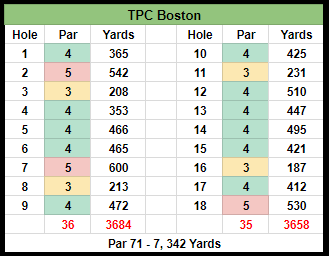 **Click to Enlarge**
Top Stats in the Model
Strokes Gained: Off the Tee + Approach
Driving Distance
GIR from 175-200 & 200+ Yards
Par 4 Scoring
Birdie or Better %
Who the Stats Like
Dustin Johnson
World Golf Ranking (#1)
FedEx Cup Rank (1st)
Vegas Odds (8/1)
Draftkings ($12,000)
FanDuel ($10,200)

Johnson has moved up from #4 in my overall rankings last week to the #1 spot this week thanks to being just one of two golfers in my model to rank Top 10 in all four categories(form, history, stats, DK pts last 5). It starts with the stats model where he sits at the top thanks to ranking of 2nd in SG: OTT(2nd in Driv Dist), 4th in SG: APP, 5th in SG: ATG, 4th in GIR from 175-200 Yards, 6th and 5th in Par 4 and 5 scoring, and 6th in the field in BoB%. DJ has also played here in seven of the last eight years making every cut with three top 10's, one of which was T8 last year. I normally avoid the winner from the previous week but make an exception for the best in the world and he has already proven this year when he is on you just don't dare jump off the train.
Justin Thomas
World Golf Ranking (#6)
FedEx Cup Rank (3rd)
Vegas Odds (20/1)
Draftkings ($10,300)
FanDuel ($9,300)
Dipping down into that next tier below Spieth and DJ is very interesting this week. The defending champ at TPC Boston, Rory McIlroy, comes at a very intriguing sub $10K price tag on Draftkings and right below him is another Top 10 FanShare favorite in Rickie Fowler. Add to it that Jason Day(T15, T12, T7, T13 last four at TPC Boston) also sits in the $9K range this week and I think Justin Thomas makes an excellent GPP target. He is currently T29 with just three tags which is absurd considering he has won four times this season including the PGA Championship just a couple weeks ago. He hasn't had much success here in his two trips to TPC Boston(MC, T56) but shows up from a stats perspective ranking 12th in the field in SG: T2G, 12th in SG: APP, 8th in Driving Distance, 3rd in Par 4 Scoring, and 2nd in BoB%. He makes an excellent start to a more balanced lineup and you can also pair him with DJ or Spieth to create a very high upside stars and scrubs lineup.
Top Current Form Targets
Paul Casey
World Golf Ranking (#14)
FedEx Cup Rank (12th)
Vegas Odds (25/1)
Draftkings ($8,900)
FanDuel ($9,000)
We can't talk current form without mentioning Paul Casey. Sure, he hasn't won this season but is the only player in the field to have finished each of his last five tournaments inside the Top 20(5th, T13, T5, T11, T5). Going all the way back to the Masters where he came in 6th, Casey has not finished worse than 26th in 10 tournaments with five Top 10 finishes. Looking at his last 12 round via Fantasy National Golf Club, Casey has terrific statistically ranking 1st in SG: T2G, 1st in SG: APP, and 3rd in DK points. He ranks outside the Top 50 in both SG: ATG and SG: P and that appears to be the only thing holding him back from a win. After a missed cut here in 2008, T25 in 2010, and withdraw in 2015 Casey was the runner-up t Mcilroy last year and should be able to get close to that again this week. At his current price, he is my top PTS/$ play of the week.

Tony Finau
World Golf Ranking (#62)
FedEx Cup Rank (35th)
Vegas Odds (90/1)
Draftkings ($7,100)
FanDuel ($8,000)
While I realize he has been trending in the wrong direction in his last two tournaments and burned the chalk last week(can you actually burn chalk? Please comment below), he ranks inside the Top 10 in a very important category on my sheet. DraftKings scoring. He has averaged 76.7 DK points per tournament over his last five which, at a $7,100 salary, leads the field in cost per point($92). Finau also fits nicely inside the Top 5 in my stats model this week with ranks of 34th in SG: OTT, 6th in SG: APP, 4th in Driving Distance, 7th and 9th in GIR from 175-200 and 200+ Yards, and 11th in Bob%. Not only is the price right but he will also be much less owned than last week. He is currently T17 on the most tagged list over at FanShareSports with eight overall tags.
Top Course History Targets
Louis Oosthuizen
World Golf Ranking (#20)
FedEx Cup Rank (26th)
Vegas Odds (30/1)
Draftkings ($9,100)
FanDuel ($8,100)

He is likely going to be chalky this week considering he is already 7th on the FanShareSports most tagged list with 14 mentions. It makes sense on courses with a nice track record of course history to go off as the public tends to turn to that information. I could see a case for fading him in GPP's if you feel he is top 5 in ownership but before you do hear me out. Louis has played here at TPC Boston in the playoffs three times and finished 2nd, T12, and T8 last year. He always pops in the playoffs and outside of the withdraw at the Tour Championship in 2015, he has finished inside the Top 20 in his six other playoff tournaments.
Adam Scott
World Golf Ranking (#18)
FedEx Cup Rank (73rd)
Vegas Odds (35/1)
Draftkings ($7,900)
FanDuel ($8,600)

Another course history pick that will likely command Top 5 ownership this week, especially in cash games. Looking at my trends sheet and comparing this week's salary to his average, Scott ranks #1 in the field at just over $1,500 less than his season average(back to ToC). He returns to TPC Boston where he won in his first trip back in 2003 and has made the cut all 11 times with six Top 10 finishes including a 4th last year. Again, looking at the last 12 rounds stats via Fantasy National Golf Club, Scott ranks 23rd in DK points, 3rd in SG: OTT, 15th in SG: APP but has struggled with SG: ATG(53rd) and SG:P(77th). If he can get that together it is very likely he will lurk at the top of the leaderboard and crush his low salary, especially on Draftkings.
 
Dell Technologies Championship Update Thread
**Weather Update**
Chris Durell has been playing Daily Fantasy Sports for five years and fantasy in general for more than a decade. He is active player in college football, NFL, MLB, NASCAR, NHL and of course PGA. He lives in Saskatchewan, Canada with his wife and two daughters. You can follow him on Twitter at @Jager_Bombs9 for advice, strategy, answers to any PGA questions and how he copes with the winters up north.