Daily Fantasy NASCAR Race Preview & Picks for DraftKings - Federated Auto Parts 400
DFSR is proud to bring you Chris Durell. He'll be bringing weekly NASCAR picks, analysis and a FREE cheatsheet and video to help you cash on DraftKings.

Playing other DFS sports? Now's your chance to get DFSR PRO, which will give you access to our MLB optimizer and Player Lab! Get started for free by clicking the button below.
Want to learn some about MLB? Be sure to read our free MLB Ebook on building lineups, general strategy and more. We've got you completely covered.
Federated Auto Parts 400
Richmond Raceway - Richmond, VA
Track - .75 Mile D Shaped Oval Short Track(14° Banking)
Laps - 400
This week the Monster Energy Cup Series returns to Richmond to close out the regular season. It was Joey Logano who won the race back in April but unfortunately, the win was deemed encumbered after the #22 failed post-race inspection with a rear suspension violation. The penalty was definitely felt as Joey now sits outside the playoff bubble and would need a win to sneak into the playoff field. With 13 drivers locked in there are three spots remaining and with Chase Elliott, Matt Kenseth, and Jamie McMurray sitting comfortably in the points standings, there are 14 drivers(those inside Top 30 in points) who all have a shot to grab the checkered flag and sneak into the playoffs in the final regular season race. This is going to be good.
From a fantasy standpoint, we will want to pay close attention to practice and qualifying as each of the last six winners has come from inside the Top 5 starting positions. The trend has shifted from one driver leading the majority of the laps(2014-383, 2015-291, 2015-352) as we have seen two drivers lead 100+ in each of the last two races. It makes more sense now considering the new stage racing and strategies that come with it to get drivers track position. As always, place differential value comes with its downside of high ownership but is a great source of fantasy points here at Richmond. At least 18 drivers have picked up positive place differential points in each of the last six races and 15 drivers have picked up double-digit PD points over the last two races.
Let's now take a look at some of the trends going into this weekends race and some early DFS plays.
Last Six Winners at
2017 Spring - Joey Logano(started 5th, led 25 laps)
2016 Fall - Denny Hamlin(started 1st, led 189 laps)
2016 Spring - Carl Edwards(started 4th, led 151 laps)
2015 Fall - Matt Kenseth(started 2nd, led 352 laps)
2015 Spring - Kurt Busch(started 3rd, led 291 laps)
2014 Fall - Brad Keselowski(started 1st, led 383 laps)
Top 5 Current & Career Track History at
Joey Logano picked up his second career win here at Richmond and while it counts on the win list, it doesn't count towards his playoff push this season. He will need to add a third to the list if he wants a shot at winning a championship. He will have a good shot as he has finished Top 10 here in seven straight and eight of his last nine races. Next up on the list is a trio of drivers who show up on both lists above. Kevin Harvick has three career wins here and despite not winning one since 2013, has finished Top 5 in five of his last six races. Kyle Busch leads all drivers with four career wins here as well as a 7.3 average finish. His teammate Denny Hamlin is the defending race winner of the fall race and he also has three career wins and a whopping 1,653 laps led. After two encumbered wins at Darlington(Cup & Xfinity), look for the #11 to be up front once again here at Richmond.
Top 5 Current Track Type History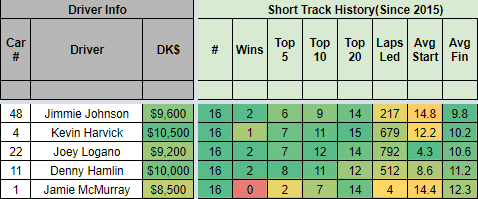 Noone has been more consistent at the short tracks since the start of the 2015 season than Jimmie Johnson. He has two wins and although they came at Bristol and Martinsville(two different style tracks), he has only finished outside the Top 15 twice in 16 short track races. It's a tight group after Jimmie as Joey Logano and Denny Hamlin both have multiple wins on short tracks over the last 2+ years and Kevin Harvick with one win has seven Top 5's and has been very consistent himself finishing with 15 top 20's in 16 races. One name that is absent from this list and is a bit of a surprise is Kyle Busch(I am such a homer) who trails only his teammate Denny Hamlin with an 11.9 career average finish and trails only Jimmie Johnson(14) with 11 career short track wins. Kyle also leads all active drivers with 4,250 laps led on short tracks for his career and 1,321 since the start of the 2015 season.
Top 5 Current Form (last six races)

Denny Hamlin continues to show us incredible consistency with his second win of the season, although it was encumbered after the #11 failed post-race inspection. Either way, Denny has finished Top 5 in four of the last six races. Matt Kenseth has yet to win to lock up his spot in the playoffs but he has been very consistent in expanding his points lead with five Top 10's in his last six races with three Top 5's. Kevin Harvick has been locked into the playoffs since his win at Sonoma back in June but that hasn't stopped him from running near the front as he has four Top 10's and has finished all six races inside the Top 20. For Kyle Busch, it seemed like he would never get a win this season after coming so close multiple times early on. Things change quickly and they sure did for the #18 as they have won twice in the last six races(Pocono, Bristol) and have led a Series-high 358 laps. Ryan Newman is another driver locked into the playoffs and continues to provide excellent DFS value in the low $7K range. He has finished Top 10 in three straight and four of the last six races.
Pre Qualifying Picks
Kyle Busch ($10,700)
He has been dominant lately winning twice in the last six races and has a series leading 64.8 DraftKings points per race. DKyle hasn't won here since 2012 but has four career wins, 15 Top 5's, and a 7.33 career average finish. He ranks first in average ownership(36.9%) for the season and is likely going to be chalky once again but always a top play at short tracks.
Denny Hamlin ($10,000)
Staying in the JGR camp, Denny Hamlin is at the top of my early list despite the encumbered wins last weekend. He has three career wins here at Richmond, has the second highest career average of all active drivers(9.8), and also leads everyone by a wide margin with 1,653 laps led. Like I mentioned above, he is also red hot with four Top 10 finishes in his last six races.
Erik Jones ($8,300)
After posting Top 5 speeds in all three practices in the Spring, Jones made contact with Kasey Kahne in the opening laps of the race that cut down a tire and sent him into the wall. If he shows the same speed in the practice sessions on Friday, get back on that horse especially considering he has been very consistent lately with three straight Top 5's and needs a win to get into the Playoffs.
 Aric Almirola ($5,700)
This pick will definitely hinge on qualifying but stands out in a big way as he has dipped below $6K for the first time this season. He has also been solid at Richmond finishing 21st or better in nine straight races here with four Top 10 finishes.
Below you will find a copy of my DFS NASCAR cheathsheet which includes Track History, Current Form, DraftKings points averages, Track Type History, Practice/Qualifying Ranks and much more. Get it HERE. I also have available my Race by Race Trends sheet you can view as well.

If you have any questions scroll down to the comment section and join the conversation.Good Luck everyone!
Chris Durell has been playing Daily Fantasy Sports for four years and fantasy in general for more than a decade. He is active player in NFL, MLB, NHL, PGA, and of course NASCAR. He lives in Saskatchewan, Canada with his wife and two daughters. You can follow him on Twitter at @jager_bombs9 for advice, strategy, answers to any NASCAR questions or how he copes with the winters up north.